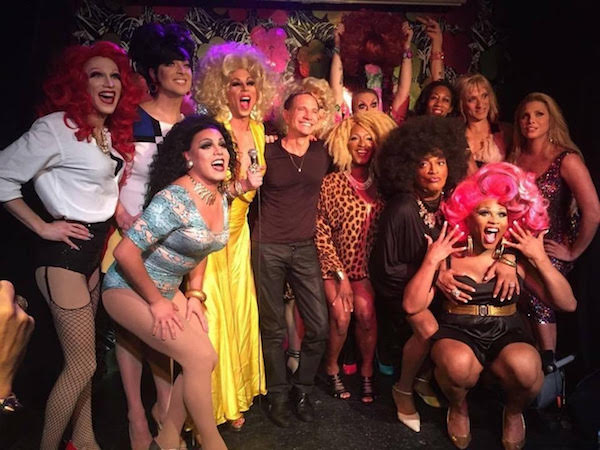 BY SCOTT STIFFLER | A quarter century ago—a little more than 12 years before a contestant nicknamed "Porkchop" became the first of her kind to "sashay away"—Manhattan's Chelsea neighborhood was dotted with well over a dozen gay watering holes. Long gone bars with names like Splash, Rawhide, Champs, and G Lounge were the immobile mobile apps of their day, each catering to a specific taste of rainbow flavor, be it muscle boy, denim daddy, or all-night dance floor denizen.
Back then, noted an August 24, 2021 press release touting an event to be RuVealed in the paragraph below, "Gay bars were, for the most part, somewhat serious affairs meant for cruising and drinking… gay bar entertainment was relegated to random strippers and porn stars."
That was all about to change, when the fall of 1995 saw the rise of Barracuda Lounge. The come one, come all venue saw business partners Bob Pontarelli and Stephen Heighton bring to Chelsea an expanded vision of the winning formula that made their East Village venue, Crowbar, more than the sum of its free-flowing booze and boys.
Located in a nondescript building on the tail end of West 22nd Street's 200 block, Barracuda Lounge (conveniently nestled next to adult toy/video emporium the Unicorn) shattered the conventional Chelsea bar mold by "introducing couch-style seating and lounging," as well as "innovative and sweeping nightly events."
Long before RuPaul's Drag Race hit the airwaves, "Barracuda was there to showcase up-and-coming drag talent, which included trans icons Candis Cayne and Peppermint," noted columnist, nightlife chronicler, and go-to pop culture pundit Michael Musto, adding, "It also was a fun watering hole where I would interview the oddball celebrity, like Eartha Kitt or Tonya Harding. The place is a legendary Chelsea landmark."
Flash forward 25 years and those up-and-comers are globally recognized entertainers, Bianca Del Rio and Bob the Drag Queen among them. This Sunday, September 26, dozens of drag queens who cut their teeth and sharpened their personas while working the Barracuda stage will return home, for the @barracudaloungenyc 25th Anniversary Celebration!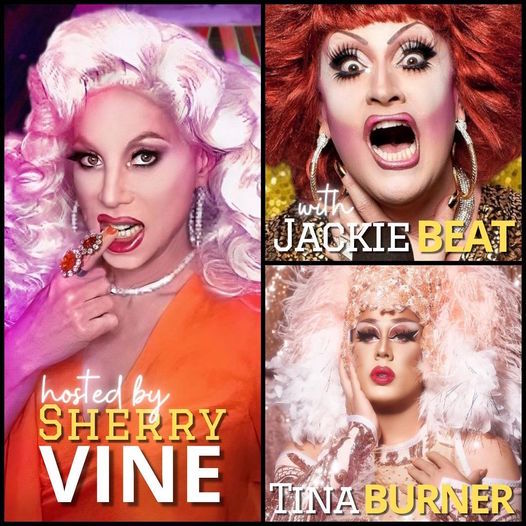 Hosted by event producer Sherry Vine, the doors open at 5pm (no cover), with the show starting at 9pm. There will be a special tribute to the late Mona Foot and Sweetie. Throughout the night, the roster of performers will include:
Al & Patty McKeever (alandpatty)
Busted (@bustedqueen)
Candis Cayne (@candiscayne)
Chelsea Piers (@thechelseapiers)
Dallas DuBois (@dallasdubois)
Edie Entertainer (@edie_entertainer)
Flotilla Debarge (@flotilladebarge)
Holly Box Springs (@hollyboxsprings)
Jackie Beat (@jackiebeat)
Jada Valenciaga (@jadavalenciaga)
Jasmine Rice Labeija (@jasminericenyc)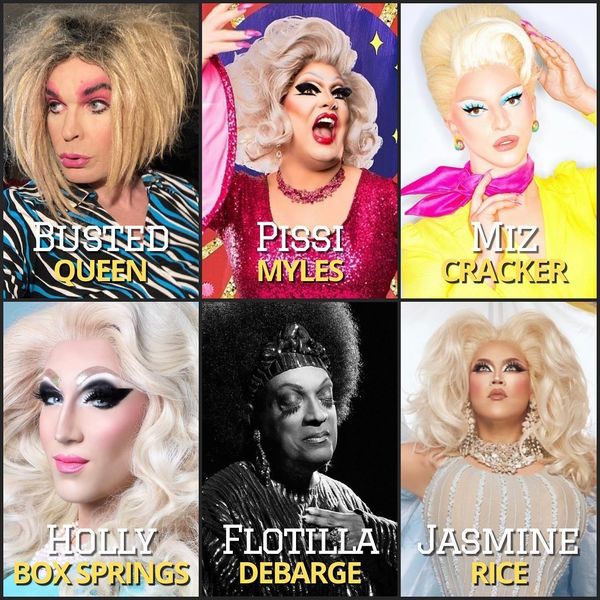 Jiggly Caliente (@jigglycalienteofficial)
Kizha Carr (@thatbeardedqueen)
Marti Gould Cummings (@martigcummings)
Miz Cracker (@miz_cracker)
Pissi Myles (@pissimyles)
Pixie Aventura (@pixieaventura)
Shasta Cola (@shastakola)
Sutton Lee Seymour (@suttonleeseymour)
Tina Burner (@thetinaburner)
…and, as they say in show business, MORE. Those who return to Barracuda expecting things to be as they were are in for a shock—because in ever-changing NYC, that's exactly what they'll find.
"Barracuda is, and has been, pretty much what it was in 1995 when we opened. It's crowded. It's congenial," said co-founder Bob Pontarelli—who, along with the late Stephen Heighton (who passed away in 2011) would go on to found the Seventh Ave. eatery Elmo and the Hell's Kitchen bar Industry.
Of Barracuda, noted Pontarelli, "We wanted to create a bar that made you feel as if you were in your parent's rec room and you could just be who you were. That was our goal." And if you were the type of person who just happened to be looking for another person? All the better, said Pontarelli. "It's always been a cruise bar where you could come and meet boys. And happily, that has remained."
Looking back from his current perch on the West Coast, 1990s NYC resident Frank DeCaro (author of the gorgeous and informative 2018 tome DRAG: Combing Through the Big Wigs of Show Business) remembers Barracuda through the lens of a larger context.
"During those years," he recalls, "Chelsea was a safe space. It was home for a lot of people, where they could come out and be their true selves. You didn't necessarily feel comfortable holding your boyfriend's hand, even at a Broadway musical. But you certainly did around here. You had gay gift stores (Roger and Dave, and Rainbows and Triangles, both on Eighth Ave.). You had a gay bookstore that was independently run (City Lights on Seventh Ave. and W. 19th St.). These were independent retailers who were staking a claim for the gay community. Chelsea was a place where you saw things you didn't see anywhere else in the world, which is certainly what Barracuda offered."
Alongside the nightly roster of drag queens, noted DeCaro, Barracuda was known as the place one would see "stars of a certain ilk… I mean, Charo is crazy talented, but not everybody appreciates it—but every Charo worshipper below 23rd Street was there."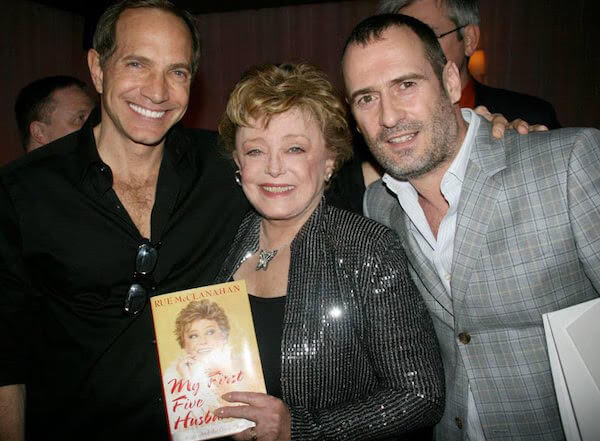 In addition to feeding the hunger for oddball celebs, Barracuda's year-after-year roster of new nightly content can be credited for providing a steady stream of polished entertainers who arrived ready to slay, when RPDR came onto the scene. Barracuda shows, noted DeCaro, "brought drag to a lot of young Chelsea gays who might not have gone to the East Village."
But that EV/Chelsea cross-pollination certainly happened, elevating the bar crawl to a circuit-level event all its own.
"When I launched QW in 1992 (which eventually became LGNY and later Gay City News), the first community advertiser to buy an ad was Crowbar," recalled Los Angeles Blade publisher and editor Troy Masters.
"It was the age of Dee Lite, and Tabbo! created their ad. It was beautiful and I will never forget how charming the whole experience was. It was an instant hit and gave Bob the foundation to create an empire that has given a platform to some amazing talent, in some ways tapping into the energies of Wigstock and offering a home to many of today's drag superstars."
Crowbar became Masters' "evening living room," he recalled, "and the first stop on an endless whirlwind of what my friend's called the 'Gay Habitrial' that then included The Bar, Phoenix, Wonderbar, and later the Cock… When I finally grew up and left Avenue B to become a proper Chelsea homosexual, Barracuda became my living room and first stop on a Habitrail of homo haunts that included G-Bar, Rawhide, and others before I cabbed it back, likely drunk from free drinks at Barracuda, to the East Village where I seemed to always return, studiously refusing to visit Splash."
Among the memories he retains from those days—an impressive number of them, considering the list of haunts he rattled off—are many fond ones of Pontarelli, noted Masters, including ones that accrued over the years to leave him with much admiration for "how Bob somehow established an empire the whole community treasures."
Not to be without a marquee perch on the Admiration Bandwagon, Pontarelli said (several times in different ways over the course of our interview) that he's "incredibly proud" of the venues he and Heighten created, especially in the way they helped early career drag artists blossom on stage and branch out into the world at large.
Calling out Candis Cayne, Hedda Lettuce, Sherry Vine, Jackie Beat, Honey Dijon, Mona Foot, Cashetta, Shequeda, Bob the Drag Queen, and Tina Burner over the course of exhausting one impressive breath, Pontarelli said he's "very grateful that these people have been in my life" and is especially gratified see so many queens rewarded with the notoriety and success that hard-working people who've elevated their craft deserve. That's why, the next time you stop by Barracuda or Industry on any given night of the week, you'll see more of the same, with no attempt to fix an unbroken, and unbeatable formula.
"The city has changed," said Pontarelli, "and it always will. But we're still both of those things that brought us to where we are—a place to see shows and meet boys. We might change our look once in awhile, but we remain steadfast in our essence."
Chelsea Community News is made possible with the help of our awesome advertisers, an the support of our readers. If you like what you see, please consider takin part in our GoFundMe campaign (click here). To make a direct donation, give feedback, or send a Letter to the Editor, email scott@chelseacommunitynews.com.
AND NOW, BONUS CONTENT! CHECK OUT THESE INTERESTING LINKS AND PROMO PHOTOS…
–The Heyday of Chelsea's Eighth Avenue: http://www.kennethinthe212.com/2015/06/the-heyday-of-chelseas-8th-avenue.html
–The Advocate, on Barracuda's 20th Anniversary: https://www.advocate.com/arts-entertainment/2015/10/16/oral-history-nycs-legendary-barracuda-lounge
–Early Gay Activism in Chelsea: http://8th-14th.northwestern.edu/chelsea/Gay%208th%20Ave/gay_history.htm
FROM LEGENDARY DRAG QUEEN JACKIE BEAT: I don't know if it's my "fondest" memory, but it's my funniest. I was onstage and just not feeling it. The crowd was drunk and not responding properly—in my egotistical, delusional opinion—to whatever "genius" thing I was doing at the moment. And I just kind of snapped. I said, "Get my money ready, I quit!" and dramatically dropped the mic and stepped off stage. I just walked through the packed crowd, grabbed the wad of cash from the hand of the bartender's outstretched arm, walked right out the front door, hailed a cab and went home! When I performed at Barracuda it was before the Internet had taken over everything, and before Drag Race. If you wanted to see a drag queen you had to actually put on some pants and leave your apartment! I have no idea what I'm doing at the reunion yet. Most people might call that being lazy, but I call it being spontaneous! What I am most looking forward to is seeing everyone again! And raising a glass of sparkling water—I don't drink—to Sweetie & Mona.
From 25th Anniversary Celebration Host and Co-Producer, Sherry Vine: I WORKED THERE FOR 20 YEARS SO NARROWING IT DOWN TO ONE IS HARD! HOW ABOUT 2?
#1: COLE (THE MANAGER AT THE TIME) BANGING ON THE BATHROOM DOOR, "SHERRY, GET OUT OF THERE. YOU CNA'T DO THAT IN THERE."
#2: A VERY HUMID, SWEATY NIGHT IN AUGUST (PRE AIR CONDITIONER), I'M PERFORMING ONSTAGE, SOME GUY KEPT TRYING TO GET MY ATTENTION. I'M LIKE, "UM, I'M DOING A SHOW." BUT HE WAS PERSISTENT.
HE: BETTY BUCKLEY IS HERE AND WANTS TO SING.
ME: REALLY? ARE YOU FUCKING WITH ME?
HE: NO!
ME: LADIES AND GENTLEMEN, PLEASE WELCOME BETTY BUCKLEY!
SHE CAME ONSTAGE IN THE SWELTERING HEAT AND SANG MEMORIES A CAPELLA. LITERALLY TORE THE ROOF OFF OF THE BAR. AMAZING!