BY MICHAEL MUSTO | In May, when a lot of venues in post-vaccination New York City were reopening, I noticed a burst of renewed glee in socializing. After such a long lockdown, people were understandably thrilled to be face to face again and they got right back into it as if it had never been on pause. Partying, as I've noted, is like bike riding; you can always return to it as if you had never stopped. But more recently, with the Delta variant rising due to the unvaccinated throngs, caution made a comeback and a certain awkwardness returned to the night scene, as we realized that this virus might be hovering over us for a long time to come. With things back in what I would only call half-swing, New Yorkers may need reminders on how to behave in social situations. Here are some handy conversational tips from someone who goes to parties for a living:
DON'T SAY, "HOW ARE YOU?" | It's a lame conversational trope and you don't really want the answer anyway. If you did, you would have contacted the person in the last two years rather than wait to just run into them. And with COVID still out there and felling loved ones, "How are you?" might lead to some very dark answers.
DON'T SAY, "HOW WAS YOUR LOCKDOWN?" | When I hear that, I always want to reply, "Well, my aunt died, as well as tons of friends and icons, and I lost my job and couldn't leave the house. How about yours?" Even worse, a friend used to constantly ask, "What's new and exciting?" At the height of the crisis!!!
DON'T UNEXPECTEDLY AIM YOUR PHONE AT SOMEONE AND ASK THEM A STUPID QUESTION TO PROVOKE A REACTION, THEN POST IT AS A FACEBOOK STORY. | It's rude, especially when you have food in your mouth.
DON'T TALK POLITICS WITH SOMEONE WHO DOESN'T AGREE WITH YOU. | You won't change their mind and they won't change yours. You will both only get extremely aggravated. And why are you at a party where the enemy is in attendance, anyway? Chances are they won't get vaccinated because they're sure the government is going to track their identity and change their gender. There isn't enough alcohol on earth to make crackpot theories like that worth discussing.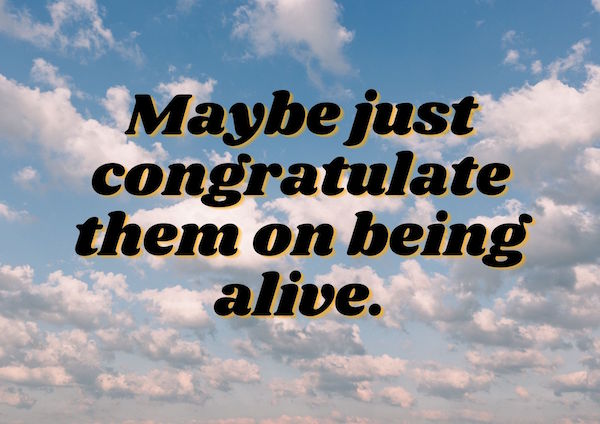 ALSO, DON'T SPEND A LOT OF TIME CHATTING WITH SOMEONE WHO DOES AGREE WITH YOU. | That's preaching to the converted and pretty banal. And by mutually screeching about how lousy the enemy is, you're only giving them oxygen. Talk about something—anything—else.
DON'T INDULGE IN FALSE FLATTERY. | If you notice that some party guest changed their hairdo since pre-lockdown and you hate it, don't say, "Love your new hair!" Just say, "You've changed your hair" or preferably say nothing. Phoniness doesn't make you more popular, just more phony. Maybe just congratulate them on being alive.
DON'T TERRIFY THE DAYLIGHTS OUT OF PEOPLE VIA COVID SCARES. | If they say they're going on a business trip to Miami, don't screech, "DON'T GO!!!!" Just remind them to mask up and be safe.
WHILE YOU'RE TALKING TO SOMEONE, DON'T SCAN THE ROOM FOR SOMEONE BETTER. | I know someone who does this all the time. She recently aimed a camera at me (with warning), then spotted someone "better" and pointed it at them instead. (I put better in quotes because no one could be better than me. Honestly.) It's a nervy habit that says a lot about what a shameless heat-seeker the person really is. And when there IS no one "better" in the room and the heat seeker needs the B-lister to talk to all of a sudden, they won't be there for them because they'll know…better.
SIMILARLY: IF YOU'RE A HOST, DON'T FAVOR SOME GUESTS OVER OTHERS. | Don't give one guest a tepid greeting, then loudly fawn over the next arrival. ("OMG!!! Thank you so much for coming!!! I can't believe you're here!!!") Have a heart. And be grateful anyone came. If anything has been learned from COVID, it should be empathy—except for the enemy, of course. 
DON'T INTERRUPT SOMEONE'S STORY WITH A SIMILAR STORY THAT HAPPENED TO YOU. | I catch myself doing that and the result is that I've turned a conversation into a game of one-upmanship that's designed to make their moment about me. Try not sharing your own anecdote for a second and let them have theirs. Try listening. This kind of thing will make you more popular—and you might even learn something while you're at it. After all, another lesson I gleaned from all those lockdown nights spent staring at the ceiling, wrapped up in thought, is that constantly pushing for attention can be wearying.
IF SOMEONE ASKS YOU IF YOU'VE SEEN SOME STREAMING SERIES OR OTHER, JUST SAY, "YES." | It's much easier than saying "No" and having to listen to them berate you as to how you're a terrible person. Asked for your favorite episode, just say, "All of them."
DON'T GIVE ADVICE. | Even solicited advice. It's a waste of time. I've given song advice to singers, comic routines to drag queens, movie ideas to directors, and play ideas to actors, and not one nugget has ever been used—and they were good ideas! Nowadays, when someone asks me for advice—on their look, their career, or their personal life—I just say, "Sorry, you don't really want it" and then I giggle, to make my dis go down easier. But I do hope that you wanted THIS advice and will take it seriously. Happy schmoozing!
Michael Musto is a columnist, pop cultural and political pundit, NYC nightlife chronicler, author, and the go-to gossip responsible for the long-running (1984-2013) Village Voice column, "La Dolce Musto." His work regularly appears on this website as well as Queerty.com and thedailybeast.com, and he is writing for the new Village Voice, a quarterly which made its debut in April. Follow Musto on Instagram, via musto184.
Chelsea Community News is made possible with the help of our awesome advertisers, and the support of our readers. If you like what you see, please consider taking part in our GoFundMe campaign (click here). To make a direct donation, give feedback, or send a Letter to the Editor, email scott@chelseacommunitynews.com.