BY MICHAEL MUSTO | The Oscars are coming up on March 12th, but far more urgent are my annual Gaffies—the extremely non-prestigious awards for the absolute worst in entertainment. And they're happening right now!
In this very presentation (performed without a host, so no one gets hurt), I will cover some of 2022's lousiest cultural happenings, and the great thing is that no one comes off any worse than anyone else; everyone here is an equal loser! Here goes nothing. The Gaffies go to….
WORST DUET WE WERE ACTUALLY LOOKING FORWARD TO | Elton John and Britney Spears, Hold Me Closer. This heavily Autotuned retread of Sir Elton's Tiny Dancer topped some charts for about five minutes, but it was kind of a meh experience that made it unclear whether it was worth freeing Britney for this. Her high-pitched, wispy voice barely made an impression.
BLECH-IEST MOVIE | I only made it halfway through A Man Called Otto (a remake of a Swedish film based on a novel), but I found it so predictable and cliched that there was no need to see the rest. The story of a grinch-like widower who starts to melt when he strikes up a relationship with his new neighbors is so by-the-numbers cutesy that even Tom Hanks can't elevate it. When Otto is talking to the cemetery plot of his dead wife, it was time to become a grinch.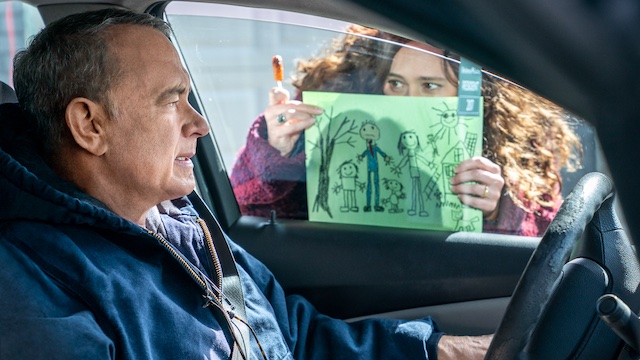 SECOND BLECH-IEST | Hustle. Adam Sandler is actually a good actor when given half a chance (he was terrific years ago in Punch-Drunk Love), but here he was saddled with the hopeless role of a down on his luck sports promoter who finds a dream basketball player that he desperately wants to promote in order to save his team—and himself. What follows is an endless array of tedious training session montages—even more than in Rocky, which this would love to be. It's more like Schlocky. I'd rather sit through The Waterboy 9.
WORST SCREWING UP OF THE PERIOD | Hollywood has a weird habit of producing intentionally inaccurate period films. This allows them to make historical movies that are allegedly accessible to young people because the flicks feel more modern, while also enabling them to forego the need to do any real research. But with Babylon—Damien Chazelle's occasionally brilliant, but basically bloated epic about old Hollywood—this poetic license goes too far. For one thing, Margot Robbie is styled to look like a grunge rocker rather Clara Bow! It's appalling—and rather than make the film appealing to young 'uns, it created a mixed bag of tricks that played dead at the box office.
WORST PERFORMANCE OF THE YEAR | Tobey Maguire as a wildly overacted, drugged out underground party promoter in Babylon. "You've never seen Tobey like this," blared the promotion. True—he's usually good.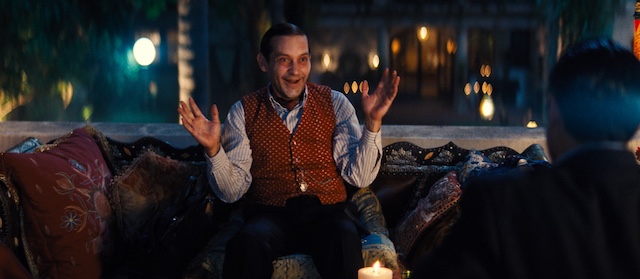 MOST OVERDONE MOVIE TRENDS | Old men who've messed up and are trying to get one last stab out of life (Living, The Whale, the aforementioned A Man Called Otto). Also, rich, privileged people brought down with a karmic wrecking ball (Triangle of Sadness, Glass Onion: A Knives Out Mystery, and The Menu). Also, donkeys (EO, The Banshees of Inisherin, Disney's Pinocchio), monkeys (Nope, The Fabelmans), and every other imaginable animal (Babylon). Some of these films are actually very good—especially Triangle of Sadness, Living, and The Fabelmans—but still, by the end of this overdone cycle, I was so fed up, I wanted the old men and animals to die and the rich people to be protected.
SCARIEST MOVIE TREND | Auteur flops! Alejandro Gonzalez Inarritu's Bardo, False Chronicle of a Handful of Truths, Noah Baumbach's White Noise, David O. Russell's Amsterdam, and Damien Chazelle's Babylon were all high-flown sagas by renowned directors who were obviously given free rein to explore their dreams…and they all croaked harder than Bill de Blasio's Presidential campaign. These films managed to flop with critics and audiences alike. It was a depressing spectacle to behold, because we could usually count on these auteurs to deliver stimulating work, but not this time. Sadly, their failures here might result in their purse strings being snapped and their dreams deferred next time. (I hope not. Give them a break. Even Meryl Streep has an occasional clinker.)
WORST PEOPLE ON FACEBOOK | The ones who obsessively show their naked or semi-naked body at least five times a day. We get it—you worked out! And you think you look amazing! Or at least you hope you look amazing, and you're waiting for someone to agree! If I write a gushy comment about how gorgeous you are, will you finally stop?
SECOND WORST | The ones who rewrite history to make themselves more important players in the culture than they actually were, while counting on the fact that the really important players are all dead and therefore not around to contradict them. These self-aggrandizing "artists" work themselves into a lather of autoerotic asphyxiation, sputtering every day about how massive their contribution to the world has been. There will always be a handful of enablers to emphatically agree on command–but that doesn't make it true!
MOST IRRITATING ONLINE COMMENTS | The ones screeching about Madonna's face. I mean, I know what you're saying, but come on, it's just a face.
SECOND MOST IRRITATING | The ones screeching, "Stop screeching about Madonna's face!"
THIRD MOST IRRITATING | The ones who feel Harry Styles, Sam Smith, and Timothee Chalamet have no right to wear girly clothes because, basically, it's been done before. To back up their point, they cite someone who did it back in the 1980s, forgetting that someone had actually done it before that too, in the '70s.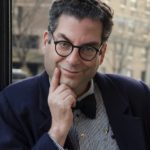 Michael Musto is a columnist, pop cultural and political pundit, NYC nightlife chronicler, author, and the go-to gossip responsible for the long-running (1984-2013) Village Voice column, "La Dolce Musto."
His work regularly appears on this website as well as Queerty.com and thedailybeast.com, and he is writing for the new Village Voice, which made its debut in April of 2021. Follow Musto on Instagram, via @michaelmusto.
Chelsea Community News is an independent, hyperlocal news, arts, events, info, and opinion website made possible with the help of our awesome advertisers and the support of our readers. Our Promise: Never a paywall, no pop-up ads, all content is FREE. With that in mind, if circumstances allow, please consider taking part in our GoFundMe campaign (click here). To make a direct donation, give feedback, send a Letter to the Editor, or contact our founder/editor, send an email to Scott Stiffler, via scott@chelseacommunitynews.com.
To join our subscriber list, click here. It's a free service provding regular (weekly, at least) Enewsletters containing links to recently published content. Subscribers also will be sent email with "Sponsored Content" in the subject line. That means it's an exclusive message from one of our advertisers, whose support, like yours, allows us to offer all content free of charge.