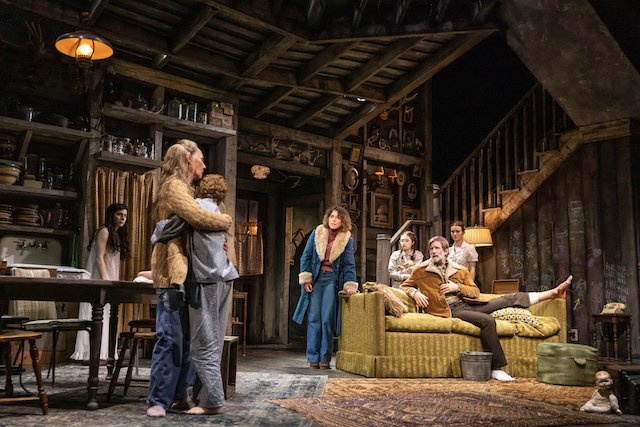 BY MICHAEL MUSTO | The masses know Laurie Metcalf as the likably neurotic Jackie from Roseanne and The Conners, but insiders have long realized that an in-person, theatrical experience that features Metcalf is generally a capital-E Event. A two-time Tony winner with range and skill, she managed to make the part of the demented Annie Wilkes in Broadway's version of Misery her own; she soared as a brash and witty Nora in the clever sequel A Doll's House, Part 2; she was riveting as crotchety Glenda Jackson's caretaker in Three Tall Women; and she even did well as a tightly wound former First Lady in the otherwise uninspired Hillary and Clinton.
Metcalf is not really the lead in Levi Holloway's new Broadway thriller Grey House—the title cabin in the woods is really the star—but she's commanding as usual, as Raleigh, a maternal figure in a flannel shirt, full of ornery sass and testy regret. The parallel to Misery is unmistakable—both tales involve a car crash in a blizzard, leading to captivity in someone weird's residence—but in this case, the emphasis is more on creepy than pure evil.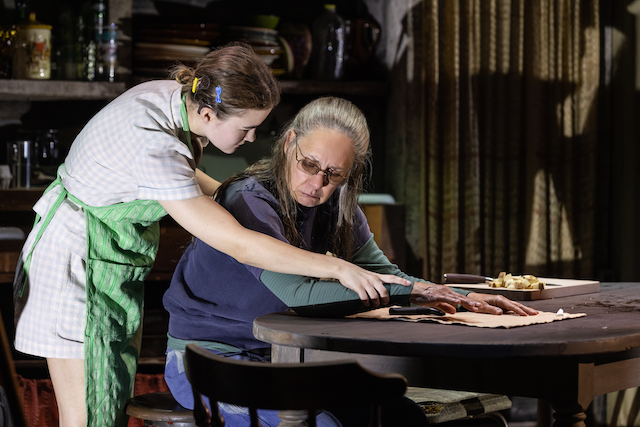 From the beginning, the cabin—designed by Scott Pask—exerts its hold, with its cluttered bric-a-brac, autumnal colors, and offbeat appliances. It's 1977 and the inhabitants are Raleigh and five young people—"willful creatures," she calls them—all either lounging, staring into space or silently indulging in bizarre tasks. A couple, Max and Henry (Tatiana Maslany and Paul Sparks) crash their car into a deer and end up in the cabin, where they barely bat an eye as all kinds of wackiness happens around them—singsong ritualistic harmonies done a cappella and truth-or-dare games, plus the kids repeating what they just heard or talking in unison, and that's just for starters. The couple even joins in on a lot of these shenanigans, and it soon becomes evident that, as more and more revelations—and occurrences—unfold, they belong here and will probably never leave.
In addition to Pask's set—which, of course, experiences a blackout at one point–Natasha Katz's lighting and Tom Gibbons' sound design are top drawer, and, along with Joe Mantello's surehanded direction, they create a haunting environment that obviously plays on classic cabin-in-the-woods films (with maybe even a tiny nod to The Rocky Horror Show). The problem is that Holloway, a writer/actor who's worked with Chicago's Steppenwolf Theatre, goes too often for faux-shocking moments and weird-for-the-sake-of-weird behavior. (The phone rings. The boy answers it and holds it out to Henry, saying "It's for you," but the cord has been gnawed off—either by a squirrel or by the girl named Squirrel). When the tone becomes more internalized and confessional, things develop more effectiveness.
Themes of loss—Max has lost a sister, and so, apparently, have the kids—weigh heavily, especially since the dead seem to always remain with these characters. Other than that, motivations aren't spelled out, though that might be part of the fun for people who are sick of jukebox shows and other obvious fare. So, if you don't mind something that risks veering from cute to pretentious—but has a socko climactic scene—pull up a broken ankle, relax on the couch, and cozy up to some comeuppance.
–END–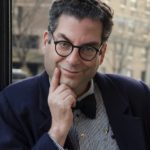 Michael Musto is a columnist, pop cultural and political pundit, NYC nightlife chronicler, author, and the go-to gossip responsible for the long-running (1984-2013) Village Voice column, "La Dolce Musto." 
Chelsea Community News is an independent, hyperlocal news, arts, events, info, and opinion website made possible with the help of our awesome advertisers and the support of our readers. Our Promise: Never a paywall, no pop-up ads, all content is FREE. With that in mind, if circumstances allow, please consider taking part in our GoFundMe campaign (click here). To make a direct donation, give feedback, send a Letter to the Editor, or contact our founder/editor, email Scott Stiffler via scott@chelseacommunitynews.com.
To join our subscriber list, click here. It's a free service provding regular (weekly, at least) Enewsletters containing links to recently published content. Subscribers also will be sent email with "Sponsored Content" in the subject line. That means it's an exclusive message from one of our advertisers, whose support, like yours, allows us to offer all content free of charge.