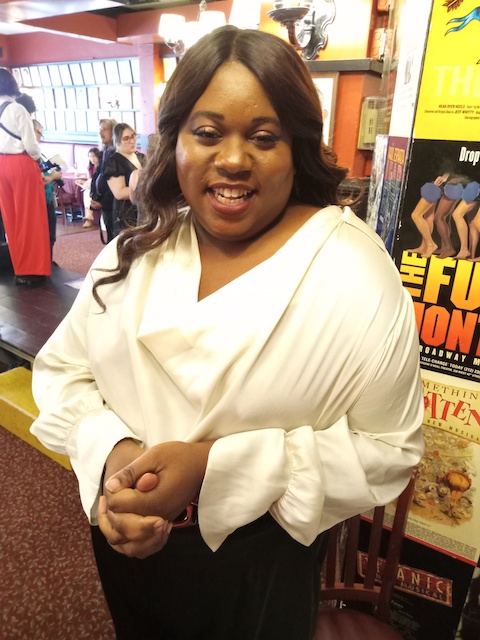 TEXT & PHOTOS BY MICHAEL MUSTO | The Drama Desk Awards honor Broadway, Off-Broadway and Off-Off, always putting together a talent-studded event that's like an award winning production in itself. This time, they wisely opted for gender-nonspecific acting categories, picking two winners per category. The winners were announced on May 31 and this Tuesday, there was a Sardi's event (hosted by Mandy Patinkin and Kathryn Grody) whereby the winners gave their acceptance speeches and we press folk got to chat with them (and presenters) before a lot of the same folks reconvene for this Sunday's Tony Awards. Here are some of the dramatic highlights of what people told me.
ALEX NEWELL (winner, Outstanding Featured Performance in a Musical for Shucked)
Musto: You're fabulous as Lulu in the satirical country musical Shucked. You have a great song about being "independently owned," though you do sort of melt for a man.
Newell: You can still be independently owned! She doesn't need a man, but if he is, he has to contribute, he can't take away.
Musto: What does she find appealing about the guy (who claimed to be a foot doctor, but isn't)?
Newell: I think there's a tenacity to him that she's intrigued by. Something in the underbelly of working so hard…She grew up in this town. This is new blood.  Of course, she knows he's a fraud, but she can't put her finger on it! [laughs]
Musto: Did you connect with that great song right away?
Newell: I did, and it grew a lot. I look at my career as being independently owned. I've done a lot of work to get this far. I don't have a BFA and didn't go the traditional route. And in my personal life, I didn't have a partner for most of my career.
Musto: Do you have one now?
Newell: Yes.
Musto: In my review of Shucked, I said you'd be perfect as Effie in Dreamgirls—and the New York Times said the same thing.
Newell: I've been manifesting that for years!
Musto: Great! Let's bring it on!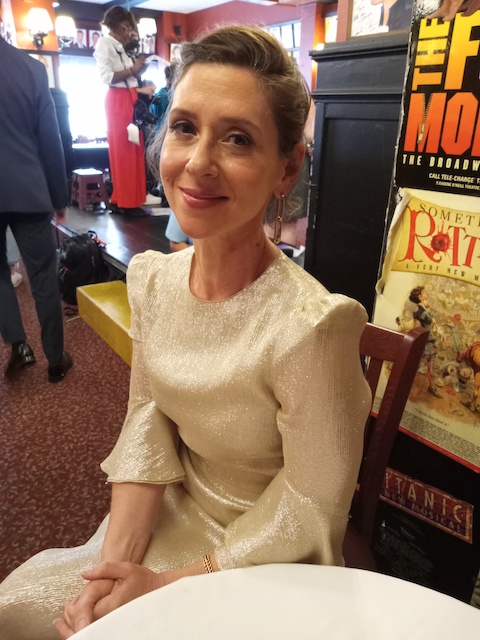 MIRIAM SILVERMAN (winner, Outstanding Featured Performance in a Play for The Sign in Sidney Brustein's Window)
Musto: You're terrific as Rachel Brosnahan's sister Mavis, a character who's savvier than she initially seems.
Silverman: Thank you. You think she's one thing, and then she reveals an inner depth.
Musto: I can't believe Lorraine Hansberry got this play—a jaundiced look at Greenwich Village bohemia—produced on Broadway in 1964. It's so edgy. It has interracial romance, homosexuality, prostitution, activism…
Silverman: It's SO edgy. It was ahead of its time, which is one of the reasons it wasn't critically appreciated. I hear there are still critical reservations about the play, but audiences have been loving it.
Musto: One problem may be that it gets too readily compared to Hansberry's A Raisin in the Sun.
Silverman: And you can't compare them. Both plays are equally brilliant, but here, she's not playing with the rules. She's pushing outside "a well-made play".
Musto: By the way, Alice Ghostley won the Tony for your part in the original and then Frances Sternhagen was nominated for it in the last revival. It's obviously a golden role.
Silverman: I heard it had been second only to Honey in Who's Afraid of Virginia Woolf? as far as the most Tony nominated featured female acting role in a play. I'm glad I hadn't heard that before the nominations or I would have been nervous I'd break the streak. [laughs]
Musto: Well, you didn't. Mavis has now been nominated three times, like Honey. Congrats!
JORDAN E. COOPER (presenter; author, and co-star of Aint No Mo')
Musto: When I saw Aint No Mo'—a raucously funny and pointed series of sketches about the Black plight in (or maybe from) America—I felt that whatever happens to this show, it will have later life. What are your plans?
Cooper: I want to film it–and there's been talk of a revival—and I'm doing a new play for the Public, plus my sitcom The Ms. Pat Show is going into season four on BET+.
Musto: Wow! You were great as Peaches, the put-upon drag queen, in the play. Had you done that character before?
Cooper: No! I actually wrote it for another actor, but it wasn't clicking, so I stepped into it. I found myself cursing out the playwright! [laughs] It's so hard! And she's naked at the end!
STEPHEN MCKINLEY HENDERSON (winner, Harold Prince Lifetime Achievement Award)
Musto: You were riveting in your Tony nominated role as Walter "Pops" Washington—a retired cop who might get thrown out of his apartment—in Stephen Adly Giurgi's Between Riverside and Crazy. The play started at the Atlantic Theater Company way back in 2014, then it came back via Second Stage the next year, and just this season, it made it to Broadway. What was it like to reconnect with that role?
Henderson: I've worked in regional theater. We do a play for a month, then after the show closes, we say "Now I know what that scene was about!" Well, this time I got to do it again, and this time, it became clear that everything my character wanted was for his son! So that's how I played it.
Musto: You were fab back then, and it's amazing that you evolved even more in the role, You've also lit up August Wilson plays, like Jitney and Fences. Were you a muse for him?
Henderson: I can't say I was a muse for him. The Africans' American journey was a muse for him. And he loved people—all human beings. If he had a muse, it was the blues and the blues people.
Musto: I know he was a great writer, but was he a great talker too?
Henderson: Yes, when he didn't feel like he was being recorded. He'd come to rehearsals, and if he felt it was going well, he wanted everyone to know. He was a wonderful raconteur. You can see from the monologues in his plays.
BRANDON URANOWITZ (winner, Outstanding Featured Performance in a Play for Leopoldstadt)
Musto: You really score in two roles in this sweeping historical play about a Jewish family in Vienna. The last scene is especially powerful. Did you meet author Tom Stoppard?
Uranowitz: Yes. He was with us for the last week in rehearsal studio and previews. He really encourages you to just trust the words. It's not hard to do when the words are as succinct and perfect as his are. I think as actors, we get caught up trying to superimpose things on texts. This was an exercise in avoiding that impulse. I was nervous about holding up to the London actor. Tom Stoppard was so kind. He was weeping at the end of the first studio performance that he saw.
Musto: He's obviously a deeply feeling person.
Uranowitz: Yes. We think of him as a godlike figure, sort of like Stephen Sondheim. But he has blood running through his veins and emotions–he's not averse to vulnerability. I was shopping for groceries and he called to congratulate me on the Drama Desk award. I started crying.
Musto: There's a lot of weeping going on here! And this is your fourth Tony nomination.
Uranowitz: I really can't believe it. It's amazing.
Musto: Congratulations! Richly deserved.
KEVIN DEL AGUILA (winner, Outstanding Featured Performance in a Musical for Some Like it Hot)
Musto: I truly enjoyed you as the slap happy "poor little millionaire" Osgood. Are you familiar with the work of Joe E. Brown, who played the part in the movie? He had gay stuff in some of his films.
Del Aguila: Really? Actually, I didn't go back and watch the movie. I based it on my memory of it—that he's happy go lucky. I forgot about all the lecherous, dirty old man stuff he does. [laughs]
Musto: Your portrayal seems very accepting—like "You're Daphne? Well, that's great."
Del Aguila: The title is Some Like It Hot. The idea is that it doesn't matter. Everyone's got their thing and we're all living on this earth.
Musto: You certainly have fun with your wackily winsome Fly, Mariposa, Fly number.
Del Aguila: My character actor friends are so envious. "You get to do things we don't get to do." Literally from the ridiculous to the sublime—and get the girl in the end. I remember at one point, there was a demo with [opera singer/Broadway star] Paulo Szot. I said, "Is that what you want from me?" They said "No." Good! [laughs]
–END–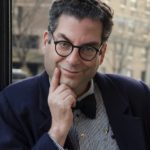 Michael Musto is a columnist, pop cultural and political pundit, NYC nightlife chronicler, author, and the go-to gossip responsible for the long-running (1984-2013) Village Voice column, "La Dolce Musto." 
His work regularly appears on this website as well as Queerty.com and thedailybeast.com, and he is writing for the new Village Voice, which made its debut in April of 2021. Follow Musto on Instagram, via @michaelmusto.
Chelsea Community News is an independent, hyperlocal news, arts, events, info, and opinionwebsite made possible with the help of our awesome advertisers and the support of our readers. Our Promise: Never a paywall, no pop-up ads, all content is FREE. With that in mind, if circumstances allow, please consider taking part in our GoFundMe campaign (click here). To make a direct donation, give feedback, send a Letter to the Editor, or contact our founder/editor, email Scott Stiffler via scott@chelseacommunitynews.com.
To join our subscriber list, click here. It's a free service provding regular (weekly, at least) Enewsletters containing links to recently published content. Subscribers also will be sent email with "Sponsored Content" in the subject line. That means it's an exclusive message from one of our advertisers, whose support, like yours, allows us to offer all content free of charge.