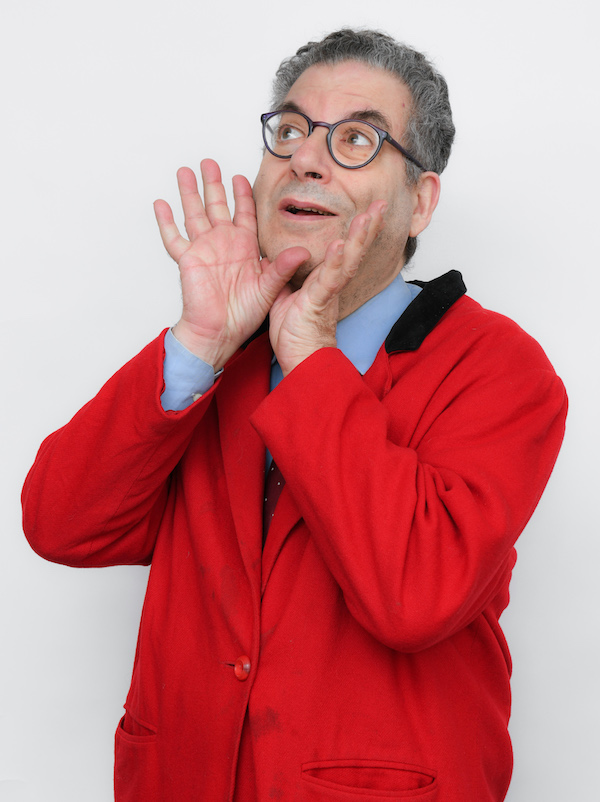 BY MICHAEL MUSTO
Largely thanks to social networks, words and phrases become clichés faster than they used to because everyone spots them, jumps on them, and thinks they're being oh so clever by parroting them on a daily basis. And they're killing the language! Oh, and by "killing" it, I don't mean in the clichéd way that means "They're doing a great job."
Anyway, I've been down this cliched road before, but there are so many new overworked phrases to kvetch about. They're killing me! Here goes:
Agency (over my body)
Aging hipster
And no, that's not a typo.
And they all lived happily ever after.
Armpit farters
Battle lines have been drawn.
Beating your face
Because of course he did.
The Bechdel Test
BFD  (Big fucking deal)
Big Pharma
Bitter custody battle
Bitter party of one
Black eye (to signify a public figure receiving a setback)
Bloop!
A blot on the landscape
Boots on the ground
The "both parties are the same" crowd is very quiet right now.
BREAKING:
Bring to the table
Bully pulpit
Carry on.
Cognitive dissonance
Collaborative effort
Come and take it.
The conversation about…
Content producer
Cow eyes
"Cringe" as an adjective (as in, "That's so cringe.")
Dance like there's nobody watching.
Dark Brandon
Deep dive
Don't judge me.
Don't waste time on people who don't appreciate you. (So true! Drop them! Before they drop you first!)
Doomscroll
Ducks in a row
Dystopian future
Elevates the culture
Executive privilege (Sorry, 45, but that doesn't cover every conceivable action and coverup that might happen in the White House—or afterwards, either.)
Experiential
Extremist
Failspawn
Fearless
A few fries short of a Happy Meal
Fuck that noise.
Futurity
Gee, what could possibly go wrong?
Giving it 110%
Gray area
Ha! or haha
Haters gonna hate.
Have a blessed day.
He didn't take his meds today.
Hello, how are you doing today? (The inevitable DM from a busty Russian bot)
He's so old, his Social Security number is 3. (I'm guilty of using this one a lot, but it's still cliched. Do as I say, not as I do—another cliché.)
Hijacked the conversation
I didn't sign up for this.
I don't know her.
I don't share. I'm an only child.
If you could go back in time and tell your nine-year-old self something, what would it be?
If you don't think [such and such] is happening, then you haven't been paying attention.
I have an immune system.
I'll adopt your baby.
I'll wait.
I mean it when I say…
I'm funding $5200 to the first 7 people who message me.
Incentivize
Incremental
In no uncertain terms
In real time
In this day and age/In today's world
I stand with…
It could have been worse.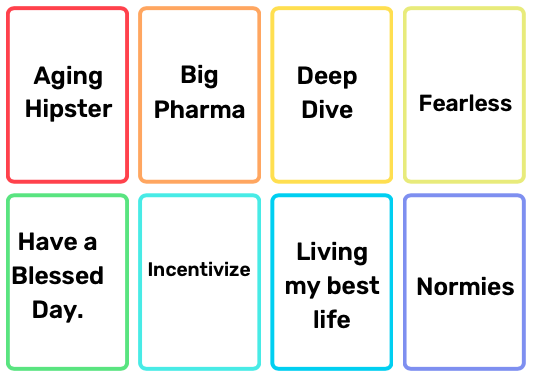 It's a look.
It's not rocket science.
It's so Handmaid's Tale.
I was today years old when I found out about…
Johnny Depp won his lawsuit, and my opinion on that is that Ginni Thomas tried to overturn the election.
The jokes write themselves.
Laid it all out
Late to the party
Literally
Living my best life
Loose cannon
Losing the plot
Low-hanging fruit
Marked safe from… [followed by some weak joke]
A master class in…
ME: [Some lame saying.]  ALSO ME: [Some other lame saying that contradicts the first one.]
Mindset
Needle drop
Needs to be held accountable
None of this means a damn thing if Trump doesn't pay for what he did…
Normies
On point
Okurrr?
Outlier
Paradigm shift
Partisan (see: politicized)
A personal financial pinata
Pillar of the community
Point person
Protip
Quiet quitting
A race to the bottom
Radicalized
Read the room (As in "She didn't read the room")
Red meat to voters
Reimagining
Residency
Run it up the flagpole
Scam likely
Settled law (which conservative Supreme Court appointees seem to think means "settled law that needs to be unsettled")
Simple yet elegant
So and so's day just got worse.
So I did a thing.
So this happened.
Socialism/Marxism/Communism (used by people who generally have no idea what any of those words mean)
Sorry for your loss.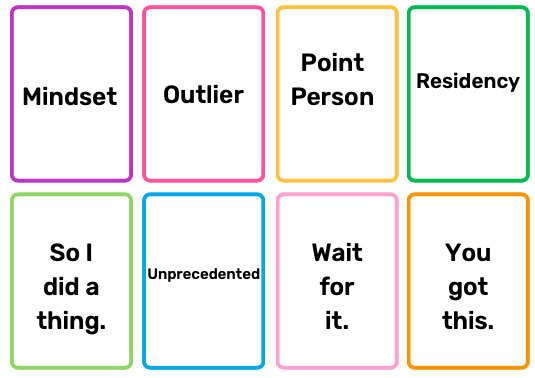 Stawwwp!
Stealing focus
The struggle is real.
Supply chain issues
Sure, Jan.
Swoon!
Synergy
The takeaway is…
To be honest
True dat.
Truth to power
Unconventionally attractive
Unleash the dragon
Unprecedented
Victory lap
Virtual real estate
Voice of reason
Wait for it.
Walk me through this.
We have to stop bringing knifes to a gunfight.
Well, smell you!
What could go wrong? (As in "Eight gays in a kayak. What could go wrong?")
What is a woman? (Um, that's easy. An adult who's female.)
Win-win
Witch trial (somehow only used when a true criminal is being investigated)
With all due respect
Woke police
You can't fix stupid.
You got this.
You'll only find love when you stop looking for it.
You've got to write your memoirs!
Michael Musto is a columnist, pop cultural and political pundit, NYC nightlife chronicler, author, and the go-to gossip responsible for the long-running (1984-2013) Village Voice column, "La Dolce Musto." His work regularly appears on this website as well as Queerty.com and thedailybeast.com, and he is writing for the new Village Voice, which made its debut in April of 2021. Follow Musto on Instagram, via @michaelmusto.
Chelsea Community News is made possible with the help of our awesome advertisers, and the support of our readers. If you like what you see, please consider taking part in our GoFundMe campaign (click here). To make a direct donation, give feedback, or send a Letter to the Editor, email scott@chelseacommunitynews.com.