BY MICHAEL MUSTO | I hope you're having a wonderful Pride month. Just make sure to tip your drag queens! Drag has been ridiculously under attack by haters and as a result, I always crack that today's drag stars will end up with an Emmy in one hand and handcuffs on the other.
For years now, RuPaul's Drag Race has made the queens bigger than ever, and fans the world over have delighted in their glamour, talent, and bitchery. But (along with trans people), drag queens are an easy target for the right wing to smear, pretending that it's them—and not guns—that children need to be made safe from. Well, I've been to drag readings and they happen to be upbeat, entertaining, and informative—hardly an assault on anyone's innocence. The kids are always beaming and smiling and so are the parents, which leads me to think: If you object so strongly to a drag reading hour, then how about just not taking your kids to one? And if you're against gay marriage, then don't marry a gay. Problems solved!
The conservatives who are obsessively scapegoating drag queens have clearly never done drag themselves (except for Rudy Giuliani and George Santos). If they did, they would know what a cathartic experience it can be! I've popped on boobies and a wig through the years, and while the result may have not always been what any sane person would call lovely, it usually is a jolt that's let me tap into my inner glamour goddess until the heels break.
Dabbling in this much-maligned art form has helped me admire professional drag queens for being so daring and resourceful. They not only have to tuck their wares and stomp around in size 16 pumps they miraculously managed to find, but they're routinely called upon to light up a room with humor, sparkle, and spontaneity. I'm sometimes irritated by the lack of ingenuity that has led drag to be the exclusive entertainment at gay bars—an occasional magician or ventriloquist might be nice, to mix things up—but Stockholm Syndrome has taken over, and it's gotten to the point where if there isn't a drag queen screeching in a boite that I'm at, I'm tempted to bolt for the exit, since there won't be a court jester to spark the night with wit and wildness.
It helps that there are all types of drag queens out there to enjoy. There are the super-slick fashiony ones, the clowny comics, the traditional arm-flailing divas, and the avant garde performance artists. You'll see Drag Race winners, Drag Race runners-up, Drag Race aspirants (who've applied nine times and are not giving up), and a few brave souls who don't care at all about getting on TV, they just love putting on a dress and mounting a stage.
Because of Drag Race and the surrounding mania for performative cross dress, today's queens have to be better than ever—well-versed in both singing and lip synch, able to toss off bon mots and do a death drop, AND do their own makeup. I'm in awe at all they do—with the possible exception of the ones that robotically scream "Make some noise!" or who beg for tips from the moment they hit the stage. They used to only do that once or twice a night, but nowadays the entire show is laced with fundraising efforts to the point where you feel as if you've gone to a real-life Kickstarter campaign. One wonders if the bar is even paying the performers anything as a base salary, but whatever the case, the truth is that we got in free, we're getting a show, and some generous tipping has become part of the experience, so make some noise emptying your pockets!
Bring a wad of singles and be prepared to be grateful for drag queens. They have always been at the front of the parade, even when the queer community has wanted them in the back, because too many gay men are poseurs who are terrified of their own feminine side. Now that drag queens are world famous, of course, the gays have caught up, and it's all good.
So let's keep fighting the meanies who want to equate drag queens with serial killers. Let's celebrate them and help them slay!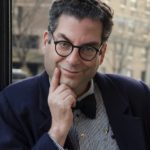 Michael Musto is a columnist, pop cultural and political pundit, NYC nightlife chronicler, author, and the go-to gossip responsible for the long-running (1984-2013) Village Voice column, "La Dolce Musto." 
His work regularly appears on this website as well as Queerty.com and thedailybeast.com, and he is writing for the new Village Voice, which made its debut in April of 2021. Follow Musto on Instagram, via @michaelmusto.
–END–
Chelsea Community News is an independent, hyperlocal news, arts, events, info, and opinion website made possible with the help of our awesome advertisers and the support of our readers. Our Promise: Never a paywall, no pop-up ads, all content is FREE. With that in mind, if circumstances allow, please consider taking part in our GoFundMe campaign (click here). To make a direct donation, give feedback, send a Letter to the Editor, or contact our founder/editor, email Scott Stiffler via scott@chelseacommunitynews.com.
To join our subscriber list, click here. It's a free service providing regular (weekly, at least) Enewsletters containing links to recently published content. Subscribers also will be sent email with "Sponsored Content" in the subject line. That means it's an exclusive message from one of our advertisers—whose support, like yours, allows us to offer all content free of charge.