BY MICHAEL MUSTO | Happy Pride! There are plenty of queer establishments in NYC at which you can celebrate, but let me step in between your cocktails and remind you of some past places that were absolute gay heaven. We can briefly remember their glory, then go right back to putting the mo' back in mojito.
THE BAREFOOT BOY (309 E. 39th St. at Second Ave.) | One prominent element of gay nightlife in the 1970s involved raunchy, sex-driven places like the Anvil—but at the opposite end of the spectrum was the Barefoot Boy, a sleek dance club that was sophisticated and almost chic. But, of course, sex was the object here too. Everyone's mission was to wait till a great song was played (like Gloria Gaynor's I Will Survive), ask someone hot to dance, and then find yourself doing a line dance together all the way home. Yes, this was way before Grindr, when you had to actually go out of the house and chat up potential tricks face to face! Can you imagine?
THE CANDLE BAR (309 Amsterdam Ave. btw. W. 74th & 75th Sts.) | A long-running establishment, the Candle brought some gay presence to the Upper West Side—along with the Continental Baths in the basement of the Ansonia Hotel—before all Manhattan gay bars seemed to be zoned for only HK, Chelsea, and the Village. The place was social and cruisy, drawing various low-wattage locals out to make connections. It was renovated in the 1980s, but eventually became obsolete and the Candle went out.
CHI CHIZ (135 Christopher St. btw. Greenwich & Hudson) | I loved frequenting this bar, which was primarily for gays of color. It was always a good time, from the weird slushy drinks served out of a big decanter to the co-owner playing Yahtzee with the woozy customers. The joint closed in 2011, after cops said they were responding to neighborhood complaints about the clientele, though the owner insisted they were being unfairly targeted because it was a minority-based business. I wouldn't be surprised in the least. Chi Chiz went on to become a pretty sterile restaurant that I have no desire to check out, let alone frequent.
SPLASH BAR (50 W. 17th St. btw. Fifth & Sixth Aves.) | Opening in 1991, Splash was a shiny, two-level club that emphasized AIDS-activism-era cleanliness so much that at first, gogo boys were positioned in translucent shower stalls. As the '90s progressed, the crowd got sexier and a little naughtier, but the emphasis was always on dance (Max Rodriguez was one of the main DJs), drag queens (like cuchi-cuchi queen Laritza Dumont), celebrity drop-ins (Gloria Estefan), and promoters like John Blair. The club went out of style—and business—in 2013, the end of a queer era.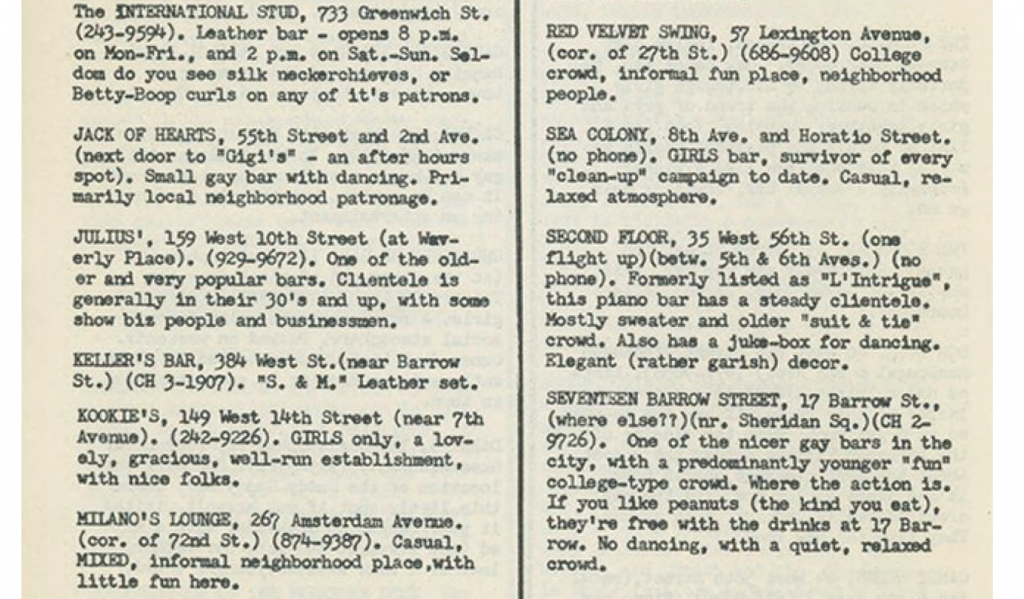 THE INTERNATIONAL STUD (733 Greenwich St. btw. Fourth St. & Waverly Pl.) |Immortalized in Harvey Fierstein's play Torch Song Trilogy, this Village hotpot opened in 1969 and ran for ages, catering to a supposedly butch crowd looking for on-the-spot hookups. This was when gay sex was everywhere—in bathhouses and trucks, on piers, and in backrooms. In the ''70s, it was post-Stonewall and pre-AIDS, so this was a window of time when gay men were able to freely romp around and think with their private parts. The Stud had a front bar that was kind of low-key and cozy—nothing dirty going on. But if you ventured into the next room, you were privy to a cluster-fuck of guys engaging in oral sex as if out of a Pasolini film. Well, I never! Well, maybe sometimes.
THE COCK RING (180 Christopher St. at West St.) | On the street level of the Hotel Christopher, this was a flat-out raunchy dancing-and-shtupping palace full of guys sporting tell-all keys and bandanas, sniffing Poppers, and looking for "love." The West Village was alive with hormonally-based bars and clubs in the '70s, and the colorfully named Cock Ring was a de rigueur jewel in the that neighborhood's gay crown.
THE NINTH CIRCLE (169 W. 10th St.) | A former steakhouse became one of the most happening bars in town, complete with a pool table, a jukebox, a few hustlers, an occasional big name drop-in (like Andy Warhol), and an assortment of gay types all hanging and cruising. The place had a slightly sleazy edge, which I have to admit was a tiny bit appealing, and the best thing about it was that this way before the domination of niche marketing, so the crowd was pretty all over the place in terms of age and looks. What's more, like the Stud, its heyday was in the 1970s, before AIDS, so this seemed like a golden time to be gay and randy in NYC. The Ninth Circle shuttered in 2002.
PARADISE GARAGE (84 King St. btw. Houston & Charlton Sts.) | A members-only mecca for non-whites, the Garage ran from 1977 to '87 as a showplace for DJ Larry Levan and appearances by breaking artists like Grace Jones and Taana Gardner. (The latter's Heartbeat was one of the ultimate Garage anthems.) The Mike Brody-owned club featured no booze (so they could stay open later than other places) and very little talking. Just dancing, dancing, dancing. For those in the mood, it was paradise all right.
—END—
Michael Musto is a columnist, pop cultural and political pundit, NYC nightlife chronicler, author, and the go-to gossip responsible for the long-running (1984-2013) Village Voice column, "La Dolce Musto." His work regularly appears on this website as well as Queerty.com and thedailybeast.com, and he is writing for the new Village Voice, which made its debut in April of 2021. Follow Musto on Instagram, via @michaelmusto.
Chelsea Community News is made possible with the help of our awesome advertisers, and the support of our readers. If you like what you see, please consider taking part in our GoFundMe campaign (click here). To make a direct donation, give feedback, or send a Letter to the Editor, email scott@chelseacommunitynews.com.