BY MICHAEL MUSTO | There are two varieties of jukebox shows, and I'm getting weary of the first kind: The type where they pick a Boomer-beloved musical group or icon (Carole King, Cher, the Four Seasons) and tell their story, spanning their success despite the challenges, followed by more challenges, then—surprise—more success. And in the process, that group or icon's hit songs are shoehorned into the plot, usually culminating with a mega-mix medley performed after the curtain call, the audience leaping to its feet and singing along.
I prefer the type of jukebox show that uses hit songs to tell a story other than a stereotypical, VH1 Behind The Music-type biography. I really enjoyed the 2015 show Head Over Heels, which used music by the '80s girl group The Go-Go's to adapt an epic poem, which became fodder for all sorts of zany commentary on romance, status, and gender. When the bold mixture of the classical and the pop clicked, the piece really soared. And now, we have a mixed bag in & Juliet, which can best be described as Head Over Heels meets Something Rotten! via Moulin Rouge! The Musical, sprinkled with some of the time-traveling irreverence of Six. But at least, the pop songs—hits for Britney Spears, NSYNC, and others, all written by wildly successful songwriter/producer Max Martin—are more recent than in the usual such shows, giving Gen Xers the chance to relive their youths for a change.
The musical—which debuted in London in 2019 and is still running there—asks the musical question, "What if Juliet [in Shakespeare's immortal tragedy Romeo and Juliet] doesn't kill herself after all?" The Bard (Stark Sands, aiming for a sort of Christian Borle-like sardonic glee) has his hands full with wife Anne Hathaway (Betsy Wolfe), a sarcastic feminist who wants Juliet to take greater charge of her own fate. And so, we see the play-within-the-show unfold, with Juliet (the scarily talented Lorna Courtney) learning that Romeo (Ben Jackson Walker) slept with everyone in sight, which helps enable her to move far from his memory. Not wanting to strap on a habit and be a nun, Juliet instead goes partying in Paris and ends up betrothed to a sort of DJ/promoter named Francois (Philippe Arroyo). The problem is, Francois has also been flirting with Juliet's nonbinary friend, May (Justin David Sullivan). What's more, Romeo—who's as dopey as ever—comes back, not dead after all!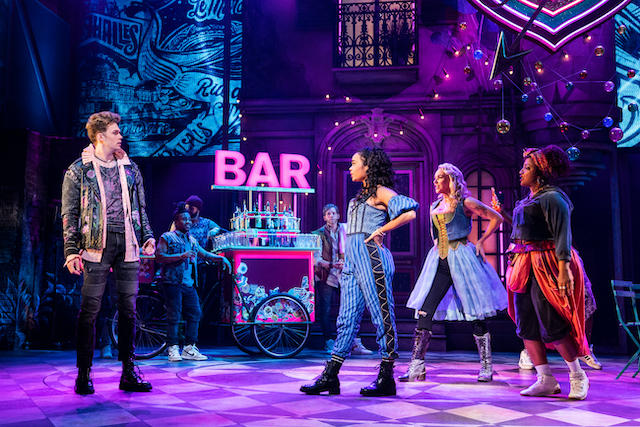 "Romeo? You're alive? Oh, shit!" exclaims Juliet. No, the script by David West Read (Schitt's Creek) is not exactly, well, Shakespeare. There is no poetry in it, and no attempt at it either, it's just zany and pretty light. But where some hints of poetry erupt is in some of the song recreations, such as a rollicking Show Me Love, a plaintive That's The Way It Is (well-sung by Wolfe), and a touching I'm Not a Girl, Not Yet a Woman from Sullivan. I caught understudy Daniel J. Maldonado as Romeo, and he was very good, entering on a descending set piece like Teen Angel in Grease and singing the bejesus out of the Bon Jovi hit It's My Life.
If Romeo and Juliet are a mismatched couple—their warring parents led to their demise, after all—they're nothing compared to the unlikely hookups around them. Tony winner Paulo Szot (as Francois' blustery dad) and the scene-stealing Melanie La Barre (as Juliet's sassy maid, Angelique) make a rekindled love connection that's at least funny. But Francois and May are a strained pair, linked only by a kiss; the whole relationship seems to basically have been cooked up as part of a checklist.
Still, they're mainly in the background, since Juliet pretty much hijacks the plot and ultimately sings the Backstreet Boys' I Want It That Way to Romeo as a means of telling him she's now in charge. Shakespeare had sung the same bossy number to Anne, though by the end of the evening, he's fawning all over her and cooing, "There will never be another Anne Hathaway." (Wolfe turns to the audience with a "We know better" look and it gets a big laugh.)
The production—directed by Luke Sheppard—is a period pastiche, with Elizabethan-wear side by side with jeans and other modern items. As it goes on, the doings get more infectious and the stage effects—sprays of fire, carnival projections, and shooting confetti—become more insistently nutty.
This is definitely not a show for Shakespeare purists or academics. It also might annoy people tired of seeing endless West Side Story revivals, not to mention other shows that riff on R&J. (Romeo &Bernadette was an Off-Broadway musical in 2020 and just this month, rocker Pat Benatar and hubby Neil Giraldo are launching Invincible—The Musical, about star-crossed lovers in Verona, with music by the Giraldos. At least it's not the story of Pat's career.)
But as a show, & Juliet manages to be a great concert. After the curtain call, the cast reprised Juliet's triumphant song, Katy Perry's Roar. Yes, I sang along.
"& Juliet" runs 2 hours and 30 minutes, with one intermission. At the Stephen Sondheim Theatre (124 W. 43rd St. btw. Sixth Ave. & Broadway), performed Tues. and Thurs. at 7pm, Wed. at 2pm & 8pm, Fri. at 8pm, Sat. at 2pm & 8pm, and Sun. at 3pm. Tickets start at $89. To order, click here.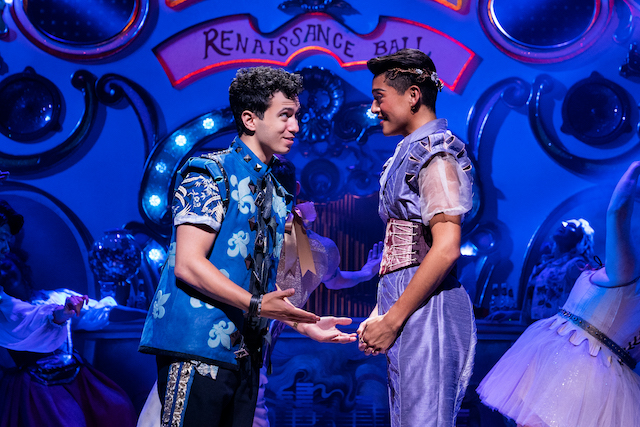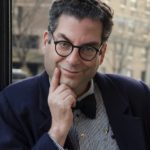 Michael Musto is a columnist, pop cultural and political pundit, NYC nightlife chronicler, author, and the go-to gossip responsible for the long-running (1984-2013) Village Voice column, "La Dolce Musto."  His work regularly appears on this website as well as Queerty.com and thedailybeast.com, and he is writing for the new Village Voice, which made its debut in April of 2021. Follow Musto on Instagram, via @michaelmusto.
Chelsea Community News is made possible with the help of our awesome advertisers, and the support of our readers. Please consider taking part in our GoFundMe campaign (click here). To make a direct donation, give feedback, send a Letter to the Editor, or contact our founder/editor, email scott@chelseacommunitynews.com.