BY MICHAEL MUSTO | In The Collaboration—written by the quadruple Oscar-nominated Anthony McCarten—Andy Warhol's real-life, 1984 creative partnership with Jean-Michel Basquiat is played out as a battle (and sort of ultimate romance) between two polar opposites of the art world. Warhol (played by Paul Bettany) is calculated and surfacy, but feels his star has somewhat faded along with his prices and he's anxious to be relevant again. Young Basquiat (Jeremy Pope) is more visceral and feeling, dabbling in dark imagery, but never really repeating himself, a recipe that he cockily feels has made him already surpass Warhol.
What's more, Warhol hasn't picked up a brush in years, whereas Basquiat can't imagine living without one. Warhol does love to hold a camera, however, and insists on filming the entire collaborative process, thereby pommeling Basquiat with personal questions that make him squirm. And while Warhol can babble on about minutiae, Basquiat would rather listen to Miles Davis and be irrepressible. But both artists do share some serious anxieties, as it turns out. Warhol had been shot by a crazed, man-hating woman in 1968 and has the scars—and fear—to show for it, whereas Basquiat—the Brooklyn-born son of Puerto Rican and Haitian parents—has faced his own traumas and regularly shoots heroin to medicate himself.
When art dealer Bruno Bischofberger (Erik Jensen) brings the two together for an art project, both are wary. "They're so ugly and angry," gripes Warhol of Basquiat's work, noting the proliferation of skulls and other macabre symbols, while Basquiat decries Andy's refusal to lace his art with social commentary and flat out wonders of the legend, "Why are you so white?"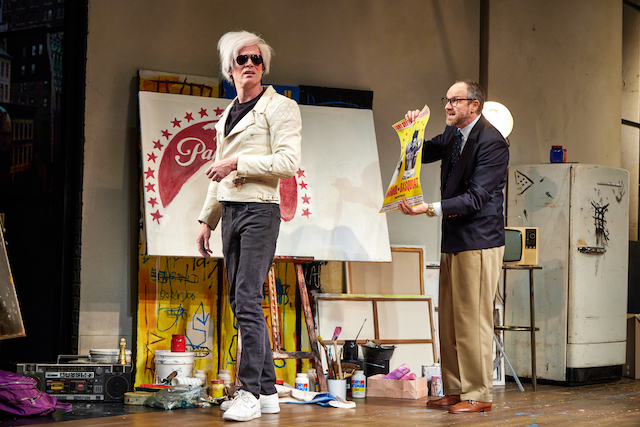 All of this plays a bit with historical facts, seeing as in actuality, Basquiat was thrilled to work with Warhol and craved his benediction. But of course McCarten (The Two Popes) is an expert at bending real relationships to make for more quotable banter.
Alas, once you're past the pre-show DJ (named theoretic) entertaining the crowd with hits by Janet Jackson and Chaka Khan, Act One is a bit of a slog. The air is thick with talk, and I felt that some of it was too sitcommy and cute, considering the fabled players involved.
But then Act 2 arrives and serves a fully rewarding canvas. Now that the antagonism between the two artists has been established, the play allows some extra shadings to seep in, mostly because of an offstage tragedy that jolts everyone it touches. Basquiat's friend Michael Stewart is in a coma because cops violently attacked him for doing graffiti art. This sends Basquiat—who started out as a street graffitist known as SAMO (a play on "same old")—into a frantic attempt to paint in order to keep Stewart alive. But when that bit of artistic voodoo doesn't reap results, he spirals—partly because he's realizing his own vulnerability—and rips the camera out of Andy's hands and turns it on the legend. (Even with the film having been ripped out by Basquiat in a previous fit, Warhol feels under attack. It's all symbolic.) Things get extra textured and wonderfully bizarre, and by the end, the artistic sparring has become more tender and surprising. This part felt like a work of art, even if that old dramatic license once again makes one feel churlish, questioning the veracity of each moment.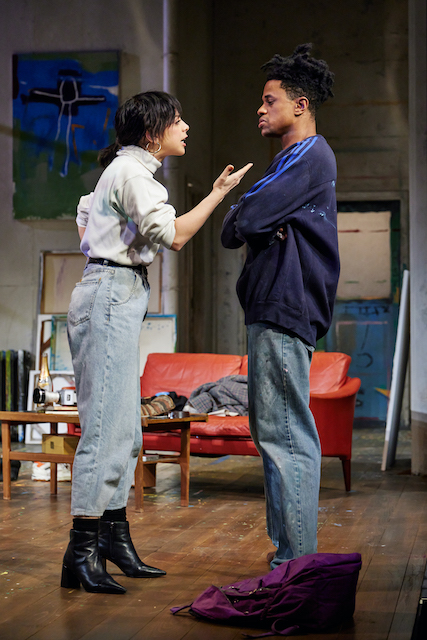 With accurate-looking tufts of dreaded hair, Jeremy Pope (a two-time Tony nominee who's currently scoring in the gritty film The Inspection) is an aptly moody and haunted Basquiat, full of attitude and drive. As Warhol, Bettany (WandaVision) seems too energetic to me and sometimes comes off more like a handsome surfer dude than a wry visionary, but his interpretation is interesting and he really nails Andy's constant sense of unease. Erik Jensen delivers as the manipulative Bruno and Krysta Rodriguez is excellent as Maya, an ex-girlfriend of Basquiat's who sweeps in to demand money for rent and an abortion, while her limo waits outside.
Anna Fleischle's set is a pretty straightforward gallery and then the painting studio, while Duncan McLean's projections include some archival footage of the '80s art world. The production is directed by Kwame Kwei-Armah, Artistic Director of London's Young Vic, where the play debuted this past January.
As for McCarten, his bread and butter has obviously become the art of writing attention-getting male roles based on historical figures. He penned the screenplays for The Theory of Everything, Darkest Hour and Bohemian Rhapsody, all of which won Oscars for their leading men, and The Two Popes, which got no fewer than two male acting nominations. I would have loved to play Warhol in the inevitable film version of The Collaboration—in fact, I had my Oscar speech all ready—but the movie's already been shot, with Bettany and Pope. Looks like I'll have to look elsewhere for my 15 minutes of fame!
"The Collaboration" plays at the Samuel J. Friedman Theatre (261 W. 47th St.). Tickets are on sale online at Telecharge.com, by phone at 212-239-6200, or at the Samuel J. Friedman Theatre box office.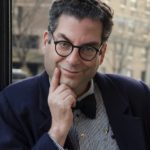 Michael Musto is a columnist, pop cultural and political pundit, NYC nightlife chronicler, author, and the go-to gossip responsible for the long-running (1984-2013) Village Voice column, "La Dolce Musto."
His work regularly appears on this website as well as Queerty.com and thedailybeast.com, and he is writing for the new Village Voice, which made its debut in April of 2021. Follow Musto on Instagram, via @michaelmusto.
Chelsea Community News is made possible with the help of our awesome advertisers, and the support of our readers. Please consider taking part in our GoFundMe campaign (click here). To make a direct donation, give feedback, send a Letter to the Editor, or contact our founder/editor, email scott@chelseacommunitynews.com.