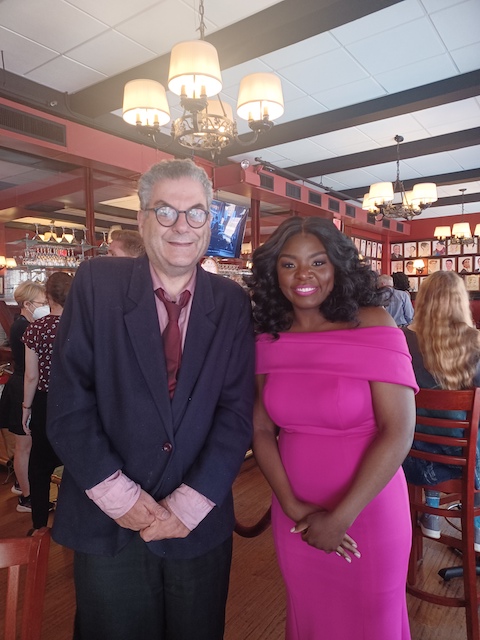 BY MICHAEL MUSTO | Two whole days after the Tonys came the 66th Annual Drama Desk Awards, which go one step further by honoring not just Broadway, but Off-Broadway too. On Tuesday, I got to meet some of the (previously announced) winners at Sardi's second floor, where they sauntered in with their honors and got real with the press. And some of them had also won Tonys! Here are my chats with them:
JOAQUINA KALUKANGO, PARADISE SQUARE / Winner, Outstanding Actress in a Musical
Congrats, Joaquina! So, you're from Atlanta?
Yes, and I relocated back there two years ago. I love it. There's so much happening. Great weather, great food…
And great people.
Great people! 
Speaking of which: Nelly O'Brien, your character in Paradise Square owns a saloon that brings all sorts of folks together amidst the upheaval of the Civil War. Is it wonderful to play such a healer?
I don't have the words. She's such a fierce human being and full of love. A mama bear who protects the community when the world is full of so much fear. To play a woman who undeniably stands in her power and warns out to the world, "You will not move me!" is heartening for the soul. I love her. It's the greatest gift ever to originate this role.
Congratulations on your Tony award, as well. And as for mama bears, when you said how much you love your son (in your Tony speech), I welled up. What has the response been to you since that night?
The amount of love from this community—and it's been this way the entire season—has been mind-blowing. I'm so overwhelmed and so grateful. It's like the longest, warmest hug ever!
MATT DOYLE, COMPANY / Winner, Outstanding Featured Actor in a Musical
Congrats to you, Matt—and on your Tony, too. Your character Jamie's big song, Getting Married Today, is a sort of wonderful run-on sentence of sheer marital nervousness. How important is breath control?
It's incredibly important! Richard Nicole—my vocal coach when I was growing up—is a genius. The biggest part of our training was breath control. So, when I went in for the role, I knew I had the breath support.
You auditioned with the song?
I actually went in for the role of Paul, but then Marianne [director Marianne Elliott] brought me in for Jamie and gave me 24 hours to learn the song!
In this gender-reversed version of the Sondheim/Furth show, the song is about a guy entering a gay marriage. Does that add to the character's jitters?
Yes. It's important to bring some new anxieties to the role. It's a heteronormative institution we've been handed and we fought for… How do we make it work for ourselves? How to be queer and celebrate our love for somebody this way?
You haven't been on Broadway since…?
Book of Mormon [in 2012]. I did a lot of Off-Broadway, including Sweeney Todd. My goal was to originate a role in a new musical.
And you will do a lot more of that.
I hope so!
BRUCE SUSSMAN, HARMONY / Winner, Outstanding Book of a Musical
Hello, Bruce. Harmony is about the real life group the Comedian Harmonists, six singer/comics—both Jews and Gentiles—who rose to success in 1920s Germany. In your show, the Harmonists didn't seem to realize the gravitas of what was going on around them in Germany, correct?
They did what Sigmund Freud did. He didn't leave [Vienna] until 1938, and not until his daughter was arrested. It's hard to erase the hindsight of 20/20.
True. It's not always easy to see the writing on the wall. In fact, while I'm thinking of moving to Canada, I actually might stay here. How long have you worked on this show?
Since 1997. There were times we put it in the drawer, but there was always a producer saying, "Can we talk about Harmony?" When we got the offer from the National Yiddish Theatre Folksbiene, we couldn't resist.
After all these years of preparation, how do you feel about the strong response to the show?
It's head-spinning in a great way. You know what it's like for book writers. If something's wrong with the costumes, blame the book! It's the biggest target.
You wrote the lyrics in addition to the book. And you worked closely with Barry Manilow, who composed the music?
Yes. We've worked together for 50 years. At first, we wrote jingles. They were not huge hits, but I made enough money from it that I was able to quit my job at St. Martin's Press and be a songwriter. And on his own, Barry wrote big ones, such as, "Like a good neighbor, State Farm is there." Together, we wrote the American Bandstand theme.
"Bandstand Boogie"! "We're goin' hoppin'/We're goin' hoppin' today…"
They had been using a tune. We added words and tweaked the song and we pitched it and Dick Clark picked it up!
BEOWULF BORITT, FLYING OVER SUNSET / Winner, Outstanding Scenic Design for a Musical
Congrats, Beowulf. It's fitting that, since Flying Over Sunset is about a fictional meeting between LSD users Aldous Huxley, Cary Grant, and Clare Booth Luce, you designed the show to be rather dreamy, no?
James [author/director James Lapine] and I were talking about what the set should be. He said, "I guess it should be a brain on drugs." So that's what I made. I made an open volume of space that began to turn and twist…It really wasn't about LSD. It was about imagination—the power of the mind, the beauty our minds can create. So I created a beautiful, surreal fairyland, but also, the show is about the terrors of the mind—there's nothing scarier than being trapped in our own fears. That's what the set was trying to express.
I see you didn't think it through at all.
[Boritt laughs.]
GABRIELLA SLADE, SIX /  Winner, Outstanding Costume Design for a Musical
Congrats on this, Gabriella, as well as your Tony award. But it's more than six costumes, isn't it?
Yes. 
It's very clever the way the show reimagines the six wives of Henry VIII as modern pop/R&B divas. I wasn't sure it would work, but it does. How did you find each character's aesthetic?
Each one was inspired by a different pop artist… Catherine of Aragon draws from Beyoncé; Alicia Keys is Catherine Parr… I was influenced by the portraiture and architecture of the period and contemporary fashion references.
Has there been any response, good or bad, from any of the real pop divas?
No, not that I've heard.
I bet they'd love the show, especially the costumes!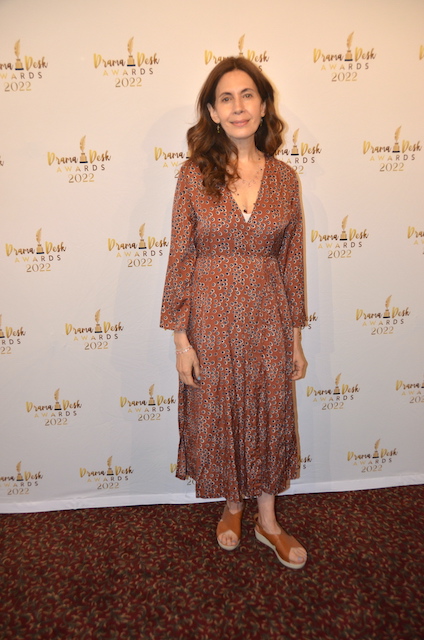 JESSICA HECHT / Presenter
Hi, Jessica. I'm a fan of your Broadway work. What are you working on these days?
I'm in an adaptation of The Cherry Orchard called The Orchard, with Mikhail Baryshnikov. I play Ranevskaya.
Is it an update?
It's a real adaptation, with a minimal cast—there are eight of us—and a few languages and multi-media. The story of the family is what we're looking at. To work with a Ukrainian director, Igor Golyak, is so meaningful here because of the understanding of the material.
And Mikhail?
You think of these iconic artists and they can go one way or the other—either they don't identify themselves as human or they identify themselves as an everyman. And that [the latter] is his identity. He is so collaborative and lovely. He is a remarkable human being.
Playwright/Star CHARLES BUSCH / Presenter
Hello, Charles. What was your favorite theater this season?
I had a wonderful time at Plaza Suite. It brought me back to my childhood, growing up in NYC, when I would be taken to the theater to see a pair of beloved stars performing on a beautiful set in a fun, delightful play!
Michael Musto is a columnist, pop cultural and political pundit, NYC nightlife chronicler, author, and the go-to gossip responsible for the long-running (1984-2013) Village Voice column, "La Dolce Musto." His work regularly appears on this website as well as Queerty.com and thedailybeast.com, and he is writing for the new Village Voice, which made its debut in April of 2021. Follow Musto on Instagram, via musto184.
Chelsea Community News is made possible with the help of our awesome advertisers, and the support of our readers. If you like what you see, please consider taking part in our GoFundMe campaign (click here). To make a direct donation, give feedback, or send a Letter to the Editor, email scott@chelseacommunitynews.com.