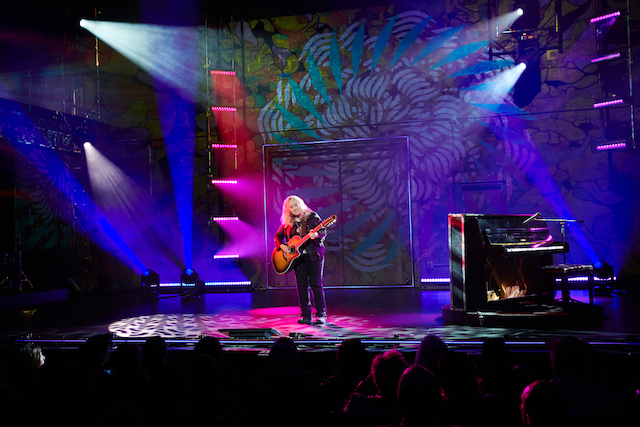 BY MICHAEL MUSTO | I have to admit that I didn't know much about Melissa Etheridge except that she's a lesbian, she's battled cancer, and she can sing the house down. So, I approached her autobiographical show (My Window–A Journey Through Life at New World Stages through Oct. 29) like someone coming to her window with a sort of blank curiosity. And I was utterly captivated—by her talent, her storytelling skill, and her honesty, as she pops out of a large speaker and launches into a chronological retelling of her personal highs and lows.
Sporting long, blond hair and a black leather jacket, Etheridge literally starts with her 1961 birth in Kansas (ma had to hold her legs tight for 15 minutes because the doctor was out to lunch) and is quite forthright about any other sadness that's permeated her life, from her mother's rejection of her lesbianism as a "psychological disorder" to her own breast cancer diagnosis to her son Beckett's opioid overdose two years ago.
What sustains Etheridge is a lust for performing and a realization that, offstage, her moments of joy can't hurt anyone else, despite her mother's early protestations. She also finds that cannabis—and an open mind—have helped prop her up, and even if you start to question some of these attitudes about her "journey," you realize that this Grammy and Oscar winner has always gone against the grain and triumphed. She sang rock, when women weren't supposed to. She was out of the closet, when that didn't usually happen. And she rejected chemotherapy after five sessions, choosing other healing measures, also unafraid to show her bald head in public. As with so many things, that simply wasn't done—until Etheridge did it and changed her environs for all of us.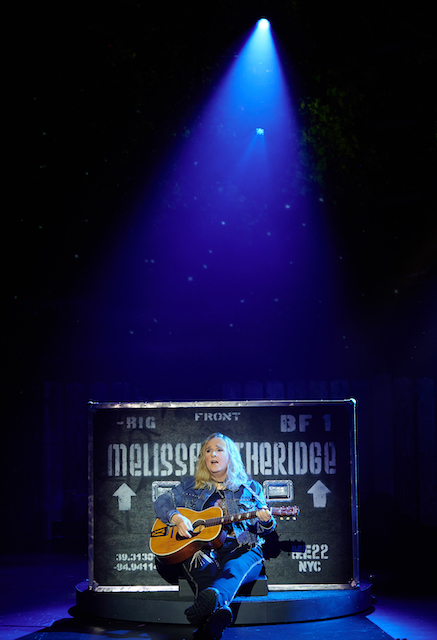 Clocking in at over three hours (including intermission), this show needs trimming, but Etheridge's wonderful, conversational way of telling her life story—interspersed with alternately lilting and powerful singing and fab guitar licks and piano tinkling—makes it potent. Light moments (as a teen, she loved Archie comics because, "I wanted to play the guitar and have Veronica") contrast with darker episodes, as Etheridge finds herself seeking massive fame, but realizing that everything doesn't change when you get it, and you'd better make sure you love yourself or you won't survive it.
She ends up pouring out her soul—the lights dim to practically nothing as she quietly relates what led to her son's death—and taking us from depths to heights to depths, then heights again. Fans will be happy to know that she does her most familiar hits (like I Want To Come Over, I'm the Only One, and the finale, Come to My Window), but there are also other relevant songs and song fragments along the way, put together in a fluidly engaging manner.
Despite the need for edits, I think something needs to be added—namely, deeper revelations about how Etheridge's publicly coming out in 1993 affected her career. We hear that her next album was huge, but was it all that simple—come out, then get even bigger? How did her label react to her admission? Had they or her manager warned her not to do it? Did any homophobes in the business ostracize her? Still, it's great that Etheridge serves welcome LGBTQ positivity throughout the show, including her old clergyman's sense that God couldn't have created a love that's wrong.
My Window—A Journey Through Life is written by Etheridge, with additional material by her wife, Linda Wallem-Etheridge, and it's directed by Amy Tinkham, with scenic design (rows of concert-type lights and other industrial looking objects) by Bruce Rodgers. One giant prop has Etheridge's rather poetic initials on it—ME. Another welcome part of the stage business is Kate Owens as the Roadie. As such, Owens gets to non-verbally assume cameo roles, whether it be bringing out the star's parade of instruments and replicas of her awards or vamping it up as a dancing lesbian in a bar. She's hilarious, the perfect accessory to Etheridge's full-throttle presentation of her ME-ness. Back in school, the singer/songwriter had been told, "Girls don't play drums," so she was forced to take on the clarinet. Well, in the show, she does both. She does whatever she wants, and anyone who would dare want to stop her is extremely misguided.
Melissa's limited engagement runs through Saturday, October 29. Come to her window.
At New World Stages (340 W. 50th St.), with the following performance schedule:  Thursday, October 20 through Sunday, October 23 at 8pm, and Wednesday, October 26 through Saturday, October 29 at 8pm. For tickets ($59-$129), call 212-239-6200 or click here.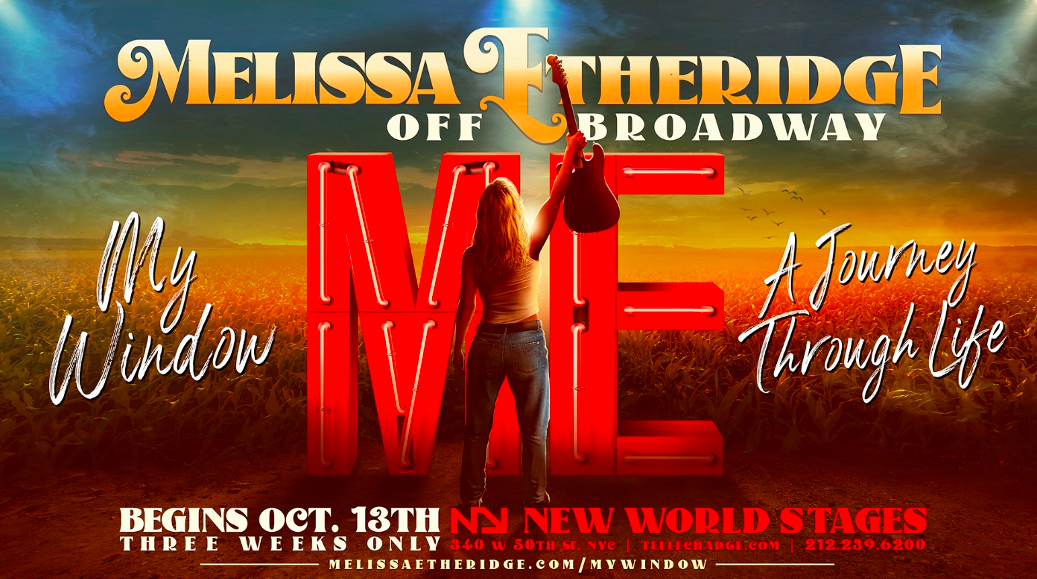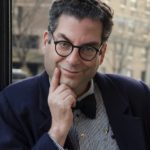 Michael Musto is a columnist, pop cultural and political pundit, NYC nightlife chronicler, author, and the go-to gossip responsible for the long-running (1984-2013) Village Voice column, "La Dolce Musto." 
His work regularly appears on this website as well as Queerty.com and thedailybeast.com, and he is writing for the new Village Voice, which made its debut in April of 2021. Follow Musto on Instagram, via @michaelmusto.
Chelsea Community News is made possible with the help of our awesome advertisers, and the support of our readers. If you like what you see, please consider taking part in our GoFundMe campaign (click here). To make a direct donation, give feedback, or send a Letter to the Editor, email scott@chelseacommunitynews.com.