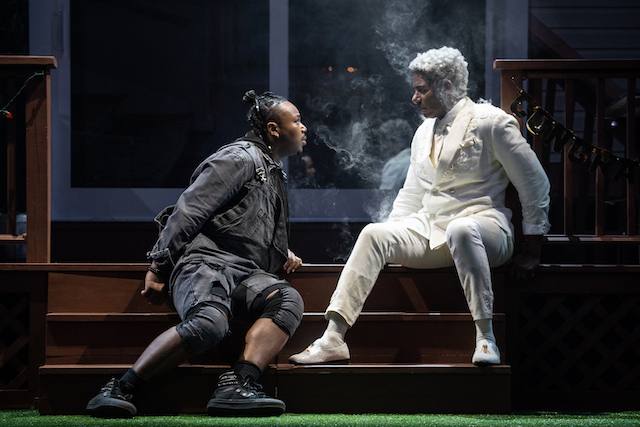 BY MICHAEL MUSTO | Anyone craving a straightforward modern interpretation of William Shakespeare's tragedy Hamlet should get themselves to a nunnery instead. Fat Ham—James Ijames' Pulitzer-winning new play, which has come to Broadway after a run produced by the Public Theater and National Black Theatre—is much more ambitious than that. Using the basic plot themes of the source material—a troubled young guy's father is murdered by the guy's uncle, who then takes up with the guy's mom—it floats between boisterous comedy and darker doings, throwing in musical interludes, fourth wall-breaking, and even some passages taken directly taken from Hamlet.
The Playbill informs us that the Saheem Ali-directed play takes place any time in the last four to six decades, and the setting is "A house in North Carolina. Could also be Virginia, or Maryland or Tennessee. It is not Mississippi, or Alabama or Florida. That's a different thing altogether."
Maruti Evans' impressive set design provides a large brick house with a backyard patio, where a barbecue party is about to happen, celebrating the wedding of Tedra (the Gertrude character, played by Nikki Crawford) and Rev (the Claudius character, portrayed by Billy Eugene Jones). "Juicy"—our Hamlet (Marcel Spears)—is helping organize the party when he's confronted by the ghost of his dad, Pap, comically covered in a checkered tablecloth. (Pap is also played by Jones, since the characters are two sides of the same bad father figure). More queen than prince, Juicy never cared for Pap's meanness—for starters, Pap threw out Juicy's black Barbie doll when Juicy was a kid—but he's alarmed to learn that Pap was murdered in jail at the behest of mom's new man. And wait till mom finds out! What follows is a lot of brooding, vengeful ruminations, and unexpected hilarity.
Spears is terrific in the lead, capturing the conflicting emotions of a young male struggling with his own fate and feelings, as he valiantly majors in Human Resources online. A high point is the karaoke sequence, where Juicy rivetingly sings "Creep" by Radiohead, as Darrell Grand Moultrie's stylized choreography and Bradley King's dramatic lighting help turn the moment into a showstopper.
Nikki Crawford is wonderful as Tedra, a crass but well meaning woman who's always living for the moment, though Ijames gives her shadings so we see that she has real feeling for her son and also has reasons for her unapologetic behavior. Tedra's karaoke number, by the way, is a raunchy take on Crystal Waters' 100% Pure Love and it's pure heaven.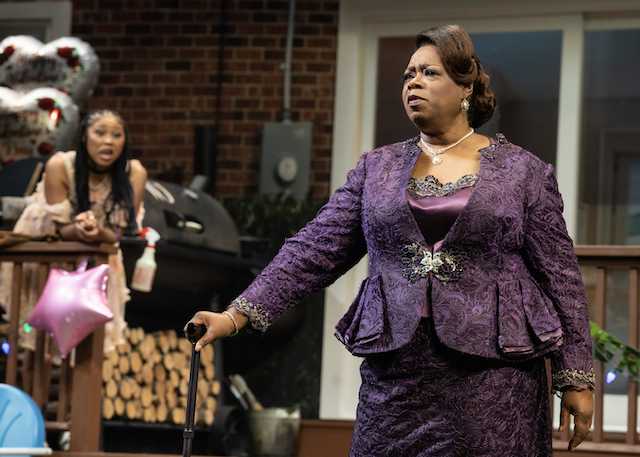 Adrianna Mitchell is Opal (i.e., Ophelia), who in this version is far from a withering, depressed Goth girl. She's a kickass, nihilistic, lesbian warrior looking for some regimentation to apply her instincts to. Juicy has no sexual attraction to her at all, though he is drawn to Larry,  (Calvin Leon Smith), Opal's uptight marine brother. With the help of Larry (who's the nouveau Laertes), the script delves into themes of masculine bravado and the closet, leading to an outing—and a violent response to it—that might be a nod to the seminal gay dramedy The Boys in the Band. Benja Kay Thomas is a riot as Opal and Larry's chatty mother, Rabby (Ijames' female answer to Polonius), who tries to make her daughter look more "pretty"—gender stereotypes are again shattered here—and who just can't stop eating, even as they move the table away. And Chris Herbie Holland is a ball of fire as the Horatio character, Juicy's cousin Tio, though his monologue about a Virtual Reality experience involving oral sex from a gingerbread man may not be one of the script's high points.
Fat Ham—the title references the pork restaurant the family owns—mocks the portentousness of Hamlet's constant introspection and grief. ("I'm an empath. I feel deeply," Juicy announces at one point, later deciding "I can't help who I am. I ponder.") The play tries out different climaxes, leading to the characters wondering if they should all just kill each other, until realizing that they have to simply go on and deal. The finale, featuring a whole other side of Calvin Leon Smith, is best not known about in advance. It's as wonderfully surprising as so much that has preceded it and puts to rest any toxic masculinity from before, not to mention any idea that gayness might be "soft."
A game of Charades is also integral here, and it distinctly echoes Hamlet's play-within-a-play, which Hamlet uses to gauge a reaction from Claudius. Other famous bits aren't used—there's no "Alas, poor Yorick speech," to name one example—but again, Fat Ham is far from a literal remake of Hamlet. It takes that play, messes with it, f**ks it up the ass, and soars. Get thee to Fat Ham.
At the American Airlines Theatre (227 W. 42nd St.) through June 25, 2023. To order tickets ($79-$262), click here. To visit the Broadway production's website, click here.
–END–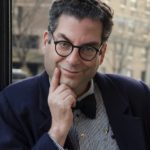 Michael Musto is a columnist, pop cultural and political pundit, NYC nightlife chronicler, author, and the go-to gossip responsible for the long-running (1984-2013) Village Voice column, "La Dolce Musto."
His work regularly appears on this website as well as Queerty.com and thedailybeast.com, and he is writing for the new Village Voice, which made its debut in April of 2021. Follow Musto on Instagram, via @michaelmusto.
Chelsea Community News is an independent, hyperlocal news, arts, events, info, and opinionwebsite made possible with the help of our awesome advertisers and the support of our readers. Our Promise: Never a paywall, no pop-up ads, all content is FREE. With that in mind, if circumstances allow, please consider taking part in our GoFundMe campaign (click here). To make a direct donation, give feedback, send a Letter to the Editor, or contact our founder/editor, email Scott Stiffler via scott@chelseacommunitynews.com.
To join our subscriber list, click here. It's a free service provding regular (weekly, at least) Enewsletters containing links to recently published content. Subscribers also will be sent email with "Sponsored Content" in the subject line. That means it's an exclusive message from one of our advertisers, whose support, like yours, allows us to offer all content free of charge.