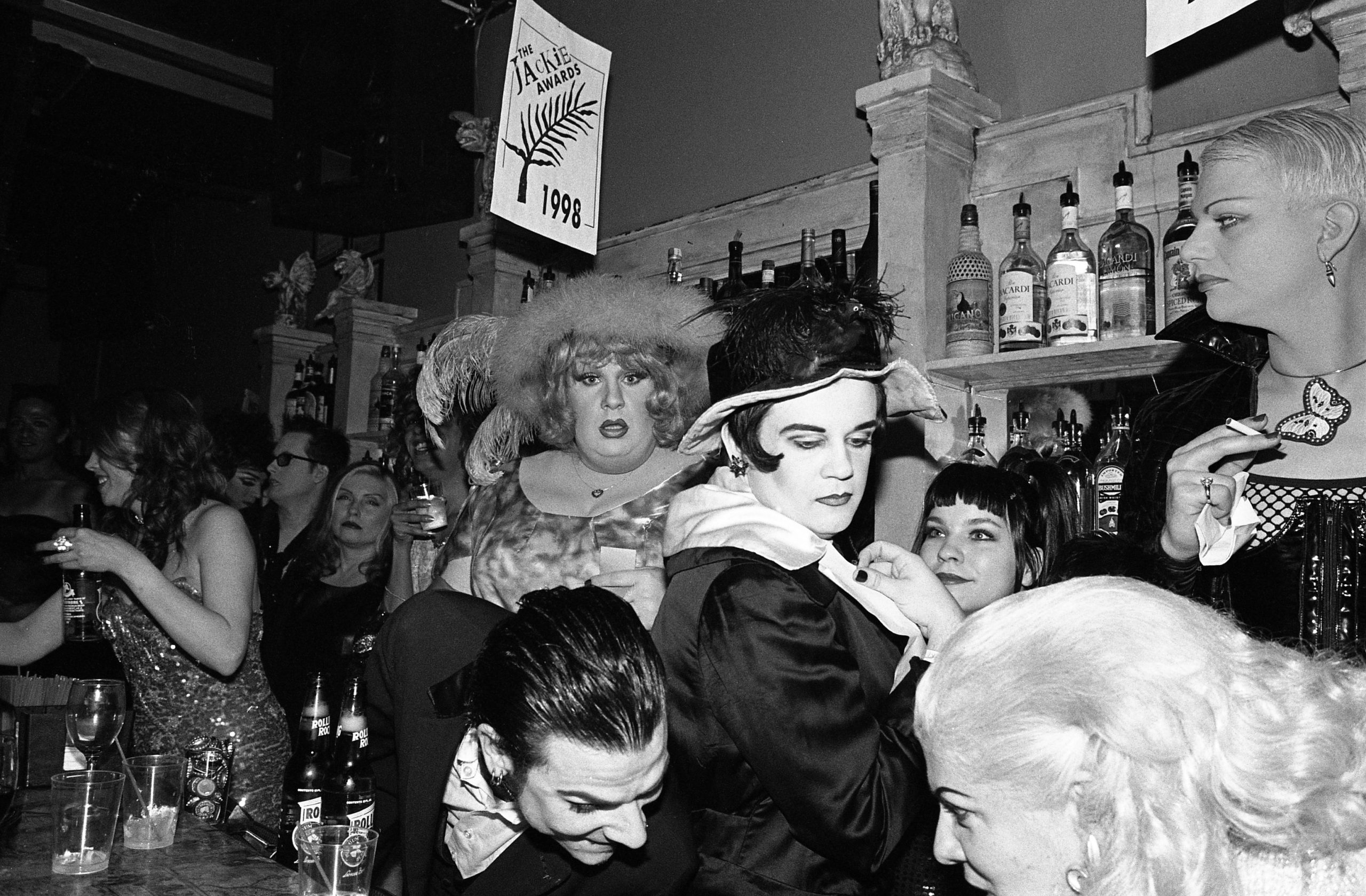 BY MICHAEL MUSTO | What's the point of going to a nightclub if you're not going to get photographed? Part of the fun of going out is showing your most flamboyant self to other fabbies and happily flashing your teeth for the camera. Through the years, there have been a lot of expert photographers who are out there in the trenches, aiming their lenses at all of us and thereby giving us a boost—and some of them are still doing it. A lot of them are also best known for private shootings, capturing the club creations in a much more controlled milieu. The photogs who were out there decades ago are extra valuable because they documented things at a time before people could regularly flounce in with a cell phone and take pictures or video. This is my tribute to their flash.
I met the ultra-social PATRICK MCMULLAN in the '80s when we were both working for Details, the Downtown style bible. Patrick worked tirelessly, shooting people like me, James St. James, and Lisa Edelstein, and as a result, he not only has an incredible archive, but he advanced to having his own company that does event photography for premieres, fashion shows, and just about everything else.
WOLFGANG WESENER is a cerebral guy who would roam around clubs like Limelight and take great photos of the dazzling people. Once, I was wearing an especially splashy outfit and couldn't wait for Wolfgang to shoot it already. "Wolfgang, take my picture!" I shrieked in the height of '80s insanity. He was a little annoyed—"Michael!"—but after a beat, he nicely complied. A true gent.
BEN BUCHANAN shot one of my most treasured photos—me and my idol, Diana Ross, on the Intrepid at a party for Miss Ross, which Stephen Saban ran as the main photo for his Details column. I've had a "Love Hangover" ever since.
JOHN SIMONE is a wiry man from Canada who would scamper around the Tunnel and other clubs and get photos of people like RuPaul, Julie Jewels, International Chrysis, Lahoma, and Larry Tee. The guy was manically entertaining as he captured a lot of ritualistic fabulousness at all hours of the night. We were all gussied up and acting silly, connecting nightly out of a sheer love of surviving with style, and Simone honed in on all of it.
At the arty Tribeca club Area, Croatian-born photog STEPHAN LUPINO would hang out by the bathroom and shoot us in sexy poses, getting us to lower our shirts or lift our blouses and pout for the camera. With his arty enthusiasm, he made us all feel like highly paid Helmut Newton subjects. "Don't move, don't move!" was Lupino's favorite expression, once he felt you were in the optimal pose. I still adore him for highlighting sexuality at a time when it was under extreme duress.
MARCUS LEATHERDALE also liked shooting clubbies in the nude or semi-nude while sometimes shrouding us in mystery. He kept us partly obscured for his "Hidden Identities" page in Details, a guessing game which I posed for as an only somewhat-identifiable Santa Claus. Plus I was on the invite for Marcus's "In The Nude" photo series, a copy of the Village Voice coming in handy by covering my crotch. Again, we didn't want the photo to be too identifiable.
BOBBY MILLER basically did drag queens' hair with one hand and took photos with the other. His enthusiasm knew no bounds. Says Bobby, "Going out every night in Manhattan with my camera in my hand, ready to capture the unfolding social history of the time, was like going to a different party every night. You never knew what you would find or who you might see. One day turned into the next, and before you knew it, 25 years had flown by. I feel so blessed that I was able to get past the velvet ropes and capture the magic of the scene. Those halcyon days are behind us now and only the photographs remain as a silent witness that it actually happened at all."
And there were others! DORIS KLOSTER zoomed in on the shiny kink of NYC's late-night erotica, while presiding over the savvy Fad magazine. The popular TINA PAUL was always fun to hang out with, and also to pose for. Tina tells me, "What I loved most about photographing nightlife was the level of community and purpose it gave me. The dates of the week went according to which parties were happening each night. I could walk into a club and people would start posing in front of me, and I loved the mix of club kids and celebrities partying together before the VIP sections took over the spaces."  Tina happens to be a VIP herself. She put up a great campaign when she recently ran for mayor of Surfside, Florida.
MISS CHICKIE was a lively gal who worked for Limelight, and K.C. MULCARE also took his job seriously and has reams of photos to show for it. Says K.C., "The '80s/'90s club scene was filled with creativity and inspiration, and so many people worked so hard at it. I documented their efforts in order to celebrate and preserve it."
Feeling similarly was STEVE EICHNER, who two years ago came out with the book In The Limelight, with celebs and club notables posing around Peter Gatien's clubs. (The book includes a shot of me at my John Wayne Bobbitt party at Tunnel, drowning in a sea of balls. "Surreal" can't begin to describe it.) LEXI was great too, and CAROLINE TOREM-CRAIG energetically photographed both clubbies and movie stars for Paper.
Meanwhile, FIT grad MICHAEL FAZAKERLEY has a terrific eye for the creatures of the night—the bigger the headdress and the more makeup, the better—though scantily clad gogo boys also made for very good subjects. Says Michael, "Chelsea bubbled with clubs, bars, and publications like HX, Pansy Beat, and Project X. I shot so many photos in my one-bedroom Chelsea apartment. My living room was my studio. Fun times with sexy boys, wild club kids, and drag queens. Fortunately, my neighbors were amused and entertained."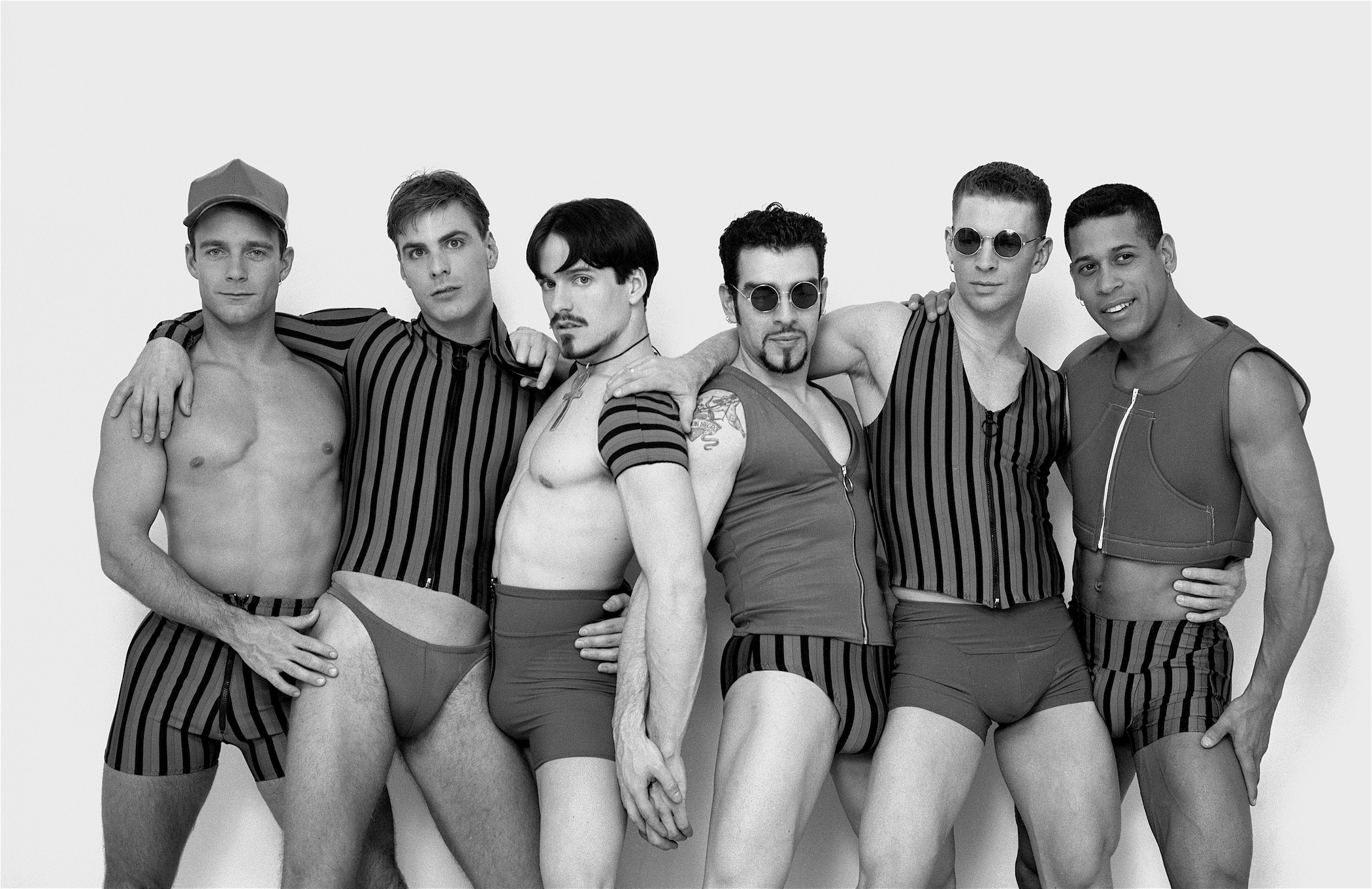 Not to be topped, droll drag star LINDA SIMPSON did an expert job documenting the drag and trans stars of the East Village back in the heyday of the Pyramid, which was a Polish beer dive turned performance space for giddy artists and assorted oddballs. In the '80s and '90s, Baltimore-born PAULA  GATELY TILLMAN did revealing studio shots of people like Ru and myself. And I couldn't have done my Village Voice column, La Dolce Musto, for so many years without the inimitable contributions of CATHERINE MCGANN, who knew just how to set up and frame the fabbies for maximum visual effect. Her work is a treasure trove of subversive glamour and glitter, and she has great shots of classic club kids and club mayhem.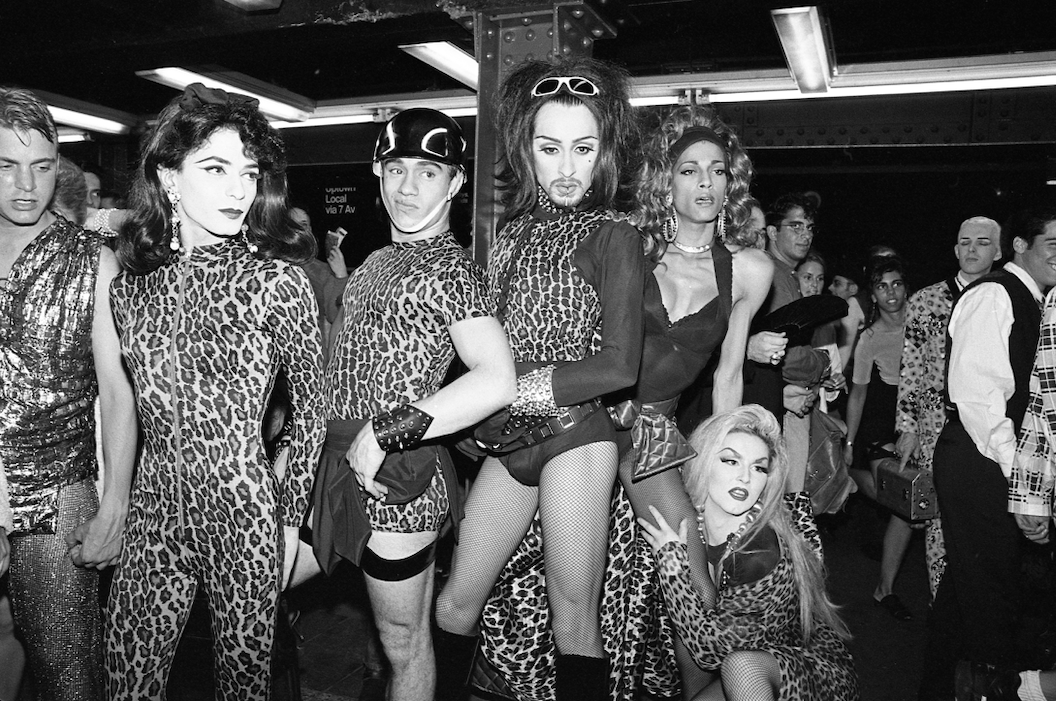 There are so many more, and of course the tradition keeps going with lensmen like
JEFF EASON, ANDREW WERNER, and others. Say cheese! And thanks for the memories.
Michael Musto is a columnist, pop cultural and political pundit, NYC nightlife chronicler, author, and the go-to gossip responsible for the long-running (1984-2013) Village Voice column, "La Dolce Musto." His work regularly appears on this website as well as Queerty.com and thedailybeast.com, and he is writing for the new Village Voice, which made its debut in April of 2021. Follow Musto on Instagram, via musto184.
Chelsea Community News is made possible with the help of our awesome advertisers, and the support of our readers. If you like what you see, please consider taking part in our GoFundMe campaign (click here). To make a direct donation, give feedback, or send a Letter to the Editor, email scott@chelseacommunitynews.com.