BY MICHAEL MUSTO | Whenever a show opens on Broadway, you can bet all your assets that it's either a revival or it's based on a known title, so it seems like a revival. Broadway has become so expensive and risky for producers that familiarity has long become their best friend, and they routinely rely on re-dos, re-imaginings, adaptations and jukebox shows for safety's sake. Fortunately, if the result is done with aplomb, it can actually seem fresh enough to be worthy of a (re) visit. Here are two current examples:
PI IN YOUR FACE | Life of Pi was a novel by Yann Martel, then a magical 2012 Ang Lee film with gorgeous 3-D effects, and now it's a London-to-Broadway, Olivier award-winning transfer of a play written by Lolita Chakrabarti. As you know, the narrative has Pi, a 16-year-old Indian zookeeper's son, surviving the capsizing of a cargo ship and finding himself stranded on a lifeboat in the Pacific with four wild animals, including a 450-pound Royal Bengal tiger.
What's different about this version is the framing device, which has the boy—a very sardonic survivor—being questioned by authorities desperate to find out why the cargo boat sank, leading him to tell his adventure in vivid detail. Also, in lieu of CGI, this version relies on stagecraft to visualize the water, the weather, and the wildlife—and it's done with great imagination and precision. After the hospital set opens up and later becomes the ocean, the projected waves seem startingly real and the animals—deftly manned by puppeteers inside them and/or handling their levers—acquire power and personality. In the zoo, these critters were captive and gawked at by humans, but in the middle of the sea, they are free, up in Pi's face and an existential threat. Pi ends up alone on the life raft with the tiger, forced to face a psychological showdown that tests what he's made of. His various mentors visit him (in his mind) to offer advice as to how to cope and outlive the tiger, but he comes to realize that without the animal on board, he'd be even more alone.
As in plays like Equus, the grownups develop a grudging admiration for the boy's ability to live on the edge. The fact that his imagination might be wilder than they initially thought makes it all the more perfect that the creatures are stylized and semi artificial. It also allows a spiritual angle to infuse the adventure, which makes sense since Pi had initially promised, "My story will make you believe in God."
A lot of the acting of the supporting roles is fast paced and chirpy—perfect for kids—whereas Hiran Abeysekera as Pi centers the whole thing with a remarkable performance full of screaming and striving. When Richard Parker—his name for the tiger—does a #2 on the boat, Abeysekera is funny as he reluctantly samples the turds in desperate hope of getting some nutrition out of them. John Waters would be proud.
Direction is by Max Webster, with Set and Costume Design by Tim Hatley, Puppetry and Movement Direction by Finn Caldwell, Puppet Design by Nick Barnes and Finn Caldwell, Video Design by  Andrzej Goulding, Lighting Design by Tim Lutkin, and Sound Design by Carolyn Downing. Together, they've created a visual—and visceral—feast that engages the senses. I'd recommend sitting in the front mezzanine. That's where they seated press people like myself, so we could properly take in the entire swirl happening onstage. By the end, you will no longer doubt the fact that bananas float.
At the Gerald Schoenfeld Theatre (236 W. 45th St.). Tickets ($49-$199 including $2 facility fee) are available at Telecharge.com (212-239-6200) and the Gerald Schoenfeld Theatre box office. Schedule: Tues. through Sat. at 8pm, with matinees Wed. & Sat. at 2pm, and Sun. at 3pm. Beginning Tues., April 4, 2023, the schedule is Tues. & Thurs. at 7pm, Wed. & Fri. at 7:30pm, and Sat. at 8pm, with matinees Wed. & Sat. at 2pm, and Sun. at 3pm. Adi Dixit will play the role of "Pi" on Tuesday evenings. Enter the digital lottery the day before the performance at rush.telecharge.com. Opens at 12am at rush.telecharge.com one day before the performance—winners announced that same morning at 10am, with a second announcement of additional winners that afternoon at 3pm. Winners may buy up to two tickets at $45 each (inclusive of $5 service fee), subject to availability. A limited number of in-person rush tickets available on the day of each performance ($40 per ticket) when the box office opens (Tues. through Sat. at 10am and Sun. at 12pm). Maximum of two tickets per person, subject to availability.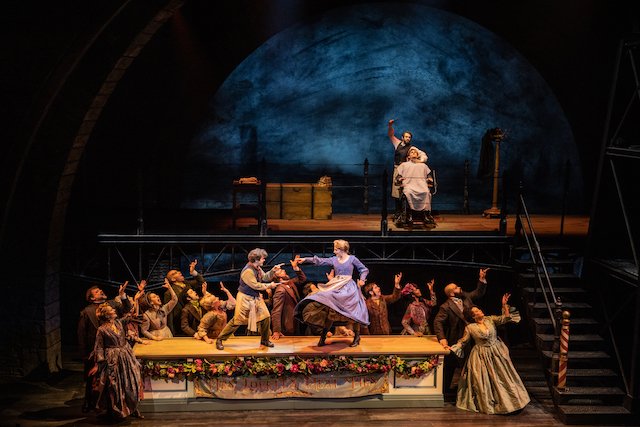 HAIR TODAY, GONE TOMORROW | From Pi to pies: Even more familiar than the Life of Pisource material, Sweeney Todd: The Demon Barber of Fleet Street—about a pitch-dark character who originated in Victorian "penny dreadfuls"—has lived way longer than anyone who sits in Sweeney's barber chair.
I was lucky enough to have seen the original, resplendently subversive 1979 Broadway production, starring Angela Lansbury and Len Cariou as the macabre pie shop owner Mrs. Lovett and the bloodthirsty title character she voraciously befriends in 19th century London. The Grand Guignol aspect of the story and the dark spurts of comedy fused brilliantly, director Harold Prince whipping Stephen Sondheim's score and Hugh Wheeler's book (from an adaptation by Christopher Bond) into a frenzy of thrilling weirdness. This was a far cry from your typical song-and-dance show, and it hit Broadway like a lightning bolt that altered the face of what a hit musical could consist of.
And the show has held up through the scaled down 2005 revival with Patti LuPone (set in a mental institution, with the actors playing instruments), the marvelously moody 2007 Tim Burton movie, and the 2017 off-Broadway revival, where they danced on tables and served real meat pies. And now, Sweeney is back, scalpel in hand, in a sprawling production directed by Thomas Kail (Hamilton), featuring the original 26-player orchestrations by Jonathan Tunick. The resulting sounds are fabulous and the stars (Josh Groban and Annaleigh Ashford) make individual marks on their roles in a production that starts as a mixed bag but becomes powerhouse.
In the show, Benjamin Barker has emerged from having spent 15 years in jail on a trumped up charge, returning as Sweeney Todd in hopes of starting anew and finding the family he left behind. While searching, he encounters the mischievous bad-pie-maker Mrs. Lovett and reopens his barber shop above her equally creepy pie salon. When they decide to blend their two businesses for some profitable vengeance, the blood flows and people line up to buy all sorts of flesh pastries. ("They went to their makers impeccably shaved," sings the chorus about the various dead folk who simply wanted a trim, but got trimmed out.)
In a parallel plot, Sweeney's daughter Johanna—who's being held captive by the corrupt Judge that sentenced Sweeney—and her young suitor (Maria Bilbao and Jordan Fisher) are there to provide ebullience and heart. And somehow it all leads to a lunatic asylum, where the inmates' shaved hair is harvested, though far less felicitous twists await in a dank cellar, where more captivity is going on. Again, this is not No, No, Nanette.
Mimi Lien's scenery involves a bridge, where a lot of the action takes place—not always strategically–and more cleverly, a chute into which bodies are routinely shoved on their road to oblivion. Annaleigh Ashford's Lovett is not blowsy—she's younger than the usual actor playing the part and a tiny bit less vulgar and desperate, going for a tad more naturalism than cartoon character, while also drawing upon her slapstick skills when called for. The direction has her practically fading in group scenes, but Ashford (Tony winner for You Can't Take It With You and Dot/Marie in the 2017 Sunday in the Park With George) is generally hilarious and pulls off no fewer than three showstoppers: "The Worst Pies in London," "A Little Priest" (with her and Groban having a ball dreaming up the pies they can concoct and wondering whether one made from a General's meat should include his "privates"), and "By The Sea," her wacky fantasy of a future life, during which Groban fends off her advances and looks queasy.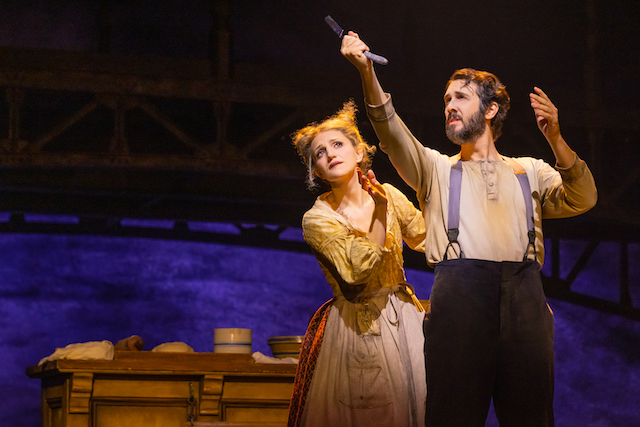 Part of the brilliance of Sondheim is that as Lovett's helper, the orphan boy Tobias (Gaten Matarazzo), sings "Nothing's gonna harm you…" to her as the walls close in, you almost feel for the woman—this even though she's about to turn on Toby, who she's hidden her complicity in the murders from, and she's already treacherously lied to Sweeney. The woman isn't nice!
Groban (the popular singer who was Tony-nominated for Natasha, Pierre & the Great Comet of 1812) sings beautifully and broods well, soaring on numbers like "Pretty Women"—done twice as a distracting small-talk duet with a customer he's about to slice. One of Groban's tortured dramatic moments got a burst of applause, and he also slayed (as it were) with his comically shocked/delighted facial expression when realizing exactly what kind of pies Lovett is proposing they make. Also, Tony winner Ruthie Ann Miles is riveting in her fleeting appearances as a screeching but truth-spewing Beggar Woman, screaming, "City on fire!"
Act One may not totally cohere, but Act Two kicks ass. And it's all so heady and rarefied an experience, I wouldn't trim—whoops—a second of it.
At the Lunt-Fontanne Theatre (205 W. 46th St.). Tickets are available now at Ticketmaster.com. Visit sweeneytoddbroadway.com for more info. A limited number of $30 tickets available for each performance. Lottery entries 9am-3pm the day prior to the performance. Once the lottery closes, winners will be notified within minutes and have 60 minutes to claim and pay for tickets. Seat locations and number of tickets awarded subject to availability. (Lottery seats may be partially obstructed). Limit one entry per person per day and limit of two tickets per entry. To enter and for more info, visit lottery.broadwaydirect.com/show/sweeney-todd-ny.
—END—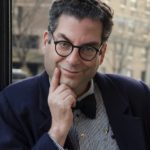 Michael Musto is a columnist, pop cultural and political pundit, NYC nightlife chronicler, author, and the go-to gossip responsible for the long-running (1984-2013) Village Voice column, "La Dolce Musto."
His work regularly appears on this website as well as Queerty.com and thedailybeast.com, and he is writing for the new Village Voice, which made its debut in April of 2021. Follow Musto on Instagram, via @michaelmusto.
Chelsea Community News is an independent, hyperlocal news, arts, events, info, and opinion website made possible with the help of our awesome advertisers and the support of our readers. Our Promise: Never a paywall, no pop-up ads, all content is FREE. With that in mind, if circumstances allow, please consider taking part in our GoFundMe campaign (click here). To make a direct donation, give feedback, send a Letter to the Editor, or contact our founder/editor, send an email to Scott Stiffler, via scott@chelseacommunitynews.com.
To join our subscriber list, click here. It's a free service provding regular (weekly, at least) Enewsletters containing links to recently published content. Subscribers also will be sent email with "Sponsored Content" in the subject line. That means it's an exclusive message from one of our advertisers, whose support, like yours, allows us to offer all content free of charge.