BY MICHAEL MUSTO | The New York Film Festival is back through October 10, with in-person screenings, serving up a treasure trove of cinematic art pieces culled from the esoteric minds of international filmmakers. Just like last year's fest opened with Nomadland—which went on to win three Oscars, including Best Picture and Best Actress (Frances McDormand)—this 59th edition kicked off with a McDormand-starring eye-opener. Here are some festival highlights so far.
THE TRAGEDY OF MACBETH | In the fest's opening night attraction, McDormand is Lady Macbeth to Denzel Washington's Macbeth in this black and white adaptation of the taut Shakespeare play about a Scottish lord who aims for the crown, goaded by the prophecy of three witches and the manipulations of his power-mad wife. Written and directed by Joel Coen (McDormand's husband), this is his first film without the involvement of brother Ethan Coen, who's stepped away from moviemaking for the time being. And it's great stuff, Coen managing to strip away all the familiar pomp and pageantry and cut to the heart of the humanity (and inhumanity), while using visual flourishes that make this Tragedy a compelling succession of hallways, shadows, whisperings, and flocks of foreboding ravens.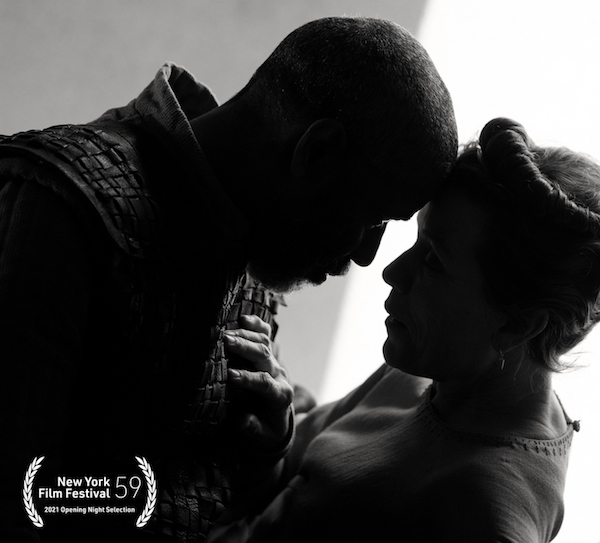 Having shot the film on sound stages, Coen reinvents the material while staying true to it, rather than trample all over it to show off, the way some directors have done. This version doesn't have actors declaiming their lines for the balcony: It's never on the order of, "I'm about to do a monologue, so listen up, folks!" They are actually talking to each other in order to communicate, which gives the language far more power.
Amidst a German expressionist landscape, Washington is excellent as he becomes swept into his awful fate, suffering the backlash that comes from ambition at any cost. McDormand (who played Lady M onstage in 2016) also scores, not interpreting the role as an over-the-top harpy, but as a scheming woman who simply feels the right thing to do is to push her husband forward—until it becomes clear that wasn't so right after all. The fact that Washington and McDormand are older than the usual actors in these roles doesn't pose a problem, it simply shifts the focus to a frustrated couple taking their last stab at power. Other standouts in the cast include Corey Hawkins (Macduff), Moses Ingram (Lady Macduff), and the wildly contorting Kathryn Hunter as the witches (and an Old Man), roles that she brings an eerie sense of evanescence to, as if she were a series of upsetting carnival attractions that know well enough to spout some dark truths, then disappear. As for Shakespeare's theme of criming your way to the top, it's more relevant than ever… though the characters' eventual remorse about it seems somewhat quaint today.
PASSING | Noted actor Rebecca Hall directed this film—which she adapted from Nella Larsen's 1929 novella—about two light-skinned black women who were childhood friends but find that their adult lives have taken wildly different paths. Clare (the iridescent Ruth Negga) is passing for white and has a rich, white husband who readily spouts the N word without a clue as to his wife's background, while Irene (Tessa Thompson) identifies as black and has a black doctor husband and two sons. Interestingly, the film is shot in black and white, which seems to make poetic sense. (The same for The Tragedy of Macbeth.) In reality, Hall's mother has both African American and Dutch heritage, which was an impetus for making the film. Hall handles the material delicately, and while the result isn't galvanizing, it has quiet virtues.
What starts as a seeming contrivance—the two women run into each other and develop a fascination with the other's (and their own) choices—becomes less so as you realize that Clare is tired of shutting black people out of her life to keep her chosen lifestyle afloat, which is why she's drawn so strongly to Irene. Clare's risky flirtation with undoing her choices leads to some heartbreaking revelations, like the fact that Clare realizes she's a sellout who's done some unimaginable things to get what she wanted. (And now, she doesn't necessarily want it anymore.) Irene—a/ka/ "Reeny"—carries her own sadness around, as she fights to keep her sons from knowing about the horrors that face black people, while she tries to promote change by working with a black charity organization. But even she feels conflicted. As Irene puts it, "We're all of us passing for something or other, aren't we?"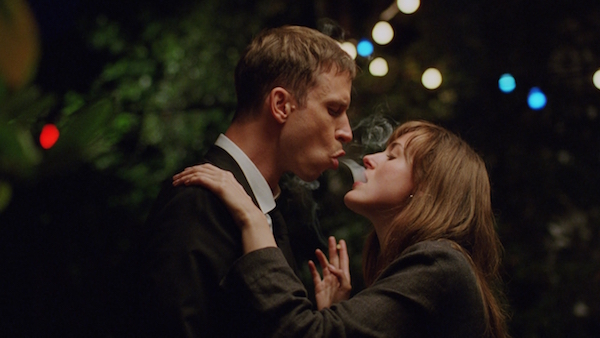 THE WORST PERSON IN THE WORLD | Renate Reinsve won Best Actress at Cannes for her wonderful portrayal of Julie, an impulsive, 30ish woman who longs to be more than a supporting player in her life story, even if her life-changing decisions often involve a tad of self-sabotage. The Norwegian film, directed and co-written by Joachim Trier, is the third part of Trier's Oslo trilogy, the first two being Reprise (2006) and Oslo, August 31st (2011). Trier employs a witty script, a fresh use of music and narration, and some magical realism (and Magic Mushrooms in one trippy scene), for a look at a woman whose career focus went from medicine to psychology to photography (and writing), but who works at a bookstore and mainly wants to stop talking about her feelings all the time, she just wants to feel them for a change. Julie leaves her older, adoring, graphic novelist boyfriend (Anders Danielsen Lie) after meeting a naughty guy named Eivind (Herbert Nordrum) at a party she crashed. The sequence where she and Eivind play with each other—both physically and emotionally—while challenging what's "permissible," considering the fact that they both have partners at that moment, is extraordinarily fresh. The spontaneity of sniffing the guy's armpits and going to the bathroom in his presence is just the kind of silliness and intimacy that Julie needs at that point, and that tides her through, until moving on to her next batch of weird decisions.
Issues of motherhood, jealousy, privacy, and regret crop up, and the film—told in a prologue, 12 chapters, and an epilogue—proves to be one of the most engaging of the year, especially when Julie admits that she likes a flaccid penis because then she's the one who will make it erect! This stimulating comic drama definitely does the trick.
Proof of full vaccination (at least two weeks after the final dose) is required for all staff, audiences, and filmmakers at all Film at Lincoln Center (FLC) venues. Information on FLC's health and safety policies, and links to download the vaccination verification apps can be found by clicking here. WHO-approved vaccines received outside the U.S. will be accepted with official government-issued vaccination certificates and a photo ID. A translation document is recommended for vaccine certificates not written in the Latin alphabet. New York Film Festival 59 takes place through October 10. For tickets and schedule info, click here.
Michael Musto is a columnist, pop cultural and political pundit, NYC nightlife chronicler, author, and the go-to gossip responsible for the long-running (1984-2013) Village Voice column, "La Dolce Musto." His work regularly appears on this website as well as Queerty.com and thedailybeast.com, and he is writing for the new Village Voice, a quarterly which made its debut in April. Follow Musto on Instagram, via musto184.
Chelsea Community News is made possible with the help of our awesome advertisers, and the support of our readers. If you like what you see, please consider taking part in our GoFundMe campaign (click here). To make a direct donation, give feedback, or send a Letter to the Editor, email scott@chelseacommunitynews.com.