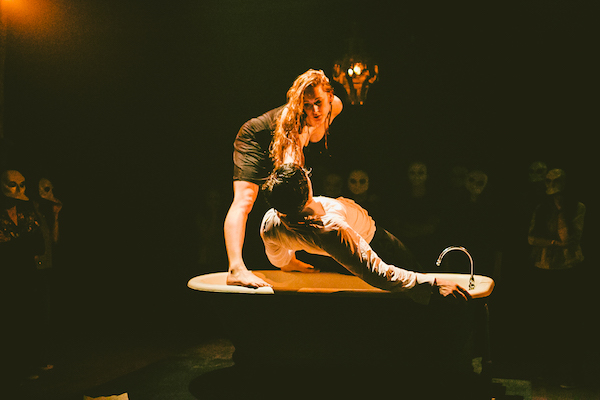 BY TRAV S.D. | Is Chelsea the most haunted neighborhood in all of New York City? It's quite possible: It's home to the Chelsea Hotel, whose ephemeral tenancy we wrote about last year, and the Chelsea Piers, from which the ill-fated Lusitania set out on its last voyage, and where the Titanic survivors finally touched ground after their ordeal, having been rescued by the Carpathia. To walk the more westerly streets of the neighborhood at night is an eerie experience, especially during the time of year when spirits are said to rise from their unearthly resting places and roam once more among the living—at least for the more imaginative of us.
For the past decade a favored spot for drinking in the spookiness has been 530 West 27th Street, a complex of three adjoining waterfront warehouses that house a warren of atmospheric venues including the McKittrick Hotel, with its chic Manderlay Bar, as well as a smaller cabaret called the Club Car, and the roof top garden restaurant, Gallow Green. But the McKittrick lies at the heart of it, originally devised by the producing companies Punchdrunk and Emursive as the setting for their site-specific theatre piece, Sleep No More. This is undoubtedly old news to many readers, as Sleep No More opened here in 2011, but for those who came late, it is a largely dialogue-free retelling of Macbeth, staged in a spooky old '30s hotel not unlike the one in The Shining, called the McKittrick after a reference in Alfred Hitchcock's Vertigo. Visitors move about this environment, comprised of 100 different hotel rooms, where they come upon titillating and disturbing scenes, which combine to tell the bloody tale.
Of course, there's a pandemic on, and Sleep No More, like most everything else, has been sleeping for the better part of a year and a half. But gradually, the space has been stirring back to life over the past several months.
Gallow Green was the obvious starting place. The rooftop restaurant is outside, of course, and has been serving customers since the end of June. And since late July, regular performances of Speakeasy Magick have been back in the mix. This delightful presentation, hosted by Todd Robbins (off-Broadway's Play Dead and ID Network's True Nightmares) and a Texas Guinan-type character known as "Jack," Speakeasy Magick was launched as a regular show in the Club Car in 2018. Robbins hatched the idea, inspired by the scene at L.A.'s legendary Magic Castle. Each show, he and a rotating roster of up to 10 top magicians (some of whom are helping to provide surprises from behind the scenes) dazzle and confound the audience with close-up sleight of hand in a period environment Robbins describes as "dark, mysterious, and sexy." The good news is that as of mid-October, the show's run has been expanded to three nights a week, Thursday through Saturday.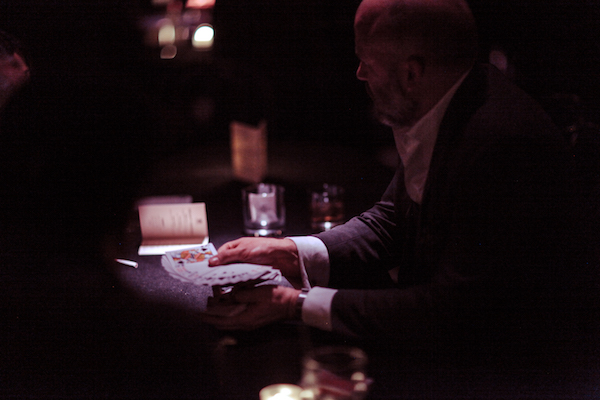 Ordinarily Speakeasy Magick is presented in the Club Car, but for the next several months it will instead be taking place in the stylish art deco Manderlay Bar. This is because October 21-January 30, the Club Car will be home to The Woman in Black – a ghost story in a pub, renowned as the second longest-running play in London's West End (after Agatha Christie's The Mousetrap). The play is based on Susan Hill's novel, which has also been adapted twice for film and television (Daniel Radcliff and Ciaran Hinds were in the 2012 movie). This version was scripted by Stephen Mallatrat, who also penned the 2002 ITV production of The Forsyte Saga, and appeared in the 1981 movie Chariots of Fire. The current stage production had just opened at the McKitrrick in early 2020 and gotten a rave review by Ben Brantley in The New York Times when the CO(VID pandemic shut it down. It stars Ben Porter and David Acton, and seems like an ideal way to usher in Halloween season as well as the equally chilling fall and winter months that follow. Previews begin October 21, with an opening October 24, and it runs through January 30. Shows are Wed.-Sat. at 8pm, and Sun. at 7pm, with 3pm matinees on weekends.
It should be noted, by the way, that the McKittrick Hotel is emphatically not a spook show or haunted house attraction per se. It's a space for sophisticated, atmospheric theatrical events and special events. Don't go there looking for guys in Frankenstein masks, but a freaky, thrilling party scene. On October 29, 30, and 31, the McKittrick will be home to The Witches Ball, in which costumed attendees will be able to interact with characters from Sleep No More, and roam at will through the creepy faux-tel. It won't be a Sleep No More performance per se (the show itself is on hiatus until February), but it'll get you mighty close. The Ball will also feature DJs and dancing, reminding one of the space's IRL history as a trance-and-dance club, under various managements and names, such as Twilo, Spirit, Guesthouse, Home, and Bed, in earlier times.
Naturally, proof of vaccination and proof of ID are required of all attendees, as well as all staff.
"Folks have been cooped up," says a McKittrick spokesperson, adding, "We just want to bring them a warm and welcoming experience and put them in a great mood to help them escape."
Imagine the times being so terrifying that our escape comes in the form of a murder hotel! But hey, I'll take it in a heartbeat!
Details, updates, and tickets are all available here: https://mckittrickhotel.com/.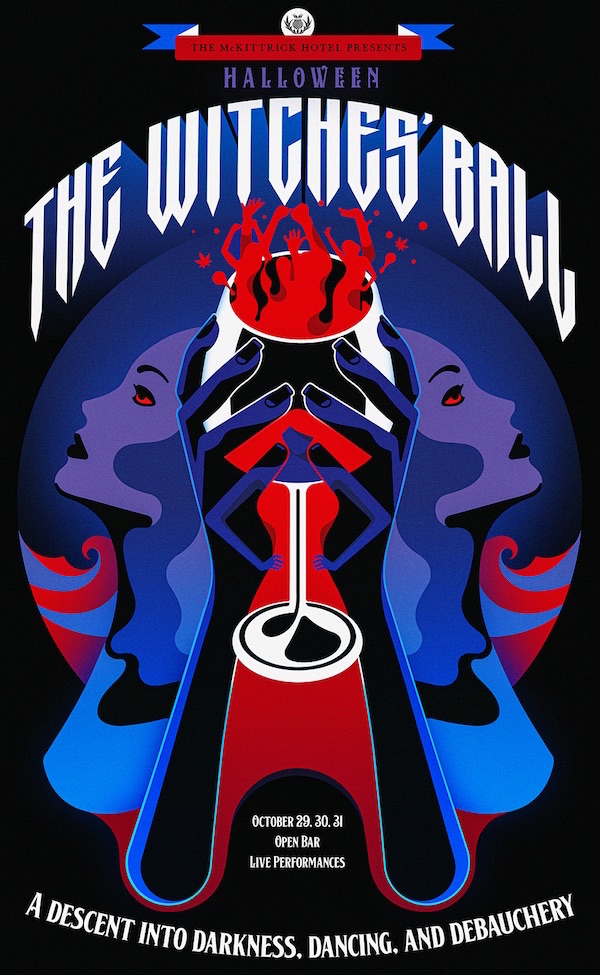 Chelsea Community News is made possible with the help of our awesome advertisers, and the support of our readers. If you like what you see, please consider taking part in our GoFundMe campaign (click here). To make a direct donation, give feedback, or send a Letter to the Editor, email scott@chelseacommunitynews.com.