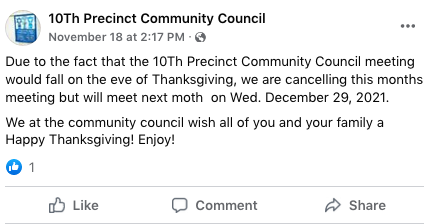 BY SCOTT STIFFLER | It's been the cause of everything from long lines at the airport to forcing bargain hunters to sit at the table with family when they should be camped out in front of a superstore, waiting for Black Friday deals. And now, the very act of anticipating Thanksgiving is the reason given for the cancellation of the citizen-run 10th Precinct Community Council's November meeting. The news came from Council president Larry O'Neill, who posted the above message to the Council's Facebook page at 2:17pm last Thursday, November 18. Proximity to Thanksgiving is nothing new: Council meetings are always scheduled for the last Wednesday of the month. Indeed, the Community Council did convene on the night before Thanksgiving in 2019 and 2020 as, respectively, a pre-COVID brick and mortar gathering and online, via Zoom.
The absence of a November meeting means a loss of momentum: After taking place only as Zoom meetings throughout the COVID-19 pandemic, September 2021 was the first brick and mortar meeting in nearly 18 months. A return to form, however, did not mean a return to the usual location (a ground floor meeting room at the 10th Precinct's W. 20th St. location). Held at Manhattan West, only two members of the public showed up. October's meeting, back at the Precinct, drew a small but engaged crowd (eight attendees from the general public). Community Council President Larry O'Neill, who was initially reluctant to embrace Zoom, nonetheless proceeded to do so, adding some self-deprecating humor when the tech aspect didn't go as smoothly as it could have. But deferring to a lack of tech savvy only went so far–O'Neill repeatedly punted on multiple requests from this publication, to record those Zoom Community Council meetings and make them available to the public via something akin to the Community Board 4 YouTube channel, where past full board and committee meetings are available 24/7 for anyone who cares to access them. Now that the Council meetings are once again brick and mortar affairs, O'Neill has been more receptive to requests that these monthly gatherings be presented on Zoom and in person–but there has been no substantial progress in that direction.
There is a ray of light, however: O'Neill's Facebook post assures readers that the 10th Precinct Community Council will return on the last Wednesday of December. That's good news for members of the public, and the press, who've come to rely on these meetings as the one monthly opportunity to come face-to-face with precinct Commanding Officer, Captain Robert Gault–who has spoken candidly about the goals and techniques of ongoing investigations concerning the still-troublesome patch of Eighth Avenue, from W. 20th to 22nd Streets, and the surrounding side streets, from Seventh to Ninth Aves. So mark your calendars for December 29, show up with questions, and tell them November 24 sent you.
For more info on the 10th Precinct, click here.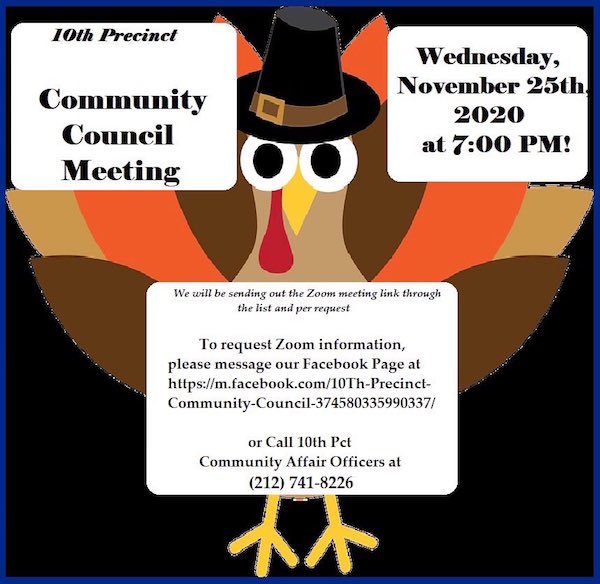 Chelsea Community News is made possible with the help of our awesome advertisers, and the support of our readers. If you like what you see, please consider taking part in our GoFundMe campaign (click here). To make a direct donation, give feedback, or send a Letter to the Editor, email scott@chelseacommunitynews.com.