BY SCOTT STIFFLER | Picture it: January 1, 2021. As New York City's first COVID-era election cycle unfolds, online forums replace brick and mortar gatherings as the candidate vetting venue of choice. The format proves popular, with tenant organizations and block associations holding their own candidate forums alongside more traditional presenters such as political clubs. Flash forward one year and NYC has a new mayor, comptroller, Manhattan District Attorney, and District 3 City Councilmember—all charged with setting a course to guide the city through the post-pandemic era many thought we'd be in by now.
But as the Omicron variant demonstrated, life is full of game-changing twists—such as the one that came via a December 13, 2021 press release noting New York State Assemblymember Richard Gottfried will not seek reelection. The 2022 ballot was suddenly the first one in over five decades without Gottfried as a choice for the NYC Assembly District 75 seat. Those who would succeed him were quick to react, with several announcing their intent in little more than 24 hours after Gottfried's announcement. The current crop of candidates is comprised of five-year Manhattan Community Board 4 (CB4) member Chris LeBron, current CB4 member and former CB4 Chair Lowell Kern, Manhattan Community Board 5 (CB5) member Layla Law-Gisiko, former leader of the Reimagine New York Commission's support for workforce and small businesses Harrison Marks, Penn South Co-Op President Ambur Nicosia, and community organizer Tony Simone. (Campaigns have been suspended by former NYC Council staffer Louis Holden-Brown and Carl Wilson, formally NYC Council Speaker/District 3 rep Corey Johnson's liaison to CB4.)
Two political clubs have already presented online opportunities to learn about the candidates. First up was Jan. 27's Zoom-held forum sponsored by the Hell's Kitchen Democrats (HKDems), available to view by clicking here. A Feb. 2 forum held by the Chelsea Reform Democratic Club can be viewed by clicking here. Chelsea Community News began our own coverage by sending an identical Q&A form to all candidates—which brings us to the below exchange with Tony Simone.
Scott Stiffler, for Chelsea Community News (CCNews): Why do you want the job, and what tone will you set to align yourself with, and/or set yourself apart, from your predecessor?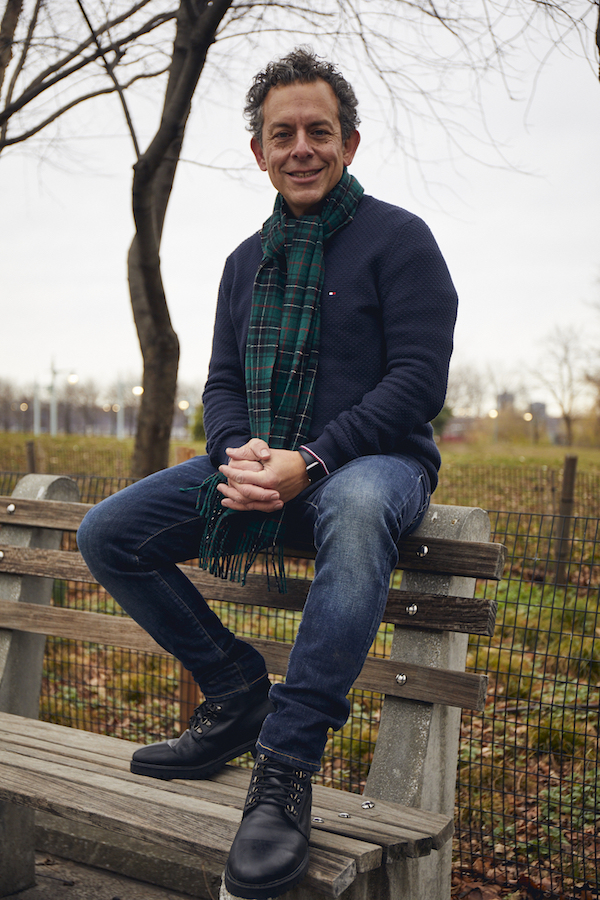 Tony Simone (Tony): I learned at a young age from my grandfather, a Teamster's union delegate, that nothing is accomplished alone. It takes collective action and bold, creative thinking to find solutions to our most complex problems.
For my entire adult life, I've served the communities of the West Side as an advocate and organizer. My life's work has been guided by a fierce love for New York City and a desire to make our neighborhoods more livable, equitable, and healthy. It's that love for my community that drove me to seek office. Dick Gottfried's steady leadership over the past five decades has been nothing short of admirable. I hope to continue his legacy of fighting for working people and working with the community in a transparent, accountable manner.
CCNews: What currently enacted Assembly legislation can be strengthened or used in a different manner to further benefit the people you're running to represent?
Tony: The 75th Assembly District has the third worst air quality in the city, resulting from backed up cars on their way to the Lincoln Tunnel and buses idling as a result of the Port Authority Bus Terminal lacking the space to serve our city's transit needs. The congestion pricing plan approved in 2019 will help us build a new green mass transit infrastructure that can replace the cars that are poisoning our lungs and our environment—and future leadership will ensure the new Bus Terminal answers to the needs of our community. That's why, in Albany, I'll fight to ensure congestion pricing is implemented as soon as possible and make sure the Bus Terminal project is responsive to the needs of those in Hell's Kitchen.
The Community Leadership and Climate Protection Act put forth bold goals in tackling climate change. However, bold goals require bold action—and that is why it is absolutely critical that the Climate and Community Investment Act becomes law, establishing a tax on the heaviest polluters to fund our transition to a green future that protects succeeding generations.
The Hudson River Park Act still allows for a heliport for emergency and corporate use in the Hudson River Park. I would like to see it amended to get rid of the heliport altogether, and have that area used only as park space.
CCNews: During last year's primary races, we asked candidates what they'd do in January 2022, to create a strong "post-pandemic" NYC. Our assessment was too optimistic. How do you regard the pandemic as it currently stands, what is required before we can declare ourselves in a "post-pandemic" period, and what should we be doing now, at the state level, to facilitate that?
Tony: I won't venture to make a prediction about the future of COVID-19 and its variants. Whatever that future holds, there are common-sense steps we can take to ensure we're better prepared for future outbreaks. First and foremost, we won't be able to consider ourselves in a "post-pandemic" period until we have an efficient mass testing apparatus.
More broadly, the last two years have exposed the weakness in our state's health care system. We have to make major reforms in the ways we fund health care. Too often, New York governors have targeted health care spending for cuts, which left us all exposed when the pandemic began. To be prepared for the next public health crisis, New York must strengthen funding for our public hospital systems, invest in healthcare workers—and finally pass the New York Health Act, which would implement a single-payer system of universal healthcare for all New Yorkers so that no person puts off seeking health care because they're afraid of the cost.
CCNews: The time machine has been invented. Once you've played the stock market, it's time to visit your younger self. What, if any, actions do you tell yourself to take or avoid—and what concert ticket do you buy?
Tony: If I could go back in time, I would come out of the closet much sooner. But I am so happy that I eventually embraced and accepted who I am—a proud, openly gay man—and grateful for all the people who helped me feel comfortable doing so.
As for the concert, I would get a ticket to Madonna!
CCNews: The current Assemblymember is often seen alongside the Manhattan Borough President, our District 3 Councilmember, State Senator Brad Hoylman, and Congressmember Jerrold Nadler at press conferences or as a signee to action-oriented letters (often generated by Community Board 4). How will you work local elected officials and stakeholders to advance matters of mutual importance?
Tony: There has been a tradition among the elected officials representing this area of working together. I look forward to being part of the team that represents these constituents by continuing the collaboration with Congressmembers Nadler and Maloney, NYS Senator Brad Hoylman, Manhattan Borough President Levine, and NYC Councilmembers Bottcher, Brewer, Rivera, and Powers, and stakeholders by sharing information that is pertinent to the district. I would do this by showing up at community board meetings, holding town hall meetings, posting newsletters, and reaching out to advocates to help me remain informed about issues in the community. I'm used to working collaboratively, and look forward to it.
CCNews: Conflict and Compromise: What do these words mean to you, in terms of their role in being an effective Assemblymember?
Tony: There will be conflicts on policy in Albany and in the district. I believe it's important to know where we can find consensus without compromising our core values to be able to reach agreement to advance policy—even if it means not getting everything we want. In legislation, this happens a lot. Legislators will often come back with the next bill to get the rest of what they wanted. I saw this with Assemblymember Gottfried's medical marijuana bill, for instance.
CCNews: Favorite Golden Girl, and why: Blanche, Dorothy, Sophia, or Rose?
Tony: Dorothy, for her sarcasm and wit. Jason, my fiancé, is an unmistakable Dorothy!
CCNews: You took the time to answer our questions—even that last one, which, frankly, was a little gimmicky. So in the interest of fairness, we end by turning the tables: What one question do you want people to ask themselves when casting their vote in your race?
Tony: Which person will work hardest for our community and listen most to our concerns?
Chelsea Community News is made possible with the help of our awesome advertisers, and the support of our readers. If you like what you see, please consider taking part in our GoFundMe campaign (click here). To make a direct donation, give feedback, or send a Letter to the Editor, email scott@chelseacommunitynews.com.