With early voting daily through June 26 and the Primary Day election on June 28, we're in the final phase of sizing up candidates to determine who will succeed retiring Richard Gottfried as the New York State Assembly District 75 rep. We asked candidate Tony Simone about the problems and potentials of the area he seeks to advocate for in Albany.
Scott Stiffler, for Chelsea Community News (CCNews): In the February 9, 2022 Q&A that introduced you to our readership, you said we "won't be able to consider ourselves in a 'post-pandemic' period until we have an efficient mass testing apparatus." What is the status of that requirement, and what could have/should still be done to confidently declare entry into a post-pandemic period?
Tony Simone (Tony): We don't have an efficient mass testing apparatus. It is unfortunate because it means there is no way to accurately know how many are or have been infected, which forces the declaration of "post-pandemic" (i.e., endemic) to be based on estimates.
The last true measure of our mass testing capability was during the omicron wave this past winter. Late December through January saw such a massive spike in new cases, testing sites were overwhelmed and New Yorkers waited for hours on line in the cold. Much of that stress on the system could have been avoided had the city not begun closing mass testing sites across the city right before winter began.
What we need to do now is ensure that we are adequately prepared for the next spike. That means maintaining mass stocks of test kits and listening to the experts on when to begin wide-scale distribution with an easy mechanism for reporting results. We all hope that we are approaching a post-pandemic period, but we know that new mutations of the virus can come at any time, and it would be foolish not to be at full readiness given all that we have been through and sacrificed.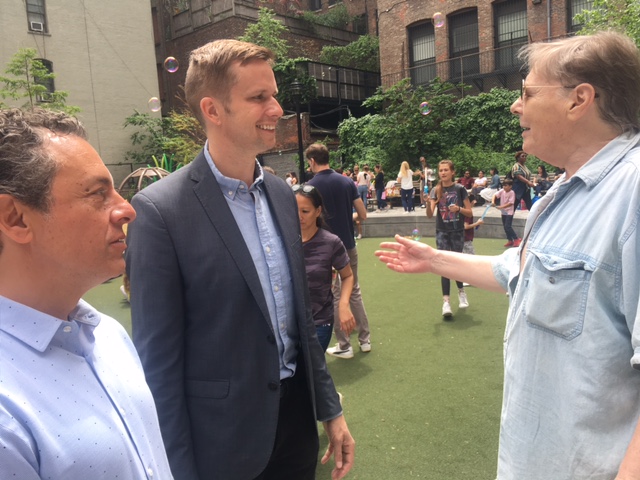 CCNews: You've been campaigning for nearly six months. What concerns have consistently emerged among potential Chelsea voters, and what would you do to address them? Is there a constituent concern that came as a surprise, and inspired you to learn new things or take new actions?
Tony: One of the most common issues that I hear from voters is public safety. Crime is up in many categories and while that is the case nationwide, there are many actions we can take on the state and local level. That is why at the start of the campaign, I released a public safety plan that details the need to aggressively attack the pipeline of illegal guns flowing from other states, rebuild bonds between local communities and the police, copy what works from other cities in dealing with the mental health crisis and deploying it here, and investing in our youth through afterschool programs and summer employment.
Chelsea voters are also rightly concerned about the State's plans to reconstruct and expand Penn Station through a redevelopment of the surrounding blocks. I am opposed to the current plan and process because over a year after the plans announcement, we still lack a true transportation plan and the real estate plan asks far too much while delivering too little to the surrounding community. We need a true commitment to examine the possibility of moving Madison Square Garden, implementing a through-running station at Penn, and eliminating the use of eminent domain. I ask your readers to read my op-ed on the Penn plans.
One new issue I've learned about is the proposal to convert the cruise ship terminal just outside our district on the Hudson River to using shore power. Currently, when these massive ships are docked they continue to run on their highly polluting generators. By requiring these ships to connect to the local power grid, which every year is made up of more green energy, we can end a major source of pollution on the west side while helping to reach our climate goals. Making shore power a reality is one major way our community can do our part in combating climate change.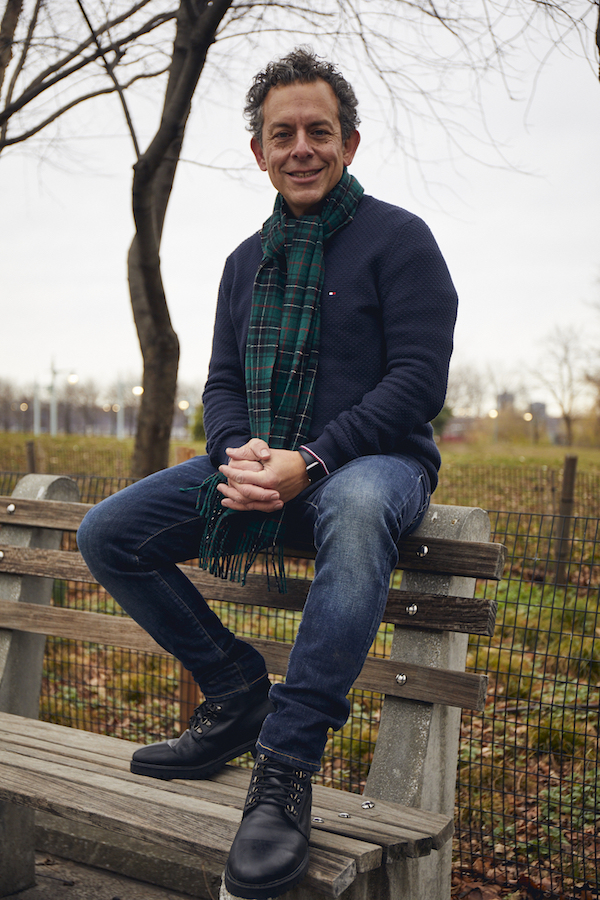 CCNews: Two of your top concerns compliment each other nicely. How do we retain Chelsea's longtime small businesses lucky or savvy enough to have survived the pandemic, and what will it take in addition to new small businesses to truly revitalize the patches of your coverage area that remain at standstill? Assuming you've won in November, what can be done between now and your 2023 swearing in? What can be done during your earliest official days on the job?
Tony: Our small businesses are the backbone of Chelsea that keeps us thriving and our community vibrant and one worth living in. Our commercial corridors are in desperate need of support and every new vacant storefront risks a domino effect that can devastate the vitality of a block. My plan to revive our storefronts calls for cutting taxes on small businesses, creating a new tax credit for expenses incurred to comply with COVID-19 mandates, assistance with free resources and technology, and identifying creative ways to fill empty storefronts such as temporary artistic spaces or pop-up community shops.
Between now and my swearing in, I will be able to do what I have always done: organize local stakeholders including business owners, block associations, non-profits and elected officials to target the commercial sectors most in need of a boost. Through volunteer and locally-sponsored street beautification, to working with landlords to offer temporary low rent spaces to local organizations which will benefit their other tenants, there is much work we can get done before January. Once on the job, I will use my office to ensure city and state agencies are working in a responsive manner to assist our small businesses while pushing for legislation to bring them relief and re-awaken our streets.
CCNews: Continuing a trend that emerged when social distancing was pervasive and public gatherings were few, online (particularly Zoom) is the town hall venue of choice, often hosted by newbie participants/moderators. Were the candidate events presented by the likes of newcomers the Council of Chelsea Block Associations, the London Terrace Tenants Association, and Penn South different from those organized by more traditional hosts (i.e. political clubs)?
Tony: The emergence of zoom forums is one change to the way we campaign that I hope remains. Many people, between family and work commitments, have a hard time making it to in-person forums. Virtual forums allow voters a new way to "meet" the candidates and have their questions answered. I do think there is merit to in person forums where candidates can truly be face to face with voters, and I hope soon groups can easily hold fully accessible and interactive hybrid meetings. I believe the ease of organizing a virtual forum compared to in person allowed so many more organizations to hold their own in addition to the traditional forum holders, all of which were full of questions that covered a wide range of important topics in insightful ways. I appreciate the opportunities these forums gave me to listen to and speak directly with so many neighbors.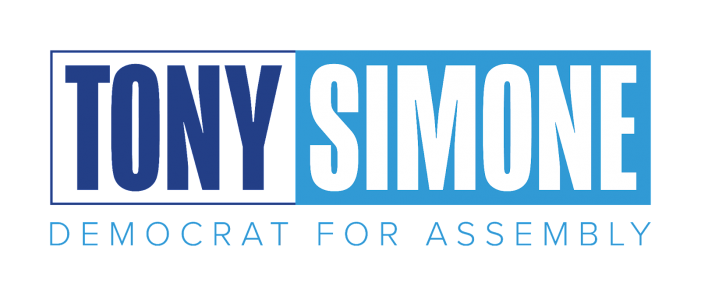 CCNews: Thanks for your time. Please use this "Parting Words" section for a succinct look at any important subject matter not covered above.
Tony: The retirement of Assemblymember Gottfried means we are losing a dedicated public servant who always cared for his district and worked for the right things in Albany. I am proud to be running with his endorsement, along with that of Congressman Jerry Nadler, State Senators Brad Hoylman and Robert Jackson, Councilmember Erik Bottcher, former State Senator Tom Duane, former City Council Speaker Christine Quinn, the UFT, DC37, 32BJ, Carpenters, Retail Workers, Nurses and Doctors unions, strong advocates like TenantsPAC, StreetsPAC, New York Immigration Coalition, and Voters for Animal Rights, and many more.
I have their support because of my record working with and for the community and supporting progressive politics. From working on constituent services for State Senator Catherine Abate, to directing relief efforts after Superstorm Sandy and defending tenants from bad landlords under City Council Speaker Christine Quinn, I know how to make government work for everyone who calls our district home. Outside of government, I fought right-wing extremism, which is rising in our country like never before, leading policy and field operations for People for the American Way. Most recently, I worked for Hudson River Park Friends where I built support to complete, maintain and enhance our beloved waterfront park.
This district is where my fiancé Jason and I call home. Representing my neighbors in Albany would be an honor, and I believe I have the record and the experience to serve you on day one.
 –END–
Chelsea Community News is made possible with the help of our awesome advertisers, and the support of our readers. If you like what you see, please consider taking part in our GoFundMe campaign (click here). To make a direct donation, give feedback, or send a Letter to the Editor, email scott@chelseacommunitynews.com.