In This Week's "THIS WEEK IN CHELSEA"
The Big Mix / Wellness Wednesdays Free Flatiron Fitness Series / West Chelsea Contemporary Exhibit / Down to Earth Farmers Market Chelsea / Early Primary Voting / Stargazing on the High Line /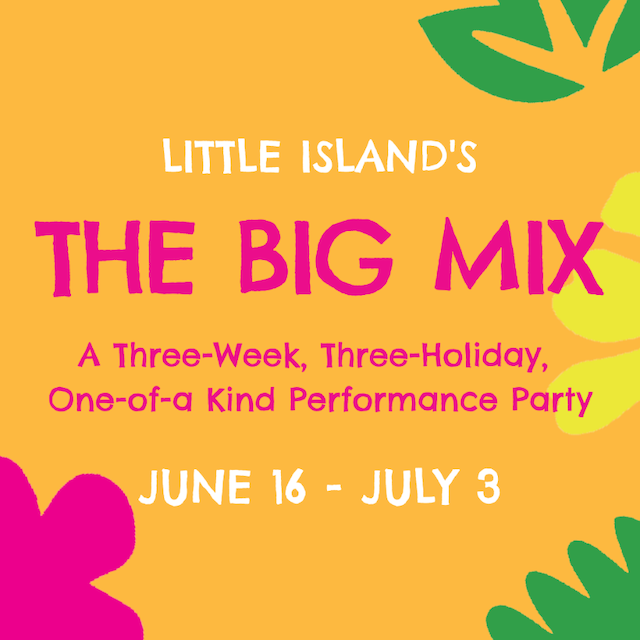 The Big Mix Performance Party:  Through Sunday, July 3 on Little Island, in Hudson River Park by West 13th Street | This one-of-a-kind performance party premiered last week, with a show centering around and celebrating Juneteenth. Its second of three iterations—The Big Mix – LGBTQIA+ Pride—is hosted on June 23 and 24, 8pm, by RuPaul's Drag Race alum Peppermint, who became the first out trans woman to originate a lead role in a Broadway show (Pythio in Head Over Heels). For our epic PRIDE interview with Peppermint at the time she was making that entry in the record books, click here. But we digress. Back on topic: June 25 at 6:30pm and 10pm, Black Trans Liberation founder Qween Jean hosts. All four dates feature performances from Jose Llana (The King and I) and special acts including poetry and spoken word artist Arhm Choi and the Pride Puppets. Closing the series by celebrating the Fourth of July up until the actual day that it happens, The Big Mix –Independence Day runs June 29 to July 3 at 8pm. Tony Award winner Faith Prince (Guys and Dolls) hosts, with featured performers including Ty Defoe (Unbreakable Kimmy Schmidt) and special acts including harmonicist Jiayi He, and yoyo artist, Brian Klimowski. For the full schedule, tickets, and COVID protocols, click here.
Flatiron Fitness' Wellness Wednesdays: Through August 10, 6-7 pm at Flatiron South Public Plaza (Broadway btw. W. 22nd & 23rd Sts.) | Formerly the Flatiron 23rd Street Partnership and now moving forward with a better, shorter name that name-drops its additionally embraced area of coverage, the Flatiron NoMad Partnership presents the return of their signature summertime series, which was promoting the notion of outdoor group exercise long before social distancing compelled fitness facilities to take their business beyond their brick and mortar borders. This eight-week series features yoga, high-intensity interval training, Pilates, and dance classes, all offered by area studios, gyms, and wellness-focused businesses. First up, on June 22, is a class taught by Rima Rabbath, founder of SOUK NYC, a new yoga studio at 12 W. 27th St. "Participating in the Flatiron Fitness Series is our occasion to share something historic in the present moment," says Rabbath, who sees similarities in the timeless quality of yoga and the enduring sights of the Flatiron/NoMad area (best represented by a certain flat, iron-shaped building within visual range of all Wellness Wednesday classes). Registration for the first three weeks of Wellness Wednesday classes is now open at flatironnomad.nyc/flatironfitness/. Registration for the additional classes will open in subsequent weeks.

(In)tangible Futures: Women at the Forefront on view at West Chelsea 
Contemporary (231 10th Ave. btw. W. 23rd & 24th Its.) through July 3

|
This digital exhibition's run, timed to coincide with June 20-23's
NFT.NYC
 conference, "exclusively celebrates women" who incorporate "new technologies into their fine art practices." Lyora Pissarro, for example, uses her great-great grandmother Camille Pissarro's legacy of impressionist landscapes as a launching pad to create "mindscape oil paintings, which will come to life with the dynamism and vibrancy of museum-quality projection mapping through a collaboration with The Allaux Brothers
."
Other featured artists include South Korean artist Mari Kim, whose physical paintings always begin in the digital realm, and Austin-based Russian artist Mila Sketch, whose paintings come alive through augmented reality. For more info,
click here
.
The Down to Earth Farmers Market Chelsea: Saturdays, 9am-2pm on the North side of West 23rd St., off Ninth Ave. | New York area growers and artisan food makers return to Chelsea every Saturday through Dec. 17. This Market was created with the support of nearby Church of the Holy Apostles, with the mission of bringing wholesome and delicious foods to the neighborhood's shoppers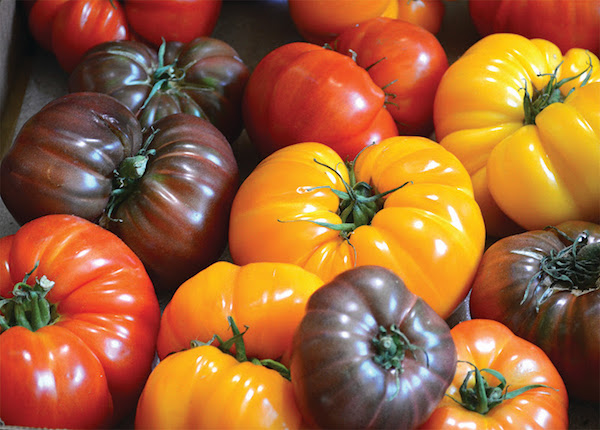 and supporting local small farms and food businesses. "The Chelsea Farmers Market is a grower-producer market," its fouders note, "meaning that vendors must be farmers or make food with ingredients purchased from local farms. The few exceptions to this rule are olive oil, chocolate and coffee vendors who can document their sourcing." The Market's ninth season will offer fruits, vegetables, and meats from area farms. Market favorites PickleLicious and Orwashers Bakery are returning, along with fresh faces including Love the Soup! from Morristown, NJ and Ideal Fish from Waterbury, CT. SNAP EBT is welcome (visit the manager's tent to get tokens; matching Health Bucks are available). Farmers Market Nutrition Program checks, issued by WIC offices and Seniors' centers, can be used from June through November. Get the latest Market news by signing up for their email newsletter via the Down to Earth Markets website (click here to access it) or by following the Chelsea Farmers Market on Facebook (https://www.facebook.com/dtechelseafarmersmarket/).
Early June Primary Voting: Through Sunday, June 26 |
The June Primary is scheduled for Tuesday, June 28, and will include elections for Governor, Lieutenant Governor, State Assembly, Judges, and Party Positions. Early Voting is conducted June 18-20, Sat.-Mon., 9am-5pm; June 21-22, Tues.-Wed., 10am-8pm; Thurs., June 23, 10am-6pm; Fri., June 24, 7am-3pm; and June 25-26, Sat.-Sun., 9am-5pm. Voting locations in the Chelsea area are Bayard Rustin High School (351 W. 18th St. btw. Ninth & 10th Aves.); FIT Dubinsky Student Center (217 W. 27th St. btw. Seventh & Eighth Aves.; and The Mall at Hudson Yards (20 Hudson Yards). Note: You are required to wear a mask/face covering and maintain six feet of distance when entering any Board of Elections facility. The August Primary is scheduled for Aug. 23, with Early Voting from Aug. 13 to 21 and will include elections for U.S. House of Representatives and State Senate. To find your Early Voting or
Election Day pollsite and view a sample ballot, 
click here
. For more information via the Board of Elections,
click here. 
Stargazing on the High Line, Tuesdays Between Dusk and 9:45pm |
Members of the
Amateur Astronomers Association
take you through the paces of peering through high-powered telescopes to see rare celestial sights. This free program takes place on the High Line at 13th St. just south of The Standard Hotel. Overcast conditions or inclement weather may cause cancellation. If a session needs to be cancelled, a post will appear on 
@highlinenyc's Twitter feed
 by 3pm on the day of the event. For more info,
click here
.
—Compiled by Scott Stiffler
Chelsea Community News is made possible with the help of our awesome advertisers and the support of our readers. If you like what you see, please consider taking part in our GoFundMe campaign (click here). To make a direct donation, give feedback, or send a Letter to the Editor, email scott@chelseacommunitynews.com.