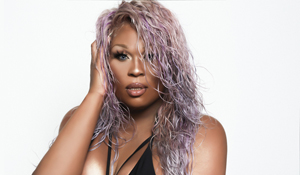 Every bit as sweet and cool as her name implies—but with a refreshing flavor all her own—Peppermint has been opening doors for others by paving her own way through the worlds of television, Broadway, the music industry, live performance, and, always, activism. Chelsea Community News sat down with her, for a broad-ranging talk about everything from Trump and Stonewall to inclusivity and intersectionality.
The RuPaul's Drag Race favorite, who recently made history as the first transgender woman to create a principal role on Broadway, will be one of the must-see shows in a crowded field of choices, during NYC's massive closing weekend of Pride month. I, CANDY: PEPPERMINT LIVE IN CONCERT. WITH CAZWELL takes place Friday, June 28, 7pm, at the Gramercy Theater (127 E. 23rd St.). Peppermint will be joined by longtime collaborator Cazwell, along with a live band. For tickets, ($30, with $75 VIP tickets that include a meet and greet), visit www.SpinCycleNYC.com
Scott Stiffler: Tell us about the Pride gig you're doing.
Peppermint: Yeah, I'm doing a concert on the 28th. It's Pride weekend, and I haven't been able to do a performance like this in New York City for a long time. I mean, was in Head Over Heels, and we stayed in New York City for the duration of that—but getting the opportunity to do my own show, about me, onstage, in New York City, hasn't happened in years. Last time I did a cabaret show in New York City was probably in 2006, or something like that. It's been more than 10 years. I'm coming back, and I'm really excited about it. It's me, and Cazwell, who lives in LA now, He's my "New York husband," and we are gonna do some original material and some covers. [The one-woman show material] is basically everything from RuPaul's Drag Race, to Broadway, to now.
S: Can you give us an idea of the kind of music you'll be doing at the show? And what's your favorite kind of music to perform?
P: Genre? My favorite genre of music to perform is probably hip hop and R&B. There will be some hip hop in there. Most of the songs that are original are gonna be, pop and R&B—and then there will be some pop and R&B covers. So anyone that likes, Her, H-E-R, the R&B artist, or India Arie, or sort of late '90s, early 2000s, what they would call "neo-soul," like Lauryn Hill and people like that? Anyone that likes that style of music will love this style of [my] music. And I'm a queen, so anyone that likes drag will also love it.
S: How do you compare, crafting your own work in the recording studio to creating the character you played in Head Over Heels?
P: Uh, it's a, it's a much less tedious process, believe it or not. Broadway is extremely, uh, you know, there's a lot of checks and balances. Trump would never survive. [S laughs, P laughs] You know, I just wrote a song today. Literally today, this afternoon, I wrote an entire song. And so that can happen. It doesn't always happen quite so easily, but it can happen. And so, in the [recording] process, I'm able to say what I want to say the way I want to say it. There's a lot less people for me to kind of "check" with. Of course, I do want to bounce it off others for their opinion, but it's not required.
S: We spoke quite a few months ago, when I was writing an article about artists and activism. This is while you were in Head Over Heels, and you touched upon the matters of language, pronouns, and teachable moments, during the show's development process. What did you learn during that process, and what things were you able to help others learn?
P: I was able to bring my own personal life experience to something that was transformative for me. I'd never been in a Broadway show, and I had a lot to learn from the creative team, from the director Michael Mayer, from the writer, uh, and the adapter, James Magruder. There was so much there to unpack, in terms of just me learning A) a Broadway show; B) something written in a type of prose, blank, blank verse, which is like Shakespearean, but it was like, you know, kind of different [laughs], so there was this language I was learning.
You know, a lot of it [the show] centers around language and words, so that was a challenge for me, something I needed to kind of wrap my brain around. But once I understood the rules of the language itself, then I was able to say, okay, this sort of majestic character who had been created, Pythio, is a play on Pythia, the Greek god, uh, goddess—but Pythio themselves are non-binary. And also, now that the show is over there's no spoilers, was a biological parent to one of the character, and had been the wife of another character, and now is this sort of shape-shifting goddess or god deity. There was a lot to kind of sort through. There were moments where we all kind of got caught in, "What are the pronouns?" How do we express that in a way that makes sense in the world of the show?
So during all of that, I had the opportunity to use my own personal experience to speak with the creative team, and everyone [else in the production] about what I think Pythio would be. It didn't make any sense for the characters in the show to be taking this journey, sorting through gender identity in a really nuanced but progressive way, if the cast wasn't going to do the same thing.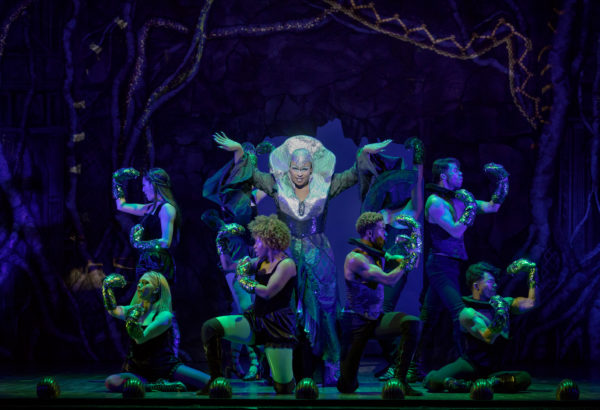 S: You were all sort of learning about it together.
P: We were sort of learning [as a group of people], by learning about the characters. I mean, my character wasn't really human, but [by talking together about] the real world application of gender identity and expression of pronouns, we were finding ways to welcome people who are gender nonconforming into everyday spaces, whether it's work spaces or family life, friendship, all types of relationships. I was able to use some of the examples [respectful, correct usage of preferred pronouns] in the show, to talk about real life, practical examples. We went around the circle, and everyone said our pronouns.
We had the opportunity to have these conversations twice, because we did the show twice. We did it in San Francisco, and then we packed everything up and then had some new people join the company for Broadway, so there were several moments where we were able to kind of talk through and introduce ourselves, and I made sure to take each opportunity, even though they were months apart, to kind of declare the importance of really recognizing that we're not just a bunch of actors who are born in this mystical world. We are actors who have a really great opportunity to not only bring to life some beautiful text and a beautiful story, but also breathe life into these characters—types of characters that are very underrepresented on stage, but [have the power] to resonate with a Broadway-going audience.
And so in order to do that with reverence, and respectfully, we have to learn about who we're talking to. We have to learn about how to speak with them with their pronouns. When they show up to the stage door and there's someone who's either trans or non-binary, what do we say? We can't just say a line from the show, we have to speak to them like a real person, so we have to know how to do that.
S: Did you experience that a lot, with audience members who showed up at the stage doom after a performance?
P: Oh my gosh, yeah. There were so many people who shared or disclosed that they identify as nonbinary…
S: Was there a particularly memorable interaction?
P: They were almost identical, honestly. I mean, not to say that they weren't unique, but, you know, it's so interesting how universal it is, [how people react], when you really touch someone, and something you do or say resonates with them.
S: By the time you were done with that show, what feeling were you left with, you know, about having those interactions?
P: Well, at the beginning of the show I was like, "Oh my gosh, I'm on Broadway! That's great!" But at the end of it, I was like, "Wow, we're doing some work here that was really crucial and, honestly, could be lifesaving." I don't know how that sounds, you know, grandiose. I'm not saying that our performance was like, the most riveting thing in the world—but [I'm proud of] just the fact alone that we were able to speak to several different demographics and identities that are usually the butt of the joke in other shows, that are usually the villain in other shows, usually the first person that gets killed in other shows.
S: So you were with the show from the beginning. You spent a lot of time in development. Then you did it eight times a week. What does the takeaway feel like as an artist, because that's such an intense period?
P: I'm never doing Broadway again unless I'm able to, uh, just jump into, like, a quick role that's already been developed. [pauses, thinks about that line in the sane] I really would have to love the show as much as I loved Head Over Heels, if I were going to develop an original character. I have the utmost respect for folks who do it [eight times a week on Broadway], over and over again. I wasn't really ready for it, but I adjusted quickly, and it was great, um.
S: And you did it successfully, so does that in any way influence you as an artist, in terms of preparation or endurance or stuff?
P: Yeah, I mean, I think I basically had to rearrange the tools that I was carrying around and was equipped with, as a result of doing drag. That kind of sharpens your pencil in a very particular way that many other types of performers don't have. If you do drag, a lot of times, you're your own costumer, your own makeup artist, hairstylist, your own choreographer, getting your own music together, and then you have to perform—and you're sort of a Renaissance person.
S: The minor matter of performing.
P: Exactly. Exactly. Um, and so there's that. But then on top of that, doing something like [RuPaul's] Drag Race, it's boot camp. It's like the Olympics of drag. And so we were up to all hours of the night, and then with sometimes, just a few hours sleep [we were back in the studio], so it was definitely a life-changing experience. But it really hardened my shell, that I thought couldn't get any harder. So then going to Broadway, of course, I completely gagged when I was like, "WHAT? We have to do WHAT? We have to do shows the same day we have rehearsals eight times a week?" And then the real clincher was, when we did over Christmas holiday, nine shows in five days—and I almost cursed everyone out, but I didn't, so it was great! You know, it got easier as we went along, and I feel much stronger now. Maybe the second time I open a show, if I ever have the opportunity to do it again, I'll be thinking it's like a walk in the park. Who know?
S: What do you find yourself wanting to do with your voice, now that you have a platform, since you've been known. I mean, no matter how well-known they are, all artists have platforms, just in the act of expressing themselves. But what do you find you want to do with your voice now, and in the future?
P: You know, honestly, I think I'm doing the same thing with my voice that I've been doing, and that I've always wanted to do. When I started doing drag, it was just really apparent to me that I needed to have a sense of, or that I was carrying on a legacy of people, queens—and although I didn't know it at the time—trans women. I was carrying on a legacy of activism and charity, and so I adopted that into my drag M.O., my drag persona, very early. As a result, I never turned down the opportunity to donate my time towards AIDS and HIV research charities. I actually worked for 10 years with Project Achieve and the HIV Vaccine Trials Network. I was a staunch supporter of different organizations. I was donating my time, and hosting events and fundraisers, and marching across the Brooklyn Bridge for marriage equality. So that was always a part of who I am. And after doing Drag Race and then Broadway, my platform has grown and gotten bigger, and it really allowed me to effect a certain type of change that I hope it will have an impact on the future, yes, but definitely have an immediate impact.
I think it comes down to sense of community, and one of the key words, I think, is definitely "intersectionality." AIDS, and HIV is a concern for me, but it isn't something that I have been forced to deal with on a personal level. Getting married was not something that was on my personal horizon, but I was fighting for them as if they were, and that's because I know that I'm a part of a larger community that needs my help. And I think, historically, we've let off our heterosexual, cisgender counterparts by allowing them to believe that they are not a part of our community. We, as trans people and people of color, have allowed our cisgender folks, and non-people of color, off the hook, by allowing them to kind of continue to use the term LGBT, but [it's not a complete conversation] when they're really only talking about the "G" and the "L," and not focusing on issues that affect trans women and, and gender nonconforming people. Um, you know, I think it's just as upsetting to me, the atrocities and the murders of gay men in Chechnya and in the Middle East, as it is the trans woman of color who was just murdered yesterday in Dallas. And so if that can affect me equally, then it should affect everyone who says that they care about my equally. And so that's now the centerpiece of my platform.
S: Your New York City performance, during Pride weekend, coincides with Stonewall 50. As the years have gone by, the role of trans people leading up to, and during, the Stonewall Riots, has been increasingly recognized. What are your thoughts on that?
P: We have not, up until this point, done it successfully, and I think that's because we were doing it in the wrong way. We were doing it in a way that kind of whitewashed this story of Stonewall. It's so important that we go back and sort of redeem the stories, and the lives of the people who we left behind, didn't include the first time around. I was talking to Lady Bunny, and she tells me that, "Everybody has a different story for Stonewall." And there's certainly no like, you know, bible. Hearing those stories and hearing people's, um, takes on it and their different points of view is still essential. Just knowing that now, this time around, we're doing it sort of in the light of day where we can look around and not only see what we're hearing, the story of Stonewall, we're also seeing the sun shine on the monument of Sylvia Rivera and Marsha P. Johnson [in NYC, that had just been announced at the time of this conversation0.
Now, today, we are walking past billboards of trans women of color who are partnering and making a lucrative living, where 10, 20, 30, 40 years ago, 50 years ago we, I would have been forced into a life. I would have only had one choice, which it would have been survival sex work. And there's a sort of a self-perpetuating cycle that happens when someone is pushed into survival sex work, then they are at greater risk for AIDS and HIV, substance abuse, abuse at the hands of the Johns, and then of course abuse by law enforcement and the police is a thing, and then you end up becoming either murdered, or in jail and then your pronouns aren't respected. They don't respect your identity, or your name, and they humiliate you in jail. And then there's more violence in jail, not only at the hands of other prisoners in the men's prison, if we're talking about a trans woman in the men's prison that she was put into because they don't respect her gender identity, but now you're being abused potentially by the law enforcement that's in the jail. Everyone knows that there's recidivism with trans women of color who have been arrested for sex work.
And so the fact that we have people like Laverne Cox, the fact that we have people like Mj Rodriguez on Pose, the fact that we have people like Ryan Murphy and Janet Mock writing stories. It will, I think, give us a new energy, while look at the tweets of our president, who has been removing our rights, just in the past few weeks. And we will hold him accountable, and we will have new found a certain type of energy and resilience that we didn't have a few years ago, because we're able to see our stories be lifted up so well. I know that was really long, but I wanted to say it the way I did.
S: No. How are we doing on time?
P: I'm fine. Let's go. Do you have another question?
S: What advice would you give to a young trans person, or a cis man or woman, who aspires to do drag? Is there a sort of next level drag you see, where everybody is being welcomed into it?
P: Yeah, well, I think one of the things that I have to say about that, is the same thing that I have to say about folks who were complaining about marriage equality and other various issues we happen to talk about around the coffee table, as queer people. And so when you're talking about equality, if we want them, whoever "they" are is, if we want them to allow us into their spaces, we have to allow them into our spaces, which means they're coming into our gay bars and clubs, which means they're probably going to want to get in drag, because drag is addicting and everyone loves it. Drag is for everyone. If your drag is on point, if you have what it takes to do it and succeed [go for it], I think, is the thing that I would say to any trans person, that I would say to any cis person, who is interested in doing drag. Just know that you are a guest in someone else's house. But if you can turn it, they will give you a permanent seat at the table.
S: How do you feel about doing drag now, as opposed to the early days?
P: I've been doing drag for [clears throat] 20-something years, and, um, you know I remember a moment in time when doing drag to me was so sacred, because I didn't have any other acceptable way to express my gender identity, to express myself as a woman. When I was in drag, dressed as a woman, um, people would clap and give me money. [Short laugh] The reaction was not the same during the day, and at school, or with my family, and so it took awhile for me to become comfortable with who I am as a woman outside of drag, to then turn around and go back to drag, and let it inform my drag. And now I'm totally cool being campy and ridiculous and making a fool of myself, whereas I would never have, I would never have been seen in blue hair.
S: I want to go back to what you were talking about during the development of Head Over Heels, about explaining pronouns. So somebody you're just meeting or not quite familiar with you, how do you explain your pronouns?
P: Well, you know, I do personally for myself, in terms of my gender expression, I, I do work towards, I lean on the binary, I do lean in a certain direction, so I don't think it's difficult for people based on my gender expression [to know my pronoun], but I certainly am happy to volunteer, my pronouns if anybody asks. To people who are either in transition or in a space where they find their pronouns being questioned, then I think, you know, if you are an ally, one of the things you can do, is use your, um, platform and privilege, and just say your pronouns to people who you wouldn't normally offer them to.
S: If I say to you, "I'm sorry, I don't know you well and I want to, uh, be respectful to you. How should I address you? What are your pronouns?"
P: You know, it's just, rule of thumb, if someone gives you their pronouns, or you ask for someone's pronouns, you should give yours in return.
S: So I'm gonna say, "I'm Scott. I'm he/him."
P: Mhm. "I'm Peppermint. She/her."
S: That wasn't so difficult!
P: No, it's easy! And then we can move on.
Chelsea Community News is made possible with the help of our awesome advertisers, and the support of our readers. If you like what you see, please consider taking part in our GoFundMe campaign (click here). To make a direct donation and/or send feedback about the site, send an email to Scott@chelseacommunitynews.com.