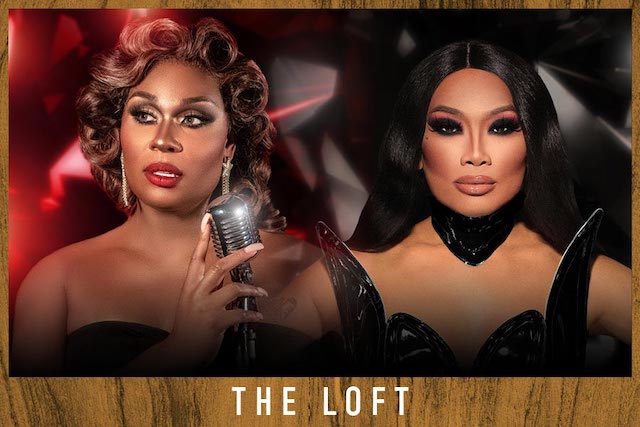 On Tuesday, November 29, New York City is the highly appropriate last stop on the nine-city Letters Live/Good Juju tour, in which damn fine divas Peppermint and Jujubee claim their place in the pantheon of post-pandemic live performance events.
Highly appropriate how, you ask? Well first of all, after feeding the needs of hungry audiences in Seattle, Los Angeles, Boston and points in-between, NYC's City Winery (11th Ave. at W. 15th St.) is primed to see the tightest, most road-tested performance yet. Secondly, NYC is, as old school Peppermint loyalists are quick to point out, where she resided and reigned for years—where teeth were cut and skills were sharpened, in the dues-paying, pre-RuPaul's Drag Race days.
Gotham is also where Chelsea Community News last spoke with actress, singer, reality star, and activist Peppermint back in 2019, while she was making history as the first transgender woman to create a principal role on Broadway (playing Pythio in the musical Head Over Heels; click here to read our Q&A). Fast forward to October 2022: In anticipation of the November 2 Letters Live/Good Juju tour kickoff, Peppermint participated in another Q&A via conference call, during which the solid pro literally phoned it in and then proceeded to figuratively go above and beyond the point where one just "phones it in," as it were.
Scott Stiffler, for Chelsea Community News (CCNews): You're getting ready to tour in support of the Letters to My Lovers trilogy of albums and anticipating a second season of your drag reality show, Call Me Mother [on OutTV, Oct. 26 premiere]. Geez, you have been busy, busy, busy.
Peppermint: Busy as a damn, not even a bumblebee—as a killer hornet.
CCNews: Talk bout the tour, please; the timing of it and the company you're keeping.
Peppermint: Well, I have done touring before, but I've mostly been in group shows, for people who enjoy the Drag Race community. I've done lots of those shows, and I've always enjoyed being on the road. But this is the first solo show that I've ever done on a tour, and so I was of course very nervous and I wanted to have a good friend with me on the road who's also a fabulous performer. So joining forces with Jujubee, I think, was like the best idea ever… But I'm a little bit out of practice because of COVID.  I mean, thank goodness we were able to do digital performances during lockdown. It kept the bills paid, but it's no substitute for a live show. There's nothing worse than doing a show, pouring your heart out on a digital performance, and then no one is clapping [laughs].
CCNews: It was surprsing to see you're touring with a live band. No lip syncing for you and Jujubee. That's quite a commitment.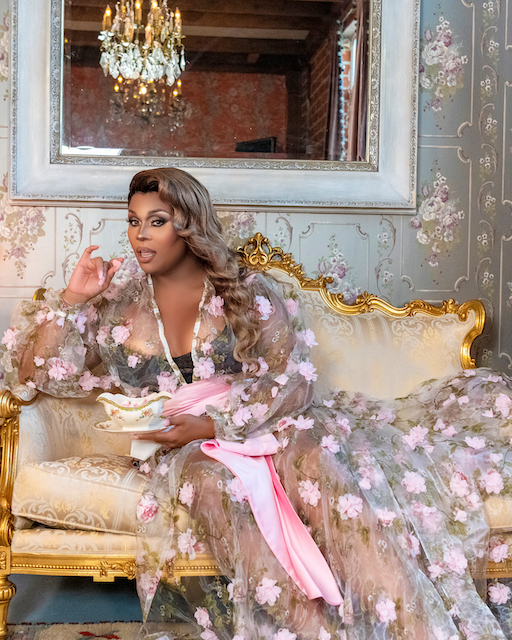 Peppermint: It's a more expensive way to do the show, but as any performer will tell you, if you're doing anything with a live band, it's [the performance] just much more organic. Even though you may be singing the same song or doing the same dance moves on a tour, it's never identical to the show that was the night before.
The same thing goes for live musicians. It probably sounds kinda, "Woo woo" to say it, but there's nothing like a performer who's really feeling crowd and the moment is just right and they're giving it their all. But you can also tell that with a drummer or with a keyboardist or a bass player or guitarist or whatever you have. So when that's all going together at the same time, it's just a beautiful experience, having this communication.
CCNews: Okay, so Letters Live is called that for a reason–band backing you, with tracks from the project's output… so far, or all the way through to the final installment?
Peppermint: Well, the third album in the trilogy is coming out. We don't have a release date but it will probably be the first of the year. So anybody coming to this tour will be getting to hear a preview of unreleased material.
CCNews: Album by album, what is the Letters story arc?
Peppermint: The trilogy is about the beginning, the middle, and the end of a relationship that I was in for a while just before the pandemic. And once that ended, I wrote down, you know, all the stuff I was feeling: The great moments, the sad moments, the fights, the sex, all of it… I thought I was going to write one song, and come to find out we had like 25 songs, over three albums. I decided to set it all to my favorite style of music, which is '90s R&B. And I think it's time we revive and revisit the '90s and it feels like I'm not the only one thinking that. So I'm just excited to present it, live, to people.
CCNews: R&B is popuarly associated with, if not dark subject matter, at least realistic takes on life. But '90s R&B wasn't always gloom and doom. How does your take on that decade's R&B reflect its "up" side?
Peppermint: There are some happy songs, and there are songs that are more like breakup songs, because it's the full scope of a relationship. When you listen to an R&B album you do hear—it's rhythm and blues for a reason. You do hear about things that are a little more sad and there is some of that in there, but then there's also some really joyous moments that are R&B style. It's really celebrating being queer, being black and queer, being queer and being trans—and as a trans woman, being part of the community, and all the things that come with it.
CCNews: It's really not been that long since "trans" has been a known quantity, in terms of its pop culture presence. Where are we in terms of how the general public knows about and regards trans identity? And where should we be going from here?
Peppermint: I think we've made a lot of progress… We see in film and television and media all these great examples of queer people, LGBT people, LGBT stories, characters, and even people behind the scenes—directors and creators. Of course, folks of transgender experience are not as represented as some of the other groups in the LGBT community. And certainly of all the anti-LGBT bills and laws and policies, over 300 being presented across the United States, most of those are centered around trans existence and really limiting access to things like health care and education and housing—and more—to trans people.
So really, the transgender community is under attack despite the fact we've seen this almost explosion of not only trans identities and representation but also the knowledge about who trans people are. Even though I do still think it's lacking, we have seen some great progress. It just means there's more conversation that needs to be had. Historically, people went from tolerance—which is what we saw with folks in the gay community. Like, we were aware of gay people, then we were tolerant, and then we were inclusionary of gay identities and gay stories in the media—and we're still working on it. It's not perfect.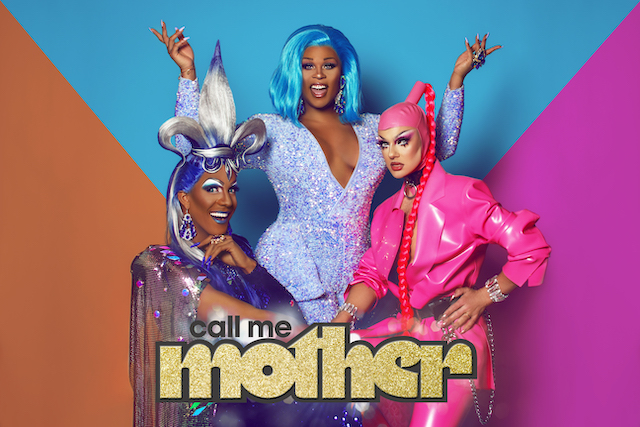 CCNews: Your Reality TV show–back for a second season on October 26–is helping to move that trans conversation dial, but there also seems to be a conscious effort to do the same for the drag elimination format genre; less infighting and all-or-nothing questing on the show, and more focus on the nuts and bolts tasks that go into creating those few moments on stage. Talk about what you're doing with the show's premise and subject matter.
Peppermint: Call Me Mother, for those who don't know, is a drag reality competition show that focuses on drag house culture where you have a drag mother who takes care of her drag children. The format is three drag mothers, three drag houses—and one winner at the end… It really does focus on the community and how the family works together to complete the challenges—and further than that, it really shows the extended community. If you are a drag entertainer, you're going to have a relationship with the DJ, with the promoter, the costumer; with the hairstylist if you don't do your own hair, and there's a lot of us who don't. There really is an entire community that helps a drag entertainer go from just one human being to a fabulous diva onstage. We show that collaboration, which is something you don't see in other drag reality shows. In addition to that, the show is inclusive [welcoming of nonbinary, etc.].
CCNews: And there is, still, that episode by episode emphasis on who, this week, won't be back next week.
Peppermint: Nobody wants to lose or be sent home. Winning is their goal, and we do have to sometimes console people. But the truth is, people can go home for any reason and there are some shakeups this season. The person you might assume to be Number 1, the get sent home way before the finals. For the winners [the weekly surviors], it's a matter of how much they work to improve, and how much of a team player they are, and how they're going to contribute to the group's success… People see sassiness as a personality trait which it is entertaining, but the truth is, I've been off Drag Race for five years, and have been working in drag for twentysomething years because of the bond with the community. I'll be called to do something because of how I connected with people and treat people with respect.
The "Letters Live/Good Juju" tour comes to NYC on Tuesday, November 29; 6pm doors, 7:30pm start. At City Winery, Loft (25 11th Ave. at West 15th St.). For tickets ($30 general admission optional VIP add-ons), click here or call 646-751-6033.
Chelsea Community News is made possible with the help of our awesome advertisers, and the support of our readers. Please consider taking part in our GoFundMe campaign (click here). To make a direct donation, give feedback, send a Letter to the Editor, or contact our founder/editor, email scott@chelseacommunitynews.com.