In This Week's "THIS WEEK IN CHELSEA"
NYC Police Exam, July 15 Deadline / "Go Figure" Art Exhibit at Hudson Guild / Down to Earth Farmers Market Chelsea / Chelsea Garden Club Tour / Financial Justice Workshop /  PS11 Farm Market / Free Community Music at Chelsea Green Park / Wellness Wednesdays Free Flatiron Fitness Series / NYC Councilmember Erik Bottcher's Free Monthly Housing Clinic
NYC Police Exam through Friday, July 15 | This info comes to you as part of the NYPD's Police Officer Recruitment Initiative. The registration period for the Police Officer Exam will be open until July 15th, 2022. Potential test takers can register at www.NYC.GOV/oasys or under the "Police Officer Title Page" on  www.nypdrecruit.com.  For further information or questions regarding this exam, contact the Recruitment Section at 718-312-6097 or 212-RECRUIT. In addition, those interested are able to live chat with a recruiter Monday–Friday between the hours of 7am and 8pm, Saturday–Sunday between the hours of 12pm and 8pm.
Rick Kreiger's "Go Figure!" Exhibit Presented by Hudson Guild Gallery II | Meet a multitude of fantastical figures created by multi-media artist, SVA grad, and NYC resident Rick Krieger, who has been presenting his own work and co-curating that of other artists at Hudson Guild since 1989. On view through September 1. Viewing hours: Tues.—Fri., 10am—6pm. At Hudson Guild Gallery II (119 Ninth Ave.). For more info, see the below flyer and click here to view an arts events page on the Hudson Guild website.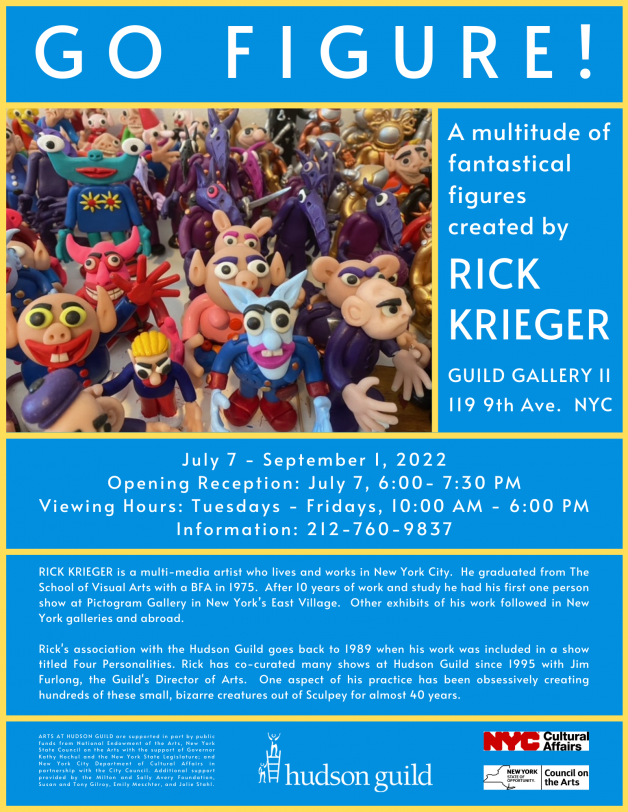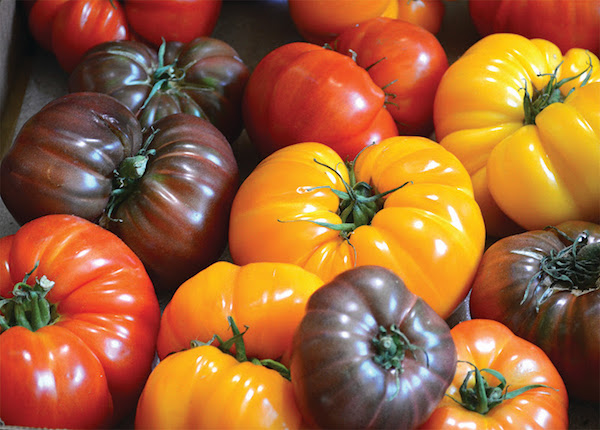 The Down to Earth Farmers Market Chelsea: Saturdays, 9am-2pm on the North side of West 23rd St., off Ninth Ave. | New York area growers and artisan food makers return to Chelsea every Saturday through Dec. 17. This Market was created with the support of nearby Church of the Holy Apostles, with the mission of bringing wholesome and delicious foods to the neighborhood's shoppers and supporting local small farms and food businesses. "The Chelsea Farmers Market is a grower-producer market," its fouders note, "meaning that vendors must be farmers or make food with ingredients purchased from local farms. The few exceptions to this rule are olive oil, chocolate and coffee vendors who can document their sourcing." The Market's ninth season will offer fruits, vegetables, and meats from area farms. Market favorites PickleLicious and Orwashers Bakery are returning, along with fresh faces including Love the Soup! from Morristown, NJ and Ideal Fish from Waterbury, CT. SNAP EBT is welcome (visit the manager's tent to get tokens; matching Health Bucks are available). Farmers Market Nutrition Program checks, issued by WIC offices and Seniors' centers, can be used from June through November. Get the latest Market news by signing up for their email newsletter via the Down to Earth Markets website (click here to access it) or by following the Chelsea Farmers Market on Facebook (https://www.facebook.com/dtechelseafarmersmarket/).
Chelsea Garden Club Tour: Saturday, July 16, 10am | This annual on-the-move gathering celebrates the work of Chelsea Garden Club volunteers who roll up their sleeves and get their hands dirty, all in the name of beautifying West Chelsea's pedestrian tree pit islands. Meet at the garden at Eighth Avenue and West 17th Street. The tour begins there, heading north.
Financial Justice Workshop: Monday, July 18, 6pm Online | NYC Council Member Erik Bottcher, in collaboration with New Economy Project, presents this online offering of free resources t combat abusive debt collection. Don't be afraid to pick up the phone–know your rights, and assert them when you wages are being garnished or your bank account frozen. No matter the nature of your situation, nobody deserves to be harassed–ever! See the below flyer for details–and for info by phone, call 212-564-7757 or email district3@council.nyc.gov. To attend the workshop, click here for the Zoom registration link.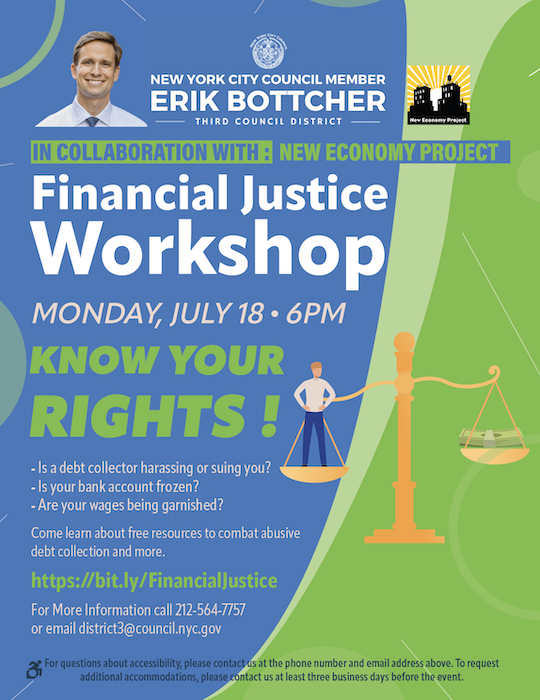 The PS11 Farm Market: Wednesday, July 13, 8-9am on W. 21st. St. btw. 8th & 9th Aves.|
 Chelsea's outdoor, kid-powered pop-up shop stocked with essential ingredients for a great meal has returned–and they have this to say about how to find them: "Our summer camp 3rd graders will be at the Farm Market table tomorrow morning at PS 11, 320 West 21st Street from 8 – 9 am.  Please look for our new blue canopy in front of the play yard gates." As for what will be on hand, organic produce and much more are provided by
Stoneledge Farm
. Writing on behalf of all of Stoneledge, Candice notes, "We hope you had a nice week and enjoyed your boxes.  This week you will be getting a cabbage again.  It will not be around again until the fall so we hope you enjoy it.  The early cabbage is my favorite, its so tender and crisp. 
Here is a link
to some delicious ways to use up your cabbage. The cabbage will also store well in the crisper draw if you didn't want to get to this right away."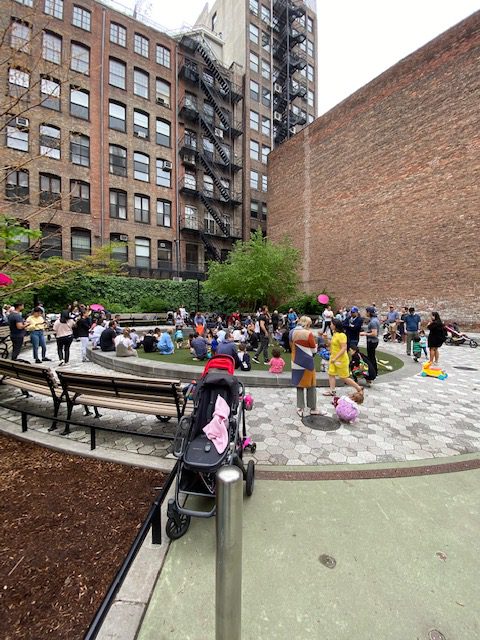 Free Community Music: Wed., July 13, 10am at Chelsea Green Park (140 W. 20th St. btw. 6th & 7th Aves.) |The Friends of Chelsea Green  present another installment of their music series designed with babies, toddlers, and kids up to four years of age in mind. Older children are also welcome, of course, as is, well, everybody (although concertgoer be warned, it's really for the kids; the little kids). "Our first musical event of the summer was Wednesday, June 22," recalled Friends of Chelsea Green President Michael Walsh. "It was great to see so many smiling faces in our oval. Please come back and join us again." That oval Walsh references is a telling detail: Designed with acoustics in mind, it has a way of absorbing and otherwise gently distributing sound–in the same manner as other "activation stations" in the park. This allows for multiple events and experiences within the park's small amount of square footage.
Set for a runtime of 45 to 60 minutes, the July 13 event gets its musical and participatory mojo from a neighbor. "One of the great Kids at Work teachers will lead the kids in song and activities," says Walsh, of the early childhood activities facility at 123 W. 20th St. (on the same block as Chelsea Green). "Kids at Work has been making music with kids for over 14 years," added Walsh, "and they have been supporting us since we were just some people on sidewalk asking for a park." For more info on how Chelsea Green Park came about and what it's all about these days, click here to read our recent coverage of Spring Fling, the park's official shifting of gears from winter to warmer times.                                                                                                  ,
Flatiron Fitness' Wellness Wednesdays: Through August 10, 6-7 pm at Flatiron South Public Plaza (Broadway btw. W. 22nd & 23rd Sts.)| Formerly the Flatiron 23rd Street Partnership and now moving forward with a better, shorter name that name-drops its additionally embraced area of coverage, the Flatiron NoMad Partnership presents the return of their signature summertime series, which was promoting the notion of outdoor group exercise long before social distancing compelled fitness facilities to take their business beyond their brick and mortar borders. This eight-week series features yoga, high-intensity interval training, Pilates, and dance classes offered by area studios, gyms, and wellness-focused businesses.
The July calendar began with TrampoLean presenting a YogaLEAN class–a blend of yoga styles and mind/body practices created to promote, they say, "restorative postures, energizing movements, and mindful breathing. On July 13 at 6pm, Gluteus Maxout is the booty beautiful title of the class offered by Life Time, whose signature format focuses on movements that target and strengthen the muscles in and around your legs and glutes. Bonus content: A pinch of cardio sprinkled throughout, to remind the body parts used to promote aerobic capacity are not getting a free ride just because the class is mainly concerned with the caboose. July 20, Dharma Yoga presents Classic Practice. "The yoga postures bring radiant health and long life by drawing attention to the breath, joints, muscles, and mental state," say the creators of this all-level class. The month's schedule closes out with July 27's PMT House of Dance offering Beginner Hip Hop. With an emphasis on musicality, creativity, intention, and performance, students will come away with an appreciation of the basic techniques, and an ability to put those foundational skills into their proper context. To register for any of these classes (and find out about pop-up classes on Tuesdays and Thursdays), click here.
City Councilmember Erik Bottcher´s [Free] Virtual Housing Clinic, 4-6pm on Tuesday, July 12 and Every Second Tuesday of the Month to Follow |From the very first month of his current term, newly elected NYC Councilmember Erik Bottcher has continued the Housing Clinic offered by predecessor Corey Johnson for so many years. It takes place on the second Tuesday of each month, doesn't cost a dime, and gives you access to a knowledgable housing attorney who will give you the unvarnished truth about your situation, recommend a course of action, and help you access necessary resources. To sign up for one of the free, 20-minute slots available in the 4-5pm and 5-6pm time periods, click here. For more info, see the below flyer.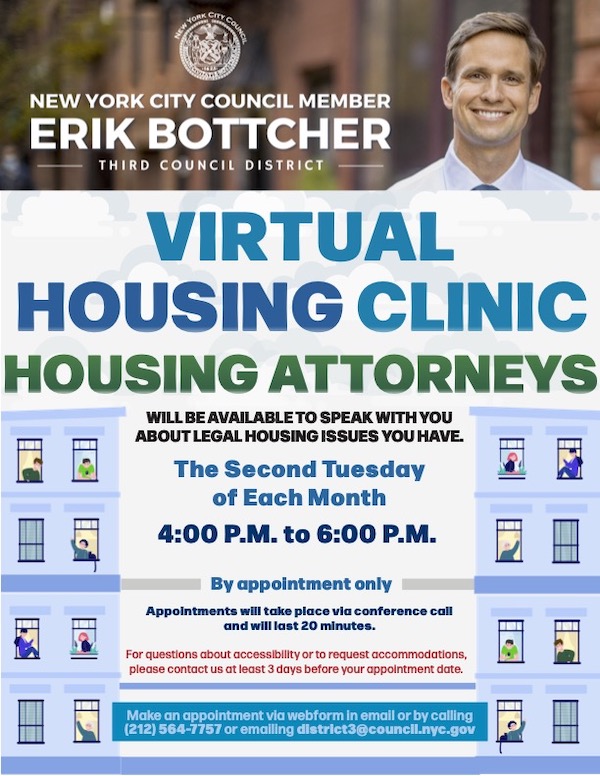 —Compiled by Scott Stiffler
Chelsea Community News is made possible with the help of our awesome advertisers and the support of our readers. If you like what you see, please consider taking part in our GoFundMe campaign (click here). To make a direct donation, give feedback, or send a Letter to the Editor, email scott@chelseacommunitynews.com.