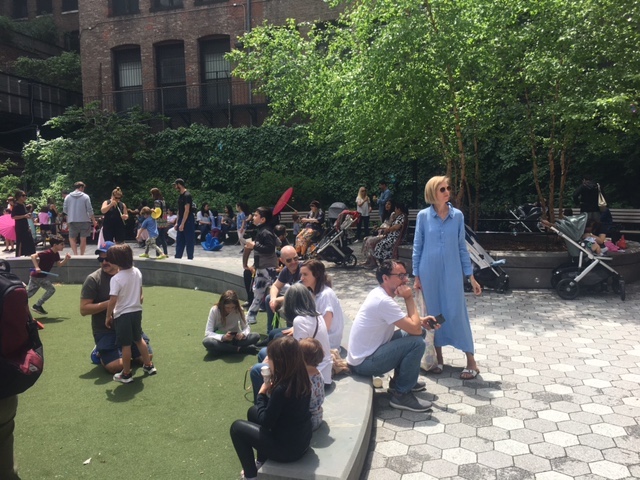 BY SCOTT STIFFLER | Spring wasn't the only thing in the air last Sunday, when an event presented by Friends of Chelsea Green filled the mighty micropark with activity. Placed at well-spaced stations throughout the gated West 20th Street park, visitors could hear jazz and bluegrass from The Dennis Lichtman Trio; watch a craftsman from OMG Bubbles send his translucent creations skyward; and hear the unmistakable sound of child's play no longer muffled at its source by face masks. For many, May 15's Spring Fling was one of their first large public gathering since the pandemic compelled us keep our distance from such annual social rituals.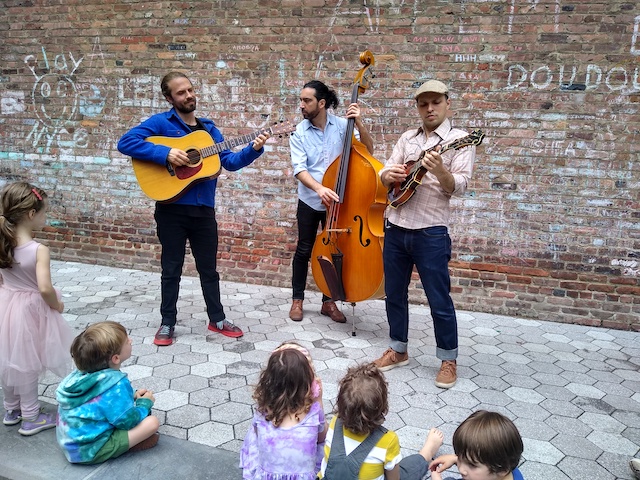 Fittingly, it was another yearly observance that made this Spring Fling materialize in a seemingly effortless manner. It was not, of course. "We did a lot of the [logistics] groundwork when we organized for Halloween last fall," recalls "Fling" planning committee member Michael Walsh, who worked alongside Stephanie Brodene, Sandy Chin, and Eneliana Gjini to make the many moving parts of last weekend's event function both smoothly and simultaneously.
"It's a sort of community," said Walsh, of the many familiar faces, adding, "These are people who use the park. A lot of them said [to me], 'Oh, we're here every day.' "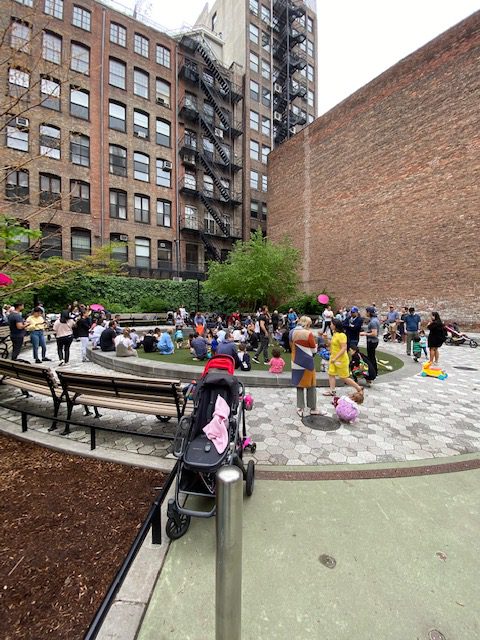 Many of the regulars Walsh refers to were pushing strollers or keeping both eyes on their fast-moving toddlers. Ask those kids in a few years what life in park-starved Chelsea was like before their favorite haunt, and you're likely to get an incredulous look for implying the 140 W. 20th St. space was anything other than what it is right now. "My kids will remember that it wasn't always here," said Walsh. "I dragged them along to the many events it took to build the park." (Friends of Chelsea Green and many others spent the better part of a decade working to transform an abandoned NYC Department of Sanitation site into a multi-use park—a process hastened when it became the first-ever Participatory Budgeting project funded by then-District 3 City Councilmember Cory Johnson.)
Now coming up on its third year and having just conducted its most successful pre-planned event so far, Walsh wanted to make sure Chelsea Community News told our readership that the planning committee's work would have all been for naught if a number of local vendors, residents, and retail destiations hadn't stepped up to the plate when asked. "We had an underwriter, a family that uses the park," Walsh said, of the Rhees. It was the financial support from Kate Rhee (a State Farm Insurance Agent) that "allowed us to get the music and the performers. GrowNYC, a non-profit, supplied the plants for our crafts activity, and Motel Morris  [manning a sidewalk table along the park's fence] did the coffee—and the food truck [Pedacito de Mexico], they're usually parked at Sixth Ave. and West 20th, but we were thrilled when they said they'd move locations just for the day, to be part of our event."
The Commons Chelsea, Rind Snacks, Milk Bar, and several individual volunteers also contributed time and materials, along with performers from Kids at Work, an early childhood programming organization located on the same block as Chelsea Green Park. "Julie was a supporter back when we weren't even a park yet," Walsh said, of "Kids" founder Julie Averill. Asked what's next for Chelsea Green destination events, Walsh wasn't prepared to say just yet–but with summer and winter currently absent their own marquee activities, we're betting on one or both (no pressure, folks!). For now, let's bask in the success of Spring Fling, via the below photo essay. Have your own photos and memories of that Mid-May day? Send them to scott@chelseacommunitynews.com.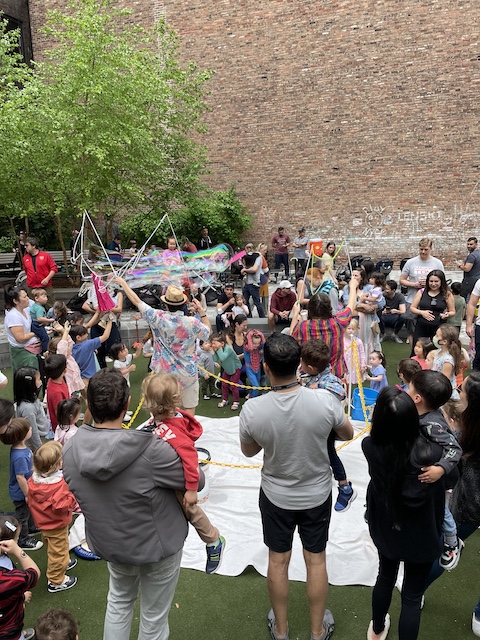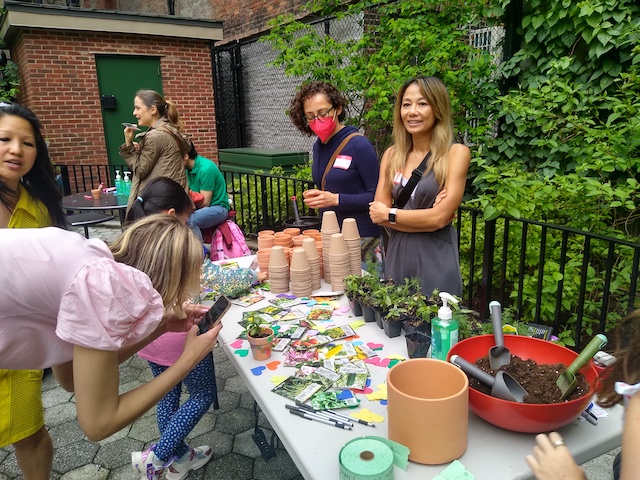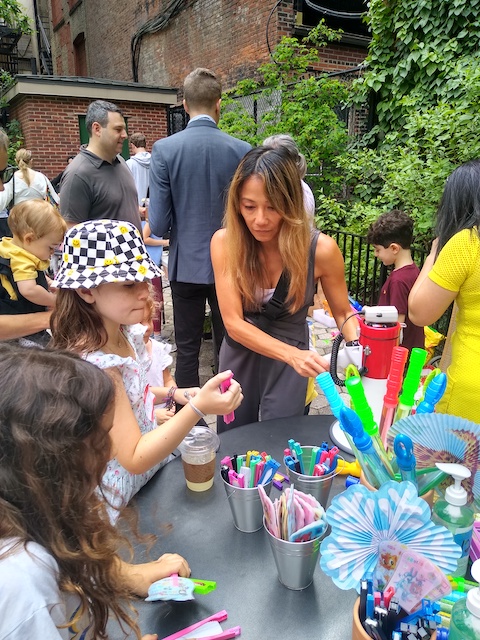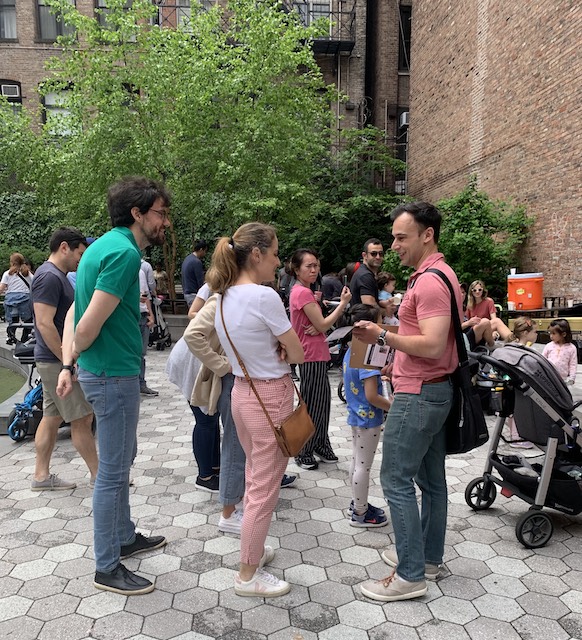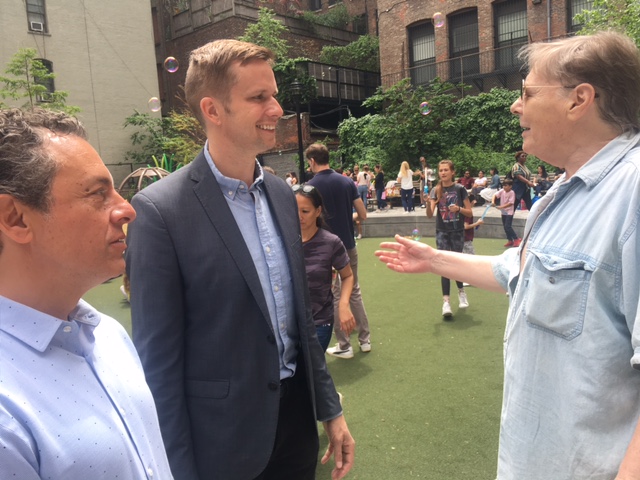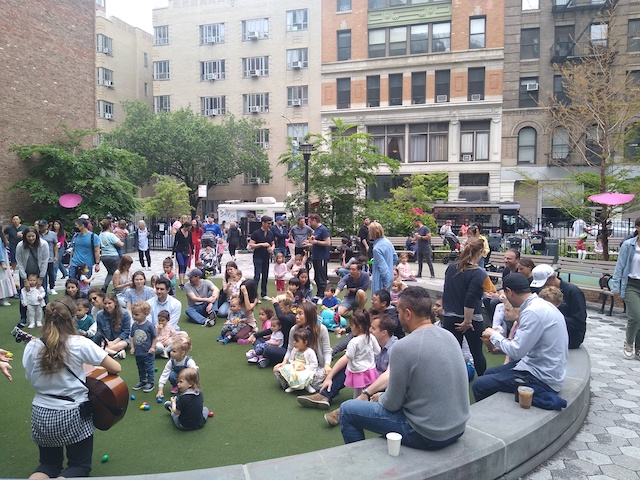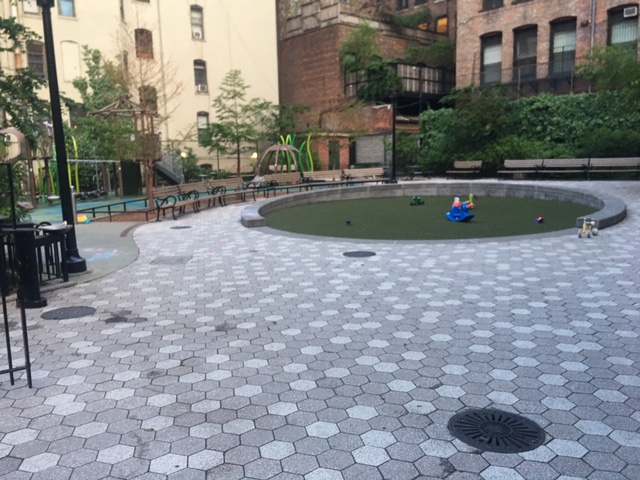 Above: Much later in the day, relative calm returned to Chelsea Green Park–but not for long, we're sure. Congrats to all involved for another day in the books to demonstrate why Friends of Chelsea Green and others worked so hard, for so long, to make this former NYC Department of Sanitation site into a place of peace and play (photo by Scott Stiffler).
Chelsea Community News is made possible with the help of our awesome advertisers, and the support of our readers. If you like what you see, please consider taking part in our GoFundMe campaign (click here). To make a direct donation, give feedback, or send a Letter to the Editor, email scott@chelseacommunitynews.com.