BY KRISTEN ANCILLOTTI | Chelsea Green, the first new park built in Chelsea in 40 years, opened to the public on July 25 with a jubilant ribbon-cutting ceremony. From the inventive playground already teeming with children to the stage just waiting for its first show, there was much to see and celebrate.
The park has been a long time coming. In 2010, the New York City Dept. of Sanitation relocated from the lot on W. 20th St. (btw. 6th & 7th Aves.), and Matt Weiss, now the board president of The Friends of Chelsea Green, thought that this would be the perfect spot for a green space. Parks and green spaces have been hard to come by in this part of the city, with the Chelsea area ranking last in open space and parks within a half-mile of residents.
"It was a seed of an idea that got a lot of people excited," Weiss told Chelsea Community News (CCN). "This one just built on itself, with the need for green space in this part of Chelsea." Before the park's opening, Weiss recalled, residents would "have to go all the way to the water, really, for any material open space, or to Union Square playground, which is chronically overcrowded, because it's one of the few playgrounds in that community board. This city needed this breakup of a pocket park."
Weiss started talking about his idea with others in the community, who quickly got on board, like Sally Greenspan, an integral part of the team from the beginning. The community discussion went from something unofficial to a steering committee of 18 people. Then Greenspan and Weiss started the Friends of 20th St. Park, which was renamed Friends of Chelsea Green Park, after the pocket park's official name was established. The organization now has a six-member board.
The group rallied, hosted events to raise awareness and share the idea of open space for everyone, and talked to elected officials and CB4. At the time, current NYC Council Speaker Corey Johnson was serving as vice-chair of CB4, and he championed the cause right away, according to Greenspan. Their first financial break was when they received funds from the Participatory Budgeting process.
"We were part of the first participatory budgeting event held in District 3, and we won by a landslide," said Greenspan. The park received $200,000 from that, and then Johnson went on to help get the park fully funded, with the city ultimately putting in $5.8 million.
Once the park was approved, it went through a collaborative design process in which the Parks Dept. held scoping meetings, incorporating a wide range of community feedback and input on the flow, feel, and resources needed inside the park.
"The Parks Department was really fantastic, just inviting any idea to come in," said Dan O'Sullivan, a Friends of Chelsea Green board member.
Weiss had also praised the Parks Dept. for working with the community and incorporating a number of ideas. "In a 10,000-square-foot footprint, they were really able to accommodate a lot of the needs and desires of the constituents in this neighborhood, without it being too crammed."
The planning that went into the park was on display at the ribbon-cutting. There is something for everyone—sprinklers, benches, raised areas for stage performances—but the space still feels open, and people can spread out. It is also ADA accessible, chock full of plants and trees, and Google has endowed a grant for Wi-Fi. Many people were overwhelmed by what they saw.
"When I walked here today, I kind of got a little emotional when I walked down the block and I saw how many people were at Chelsea Green, and just how beautiful it is," Speaker Johnson said, during his speech, asking for a round of applause for the Parks Dept. and all the women and men who made the park possible. "Many New Yorkers aren't able to afford to leave the city on the weekends, and so parks are their place for respite. It's their urban oasis. It's the place to read and spend time, and it's the place for children to learn how to play and socialize with each other, and so I'm just so enormously grateful and proud that we got here."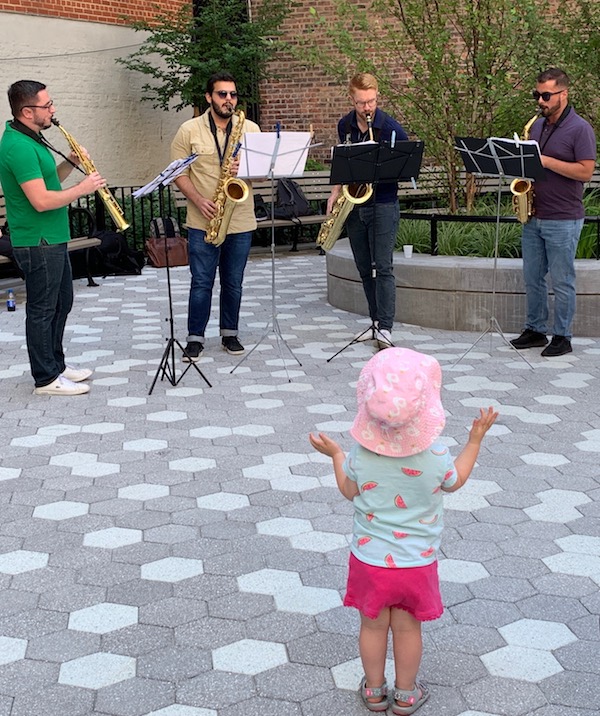 Michael Walsh, another board member for The Friends of Chelsea Green, has been involved with the effort to build the park since the beginning. He noted the group's determination to keep at it until someone told them it absolutely was not going to happen. He said people continued to be excited about the idea, which kept the group going, even when things moved slowly. "I just keep pinching myself," he said, as he looked out over the park.
The neighborhood was ready to enjoy the new space, whether they had been a part of the movement for its creation, or had simply been drawn in as they were walking by. Children splashed through the sprinklers, visitors relaxed on benches as they listened to the music of The Lesbian & Gay Big Apple Corps, and others lounged in the circular green space in the middle of the park.
"We've been waiting for it to open for a long time, so I'm really happy," said Kathryn O'Halloran, a nanny in the area. Her friend, Pearl Mohammed, agreed, saying, "We need more parks, we do. This one is really nice. It's nice to come and just relax in the afternoon."
Senator Hoylman told CCN he is pleased with the park for many reasons, but particularly loves seeing the kids playing with such abandon (Hoylman has a one-and-a-half-year-old).
"It's the reverse of that Joni Mitchell song," he said. "We saved paradise from a paved parking lot, and the way it came about is so inspiring… It shows you that you can make a difference as a citizen committed to a cause, like creating open space and beautifying and enriching your neighborhood. Not to mention that it is really well-done, and I think will serve generations of New York City kids."
Weiss is grateful for the support of the elected officials, the Community Board, and the city, for recognizing the community's need for the park. "It wasn't easy. It was nine years in the making, but it is a dream come true," he said. "To me, the whole story of Friends of 20th St. Park, which became Friends of Chelsea Green, is a great representation of grassroots activism, where a lot of people feel like, 'Oh, the city knows best, and if the city sees a need for parkland, they're going to figure out how to put a park somewhere'—and that's not how things work. I think some of the best ideas bubble up from the community, and it requires tremendous commitment and persistence to just keep showing up and knocking on the door and attracting others to your idea before you can actually get something done. But it shows that with that persistence, the wheels of city politics can grind along."
Parkgoers were excited at the opportunity to meet new people. Javier Ordonez lives in the building next to the park, and said he was already making new friends, just from walking around and actually being able to interact with his neighbors. He thinks the new park will be a "gravitational zone" for people in the neighborhood to congregate.
This feeling of community is what The Friends of Chelsea Green had in mind when they planted the seed of this idea, and it is already bearing fruit.
Prior to the-ribbon cutting, Sally Greenspan had expressed her excitement over having a place for neighbors to gather. "It's a sense of community—it's where you meet people, the kids play, and people have lunch and read the newspaper," she said. "When I started on this journey, I lived in my own square box, and I didn't know many people in the community other than my building neighbors. Once we started rallying together and standing on street corners and signing petitions, we suddenly met each other. I would go to a place like Trader Joe's and be standing in line and somebody I never saw before would say, 'Hi Sally!' We knew each other because we were involved in the park together, and now we'll be sitting in the park together, no longer strangers!"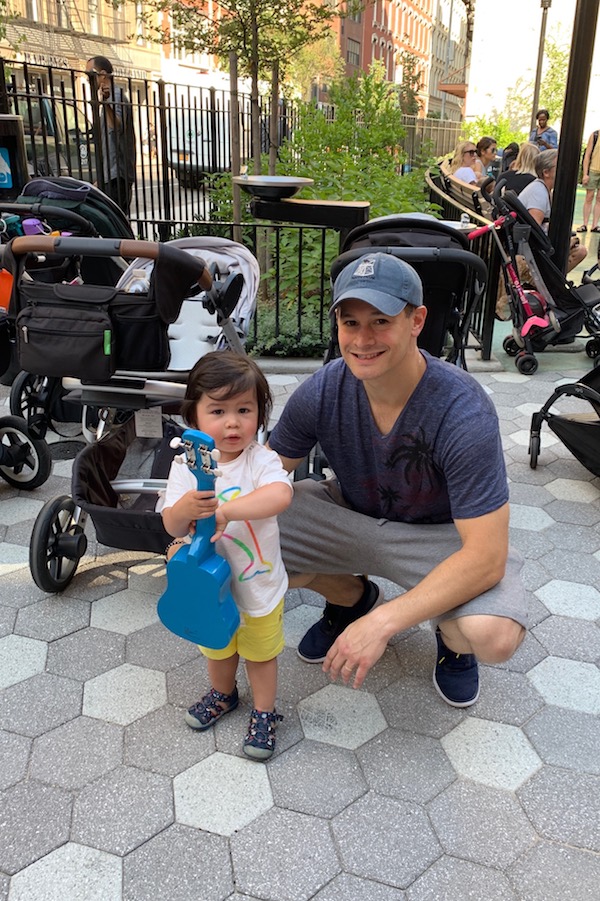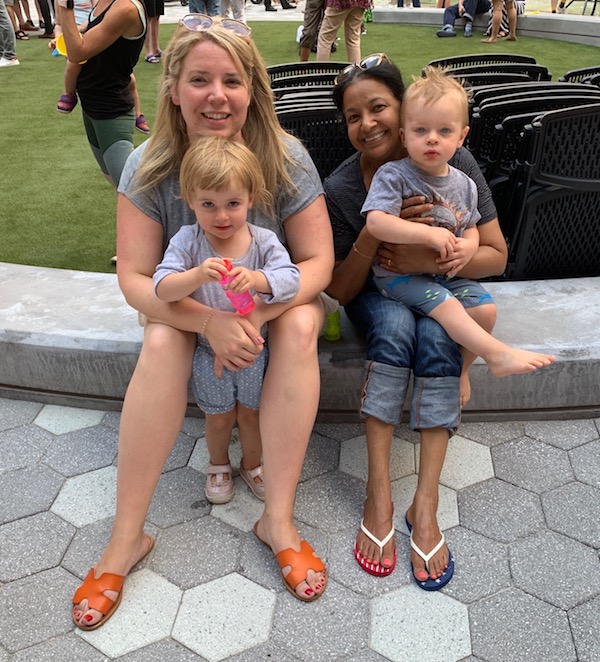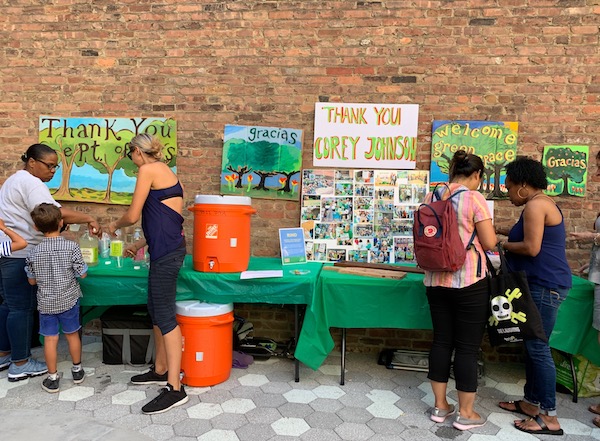 Chelsea Community News is made possible with the help of our awesome advertisers, and the support of our readers. If you like what you see, please consider taking part in our GoFundMe campaign (click here). To make a direct donation, give feedback about the site, or send a Letter to The Editor, email us at Scott@chelseacommunitynews.com.