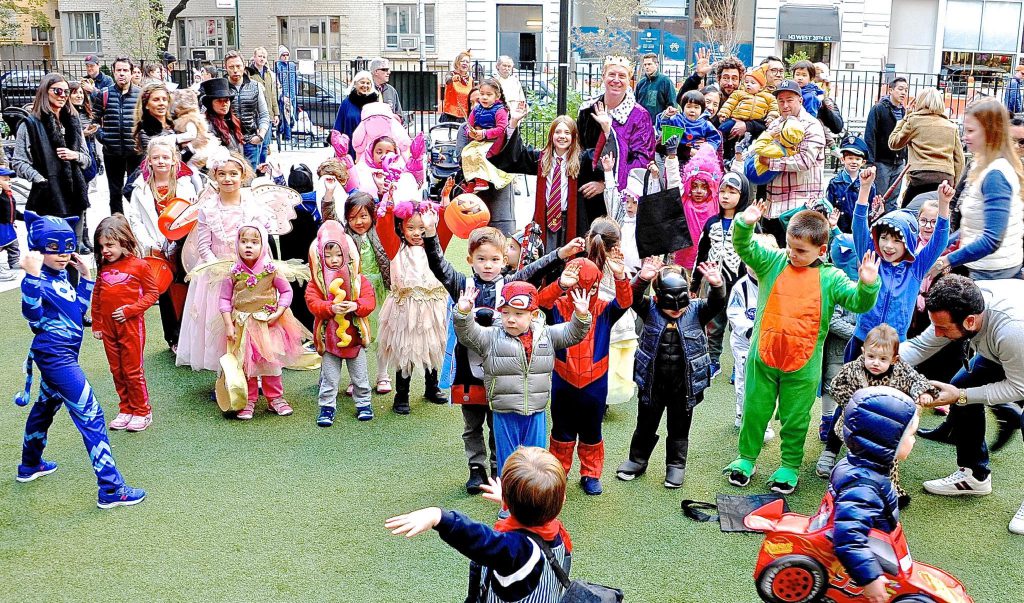 Halloween Parade & Festival 

Was

Sat Oct 30:

Changed to

Rain Date of Sunday, October 31, 11am
At Chelsea Green Park, 140 W 20th St. (btw. 6th & 7th Aves.)
After taking last year off because of COVID (bet you haven't read that phrase before), the freshly minted annual tradition of herding your little monsters into Chelsea's "we made it happen" micropark will rear its horned, spiked, dinosaur costume head once more.
Organized by Friends of Chelsea Green and sponsored by the likes of Trader Joe's, the Irish Repertory Theater, and Hostess Brands (oh, let there be free samples!), among others, this festive celebration of the strangest holiday this side of Arbor Day promises contests, prizes, a magician, and, of course, some strutting around in costume for the big parade. This year, that marquee event is headlined by Grand Marshalls Corey Johnson and Erik Bottcher. As, respectively, our City Council's outgoing Speaker and his likely replacement as our new District 3 Councilmember (Nov. 2 election results pending), the pairing is appropriate—poetic, even, given how Bottcher gave up his job as Johnson's boots-on-the-ground Chief of Staff in order to run for that Council seat. Both men were staunch advocates for the creation of Chelsea Green Park, years before it had that name, back when it was an empty lot liable to be used for any number of things.
Adding some land to Chelsea's park-starved profile became a years-long crusade for a dedicated group of locals (formerly Friends of 20th St. Park, now Friends of Chelsea Green), who counted Johnson and his staff among their earliest, and fiercest, advocates. The project secured the public's backing—and crucial funding—when it emerged as the top entry in Councilmember Johnson's first-ever Participatory Budgeting process. There would still be work to do, but that was the turning point, when a new park on W. 20th St. made the great leap from "possible" to "ineviAnd that is the WHY of how Johnson and Bottcher came to be honored as Grand Marshalls. See kids, history isn't as scary as you think! Back to the matter at hand, however: Did we mention there would be FREE CANDY at Sunday's event? For more information, see the below flyer. To visit Chelsea Green Park's NYC Parks web page, click here. Send Friends of Chelsea Green an email, attable."
chelseagreenpark@gmail.com.–By Scott Stiffler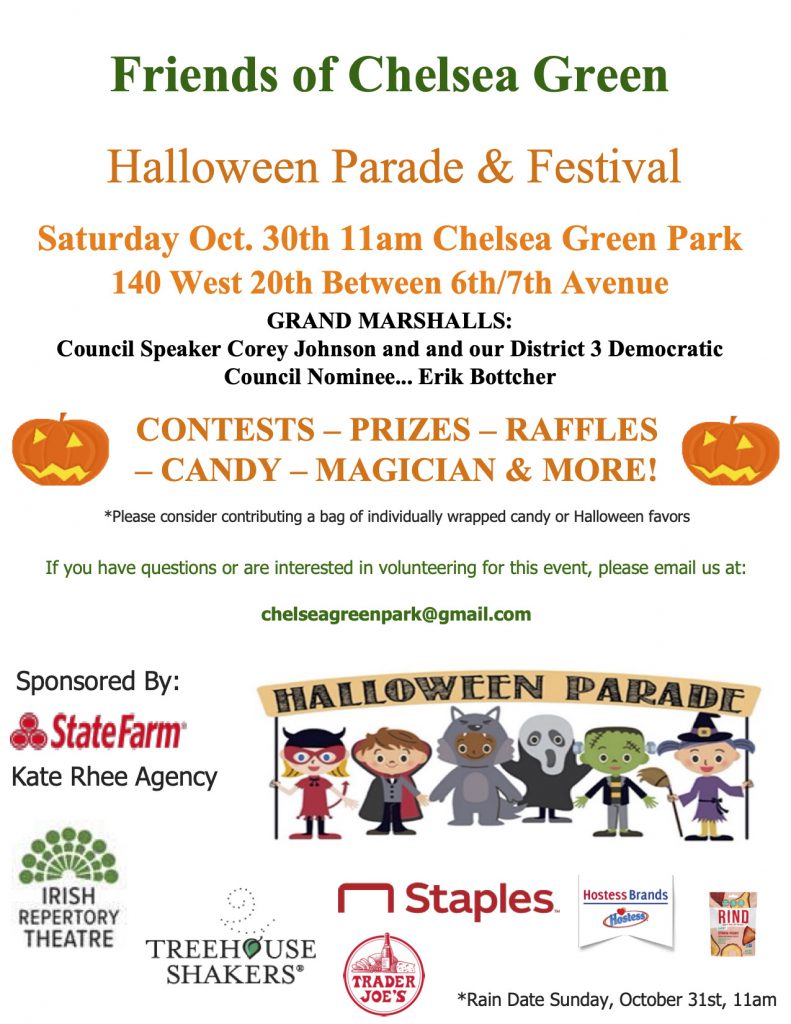 Chelsea Community News is made possible with the help of our awesome advertisers, and the support of our readers. If you like what you see, please consider taking part in our GoFundMe campaign (click here). To make a direct donation, give feedback, or send a Letter to the Editor, email scott@chelseacommunitynews.com.