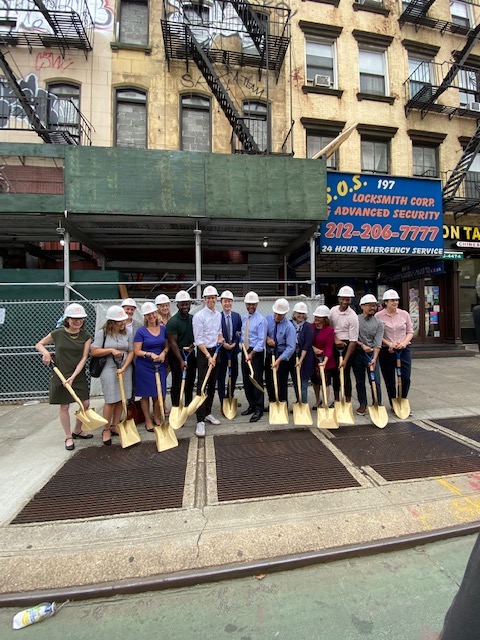 BY SELAH ILUNGA-REED | Derelict and decrepit for ages but never abandoned by those who insisted on better days ahead, July 26's groundbreaking ceremony at 201-207 Seventh Ave. set the stage for a nine-story co-op to rise from where four eyesore buildings currently stand.
Those buildings, on the southeast corner of West 22 Street and Seventh Avenue, constitute a destitute patch of nothingness on a block where various businesses have come and gone, with neighborhood pillars S.O.S. Locksmith and Kove Hardware providing much-needed stability. The arrival of a long-planned co-op will echo that sense of permanence by bringing new residential and retail life to a corner whose inactivity has long been at odds with the surrounding area.
A hint of that coming bustle was given on the morning of Tuesday, July 26, when dozens of people involved in the project gathered in front of the fenced-off properties. That lack of access meant the squeaky-clean shovels carried by many were in no danger of coming into contact with dirt. They were strictly for symbolic use—but what symbolism! This ambitious new affordable housing project shifts the nature of the relationship between city, citizens, and real estate from hostile and parasitic to mutually beneficial and amicable. New York City Councilmember Erik Bottcher (Chelsea's District 3 rep) said it himself, pointing out that, "For many, many years these buildings sat there as a symbol of what's wrong… what's wrong with government, what's wrong with the city."
Just the collaboration of non-profits like Asian Americans for Equality (AAFE) and NYC departments like Housing Preservation and Development (HPD) is proof of the potential improvements to the relationship between local neighborhoods and local government.
Keeping the prices of the coming units reasonable helps to amend this perception of the city's role in the housing market. The units range in size, with a studio configuration being the smallest to a spacious, three-bedroom unit that anticipates the arrival of one of the five existing tenants who have been relocated during the demolition and construction phases. Those who choose to return may purchase a co-op for as little as $250 or the cap of $2,500 (pending proof of income). All other units will be available only to those with an AMI of up to 130%.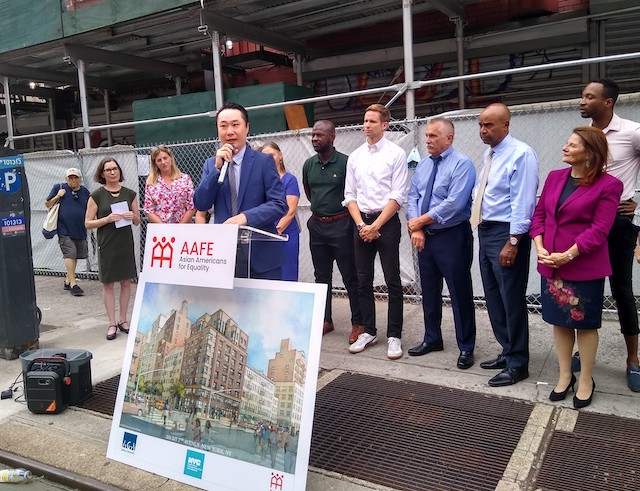 As cameras and a makeshift podium were placed strategically around the busy Seventh Ave. bike lane, architects, investors, and neighbors alike gathered to celebrate a new phase in this long-planned project. The first speaker was Thomas Yu, the co-executive director of AAFE, who went on to introduce speakers throughout the event. After citing the actions of AAFE and HPD in this project, Yu said, "We really looked at trying to save these buildings, but because of the advanced deterioration we're looking to construct … Twenty-six brand new, affordable cooperative units." Yu also made sure to note the five units reserved for the existing tenants.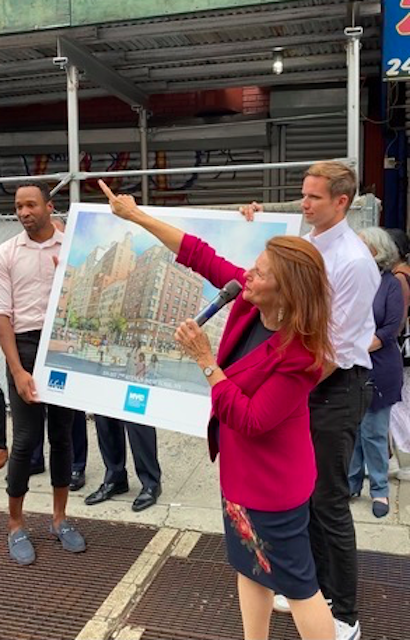 Yu handed things off to HPD commissioner Adolfo Carrión Jr. , who asked the gathered for "a big cheer" to recognize the 44 years of struggle which went into revamping this corner. (The City took over the properties in 1978.) Carrion congratulated and thanked Councilmember Bottcher and many others from HPD and various partnering organizations. "I want to see this demolition happen, it's gonna happen in the month of August I hear, and then we'll have a beautiful nine-story building go up," said Carrion, celebrating the "access to affordable homeownership" coming to Chelsea.
With new construction comes valid concerns about maintaining Chelsea's stylistic integrity. After watching steel and glass monstrosities shoot out of the ground in the neighborhood, which offset its enchantingly earthy color palette, many Chelsea residents are reluctant to embrace new building projects which may further shift the look of the area. Amie Gross, whose Amie Gross Architects is heading this project, said, "We're working with the community a lot… using the iconic elements of Chelsea architecture." More specifically, noted Gross, "The building was designed to use the materials of Chelsea, which are brick and stone."
Freshly minted Council of Chelsea Block Associations President Sally Greenspan spoke about her elation that the project is finally underway. "Mostly, I'm happy for the 26 families that are going to be moving in here soon. It's going to change lives, and it's long overdue," said Greenspan.
Reached for comment shortly after the July 26 ceremony, Save Chelsea president Pamela Wolff—who has lived nearby since 1956 and has seen the southeast corner of W. 22nd St. and Seventh Ave. in various states of peak and decline—called the area's future use a lesson in patience and persistence. "The inspiring thing about this project," said Wolff, "is that it's to be 26 individual apartment units, all of which are affordable." What's more, she noted, "is that we've been assured the ground level retail spaces will be filled with small neighborhood shops, not franchises—and that's just so welcome, and so needed."
—additional reporting by Scott Stiffler
Chelsea Community News is made possible with the help of our awesome advertisers, and the support of our readers. If you like what you see, please consider taking part in our GoFundMe campaign (click here). To make a direct donation, give feedback, or send a Letter to the Editor, email scott@chelseacommunitynews.com.