BY SCOTT STIFFLER | Proving the mettle of its membership with a walk down the block, Save Chelsea president Pamela Wolff's call to excavate and preserve elements of an active demolition site were validated "When I peeked in and spotted it," she said, of the 17-foot circular cast iron column that was found right where she said it would be.
"Hero of the day!" declared NYC Council Member Erik Bottcher, in a February 23 Facebook posting. "Before we proceeded with demolition of the abandoned city-owned buildings…" he wrote, "longtime resident Pamela Wolff said that she remembered cast iron columns on the facade that had been covered over. And… she was right! They will now be preserved."
The four buildings Bottcher referenced are located on the Southeast corner of West 22nd Street, from 201 to 207 Seventh Ave. Built in the 1850s, they originated as private homes with commercial space on the ground floor, then in the 1940s turned into rent controlled apartments. When the landlord stopped paying his property taxes in the 70s and 80s ("a common practice at the time," noted Wolff, who's lived nearby since 1956), the City took receivership. For over four decades, years, the structures have languished in a state of steady decline.
After much negotiation, the area was dedicated to a co-op project that will see the creation of 26 affordable housing units. Tenants displaced during construction have the option of returning, at a price that proves there are still sweetheart deals to be had in Manhattan.
As we noted in our July 30, 2022 coverage of the project's groundbreaking (click here to read), "The units range in size, with a studio configuration being the smallest to a spacious, three-bedroom unit that anticipates the arrival of one of the five existing tenants who have been relocated during the demolition and construction phases. Those who choose to return may purchase a co-op for as little as $250 or the cap of $2,500 (pending proof of income). All other units will be available only to those with an AMI of up to 130."
Thomas Yu, Executive Director of Asian Americans for Equality (AAFE), recalled being approached by the City to take on the role of developer. From its earliest days, said Yu, "We did it from a preservation angle," striving to retain as much of the original structures as possible. And they did—until a trip to the basement for inspection, when it became apparent that allowing anything to remain standing would be "pretty close to impossible. It would have been too dangerous for the workers and pedestrians."
The foundation was so deteriorated, the demolition phase (now nearly complete) would use no controlled explosions, no metal ball hung from a chain. It would be done by hand (to the satisfaction of those in earshot, who've experienced a demolition process that's been practically silent, compared with the high-decibel alternatives). Yu said workers were aware from the groundbreaking that Wolff "had recollections of the existence of these columns—some visible, some not," making the hands-on method a fortunate luck of the draw from the preservationist point of view.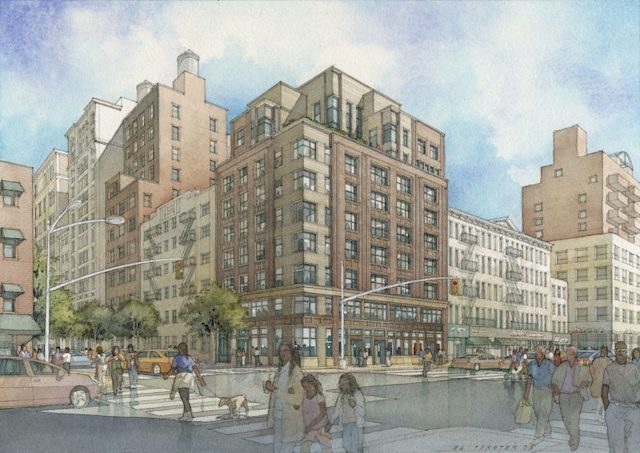 "Because we did it that way," noted Yu, "as you remove the brick, the columns reveal themselves." Some were free-standing, others were integrated into the structural support of the buildings. In both cases, upon discovery, "We made sure they were secure, and consulted our general contractor when it came time to remove them from the site."
More on the current address of those columns coming soon—but first, Yu takes us back to a time after the basement inspection, when the project was still being vetted by Manhattan Community Board 4 (CB4). "They understood we couldn't preserve the buildings," he recalled, "and among the things they [CB4 and other local preservationists] said to us was, 'We really hope the new building will pay tribute to the mercantilist nature of the neighborhood.' "
That's when the developer, AAFE, brought another kindred spirit on board–Amie Gross, who would design the project via her company, Amie Gross Architects.
"It was all about being contextual, and also being of its time," said Gross, of an aesthetic consensus reached early on, ensuring the nine-story structure would reflect the neighborhod's "very strong vernacular," said Gross, who recalls joining her team on a photo safari up, down, and around the West teens and 20s, emerging with shots of windows, doors, archways, and setbacks that are still being referenced to this day, as the construction phase looms.
In the end, said Gross, "We combined in our design the architecture of the mercantile and the archways of the residential; the idea that the building will honor tradition, but stand alone as a piece of contemporary architecture… So when we discovered a free-standing [17-foot] column, it just blew us away. It occupies a place of tremendous visibility and to see that it goes back to the 1860s, that the original architect highlighted the corner, that was really thrilling."
Just as thrilling, says Wolff, will be the day the cast iron columns are once again on public display, whether featured in the new building or repurposed elsewhere. To that end, discussions began shortly after the excavation phase for a temporary home for the finds.
Enter Joe Restuccia a developer who helped shepherd the project through its ULURP (Uniform Land Use Review Procedure) and CB4 phase. (Restuccia currently serves as Co-Chair of CB4's Housing, Health & Human Services Committee.) "Joe offered storage space at one of his Hell's Kitchen properties," said Wolff, noting, "They can be stored at no charge while futures for them can be found."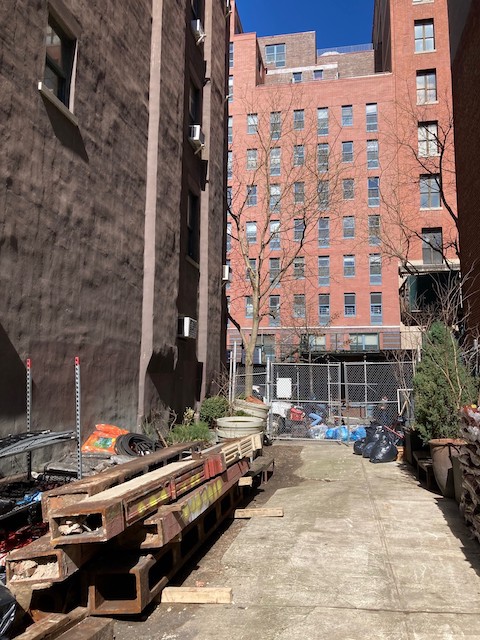 Just days after their discovery, Restuccia told Chelsea Community News, "I arranged for a discussion between AAFE, the Councilmember's [Bottcher's] office, and the contractor. The architect sent me a list of the columns and their dimensions. We then got very specific, back and forth, 'Here's how many there are to salvage."
In his capacity as Executive Director of Clinton Housing Development Company, Restuccia facilitated the temporary storage. The collection is now in an outdoors Clinton Housing horticultural storage facility on West 52nd Street, between 10th and 11th Aves.—but at a price. "The retrieval of the columns, removal from the site, and transport cost approximately $100,000," noted Yu, adding, "We are seeking city funding to absorb the cost." (Upon learning requests were sent to Manhattan Borough President Mark Levine and District 3 City Council Member Erik Bottcher, CCNews reached out to both for confirmation and comment. No response was received at the time of this article's publication.)
All told, at rest on 52nd Street, there are six intact columns and two fragments. Of the intact columns, three are 17 feet high, and three are 13 feet high. Only one column is round (one of the 17-footers).
"The architect said she'd like to work at least some of them into the structure," said Restuccia, who speculated the remainder cold go to "various organizations."
Gross noted that her team "determined that in 20 7 [Seventh Ave.], there's a really lovely stoop with an arched doorway. We're going to use that [recovered column material] as a piece of decoration that surrounds the door." Still, noted Gross, there's only so much you can do without bringing the repurposed material "into the building, where it would only be seen by tenants and their guests. So we're hoping the ability exists to take some of these elements and make them a part of public areas."
Wolff speculated that the height of either 13- or 17-foot, intact columns make them both decorative and functional candidates for Hudson River Park, "as streetlamps between sundown and dawn. And I think," added Wolff, "given all she's done to preserve, recreate, or reference aspects of the neighborhood's architectural heritage in the new Seventh Avenue building, Amie Gross would be the perfect choice—the right choice—to repurpose these columns in that manner. To have them literally light the way after spending so many years covered up? There's something very satisfying about that."
–END–
(of the article, that is. For more photos, keep scrolling down.)
Chelsea Community News is an independent, hyperlocal news, arts, events, info, and opinion website made possible with the help of our awesome advertisers and the support of our readers. Our Promise: Never a paywall, no pop-up ads, all content is FREE. With that in mind, if circumstances allow, please consider taking part in our GoFundMe campaign (click here). To make a direct donation, give feedback, send a Letter to the Editor, or contact our founder/editor, send an email to Scott Stiffler, via scott@chelseacommunitynews.com.
To join our subscriber list, click here. It's a free service provding regular (weekly, at least) Enewsletters containing links to recently published content. Subscribers also will be sent email with "Sponsored Content" in the subject line. That means it's an exclusive message from one of our advertisers, whose support, like yours, allows us to offer all content free of charge.