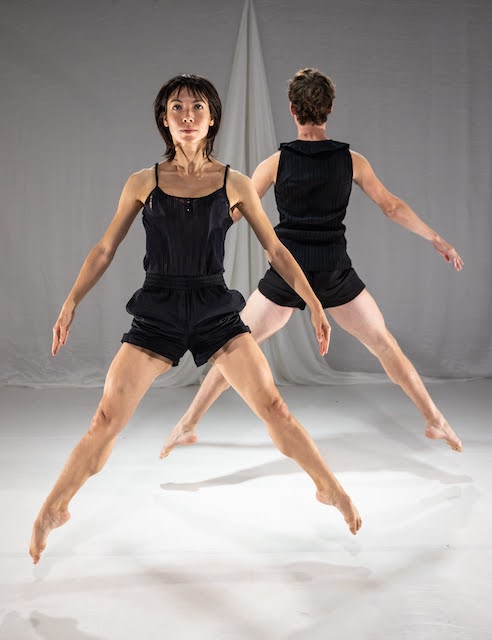 BY ELIZABETH ZIMMER | As I write, the first breezes of fall have begun to blow, and my feet, long laid low by months of heat and humidity, are itching to be out and about. Chelsea enjoys an abundance of walkable performance spaces, and the first offerings of the season. Here are two such opportunities.
John Jasperse Projects: Visitation | A sign that you've arrived in the city's dance world is when you get your own building. John Jasperse got his—the 4,000-square-foot Center for Performance Research in Brooklyn, shared with fellow choreographer Jonah Bokaer—in 2009, but its pristine little performance space won't hold the devoted audience he's accumulated since starting out here in the mid-1980s.
A graduate of Sarah Lawrence College and now the director of its dance program, he brings his latest freewheeling, ghostly concoction to Greenwich Village for just two performances, made in collaboration with performers Tim Bendernagel, Cynthia Koppe, and Doug LeCours. Visitation has a hybrid score, interleaving music by Hahn Rowe with snatches of opera by Richard Wagner. It's sure to be the first blockbuster of the season.
Friday, September 9 and Saturday, September 10 at 7:30pm, at NYU Skirball (566 La Guardia Place). For tickets ($35) and info, call 212-998-4941 or click here.
Miguel Gutierrez's sueño | Time to stay outside! Gracing the last stretch of extra daylight before the autumnal equinox, Miguel Gutierrez, a multitalented, bilingual artist who's won awards for his internationally acclaimed choreography, brings his deep experience and a new project—"tiny epic songs dedicated to melancholy and longing"—to the High Line at West 14th Street and 10th Avenue. Renowned for creating unusual spaces to talk about and inspire the experience of being alive, Gutierrez is one of the smartest and funniest dancemakers we've got. Singing and playing keyboard, and backed by an ensemble of eight performers, he's assisted by sound artist and musician Rosana Cabán in creating "a world of fantastical drama."
Gutierrez's sueño, which means "dream" in English, is presented by High Line Art, and will be performed three times: Monday, September 12, at 7pm  / Tuesday, September 13, at 6pm / and Wednesday, September 14, at 7pm. Admission is free but an RSVP to Eventbrite is encouraged. To do so, click here.
Chelsea Community News is made possible with the help of our awesome advertisers, and the support of our readers. If you like what you see, please consider taking part in our GoFundMe campaign (click here). To make a direct donation, give feedback, or send a Letter to the Editor, email scott@chelseacommunitynews.com.