Chelsea Community News notes the passing of Lady Isabella Von Craig, known to her many friends as "Izzy." And those friends were legion, from inquisitive toddlers to veteran Chelsea residents who held the pup in high esteem, measured against so many other canines whose neighborhood walkabouts are as much fun for us to witness as they are for the health and happiness of the furry beasts, big and little, whom we dote on because they give us so much love in return. This, Izzy did with such joy and ease that a sighting of the oncoming peppy pooch compelled both parties to up the pace, bridging the distance, and get to the outpouring of hugs and unconditional love. This, to me, was the essence of living in the same space, at the same time, as Lady Isabella Von Craig. Chelsea Community News, having first featured Izzy in this 2019 article, extends its deepest sympathy to Izzy's #1 human, Craig M. de Thomas, who is to be commended not only for bringing Izzy to Chelsea, but for sharing her with us in a manner that demonstrates he learned the lesson of giving and getting long before he shared it with us. If you are not represented in the below collection of community testimonials and would like to contribute your thoughts on Izzy, email me at scott@chelseacommunitynews.com—Scott Stiffler, founder/editor of Chelsea Community News
A MESSAGE FROM CRAIG M. de THOMAS (Izzy's "Pops") | I fell in true love with my Izzy from the very moment that I saw her photo. I knew in the moment that she was meant for me and I was meant for her—that she was my Divine gift! I remember waiting the entire Summer of 2013 for her to arrive from her breeder. The anticipation of her arrival was too great for me to contain, and I am pretty sure that I told just about everyone that I knew about her.
She arrived at the airport here in NYC on Friday, September 6, 2013 (eight weeks to the day from when she was born). I recall being at the airport with my paperwork, happily and excitedly waiting for her in a special arrival area, sort of like Customs for pets and animals. I watched them bring her in—she sat confidently, perfect posture, poised with grace in her carrier. Among the chaotic noise of many types of animals, she remained unphased, quietly looking around the room. I knew, again, that she was my dog and she was meant for me (as if I needed further proof, but there it was!). It was as though she was thinking, "I am here for my Pops never mind all this nonsense around me, where is he? We have our life to begin together, let's get to it already!"
I rushed her home and unbeknownst to Izzy, I had a reception awaiting her arrival, for her to be properly welcomed and greeted by her loyal followers, some of which would truly become her people, part of her pack, during her entire life! True to Izzy form, with ease and grace she greeted each and every person in attendance, walking happily to each of our guests and giving them her now well-known Izzy style of love. She did so repeatedly throughout the night, greeting late arrivals with all the interest and enthusiasm she lavished upon the evening's first new friend.
That night set the tone for our entire life together. I saw in Izzy the desire to be social and be with other humans and express her love for being alive!  Hence our walkabouts and travels. We truly took them very seriously, with intention we set out in our days to greet people, create feelings of joy, happiness, and overall goodness. Izzy's beauty and loving personality made that so easy to accomplish. Because of Izzy we greeted, and in some ways met, thousands of people throughout the years. Izzy had a fun and funny way of knowing exactly who would be her next love-licking experience, she literally could pick them out of a sometimes crowded and busy Chelsea, NYC street and in she went, thrusting her love energy in without apology or regret.
Testimony, Anecdotes, Recollections: Friends and Admirers Far and Wide Remember Izzy
So Tiny and Adorable | Growing up, my brother Fin and I, like most kids, wanted a dog to play with and love. My brother being allergic and the fast-paced vibe of our busy lifestyle did not allow us to experience this type of connection until Izzy came along. She was so tiny and adorable when she was running around on our back deck the first time we met her. Slowly, over the years; she became my uncle's sidekick. She filled our hearts with joy and overwhelmed us with her cuteness; I couldn't have imagined a sweeter, more perfect duo. She will be missed greatly.—Peyton Goldleaf
How and When Did He Get a Dog? | I remember very well when my uncle Craig got Izzy. I was at my cousin's house with my grandmother, and she said something along the lines of, "Oh, Craig's new dog is so cute!" I remember thinking, "How and when did he get a dog?!" Years earlier he had a cat that was not around for very long, if I remember correctly. I am severely allergic to cats, and it made visits with him pretty hard for me. So when I had heard he got a dog, I thought, "Great, just one more thing to be allergic to at his place!"  But when I met Izzy for the first time when she stayed at my house for a weekend, I don't remember having any allergic reactions. I immediately fell in love with this adorable little puppy. It was very clear from the start that my uncle Craig loved Izzy. He took me to my soccer game and sat on the sideline with her passed out in his lap and he was just petting her and keeping her out of the sun the whole time and showing how much he really cared for her.  Throughout the years, every time he would visit us, Izzy came along because as much as he loved her, she loved him (possibly even more) and she could not stand to be away from him. She was always the queen of anywhere she went—always showing the other dogs no matter how much bigger they were that she was the boss, and they would do as she wanted.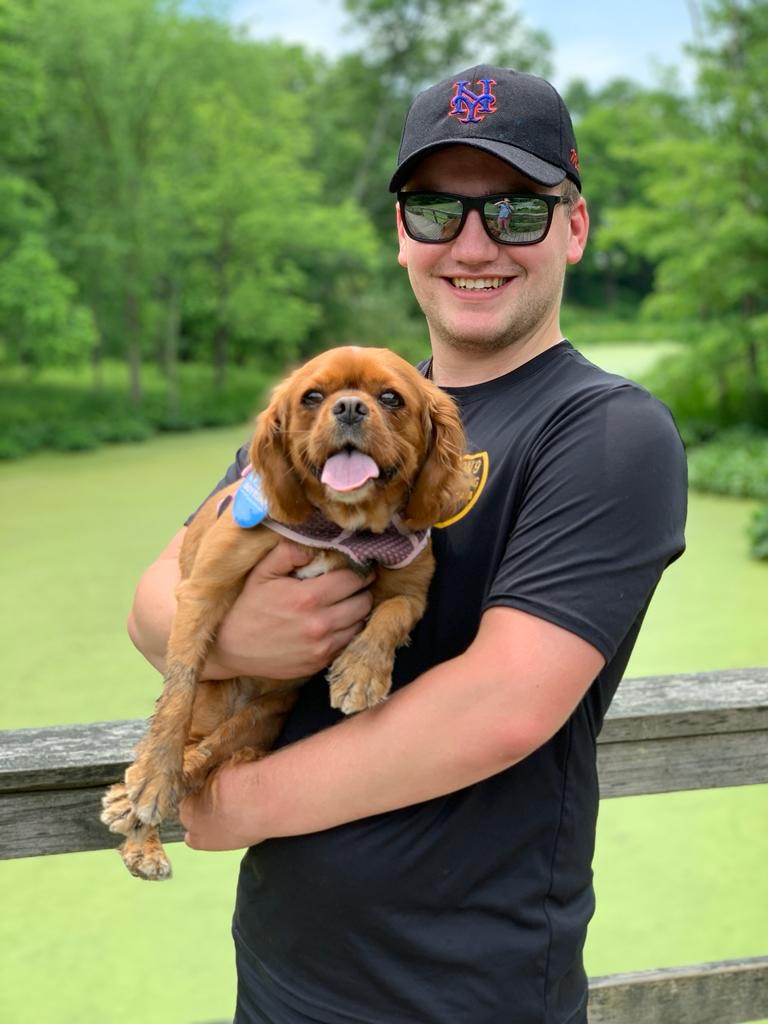 We got our own dog, Pilot, a standard poodle. Shortly after we got him, Craig stayed at our house for a weekend. Izzy of course came along, and she and Pilot hit it off. Of course, she was still asserting her dominance over him but that was to be expected. But what I saw was mind-blowing to me. Even as a puppy, Pilot was much bigger than she—and yet, she commanded his attention and really was showing him how to be a dog. At this point he had very minimal contact with any other dogs, and I remember very well that he could not, for the life of him, get up the stairs. Regardless, Izzy taught him how! She very quickly put him in his place and made sure he would respect her but once he did, she warmed up to him and he to her. Every time they were together after that was like they were old friends. When we got our newest dog, Pablo, who even now, out of his puppy days is a lot, she did the same thing, very quickly taught him how to interact with other dogs and how to play nicely. Izzy has been in our lives for a long time, and it is sad that she is no longer with us—but it is truly amazing how much she loved everyone, and everyone loved her. She had such an impact on everyone's lives, especially Uncle Craig's. She was very much the light of his life, so much more than just his pet, and we will all miss her dearly. —Fin Goldleaf
Izzy was a Reflection of Craig | Anyone who met Lady Isabella Von Craig knows she was special and unique. Izzy had an inner light—she was an old soul. She brought people together. She introduced neighbors and created friendships. The first time I met Lady Isabella Von Craig, I was sitting on the steps of our brownstone on 21st Street and talking with our lovely friend Jim, and along came Craig with his adorable, energetic, immaculately manicured, joyful Izzy. Izzy was a reflection of Craig, always animated, devoted, and caring. Izzy had a way of greeting you and showering you with kisses that lifted your sprits no matter how dismal your day had been. She was a source of comfort in the darkest days of the pandemic. Over the years, Izzy came to feel like family, and she was loved by three generations of our family. Visits by our daughter and grandchildren and the arrival of their beloved Duke, another Cavalier, always included a play date with Izzy, who was a role model of good behavior and city sophistication for Duke. Cancer took Izzy from Craig and 21st Street, and from Chelsea too soon. Rest in peace sweet Izzy. Your spirit and warmth and love are a gift that will always stay with us.—Sandra, Sidney, Jocelyn, and Adam
ICONIC! | If ever there was the perfect use of this word it is now: Iconic!  That is what Izzy was. Everywhere that puppy went with her best bud, she left a trail of adoring fans. The loss of her ubiquitous presence in the nabe leaves a big hole in the essential Chelsea experience.  WE all miss that fluffy little piece of Chelsea royalty.—Pamela Wolff
My Favorite Neighbor | I fell in love with Izzy when I first met her! I loved when she came by to say "Hi" and greet us at Qanoon and Pastai. She was my favorite neighbor! She was amazing! She will be in our hearts forever!!—Thomas Hernandez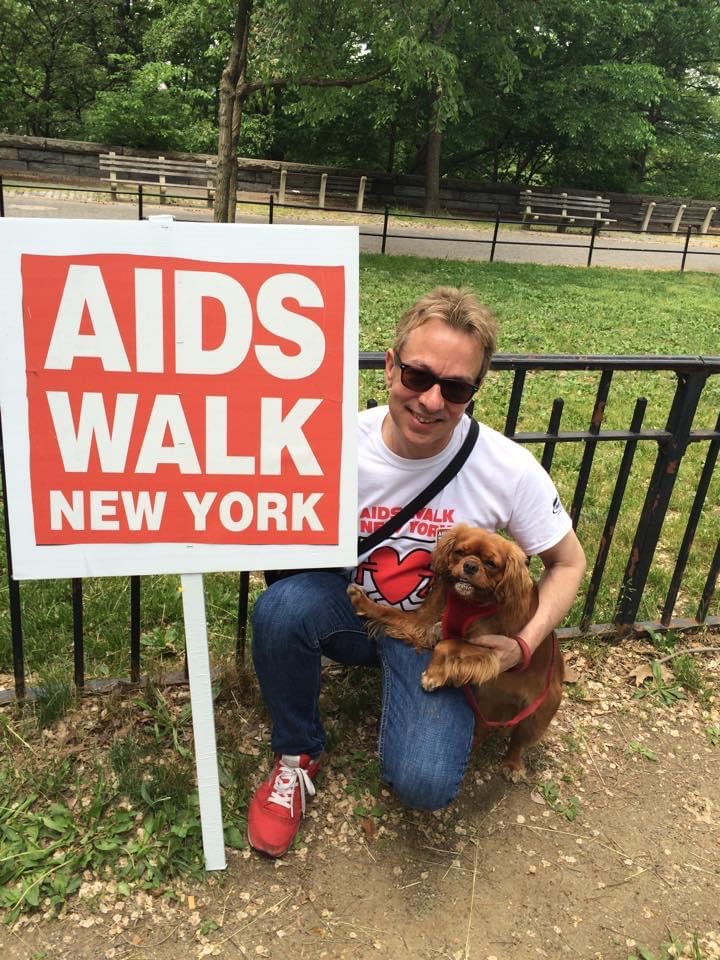 Izzy's Running on the Rainbow Bridge | I've known Craig (Pops) for many years (we became friends when he lived upstate). Eventually he moved to Manhattan, and we kept in touch through Facebook. One day I noticed he created a page for Lady Isabella Von Craig (aka Izzy) and I was immediately taken by her cute adorable, fuzzy face! I followed Izzy through her Facebook posts, watching her attending charitable events, her travels and her walks through Chelsea just meeting people. She was a very busy and entertaining little lady. I do believe in the Rainbow Bridge and although I have only known Izzy virtually, I hope someday we will meet face to fuzzy little face!—Andrew Clark
Memorable and Fun | For anyone who has ever met Izzy, let's just say it's memorable. She was one of the most loving, joyful, and playful dogs we have ever met. From the times we snuggled her as a pup, played together as a family in Central Park, celebrated Pride, to walking in the AIDS Walk together… Whatever the occasion, Izzy made it that much more memorable and fun! She will forever be missed by our family!!!—Rhianna and Michelle Hemm-Kelly
Izzy as Icebreaker | I regret that our advanced age and infirmities prevented our actually meeting Izzy. Gazing into those large liquid eyes in person, stroking that soft brown coat, would have added to our pleasure at all those online photos over the years. Izzy was your regular companion in many warm family gatherings, Craig. The dog also assisted you in your many community celebrations and worthwhile endeavors, such as helping those with AIDS, etc. She was a great icebreaker whenever you encountered people one-on-one, enriching their lives for having known you.—Roland  
A Precious Asset | I would like to share my thoughts on behalf of my former restaurant [Champignon], my employees, and my customers. Izzy was a lovely dog and a precious asset for the Chelsea community. In Champignon, we as the management and employees as well as our customers all remembered Izzy as a cute pet who loved to be with us and be a part of our social events. Late James Campbell whom we lost since the early pandemic days in April 2020 was a major fan of Izzy. Now we miss both of them and hope they rest in peace with our heavenly father. The Chelsea community and the local LGBTQ community will never forget them. We all share our empathy with Craig, our beloved friend and great citizen. Please accept our condolences and stay safe and strong as always.—Dr. Peter Andersen 
From Crag M. de Thomas | Izzy was more than my pet, in so many ways—my constant, my sidekick, my companion. It is difficult to communicate fully what she brought to my life, because they are more feelings and emotions for which there are no words or forms of measurement. But I easily and instinctually use the words happiness, joyfulness, pleasure, contentment, humor, commitment, loyalty, and dedication.
Having Izzy allowed me to be the very best version of myself, and summon those positive attributes at the precise moment life required them, especially when it came to her care, well-being, and happiness. I have never experienced the depth of love for another being in this lifetime as I have for my Izzy. I believe that love is infinite—and if infinity can be used as a form of measurement, then I say I love Izzy multiplied by infinity and then multiply that by the trillions!! I feel with certainty that Izzy loved and continues to love me in the same miraculous way. She opened up my heart, and I know that what she taught me about giving and receiving love, I will carry into the future, into every first meeting of a new friend.
Izzy's Legacy is. . . | Izzy changed the life of my dear friend, Craig, and while I could go on about how smart and loveable she was, I would rather focus on what she gave to him. Craig has always been kind, and generous with an open heart, but Izzy cracked his heart wide open, and allowed me to see the depth of love that resides there. The sweet devotion he showed Izzy, the constant care and love he bestowed on her was a beautiful thing to witness, especially because it was clear that all of this love and devotion flowed both ways. Izzy's legacy is Craig's understanding of his limitless capacity to love and be loved. When his grief becomes more manageable, I know he will fully appreciate this gift, and carry it with him the rest of his life.—Heidi 
Izzy Knew Every Corner | I first met Izzy when she was little and in her carrier. I watched her grow while Craig took care of her—she was his best companion! Izzy knew every corner in the hood, as they both used to take their walks around and greet many people. Izzy and Craig often made special trips to my restaurants, Pastai and Qanoon, to visit with me throughout the years. It was a pleasure to see and experience the unlimited love and attention that Izzy received from Craig over the years. God bless her soul!—Tarek Daka
On Her Own Terms | My sisters and I were honored to meet Izzy and sit for a photo with her at The High Line Hotel Christmas Tree lighting in 2019. She was so very friendly and even let us hold her! We have since enjoyed following her adventures on IG. It's clear, Craig, that you were able to give Izzy a wonderful life and I'm certain she gave you tons of love in return. Letting her leave on her own terms was a true gift. Izzy will be greatly missed by her Chelsea neighbors and IG friends.—Michele Nipper
Royal Pedigree on Full Display | Sookie (life.as.sookie) and I met Izzy and Craig on December 4, 2019. We were at The High Line Hotel with my sisters, who were visiting from California. Izzy was so sweet and lovable. Meeting Lady Isabella and Craig was the highlight of our evening. Izzy's royal pedigree was on full display—always poised in front of the camera and ready to schmooze with strangers, while Sookie, in contrast, showed her Tennessee roots. I was lucky to hold Izzy in my arms for a photo. Such a lovable pup. Thank you, Lady Isabella, for a joyful evening, and Craig for bringing her to the hotel holiday festivities. Sookie and I will miss following Izzy on her adventures. Much Love.—Marcia Bashore
Taken by Her Sweetness | Lady Isabella Von Craig was a very special girl! She was loving, beautiful, and, most importantly, she spread joy and love throughout her all-too short reign. I met her with her Pops [Craig] one early evening in Chelsea about three years ago and was instantly taken by her sweetness. I am so very glad I followed her comings and goings, as each and every time I read about her and her Pops, my day became better. She was a star in the best sense of the word. Her too-soon passing is a tremendous loss for all of us who were fortunate enough to know Izzy. I, for one, will never forget her and I am certain there is now a very bright star in the heavens with Izzy's name on it.—Elaine Cobos
Cheer and Shine | There was no better way to start the day than a chance meeting with Izzy in the elevator. Always full of cheer and shine no matter the hour. She was the perfect neighbor. We'll miss you, Izzy.—Amy & Melinda
The Eyes of Izzy | Each time I had the good fortune and pleasure of seeing Izzy and Craig, my mood, no matter what contortion it took that day, brightened as I fell into Izzy's loving eyes. She connected to me with unspoken empathy and love. That kind of soul connection is rare and truly indescribable, as was she. Her big brown loving eyes, kind and accepting, spoke to me as her tail wagged, always offering unconditional acceptance and love. I don't believe I ever experienced that kind of indescribable communication with any other creature. Izzy was truly the spirit of love and acceptance one rarely finds in life. I will remember her forever and be grateful I knew her. Thank you, Craig, for bringing her into our lives.—Linda Tsakonas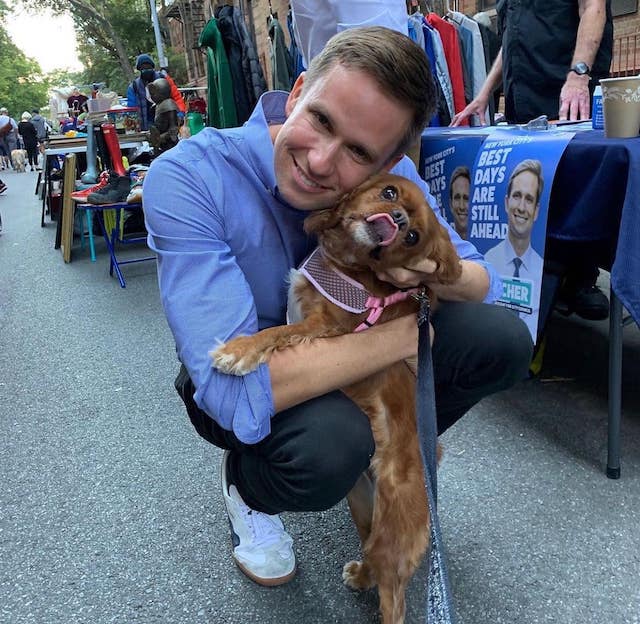 The Mascot of Our City Council Campaign | Our community has lost someone very special. If you spend any time in Chelsea, you've seen Lady Isabella Von Craig walking with her dad, Craig M. de Thomas. She became the mascot of our City Council campaign and was featured in many a press conference, even appearing in People Magazine (helping us remind dog owners that there is no Poop Fairy). We shared a special connection that was evident whenever she came walking over with Craig. It made me feel so special. No matter how many people were around, Izzy and I always spent time saying "Hi" to one another.—NYC Council Member Erik Bottcher
The Friend We All Needed | The best and most rewarding part of being on an electoral campaign [Erik Bottcher's 2021 NYC Council District 3 race] is building a community of supporters, volunteers, and activists that are unique to that campaign and the place where you are working. As a result, what was uniquely wonderful about building a community in Chelsea is that it naturally involved Izzy. No matter where we were, what we were doing, or who was around, our team could count on Izzy to raise our spirits and remind us of the joy in the Chelsea community. She was absolutely the mascot and friend we all needed and wanted for that campaign.—Ben Hoffman
Known for Her Good-Natured Diplomacy, Silken Mane | I first met the lovely and tenacious Lady Isabella Von Craig when she and I both volunteered on the campaign trail for my friend, Erik Bottcher, when he was running for City Council. Even though Lady Isabella lived in Chelsea with her amazing pop, Craig, she never missed an opportunity to get out the vote for Erik in the West Village and throughout District 3. Lady Isabella drew people as well as other canines in with her good-natured diplomacy and silken mane. In addition, she was a friend to all who encountered her in those difficult months of 2020-2021, during the height of the COVID pandemic in NYC. Lady Isabella, I hope you are frolicking on the vast lawn in the sky with my beloved Bruno and so many other wonderful dogs I have had the privilege of knowing. I will miss you, Izzy.—Catherine Lafferty
Friendly, Photogenic: Izzy Excelled as Campaign Mascot | We are so sad to say goodbye to such an amazing dog! Izzy was an incredible addition to the Erik Bottcher campaign team and always brightened our days. We were so lucky to have her as our campaign mascot. She will be remembered for being so friendly, photogenic, and giving the best kisses!—Hannah
Izzy's Wonderful Life | During the "Poop Fairy" press conference with NYC Council Member Erik Bottcher, Izzy's serene presence was a joy. Seeing Izzy at community events with Craig was always wonderful. May Izzy be happy in doggy heaven with her favorite toy and bone. We know Izzy had a wonderful life.—Tony Simone
The Soul of Chelsea | I met Lady Isabella Von Craig, aka Izzy, only a few times, but they were memorable times. After living five years on the Upper East Side, the day I returned to living in Chelsea, I met Craig de Thomas, at the now defunct Champignon restaurant. I was sitting alone and couldn't help overhearing Craig speaking charmingly with everyone seated nearby. I quickly realized he was the Mayor of Chelsea and made a point of introducing myself, and he was accompanied by that cute little dog: Lady Isabella Von Craig, aka Izzy—the soul of Chelsea. Craig and Izzy made me feel immediately re-welcomed in Chelsea. I've met several of my favorite people through them—the glamorous Agnes, and Ivett, and Council Member Erik Bottcher among them. The soul of Izzy will permeate Chelsea forever and any day when the weather is beautiful, that's her doing.—Mark Kostabi
Radiant Beauty, Passionate Energy | One of the things I love about New York City is the sense of community in the neighborhoods where you live and work.  I used to run into Lady Isabella and her dad regularly on my work breaks in Chelsea and always appreciated her exuberant and warm greetings during the day. Life was weird and scary during the COVID shutdowns in 2020.  Walking around a Seventh Ave. that was eerily desolate, I desperately missed the energy and livelihood of the noise and laughter in the neighborhood. Then one day in June, I was walking past 21st Street and I heard my name called. There in front of Champignon was sweet Isabella and her dad, Craig. Visiting with them on that early summer day gave me so much joy and hope that life and laughter could someday return to normal. Losing Isabella so soon [into our friendship]is painful. Her radiant beauty and passionate energy will be missed in Chelsea. But I know, I can't walk down Seventh Ave. without remembering her radiant energy, her wonderful hugs, her zest for life. And in that way, she is still very much part of my workday. Thank you Craig, for sharing her with us, and helping to remind us to literally slow down and smell the roses.—Damon L. Jacobs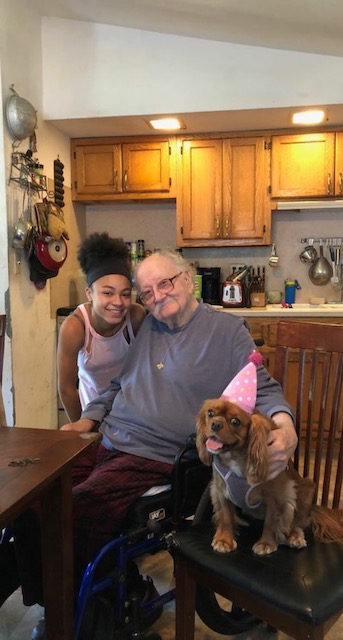 A Love Never-Ending | When I think of Izzy, many thoughts and experiences come to my mind and heart:
–She made New York a better place, simply being herself!
–Her journey for being here was to show us what love really is!
–It was impossible to be sad in her presence, Izzy wouldn't let you, her love was boundless and never-ending!
–She was a good snuggler and totally knew how to chill with me. Miss Izzy was my love bug!
–I enjoyed watching videos of her hunting birds, she was excellent at it, her focus, her stance was excellent, she used her pure instincts, a pleasure to see-
–She was the Duchess of Chelsea, for sure!
–Izzy was a healer in many ways. She was the epitome of love!—Kurt de Thomas
EBD: Extremely Blessed Dog | How very fortunate you were to have Izzy for as long as you did. She enriched your life daily, as well as her followers and so that's what we all have to be thankful and grateful for. You succeeded in giving her a beautiful leave-taking. These gentle souls are fortunate to have us. Izzy was an extremely blessed dog to have you too.—The Monster Bar, NYC
Heard of Her Many Travels | From the moment I met Lady Izzy, I knew I was in the presence of royalty. The beauty, the grace, the manners… but Lady Iz was very down to earth and treated us commoners with such benevolence. Of course, she was   stranger to greeting her subjects. I had heard of her many travels with Mr. Craig de Thomas and the grand company she kept. I feel so lucky to have had her receptive of my attention—I only wish, as does everyone else, that it could have been longer… to see her in one more parade, one more lunch in Chelsea, one more A summer day at Chelsea Piers. Farewell Lady Isabella, and may flights of angels sing thee to rest.—Nicole Barth
Such a Sweetheart | Wanted to share my thoughts, as I'm sure everyone agrees what a sweet, lovable dog Izzy was—such a sweetheart that warmed our hearts and uplifted our spirits. A wonderful and dear companion to Craig. Rest in Peace, dearest Izzy—in our hearts forever.—Allison Busch
Always on an Even Playing Field | Izzy's impish grin, the confident swish of her tail, and her effervescence bespoke an innate intelligence. She had empathy to spare and was extremely generous with it. Many people believe that a dog resembles her/his/their owner. Izzy and Craig bear no physical resemblance whatsoever. The threads of their spirits though, were more tightly woven together than the highest thread count bed sheets. Understandably, both Izzy and Craig would have scoffed at the word "owner." They were light years beyond "man and his best friend." They were always on an even playing field. They nurtured one another, watched over one another, and made each other's heart sing. They were always mindful of one another's needs. They gave one another unconditional love—a constant source of joy.—Jan B. Geller 
Forever a Part of You | Izzy now lives in your heart, your memory, your love—and love is forever. She is always and forever a part of you. She remains a part of her many fans, too. We love her as well.—David Rubenstein
A Wonderful Dog for the Community | Izzy was a dog like no other. She was pretty and perfect. Good-mannered, and well-behaved. Calm and classy yet crazy and loving at the same time. She was a princess, and she knew it. She would always come back from the doggy salon with her nails freshly painted, her fur trimmed, and a nice set of pearls. Nobody had better fur then Izzy, and nobody had shiner pearls. Izzy was an amazing dog for companionship, and she was also a wonderful dog for the community. Everyone loved her very much, as did I. I'm blessed to say that I got to meet her as soon as my uncle Craig got her. I've watched her grow over the last nine years. I find comfort in knowing that now she's resting and watching over us. I've never seen a dog who loved the world and everything in it the way that she did. Izzy was the queen of Chelsea. It truly was an amazing nine years with her. I'll never forget the times we had together or the many hugs and kisses she gave me. I will love her forever and forevermore.—Sidney de Thomas
Izzy's 'Made me Smile' Report Card: A+  | She was Izzy to me, the bell of the ball and a friend to all. Whether you were lucky enough to greet her in the neighborhood or see her latest post on Facebook, she brought smile to your face. This photo sums it up perfectly. She had a big heart and made me smile every time. Izzy, in my heart forever. —RoseAnn Hermann
Izzy, Grace, and Joy | Hi Mr. de Thomas, it's Grace from the front desk! I'd just like to say, even though I didn't get to know you and Lady Isabella that long, it was an absolute pleasure to meet you both. The short time I've known her, she brought just so much joy to my day, seeing her tail wag so happily to get all the attention that she deserves. I'll keep her in my heart and memories. —Grace Hwang
The Tale (Tail?) of Izzy and Luke | Izzy always knew who she was, which was the center of attention. We could all use just a bit of her exuberant confidence in our lives. When Izzy met my dog, Luke, a surprisingly laid back Labrador, Luke decided he needed to up his game. As Izzy went from person to person, both demanding attention and certain she would receive it, Luke realized he perhaps needed to make a bit more effort to connect to the humans around him. He laconically wandered from person to person resting his head on their lap and receiving gentle scratches. Izzy continued to bounce and rebound generating "oohs" and "ahhs." Eventually, Luke lay underneath the table deciding that waiting for food was more his style than looking for love. He happily ceded the role of center of attention to Izzy, who never even knew her role was at risk. I think that is the lesson here—know who you are and enter the world confident that you will be loved and welcomed. For that reason, I will challenge myself to leave a few of my Luke impulses to wait for attention to come to me and embrace a few more of Izzy traits, namely to enter the world with more open arms—or paws. Although I will always be happy to wait for food!—Bart Baldwin
An Angel! | I remember her beauty and grace. She looked like an angel!—Rose Tirelli
Always by Your Side| She was a wonderful pup and loved by many. Thank you for sharing her with us all these years through your photos and having her always by your side. I am sending you love and light in this impossibly hard moment. The loss is all the more difficult because she was truly that wonderful. Hugs to you.—Jonill Mayer
Effortless Elegance and Class | I wanted to add my voice to the chorus of all those who feel so terribly sad that Lady Izzy has made her trip over the rainbow bridge. While I never had the pleasure of meeting her in person, I felt like I did through all of the wonderful posts and pictures over the years. She seemed to always have a smile on her face and looked elegant and classy without even trying. I have known her Papa Craig and his family for some time—his heart was always with her. He graciously shared Lady with us all—and by sharing, we came to adore her! She is and will be sadly and sorely missed! But we can all take and learn from how she lived her life: WITH JOY, PURPOSE, A SMILE AND REMEMBER: HEAD UP, CHEST OUT—MIRROR CHECK—NOW LETS GO!!!!!!! With Love!!!!—Gene Stith
Smart and Strong | I had the pleasure of getting to know Izzy in her last few months with us. It was clear to me from the start that Izzy was absolutely adored by everyone she met. I was no exception. She always greeted me with a tail wag and plenty of kisses. She was so smart, and she was strong. Craig took amazing care of Izzy and it was beautiful to witness their bond. He knew when Izzy was ready to say goodbye. She never stopped giving kisses and a tail wag, even when she was tired. She was comforted by people who loved her and she provided comfort to her people to the end. She passed peacefully, enveloped in love, to the final notes of Moon River. I felt honored to be a part of that moment. Izzy, you are missed.—Diane Bassman
From Crag M. de Thomas | I thank each of you who have contributed to this memorial tribute, your beautiful sentiments are deeply meaningful for me and bring me peace, solace and happiness, I am so happy that so many people felt the joy and love of Izzy.  I also thank everyone that prayed for us and showed love, kindness, and support during the last few months of Izzy's life here on Earth. I say a special thank you to you Scott Stiffler, for this beautiful publication of testimonials which further enhance Izzy's love legacy and our life together.  I love my pup forever and forevermore!
Chelsea Community News (CCNews) is made possible with the help of their voluntary donors and awesome advertisers.  In honor of Izzy's legacy, I ask that donations be made in her honor.  I am certain that Izzy will be thrilled to see and know that her legacy of love also lives on through your support of CCNews founder/editor Scott Stiffler and this online publication.  You may click here to go directly to the CCNews Go Fund Me campaign page. Contact Scott via scott@chelseacommunitynews.com to make arrangements with him for a direct donation, such as a check, etc.—Izzy's "Pops," Craig M. de Thomas
                                                          BELOW, SEE MORE PHOTOS OF IZZY & HER FRIENDS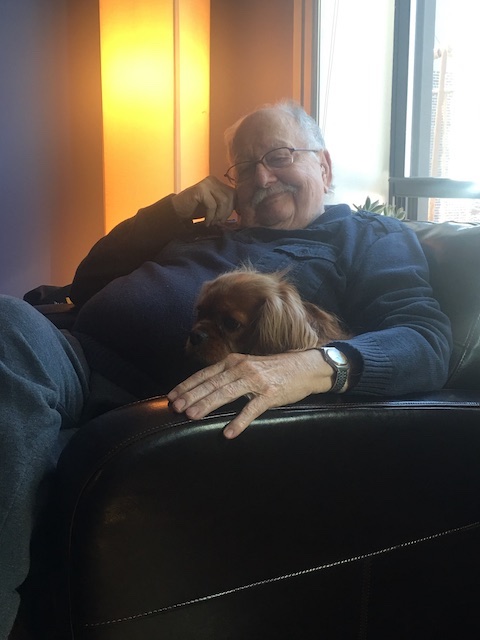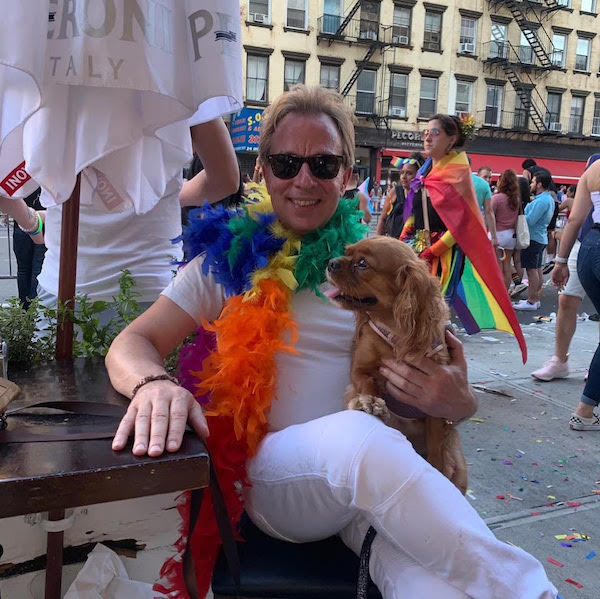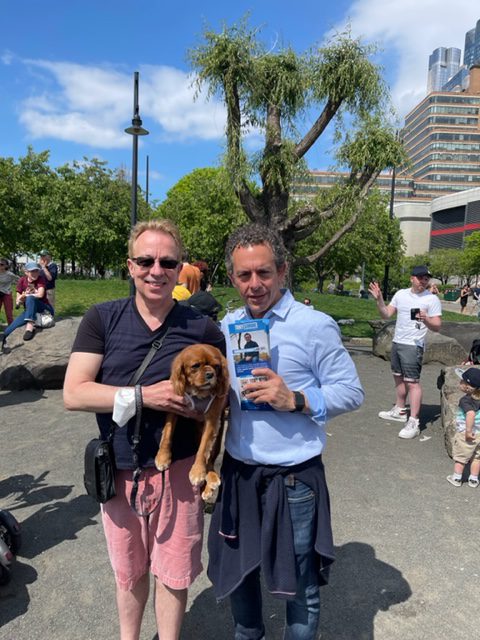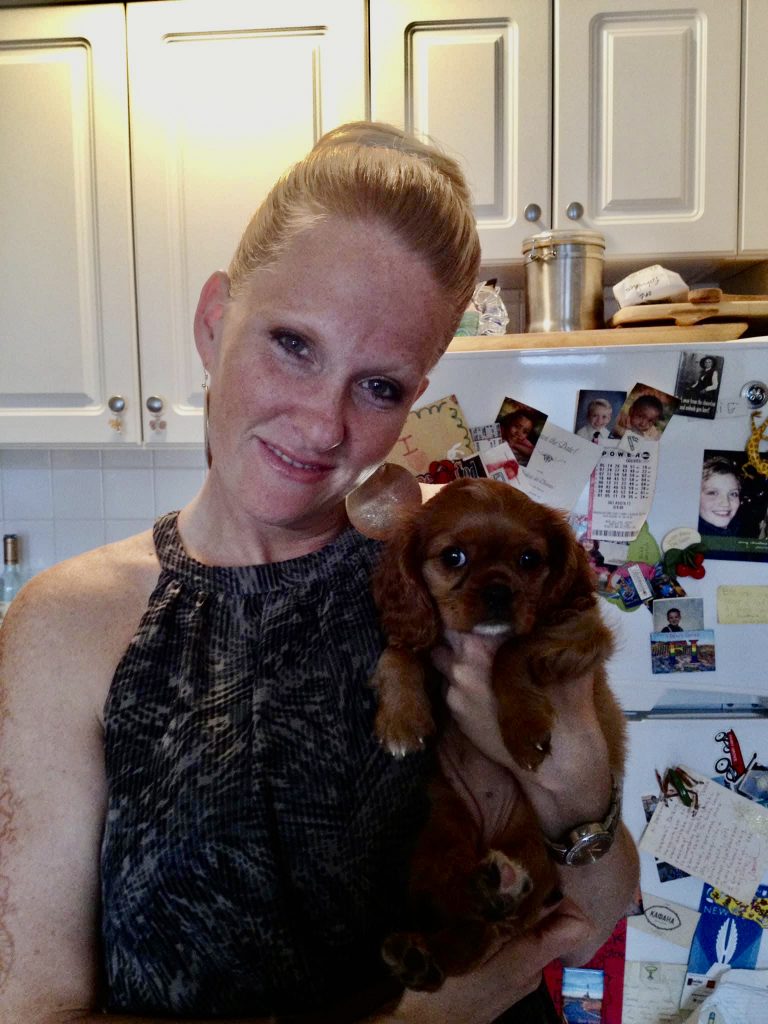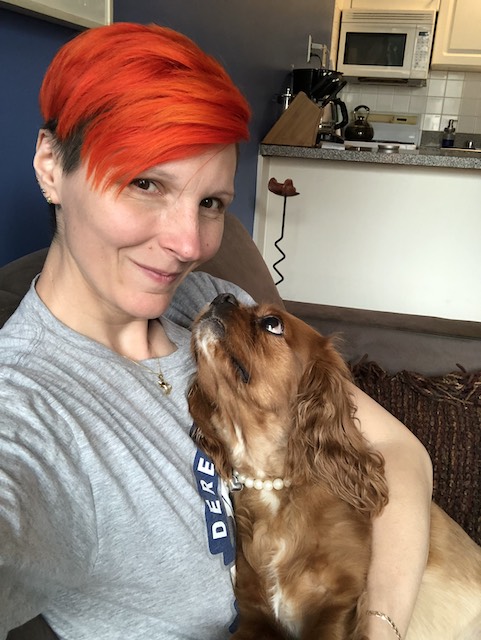 —Compiled by Scott Stiffler
Chelsea Community News is made possible with the help of our awesome advertisers, and the support of our readers. If you like what you see, please consider taking part in our GoFundMe campaign (click here). To make a direct donation, give feedback, or send a Letter to the Editor, email scott@chelseacommunitynews.com.