BY BONNIE ROSENSTOCK | Maintaining its need to "provide critical support for improved service," the Metropolitan Transportation Authority (MTA) is gearing up to construct a below ground substation on West 28th Street between Eighth and Ninth Avenues. That project continues to fuel concerns from some residents of Penn South—the sprawling six-block, 10-building co-op and NORC (Naturally Occurring Retirement Community) whose Buildings 7, 8, and 9 are in close proximity to the high voltage facility's proposed location.
The MTA's plans to build on West 28th Street have been opposed before, and effectively so. It was scrapped a few years ago when then-New York City Council Speaker Corey Johnson (who represented District 3, which includes Penn South) weighed in on the matter, ultimately resulting in the MTA abandoning the project. At that time, he said it was the worst possible site for a substation, recalled Michael Bournas-Ney when he spoke at an Aug. 11 online Community Communication Session presented by Chelsea Community News (CCNews).
At issue, according to Bournas-Ney and others who spoke at the Session, are environmental and health risks due to electromagnetic radiation, with increased cases of childhood leukemia, risks to pregnant women and people with medical electronic implants and prosthetic devices. Those risks are subject to opinion, interpretation, and ongoing research, as you'll see by clicking here and here. Health concerns aside, Penn South residents are in the right when they note the project brings with it the promise of several years' worth of noise for a full day's work, most days of the week.
"After it starts happening, then we can't do anything about it. We feel like this is a little bit of a window… and we would like our local politicians to do something about this," said Loraine Machlin, during the Aug. 11 event.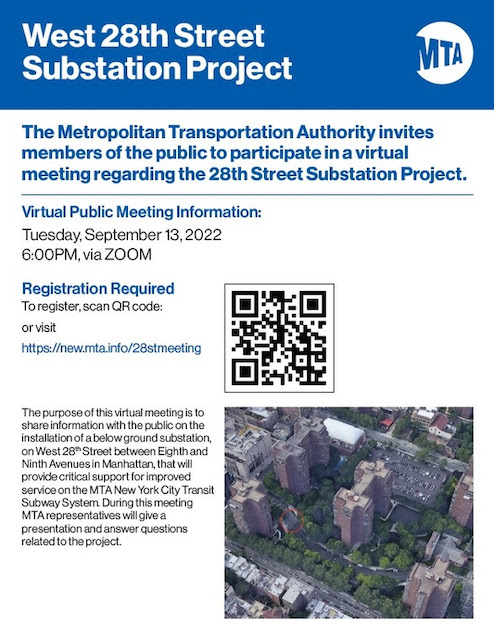 But it appears to be a fait accompli, if you read the signals being sent by the MTA via statements and the contents of a flyer promoting its Virtual Public Meeting scheduled for 6pm on Tues., Sept. 13, via Zoom. Project staff and members of the MTA Government and Community Relations team will be present, and registration is required (click here to do so).
Rather than entertain notions of an alternate site, the flyer states, "The purpose of this meeting is to share information with the public on the installation of a below ground substation, on West 28th Street between Eighth and Ninth Avenues in Manhattan."
In response to a CCNews email requesting information pertaining to the public meeting, an MTA spokesperson said, "This site location [W. 28th St.] was identified as the best location from an engineering standpoint because it is the optimal location to address the needs of the existing and future system, and because it results in the least amount of impact to the surrounding community. After hearing from stakeholders and the community when we introduced this project over two years ago, the MTA re-investigated (30) alternate locations and concluded that this was still the optimal location for this project for all of the reasons noted above."
In the interest of providing the public with easily accessible information at a single online destination, the MTA says it will establish a micro-site for this project "in the near future." This article will be updated to include a link to that site upon its pending publication.
In a statement supplemental to Penn South resident Mark Bloch's recent Guest Opinion piece (MTA Should Position Planned Substation Somewhere Past Penn South), Jesse Bodine, District Manager of Manhattan Community Board 4 (CB4), called the substation "a critical project" while noting the community deserves "to understand the different aspects of the project and whether or not MTA has done their due diligence. That is why we have requested the MTA to attend MCB4's Transportation Planning Committee (TPC) to provide a thorough presentation and answer all questions."
Since that statement's Aug. 21 publication, Bodine has confirmed the MTA will attend Sept. 21's 6:30pm meeting of the TPC, to provide the most up-to-date information on the proposed project. To register for the meeting, click here.
In a letter that emerged from a CB4 Transportation Planning Committee meeting and was ratified by the full board of CB4 on July 27, CB4 reminded Craig Cipriano, Interim President, MTA New York City Transit, that, "Key requests [were] made to your team during a walkthrough last month." At its June 27 meeting, CB4's Executive Committee requested that the RFP (Request for Proposal) should include the following points for any construction above ground or that generates noisy above-ground activities (material deliveries, etc.):
–Exceptional measures for sound elimination as the construction is right in the middle of a very quiet and very residential district.
–Noisy activity and Construction time limited to the hours 8am to 5pm during the week and none during the weekend.
–No encroachment on the Penn South parks and gardens; MTA construction site will be adjacent to a new building being erected just to the north of the excavation.
–Pedestrians' detour on Eighth Avenue to be located to the west of the bike lane instead of the east. "
The letter concluded that although Penn South residents will be extremely inconvenienced by this project, many of them will not benefit from these improvements because the closest station at West 23rd Street is not accessible. They asked for a date by which the A/C/E station at West 23rd Street and Eighth Avenue will be open. No response has been noted.
A petition, created by concerned Penn South residents, entitled "Stop the MTA Substation," is being circulated online. It voices many of the health concerns about the residential location of the substation and proposes another site as making more sense. "Constructing the substation between 8th and 9th avenues on 31st street along the side of the post office… would not affect vulnerable residents of apartments buildings on 28th and 29th streets… But the MTA may be choosing 28th street over commercial/non-residential nearby blocks where large real estate entities and powerful corporation have more influence." It also urges signers to call and email their local and state officials to voice their opposition.
The MTA's Virtual Public Meeting takes place on Tues., Sept. 13, 6pm via Zoom. To register for the event, click here. To visit the CB4 website, click here—and to visit the MTA website, click here. This section will be updated with the appropriate link when the MTA micro-site specific its proposed West 28th Street substation has been published.
 —Additional reporting by Scott Stiffler
Chelsea Community News is made possible with the help of our awesome advertisers, and the support of our readers. If you like what you see, please consider taking part in our GoFundMe campaign (click here). To make a direct donation, give feedback, or send a Letter to the Editor, email scott@chelseacommunitynews.com.