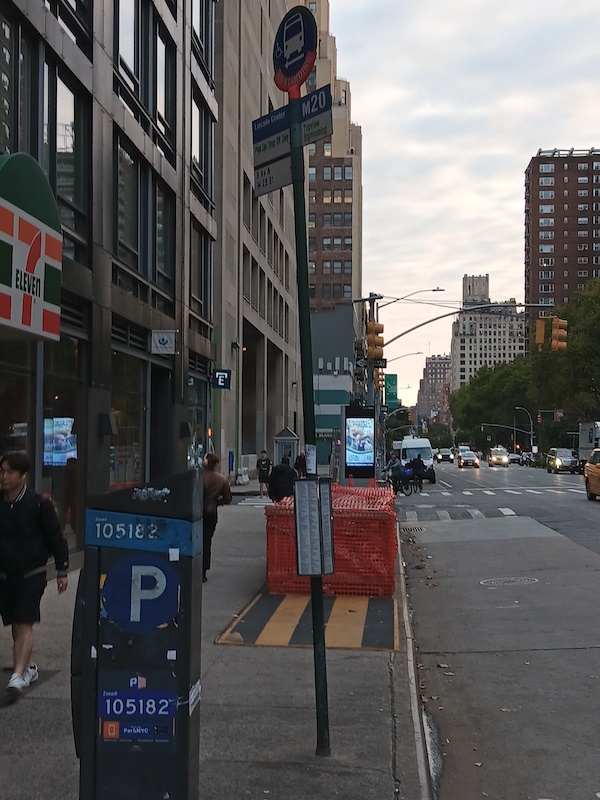 BY JACOB IMBER | A private bus stop proposed for the east side of Eighth Avenue between West 28th and 29th Streets has reignited tensions between Chelsea residents and the NYC Department of Transportation (DOT). If approved, the stop will be the latest in a series of transit developments locals say create dangerous conditions.
A representative from Owl Bus, Inc. appealed to the Manhattan Community Board 5 (CB5) Transportation & Environment committee at their August 28 meeting (click here to view that meeting on CB5's YouTube channel). Despite the presence of nearby Port Authority Bus Terminal, intercity transit companies have continued pushing for cheaper street-level stops–a practice residents continue to challenge, often with unsatisfactory results.
"It's a theft from us," Brian Hammerstein told Chelsea Community News (CCNews). "They're stealing our quality of life because they don't want to pay the fee at Port Authority."
Hammerstein has lived for 18 years in Penn South. The 15-building co-op and Naturally Occurring Retirement Community (NORC) extends between Eighth and Ninth Aves. from West 23rd to 29th Streets. That puts part of it directly across from Owl Bus, Inc.'s proposed stop.
Testifying at CB5's August 28 meeting, Hammerstein articulated a viewpoint held by many area residents riled by the fact that Owl didn't even consider Port Authority as an alternative to its pursuit of the Eighth Ave. location. "The street," noted Hammerstein, "is not a bus depot."
After hearing testimony from 36 speakers who voiced unanimous, at times emotional, opposition, the committee recommended against the stop. The full board followed suit at their September 14 meeting by voting to send to the DOT a letter generated by the committee following their August 28 meeting. (That letter appears in full at the tail end of this article. To view the Sept. 14 full board meeting on CB5's YouTube channel, click here.)
Still, the DOT may proceed against the wishes of residents and the position taken by CB5. As is, the very notion of an intercity bus stop setting up shop on a block within visual range of the congested Penn Station area is "the straw that broke the camel's back," said Susan Immergut, a 61-year Penn South resident who counts herself among the many locals who consistently engage during many a vetting process, only to have their will ignored. She cites as examples, the ongoing construction of an MTA substation as well as the DOT's placement of a Citibike rack on Eighth Ave. between West 27th and 28th Streets—despite protestations that its presence creates an obstacle for those entering and exiting the 345-355 Eighth Ave. Penn South building. "Especially for the elderly and disabled," said Immergut, adding, "and nowhere, now, can a person get out of a taxi cab, for the entire length of that bike rack."
This narrow, residential stretch of Eighth Ave. already sees its share of traffic. As CB5's letter notes, Owl's requested location "is currently marked No Standing, is an existing bus stop for the MTA M20 and Go, New York." The letter also notes Owl Bus, Inc. "reported submitting to DOT and being denied locations for alternative bus stop locations on Fifth Avenue from 29th to 39th Streets, and Seventh Avenue from 29th to 39th Streets, and DOT has not provided its rationale in recommending this location on 8th Avenue between West 28th and 29th Streets."
Just up the street, a parking lot at West 31st Street and Eighth Ave. typically hosts a half-dozen or more buses from the likes of FlixBus, Greyhound, OurBus, Wanda Coach, and New York Trailways. Local community members express growing safety concerns as literal busloads full of people come, go, and often linger.
"I'm a flight attendant. I get harassed. I come home late at night," said an area resident at the committee meeting.
The vehicles themselves pose another hazard. "I was struck by a bus that was coming from 28th Street," local Edrie Cote told the committee. "This is just going to exacerbate the risk of that happening more often."
Liming Chen, an Owl Bus, Inc. representative, painted a different picture of the block at the August 28 meeting. "With this pickup and drop-off location, it will be more safe and efficient for the passengers and travelers," he told the committee.
Residents also highlighted a lack of transparency on the part of Owl Bus, Inc. While Chen introduced himself to the committee as Owl's "owner and operator," the company is listed as a foreign-funded corporation with Chen as a Maryland representative. In New York, no office exists at Owl's registered address, 152 East Broadway.
"If someone like Edrie is hurt by an Owl bus, who are they going to sue?" local resident Joyce Snyder asked, at the CB5 gathering, further wondering,"Who is liable?"
Owl Bus, Inc. declined multiple requests for comment.
Now, some residents are concerned that future similar matters under DOT jurisdiction will proceed at the community board level without their knowledge, as they saw no signage alerting them during the period leading up to Owl's appearance before the Transportation & Environment committee.
But CB5 District Manager Marisa Maack told CCNews that notices were indeed posted in advance (as the Board requires), albiet just on the block in question. Longtime local Fern Luskin confirms this, recalling how she saw CB5-created flyers "on the northwest, southwest, and northeast corners of 29th Street and Eighth."
Luskin sent an email to Immergut alerting her of the fact–but at that point, neither Immergut nor other motivated bus stop opponents had seen the notices. "It shouldn't be like that, it shouldn't be so hit or miss," said Luskin, of the minimal notification's limited ability to reach a respectable percentage of the densly populated neighborhood that would be impacted by a new Eighth Ave. bus stop.
Thusly informed, Immergut spread the word through her own email list of Penn South and greater Chelsea residents. Once alerted, the Penn South Board did the same. Whether they came fully informed or with little advance notice, the strong showing of locals testifying at CB5's August 28 meeting "was as good a showing as I've seen from this community," Hammerstein told CCNews, recalling equally passionate but less coordinated efforts by Penn South residents and others during their opposition to a bus stop a few years ago "at the same [Owl] location," noted Hammerstein, who also recalled past efforts such as last year's prolonged resistance to the MTA substation and, years back, to a Farmer's Market on Ninth Ave. at West 23rd Street.
"I feel like we're being dumped on," said Immergut. "They won't put a stop on Fifth Avenue. They won't put a stop on Park Avenue. They're going to put it on us."
If so, when? As of last week, CB5 had not heard back from the DOT regarding their letter, which was sent a day or two after the September 14 full board meeting.
In a Thursday, September 28 email to CCNews, Immergut reiterated what she previously shared with us, recalling, "I spoke to [DOT Senior Borough Programmer] Colleen [Chattergoon], and she said she had been going over residents' emails and that there would be a decision made by this Friday." In a September 26 email to the DOT press office, Chelsea Community News asked about the timeline for a decision. DOT Spokesperson Scott Gastel's response (via a September 28 email) simply stated, "We are reviewing the concerns carefully and will follow up with the company, the community board, and residents."
Immergut told CCNews she again spoke with Chattergoon on Friday, September 29, to find an announcement forthcoming. "She said they were in the process of reviewing and preparing a response," recalled Immergut, "which will be sent to the Community Board most likely next week." With this article's publication occurring on Monday, October 2, "next week" has begun. CCNews will update the article when the DOT goes public with their decision.
Note: This article was amended at 6;45pm on the day of its publication, to clarify the section in which advance notice signage is discussed. Directly below, see the two-page document that served as the letter sent to the DOT following its approval at CB5's September 14 full board meeting. To learn more about CB5, click here to visit their website. To visit the DOT website, click here.
–Additional reporting by Scott Stiffler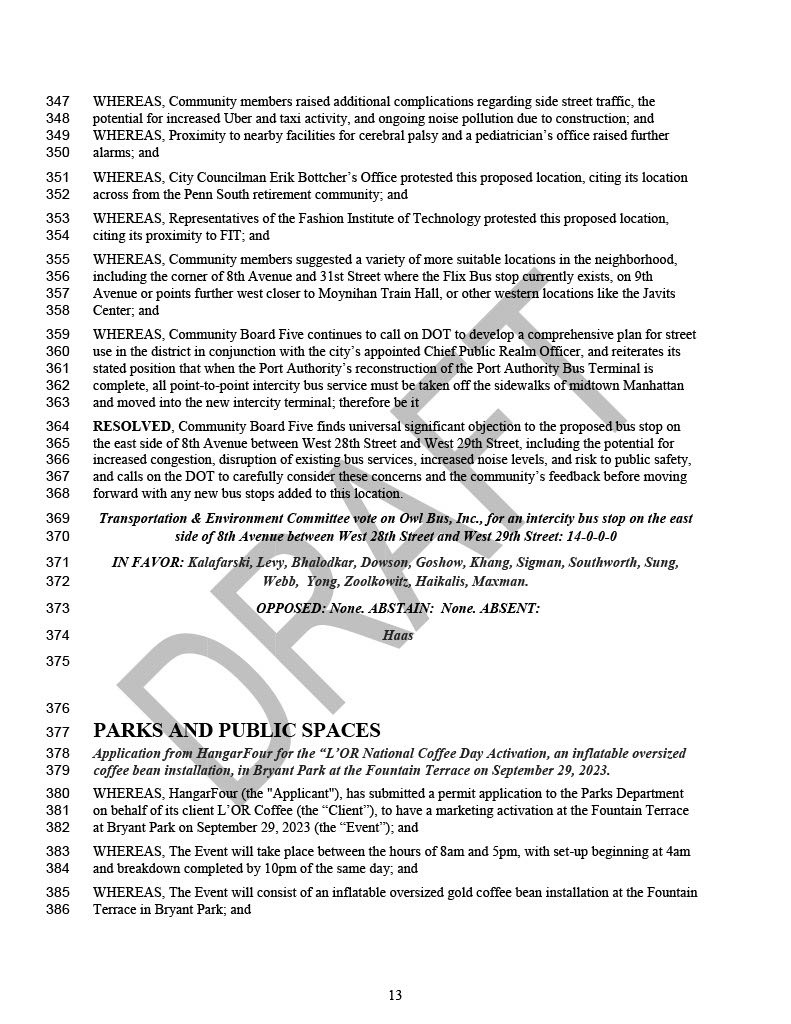 —END—
Note: This editorial content was made possible through a 2023 grant from the West Side Community Fund.
In May of 2023, $100,000 was distributed to 21 organizations serving the west side of Manhattan. To learn more about the West Side Community Fund's Spring 2023 Grantees, click here.
Chelsea Community News is an independent, hyperlocal news, arts, events, info, and opinion website made possible with the help of our awesome advertisers and the support of our readers. Our Promise: Never a paywall, no pop-up ads, all content is FREE. With that in mind, if circumstances allow, please consider taking part in our GoFundMe campaign (click here). To make a direct donation, give feedback, or deliver a Letter to the Editor, send an email to scott@chelseacommunitynews.com. To join our subscriber list, click here. It's a free service providing regular (weekly, at least) Enewsletters containing links to recently published content. Subscribers also will be sent email with "Sponsored Content" in the subject line.  That means it's an exclusive message from one of our advertisers, whose support, like yours, allows us to offer all content free of charge.