In This Week's "THIS WEEK IN CHELSEA"
Down to Earth Farmers Market Chelsea / Community Visioning Workshop / 100 West 400 Block Association Celebrates 70 Years / Events from Earlier in the Week followed by Next Week & Beyond: Homelessness in NYC Virtual Panel Discussion / Treats in the Streets / Haunted Circus at Chelsea Green Park… AND MORE!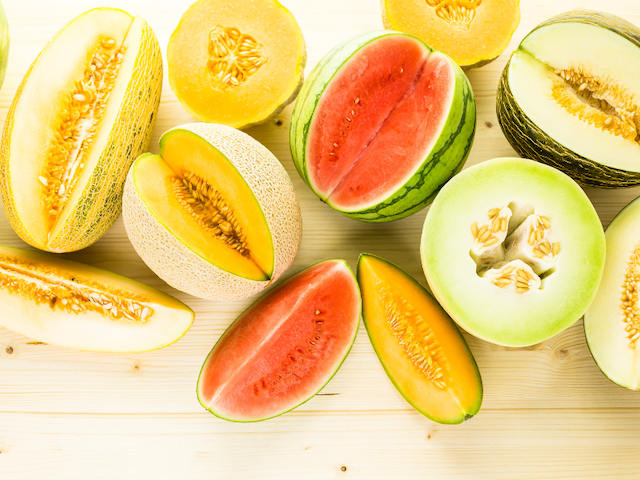 The Down to Earth Farmers Market Chelsea: Every Saturday, 9am-2pm on the North side of West 23rd St., off Ninth Ave. | New York area growers and artisan food makers make the trip to Chelsea every Saturday through Dec. 17. This Market was created with the support of nearby Church of the Holy Apostles, with the mission of bringing wholesome and delicious foods to the neighborhood's shoppers and supporting local small farms and food businesses. "The Chelsea Farmers Market is a grower-producer market," its founders note, "meaning that vendors must be farmers or make food with ingredients purchased from local farms. The few exceptions to this rule are olive oil, chocolate and coffee vendors who can document their sourcing.  The Market's ninth season offers fruits, vegetables, and meats from area farms. Market favorites Pickle Licious and Orwashers Bakery are back and going strong, along with fresh faces including Ideal Fish from Waterbury, CT. SNAP EBT is welcome (visit the manager's tent to get tokens; matching Health Bucks are available). Farmers Market Nutrition Program checks, issued by WIC offices and Seniors' centers, can be used from June through November. Get Market news by signing up for their email newsletter via the Down to Earth Markets website (click here to access it) . In this week's email newsletter, Melissa of Down to Earth Markets noted there are "many ways to reduce your carbon "foodprint" including shopping for locally grown, sustainably produced food at the farmers market." But Melissa had more on her mind than getting you to head over to the market this weekend–not that there's anything wrong with that. She soon segued into presenting a few food waste reduction hacks, including several uses for celery leaves; three new purposes for leftover pickle juice; and a multitude of possibilities when left with loose coffee grounds. And that is just a sample of the useful information to be found on their website or on their Facebook presence. To visit them on Facebook, click here.
Community Visioning Workshop: Saturday, October 15, 12-2pm at St. Paul's German Evangelical Lutheran Church (315 W. 22nd St. btw. Eighth & Ninth Aves.)

|
For more info, see the below flyer.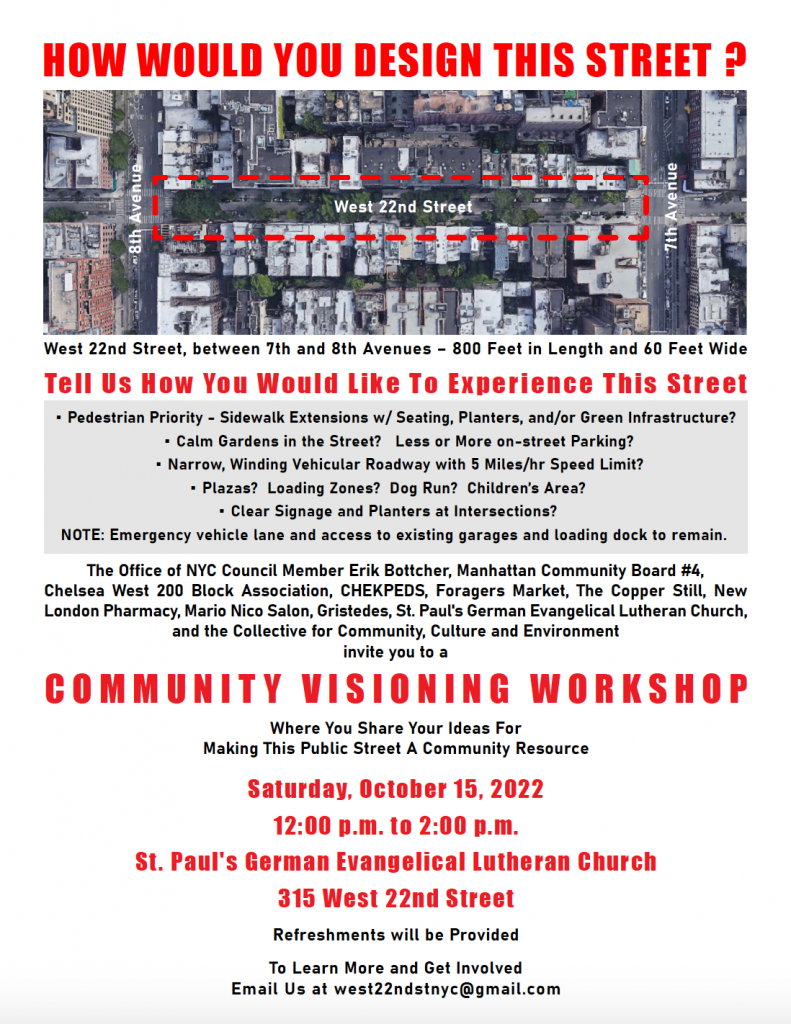 The West 400 Block Association Celebrates 70 Years: Sunday, October 16, 4-6pm in 

Clement

 Clarke Moore Park (10th Ave. & W. 22nd St.)
 | J
oin in the festivities celebrating this massive milestone at Sunday, October 16's 4-6pm event in Clement Clarke Moore Park. See the below flyer for details.
HAPPENING  OCTOBER 17  AND  BEYOND
NYPL Story Time (a free Monday event) and More, at Chelsea Green Park (140 W. 20th St. btw, Sixth & Seventh Aves.)

|

 
Friends of Chelsea Green—steadfast pals of the small but substantive 2019-opened park built in part with District 3 Participatory Budgeting bucks—invite you to (Free!) NYPL Story Time, 3-3:30pm every Monday. "The Andrew Heiskell library branch is sponsoring this weekly story time." note the Friends. "Come join the Children's Librarian in the park. These events will run from weekly until November. 

Children of all ages and their caregivers can enjoy interactive stories, action songs, fingerplays, rhymes, and spend time with other children in the neighborhood. 

In the event of inclement weather, story time will be held indoors at Andrew Heiskell Library." 
Homelessness in NYC: A (Virtual) Panel Discussion: Monday, October 17 | See the below flyer for more info and click here to register.
Three Participatory Budgeting Neighborhood Assemblies: October  17 & 19 | As we recently noted (click here to read the article), District 3's 12th cycle of Participatory Budgeting is in play, allowing the voters of NYC Council District 3 to allocate $1 million towards community improvement projects. These Neighborhood Assembly events are the next step in the process. For more details, see the below flyer. To submit your own idea for PB funding, click here. To RSVP for the October 13 event, click here. For October 17, click here. And, for October 19, you guessed it, click here.
The Meatpacking District BID Presents Treats in the Streets: Saturday, October 22, 11am-5pm | True to the promise of its title, there are treats to be had in the streets–but also in the stores and restaurants, on the sidewalks, and pretty much everywhere else throughout the Meatpacking District at this one-day-only event. We're talking kid and adult-friendly treats, games and activities, live music, and the 4th Annual (musn't-be-missed, adorableness-on-overload) Meatpacking Doggie Costume Contest! (Click here fur; er, for our 2021 coverage of the Rover-meets-runway extravaganza).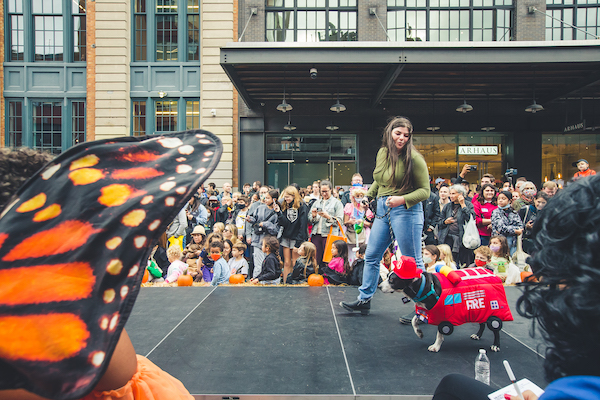 Special events and opportunities include pumpkin decorating, Pet Portraits by Laura Baran (limited quantity, 11am-2pm in Hudson River Park's 14th St. Park), Drag Queen Story Hour (noon on Little West 12th St.) and an all-day chance to take in a the new Edward Hopper exhibit at the Whitney Museum of American Art. For more info, click here to visit the Treats in the Streets page on Meatpacking's website.
Haunted Circus: Saturday, October 29, 10am to 1pm at Chelsea Green Park (140 W. 20th St. btw, Sixth & Seventh Aves.) | Friends of Chelsea Green bring you this spooky, seasonal and, well, downright haunted circus-themed Halloween happening. All are invited, and RSVPs are encouraged via chelseagreenpark@gmail.com. See the below flyer for details.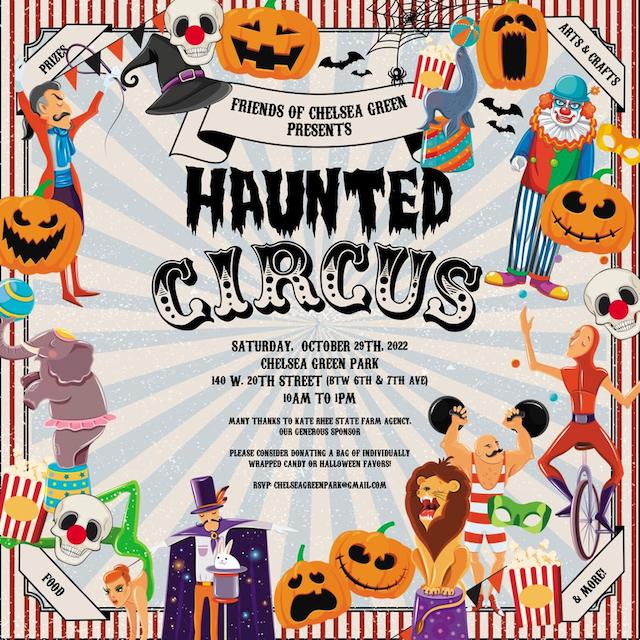 The PS 11 Farm Market: Thursday, October 13, 8am-9am on W. 21st Street (btw. 8th/9th Aves.) | Chelsea's outdoor, kid-powered pop-up shop with essential ingredients for a great meal means to sell you organic produce and much more, provided by Stoneledge Farm. Previewing this week's installment via an October 4 email, Market rep Debbie wrote, "Please join Ms. Rapisarda's 3rd graders as they take on the farm market table for the first time on Thursday, October 6th from 8:00-9:00 am at PS 11, 320 West 21st Street (between 8th & 9th avenues.).  Local, organic, seasonal produce. Please bring your own bags OR you can buy one from us for $3-$4. Look forward to seeing you."
The Village: Disco Musical! through Oct. 22 at Dixon Place | Having resided in New York City since 1979—and seen many scenes in manners ranging from the inside track to a few steps back—Nora Burns brings a rarefied air of authenticity to this "meta musical comedy" set in the very year of her arrival here in town. Using onetime Christopher Street resident Thorton Wilder's Our Town as a reference, Burns' interlocking ensemble of restless souls under the influence of drink, drugs, and times both high and changing face life in the only logical manner–by breaking into disco dance numbers!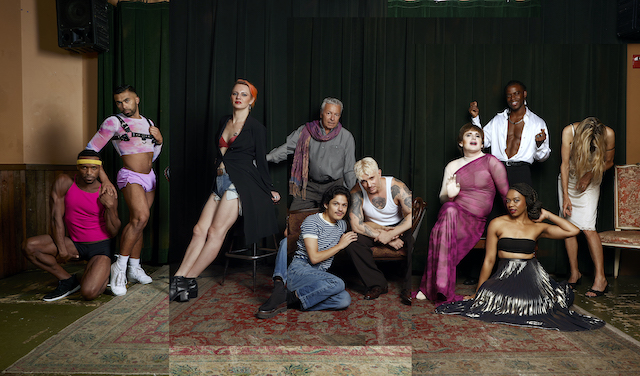 This premiere run at Dixon Place is the latest foray into the multiverse of theatrical pursuits for Burns, whose distinguished track record includes an extended run of her solo show, David's Friend, at LaMaMa Theater and multiple stage shows from the consistently cutting, always hilarious comedy groups Unitard and The Nellie Olesons. Through Oct. 22 Thurs. through Sat. at 7:30pm at Dixon Place (161A Chrystie St. btw. Rivington & Delancey). Runtime, approx.. 60 minutes. Tickets ($20-$28) are available by visiting Dixonplace.org.
–Compiled by Scott Stiffler
Chelsea Community News is made possible with the help of our awesome advertisers, and the support of our readers. If you like what you see, please consider taking part in our GoFundMe campaign (click here). To make a direct donation, give feedback, or send a Letter to the Editor, email scott@chelseacommunitynews.com.