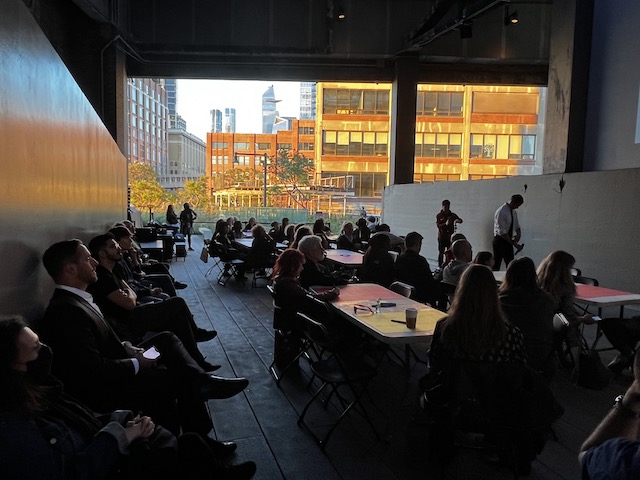 BY SCOTT STIFFLER | The High Line's 14th Street Passage was the appropriately expansive "big tent" setting that served as the official launch of the 12th NYC Council District 3 Participatory Budgeting (PB) cycle. Hosted by D3 Council Member Erik Bottcher, the September 27 event served as a prelude to Spring 2023—when the PB winner, or winners, will be announced following brainstorming, vetting, voting, and planning periods. Up for grabs: A cool $1 million culled from Bottcher's discretionary capital funds.
So there we have the "what." But what about the "how?" The evening's event meant to answer that question while posing a few of its own to the dozens of participants—namely, "What do you want to see funded with our PB bucks?"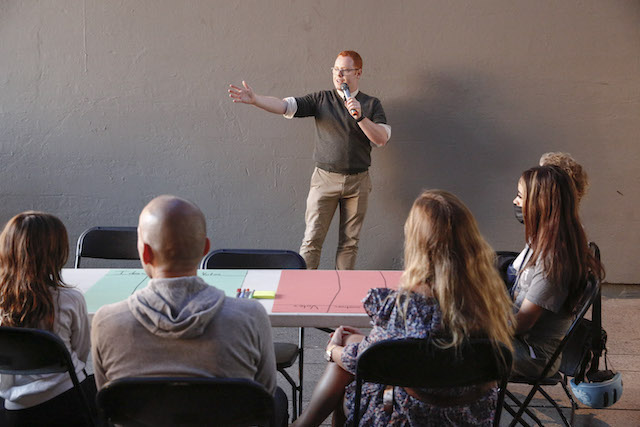 In the end, the answers ranged from park improvements and renovations to better lighting throughout the district to that evergreen plea for "More trees."
Establishing the event's self-aware yet serious tone, Jordan Feiner (Bottcher's liaison to Manhattan Community Board 4) noted, PB "isn't just something you put on your sandwich." It is, in fact, a way to fund brick and mortar public works while "developing new community leaders" as a de facto effect of the engagement required of those who champion each potentially funded project.
Right now, noted Feiner, PB is in an "Idea Collection & Volunteer Recruitment" phase lasting through October. Then, it's the Proposal Development phase (October 2022-January 2023), followed by Get Out the Vote and Vote Week (March-April) and an Evaluation & Planning process (May-June) during which, noted a slide projection, "[D3] staffers and stakeholders evaluate the process and oversee implementation of winning projects by [applicable City] agencies."
With visual assistance from a slideshow created by the City Council's Community Engagement Division, Feiner specified what makes a viable PB candidate—namely, that it draws from "Capital Funds" as opposed to "Expense Funds." Capital projects are those brick and mortar improvements that can be funded to completion, as one-time allocations. Or, as Bottcher explained, "We can fund a piece of a larger project." That's what happened, he recalled, in the case of 2015 winner Chelsea Green Park, whose $200,000 in PB funding proved pivotal in allowing the project to rise from a former W. 20th St. NYC Department of Sanitation site. Other past examples include $300,000 for upgraded water fountains for public schools (2019) and $500,000 in HVAC funding for West 23rd Street's Muhlenberg Library (2016).
As for Expense Funds, those are projects whose ongoing nature (like the purchase of snacks for an after-school program) requires similarly ongoing funding. Council Member Bottcher held out some hope for ideas falling into the "Expense" category, noting that PB's ever-evolving nature could eventually embrace projects such as street cleaning and running a basketball league.
Bottcher wasn't the only one thinking big. One of the first questions fielded from the audience was, "How do we increase [the annual PB budget] from $1 million?" to which Bottcher answered, "We should talk about that."
For now, though, $1 million will have to do—and with a budget in mind (PB projects should cost at least $50,000 and max out at a cool million), those in attendance broke off into groups tasked with creating this PB cycle's first list of potentially funded projects. Reached by email the following day, Craig M. de Thomas (who contributed photos to this report) recalled, "My table was fun and spirited," generating ideas such as "more speed bumps, adding outdoor exercise equipment at Pier 76, updating audio and visual equipment at PS 3 in the West Village, and upgrading playground equipment at McCaffrey Playground in Hell's Kitchen."
These ideas, said de Thomas, "easily flowed from our group. It was interesting to learn from other people why their ideas are important and, when implemented, how they will improve the lives of people in District Three. Members of our group were genuinely thoughtful and caring about their respective neighborhoods."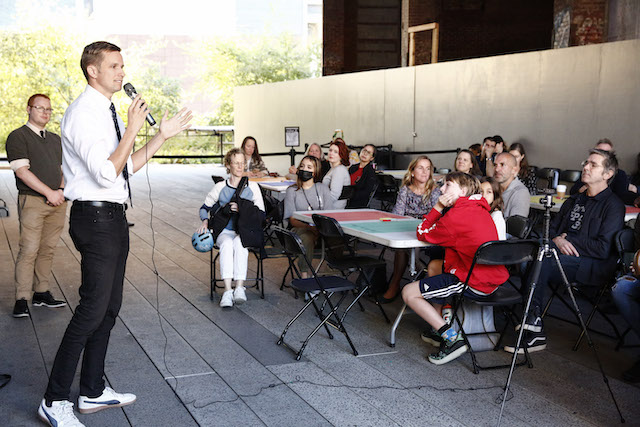 If you'd like to receive updates on the Participatory Budgeting process, keep looking to Chelsea Community News, and also click here to visit NYC District 3 Council Member Erik Bottcher's Council web presence. To sign up for news and updates via email, click here.
Keep scrolling down for more scenes from the launch of the latest Participatory Budgeting process.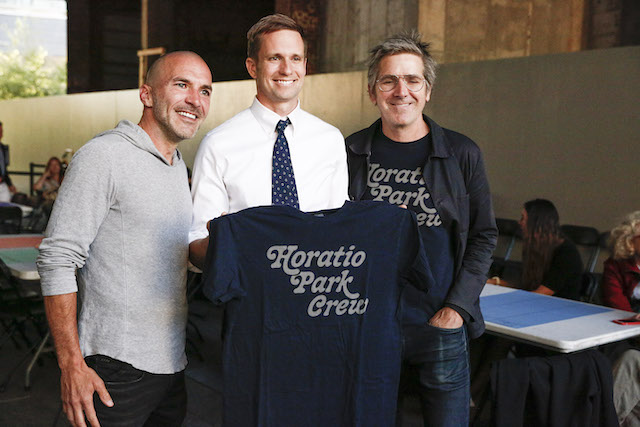 Chelsea Community News is made possible with the help of our awesome advertisers, and the support of our readers. If you like what you see, please consider taking part in our GoFundMe campaign (click here). To make a direct donation, give feedback, or send a Letter to the Editor, email scott@chelseacommunitynews.com.