BY SCOTT STIFFLER | It was another trip to the West Chelsea icon well for public betterment projects whose wish for funding will only come true if you get out—or get online—and vote. After launching last October as a brainstorming session held under the High Line's scenic 14th Street Passage, The Whitney Museum of American Art was the equally eye-popping setting for last Thursday's NYC Council District 3 Participatory Budgeting Expo.
New York City Council District 3—represented by Council Member Erik Bottcher—includes the neighborhoods of Greenwich Village, Chelsea, Hell's Kitchen, Hudson Square, Flatiron, Times Square, the Theater District, and the Garment District. All projects presented as part of Participatory Budgeting must take place within these areas, must provide a direct benefit to the public, and must be in an accessible public space.
As for the process itself? Also known as "PB," Participatory Budgeting empowers residents determine how a certain amount of public money will be spent to benefit the community. "In this year's capital discretionary budget, I have allocated $1 million for PB in District 3," said Bottcher, in recently published promo for the PB process. "Beginning on Saturday March 25, you have the opportunity to decide how that money will be spent. Voting will be open both online or in person through Sunday, April 2."
Held as a prelude to Vote Week, the March 25 Expo gave attendees the chance to see all nine items vying for potential funding, brought to life in the form of charmingly low-tech High School Science Fair-type presentations.
Posterboard diagrams and 3-D diaramas took their rightful, albiet fleeting, place alongside the Whitney's world-renowned collection of works of the likes of Georgia O'Keeffe and other household names. (New York Pavements is undeniably descriptive, as Edward Hopper painting titles go, but not nearly as mellifluous as Ballot Item #6: Street Tree Beds Expansion.)
But the Expo was not about sewing dissention between the art world and the good people of Council District 3. Participants were all business, taking seriously the task of PB voting. Voters can mark up to five items on the ballot. The top vote-getter will be fully funded, with second, third, and so-on winners funded until the $1 million has been spent. Voting is open to everyone ages 11 (or at least in 6th grade) and older who live in Council District 3—regardless of immigration status, gender, race, ethnicity, or eligibility to vote in traditional elections.
Want to vote online? You can do so through Sunday, April 2. Just click here.
To vote in person, you've only two opportunities, as of the time/date this article was published:
Sunday, March 26, 12-5pm at:
–Manhattan Plaza (400 W. 43rd St. btw. 9th/10th Aves.)
–Penn South Program for Seniors (290A 9th Ave.)
–Hudson Guild Elliott Center (441 W. 26th St. btw. 9th/10th Aves.)
–Westbeth Senior Center (55 Bethune St.)
—————AND—————
Saturday, April 1, 12-5pm at:
–Manhattan Plaza (400 W. 43rd St. btw. 9th/10th Aves.)
–Penn South Community Room 8A (343 8th Ave.)
–Hudson Guild Elliott Center (441 W. 26th St. btw. 9th/10th Aves.)
–Pier 40 Greenwich Village Little League Opening Day (9am-1pm)
As for what you'll be voting on, here are the nine PB items, with notation regarding the cost of the proposed project. When a project is described as District-Wide it means it has benefits for the whole district rather than a specific location.
Theater District Pedestrian Safety Upgrades
$300,000 | West 41st to 43rd Sts. (btw. 7th & 8th Aves.)
Project will reconstruct 42nd St. between 7th and 8th Aves. with wider sidewalks, and include curb extensions crossing 7th and 8th Ave., from West 41st-43rd.
EDUCATION
Water Bottle Refilling Stations at CD 3 Schools
$80,000 | Districtwide
Project will install water bottle refilling stations at Public Schools in Council District 3
Bathroom Renovations for CD3 Public Schools
$450,000 | Districtwide
Project will renovate bathrooms at Quest to Learn, High School of Fashion Industries, and NYC iSchool
PS 3 Auditorium Upgrades
$350,000 | 490 Hudson St.
Project will upgrade stage lighting and PA system capabilities for the PS 3 Auditorium
PARKS AND RECREATION
Mathews-Palmer Playground Comfort Station Improvements
$500,000 | West 45th St., btw. 9th & 10th Ave.
Project would provide the initial funding to renovate the Mathews-Palmer Playground comfort station
Water Irrigation at Oasis Community Garden
$350,000 | 505 W. 52nd St.
Project would supply water irrigation for Oasis Community Garden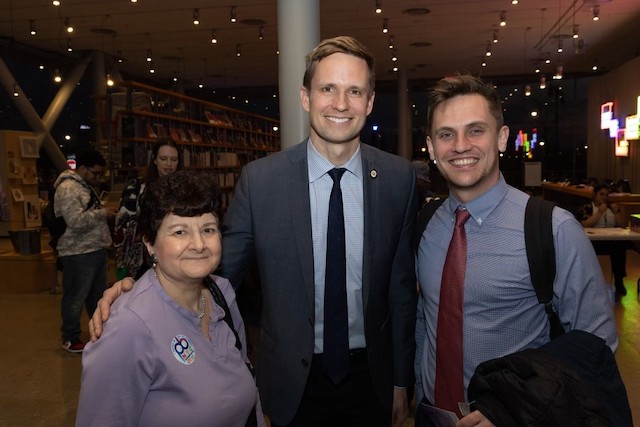 Water Irrigation at Jane Street Garden
$350,000 | 36 Jane St.
Project would supply water irrigation for the Jane Street community garden
ARTS, CULTURE & COMMUNITY FACILITIES
Andrew Heiskell Library HVAC
$400,000 | 40 W. 20th St.
Project will provide initial funding for HVAC upgrades to the Andrew Heiskell Library for the Blind
ENVIRONMENT
Street Tree Beds Expansion
$350,000 | Districtwide
Project would enlarge street tree beds to capture stormwater runoff and promote tree health
–END–
Chelsea Community News is an independent, hyperlocal news, arts, events, info, and opinion website made possible with the help of our awesome advertisers and the support of our readers. Our Promise: Never a paywall, no pop-up ads, all content is FREE. With that in mind, if circumstances allow, please consider taking part in our GoFundMe campaign (click here). To make a direct donation, give feedback, send a Letter to the Editor, or contact our founder/editor, send an email to Scott Stiffler, via scott@chelseacommunitynews.com.
To join our subscriber list, click here. It's a free service provding regular (weekly, at least) Enewsletters containing links to recently published content. Subscribers also will be sent email with "Sponsored Content" in the subject line. That means it's an exclusive message from one of our advertisers, whose support, like yours, allows us to offer all content free of charge.