Here's What's Happening In & Around Chelsea
Estate Planning 101 / Picks of the Week / CB4 NYCHA Info Session and District Needs Survey / The 10th Precinct Community Council / Music at Chelsea Green Park / Watercolors on the Cobbles / Council District 3 Participatory Budgeting Kickoff / The Longest Table / The London Terrace Street Fair / Retrospection/Continuance at Hudson Guild Gallery,  Fresh Food for Seniors /  
Chelsea Community Church presentes an In-Person and Online Event |Estate Planning 101 at St. Peter's Chelsea Church (346 W. 20th Street btw. Eighth & Ninth Aves.) | We've been warned time and time again anticipate our needs and plan ahead–but such solid advice doesn't always come with the skills to do what's necessary. To the rescue comes Chelsea Community Church. Their Sept. 26 event presents the basics of Estate Planning. Event organizers hope this is the first in a series of discussions whose subject matter will embrace Elder Law, Estate Panning, Trusts, & Estates. To attend via Zoom, click here.
PICKS OF THE WEEK: THE FINAL INSTALLMENTS OF  2 SUMMERTIME SERIES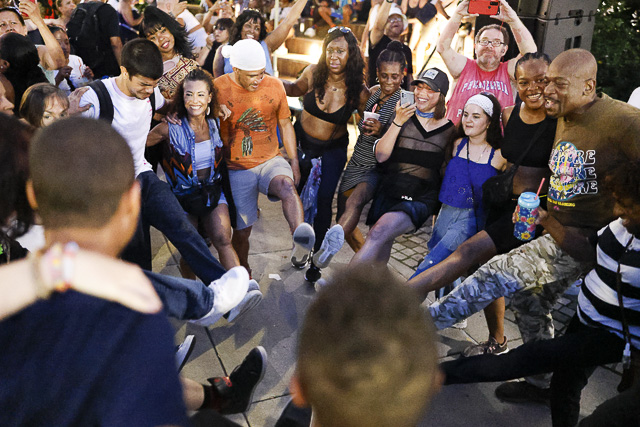 Vinyl Nights at Bella Abzug Park/Hudson Yards (Hudson Blvd. East btw. W. 34th & 35th Sts.): A Free, All-Ages Dance & Music Celebration, 6-9pm on Thursday,  September 28 | Whether you were there when it all began or were born decades later, this outdoor dance and music celebration invites you to step up and boogie down to the hits that shaped NYC club culture in the 70s, 80s, and 90s—when the DJs played strictly vinyl. Each new installment promises a plethora of Disco, Funk, Soul, House, Boogie, and Latin music that has stood the test of time. This vibrant, joyful, inclusive all-ages dance party (a spinoff from Operator EMZ's legendary Mobile Mondays! all 45s night) makes its own contribution to the legacy of the hot wax hits it spins by having on hand living legends such as Operator Emz, DJ Misbehaviour, DJ Woof, and MoneyMike & Friends. Rebecca Lynn produces this joyful celebration, presented in partnership with the Hudson Yards Hell's Kitchen Alliance Business Improvement District (HYHK). For more info about Vinyl Nights, click here. To visit their website, click here. For their Instagram, click here. To see our photo essay based on a visit to the July 6 installment, click here.
Fitness Boot Camp in Bella Abzug Park (Hudson Boulevard West btw. West 36th & 37th Sts.), Free. Tuesdays & Thursdays, 7-8am, Through September 28 | Early risers reap the reward of feeling great and having accomplished something substantial, before some of us have found the strength to roll out of bed. That sense of well-being is to be found at the twice-weekly Morning Boot Camp brought to you by the Hudson Yards Hell's Kitchen Alliance. Ave and Olivia, Manhattan Plaza Health Club instructors, have designed an invigorating, high-intensity interval training workout (HIIT) combining strength and cardio in creative ways that challenge participants to use body weight as resistance. Start your day the MPHC Boot Camp way at these classes that are open to the public (please bring your own mat). For more info, and to register, click here.
Manhattan Community Board 4 (MCB4) Presents a Community Meeting on the Chelsea NYCHA Proposal Wednesday, September 27, 6pm, Online via Zoom and In-Person at the Fulton Senior Center (119 Ninth Ave.) | To attend in-person, just show up! To attend virtually please register through this link. Also see the below flyer. This event follows a similar info session held by CB4 on July 12, 2023. As with that summertime event, CB4 will offer online viewers the option of live Spanish translation. (To view the archived July 12 Informational Presentation on CB4's YouTube channel, click here.)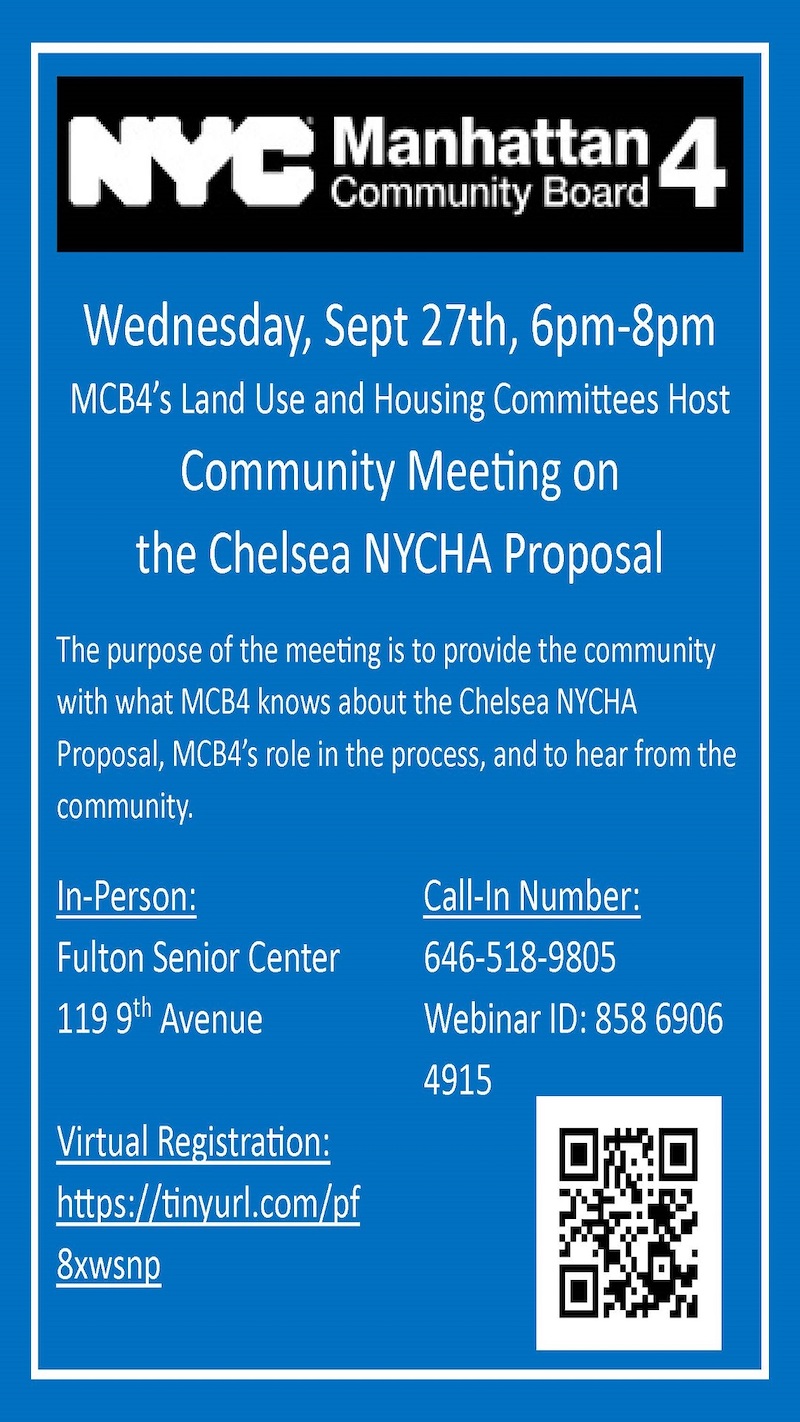 Take the Manhattan Community Board 4 (MCB4) Annual Community District Needs Survey | In September and October, the individual committees of CB4 share a common Agenda Item: Consider the most pressing needs of the community for improved government services and capital investment. You can view MCB4's previous Statement of District Needs on their website by clicking here. Doing so will make you a more informed respondent, when you answer the call to add your voice to CB4's online District Needs Survey (click here to take the survey). Pro Tip: Consider what occurs to you as the top three issues facing the community board's district (that's the Chelsea/Clinton and Hell's Kitchen areas; only those who live/work there are asked to fill out the survey, which provides a myriad of responses for the "issues" questions, and allows for your anonymity). The survey remains accessible to the public through Monday, October 16, 2023.
The 10th Precinct Community Council: Wednesday, September 27, 70m at the 10th Precinct (230 W. 20th St. btw. 7th & 8th Aves. | Back from its summer hiatus and under the leadership of Larry O'Neill, it's back to Council meetings every last Wednesday of the month. will return from its summer hiatus on Wed., Sept. 27, 7pm at a location to be announced. These gatherings provide an O'Neill-moderated Q&A session, where the person providing the answers is usually the dependably frank Commanding Officer of the 10th—Captain Robert Gault. Pro Tip for future meetings: In terms of planning ahead, the Council's Facebook presence is a reliable source of when/where information, usually posted a week or two in advance. To visit and follow that page, click here. 
Music at Chelsea Green Presents Cellist Leah Coloff: Free on Friday, September 29, 5:30-7:30pm in Chelsea Green Park (140 W. 20th St. btw. 6th & 7th Aves.) | Friends of Chelsea Green is a group of boosters and believers whose efforts have filled the air in and around Chelsea Green Park with music. The well-curated series (often spotlighting local talent) has, of late, been programmed thanks to a grant from the West Side Community Fund (click here to read about it).
On Friday of this week, that series continues with a solo performance from Leah Coloff. Among the selections for this all-ages performance will be classical works, standards, and a contemporary pop tune or two. Attending this free concert is a great way to continue or cultivate a love for the deeply expressive cello. Capable of conveying much more than melancholy, the cello—in the hands of singer/composer Coloff—has been deployed in the performances and/or recordings of Philip Glass, David Bowie, Iggy Pop, Rufus Wainwright, Linda Thompson, and Nancy Sinatra. It's no wonder Coloff has been described (by the New York Times, no less!) as "a combination of artful angularity and rock-infused assertiveness." To visit the artist's website, click here.
Watercolors on the Cobbles: Saturday, September 30, 11:30am-2pm in the Meatpacking District | Explore watercolors on the Plaza with a class designed to educate and inspire beginners, the skilled, and every level of artist in between (including aspirants!). Especially beneficial to those on the lower level of the skill spectrum will be the instructor's step-by-step demonstrations, during which you'll learn basic watercolor sketching techniques. By the event's 2pm end time, participants will have created their own vision of the Meatpacking District's iconic Gansevoort Plaza (with its visually striking red umbrellas dotting the landscape). NYC's award-winning Laura Baran, a figurative painter and illustrator, gets your creativity and confidence flowing. Also included: All materials you need to create. To register for this event ($23.18), click here.
NYC Council District 3's Participatory Budgeting Kickoff: Thursday, September 28, 6-8pm at Pier 57 (25 11th Ave. at the end of West 15th Street )
 | The Location: Chelsea's revamped and reimagined Pier 57, home to the cleverly curated
Market 57
 food hall and host to a multitude of meeting spaces and free classes that school you in matters of music, art, and more. The Occasion: The start of the 2023-2024 Participatory Budgeting season. Don't know about "PB"?
Click here
to read our coverage of last year's Council District 3 kickoff as a helpful primer to attending the Sept. 28 iteration. In brief, right here, is the skinny on PB: As it plays out locally, the PB process engages membes of the public to create, facilitate, or otherwise champion specific proposals that would, if funded, ensure works of public good. We in District 3 (repped by NYC Council Member Erik Bottcher) vote on our favorite project, and the top winners get funded. Over the years, that's meant everything from the creation of Chelsea Green Park and to upgrades for area libraries and public schools. To register for this event,
click here
.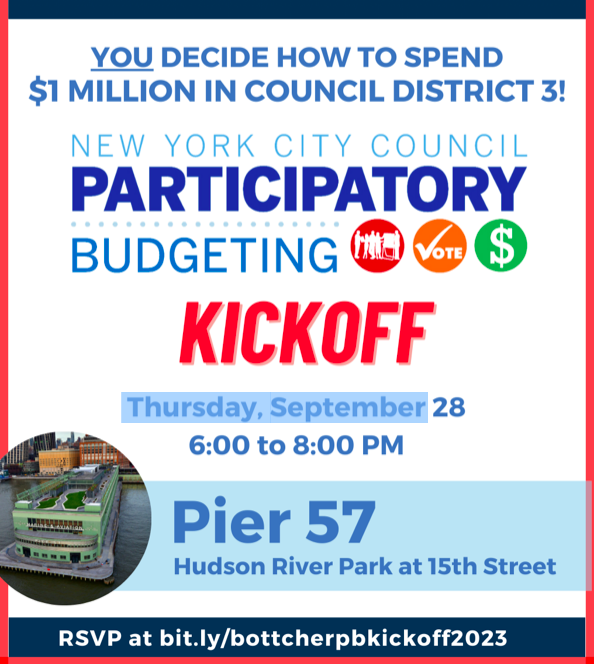 The Longest Table: Sunday, October 1, 12-2pm on West 21st Street (btw. 9th & 10th Aves) | One of last year's best community events gets a repeat; highly recommended. See the below flyer for details. If you'd like more info, send an email to jim@jimsaylor.com or mbanikarim@gmail.com or jbrandehoff@gmail.com.
COMING UP SOON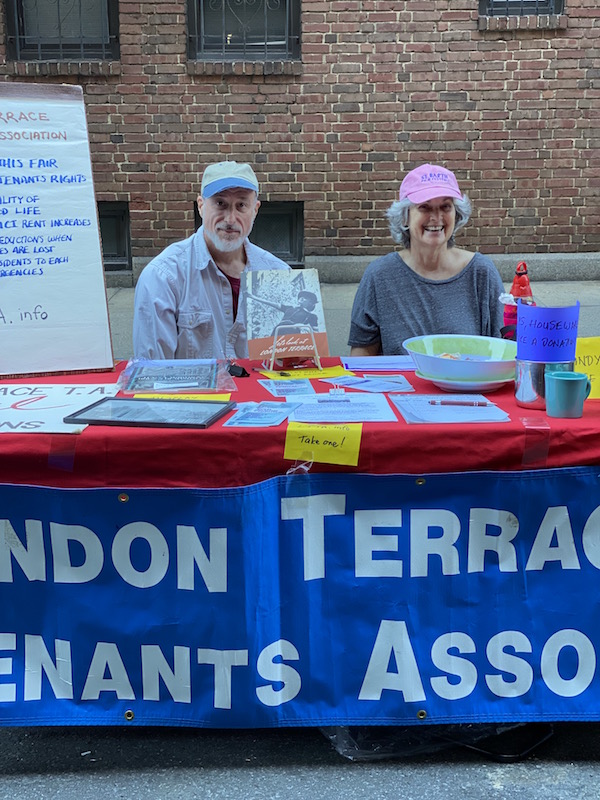 RESCHEDULED FROM SEPT. 23, the 31st Annual London Terrace Street Fair: Saturday, October 7, 10am-5pm on West 24th Street (btw. 9th & 10th Aves.) | The best little street fair in Manhattan is back, rain or shine, bearing many surprises. There will be vendors of fine art, jewelry, clothing, furniture, vintage collectibles, physical media (records, tapes, CDs, DVDs, etc.), light food and drink, and inexpensive trinkets. It's the perfect place to find an affordable gifts for the holidays—or a practical item for your kitchen, a new rug, a pillow, possibly a spread for your sofa in the living room, a new piece of jewelry or clothing, or your favorite LP record from your high school days.
It's also the place where one walk down a crosstown block can mean running into an old friend, being greeted by an elected official, and learning about a community organization. What's more, it's where treasure long-buried in the back of your closet can find a new home, while providing a nice profit for your own home! To reserve your Vendor Tables space, click here (and do it quickly; available slots are going fast!). For more information about this annual event brought to you by the London Terrace Tenants Association, click here.
LAST CALL: CLOSING THIS WEEK
Retrospection/Continuance at Hudson Guild Gallery (441 W. 26th St.), Through September 27 | Artworks from the American Indian Community House collection will be on view. Hudson Guild Gallery hours are Tues. to Fri., 10am-6pm and Sat., 12-3pm. For more info, see the below flyer and/or click here.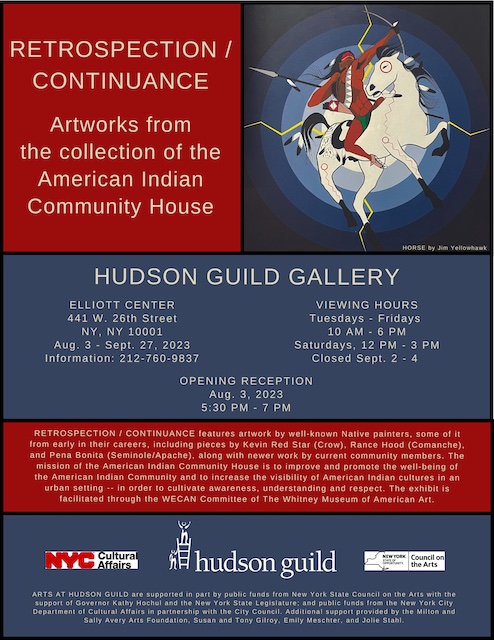 ONGOING
Fresh Food for Seniors | The second annual version of this program from NYC Council Member Erik Bottcher and Manhattan Borough President Mark Levine sees to it that you receive a bag of fresh, locally harvested fruits and vegetables every other week through November 14. The cost is $10 per bag. Sign up for Fresh Food Bag participation on certain Mondays and Tuesdays at local senior centers, with pick-up the following Tuesday.Local participating senior centers include Visions at 135 W. 23rd St., where sign-up is 10am-3pm; Hudson Guild NORC at 441 W. 26th St., where sign-up is 8:30am-5:30pm; Penn South Program for Seniors at 290A Ninth Ave., where sign-up is 9am-5pm; and Encore Senior Center at 239 W. 49th St., where sign-up is 8:30am-4:30pm. For more info, call 212-554-7757 or email district3@council.nyc.gov. For the schedule of dates, see the below flyer.
—Listings Compiled by Scott Stiffler
—END—
Chelsea Community News is an independent, hyperlocal news, arts, events, info, and opinion website made possible with the help of our awesome advertisers and the support of our readers. Our Promise: Never a paywall, no pop-up ads, all content is FREE. With that in mind, if circumstances allow, please consider taking part in our GoFundMe campaign (click here). To make a direct donation, give feedback, send a Letter to the Editor, or contact our founder/editor, send an email to Scott Stiffler, via scott@chelseacommunitynews.com.
To join our subscriber list, click here. It's a free service provding regular (weekly, at least) Enewsletters containing links to recently published content. Subscribers also will be sent email with "Sponsored Content" in the subject line. That means it's an exclusive message from one of our advertisers, whose support, like yours, allows us to offer all content free of charge.