TEXT BY SCOTT STIFFLER, PHOTOS BY CHRISTINE BERTHET | Friendships are formed over it, ideas are hatched during its course, and recipes are exchanged before parting ways: Those are just a few of the commonplace occurrences when two people sit down to have lunch. Now tack on another 498, minimum, to the number of those in attendance—and just imagine the reverberations simple statistics say is in the cards over the weeks and months to come, as a result of the 500+ who claimed a seat at The Longest Table.
Held on OSW21—the Open Street  400 block of West 21st Street (btw. 9th & 10th Aves.)—from 12-2pm and then some on Sunday, October 16, The Longest Table began as chatter on the neighborhood news/info app Nextdoor and eventually became a fully realized, brick and mortar, post-pandemic return to form for New Yorkers whose love of breaking bread had been placed on a starvation diet.
"In the pandemic, we were all [sheltering] in one place much longer than we'd ever been before," noted Longest Table instigator Maryam Banikarim, who used the COVID-compelled, minimal movement down time to "get to know my neighbors. I had this dream, when I saw the street [wide, open W. 21st St.], to have a dinner together." Banikarim shared her idea on Nextdoor after seeing "a photo where people had done this in Cairo."
The organizing that was to follow wasn't exactly unexplored territory: Banikarim and her husband, Andy Lerner, co-founded NYCNext.org, a "grassroots army of volunteers who have come together to create the next New York" i.e. one where the "tales about the demise of our city" narrative gets its grassroots comeuppance through events activated by the "grit and hustle" of "New York's creative community" in the service of helping "the city we love recover and rebuild, and to energize and inspire others to act by creating moments of joy." (For an impressive look at a real word result of those lofty declarations, click here to spend six minutes and 31 seconds on the NYCNext website with an all-start cast covering one of NYC's most stubbornly smitten musical love letters.)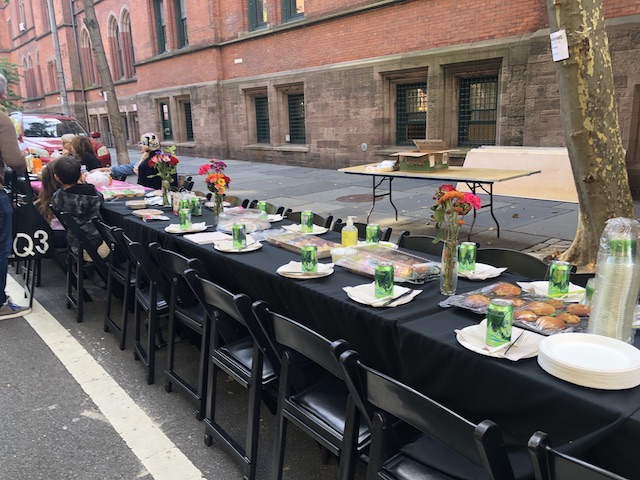 The event was ultimately presented as a partnership project between Open Streets and NYCNext . But The Longest Table really began to take shape, recalled core volunteer Jim Saylor, "through Nextdoor conversations about gathering community. It was a concept," he recalls, that began to take shape "as a group effort." The concept, as it played out, was simple: "WE rent the tables + chairs, YOU bring friends + food," read the promotional flyer. Picnic lunches were encouraged, along with the option of pre-ordering from neighborhood restaurants in advance, for pick-up on the day of the event.
All told, the event's epic scope, notes Banikarim, was the result of a core group of around 10 people working for several months, and joined by a wellspring of pop-up volunteers when prep time for the event began around 9am. As for the attendance stats, says Saylor, "I think we hit the mark of 400 [RSVPs] before the event itself—and some people just showed up, unexpectedly. People came in from Staten Island and Jersey City, so we got to meet people from different neighborhoods."
Christine Berthet—longtime Manhattan Community Board 4 member and founder of the Hell's Kitchen-based pedestrian safety group CHEKPEDS—said, "I have never seen New Yorkers so happy. You could feel it in the air." (Well, seeing is believing—and Berthet backs up that observation, as the photographer of every image you see in this report.)
When CCNews spoke with Saylor the day after the event, he was as proud of the aftermath as he was of the large turnout. Having just surveyed a squeaky clean street where hundreds mixed and mingled less than 24 hours prior, Saylor observed, "I'm really amazed. You would never know it happened." Credit goes to knowing your calling, as there were specific volunteers for coordinating sanitation and compliance with the necessary City permits. In addition, Saylor said the NYPD "was supportive and maintained a calm demeanor, as they do this all the time [for street fairs, for example]."
The day's success, said Banikarim, a few days out from its completion, conjures thoughts of not just bringing The Longest Table back to Chelsea, but beyond. "My dream when I first started was that we would do one [a Longest Table] on our own Open Street. But wouldn't it be great if we could do it on all of the Open Streets in all of the boroughs?" Given what was accomplished on West 21st Street, don't be at all surprised to see a multitude of block-long tables getting a warm welcome once we emerge from the coming winter. That's an appropriate arc, says Banikarim, for "an immigrant kid from Iran. This is the city that made me feel like I belong, and I know there are many other people who feel that way, who are willing to step up and make sure our city comes back better than before, better than ever."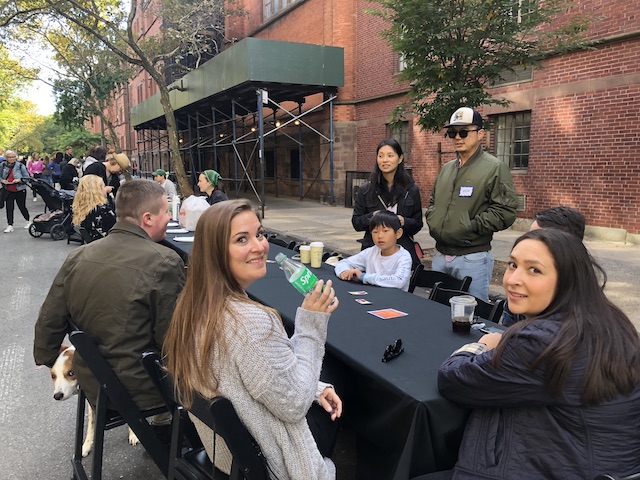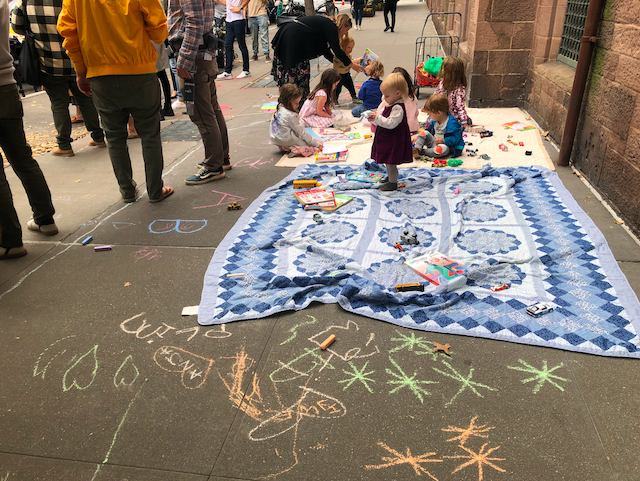 Chelsea Community News is made possible with the help of our awesome advertisers, and the support of our readers. If you like what you see, please consider taking part in our GoFundMe campaign (click here). To make a direct donation, give feedback, or send a Letter to the Editor, email scott@chelseacommunitynews.com.