COMPILED BY SCOTT STIFFLER | Sunday, October 1, 2023: After a few too many successive days of drizzles, downpours, and every imaginable iteration of wet weather inbetween, the clouds parted and the sun beamed down on Chelsea as if on cue, allowing for the return of The Longest Table to West 21st Street, between Ninth and 10th Aves. This follow-up to last year's debut proved 2022's much-praised success was no mere fluke, and reinforced the notion that the hunger among New Yorkers to forge new friendships and celerbate existing ones was no mere product of being pent up for the pandemic-era long haul.
As we noted in our post-event coverage of 2022's version (click here to see it), The Longest Table began as chatter on the neighborhood news/info app Nextdoor and eventually became a fully realized, brick and mortar opportunity.
"In the pandemic, we were all [sheltering] in one place much longer than we'd ever been before," noted The Longest Table co-founder Maryam Banikarim, who used the COVID-compelled, minimal movement down time to "get to know my neighbors. I had this dream, when I saw the street [wide, open W. 21st St.], to have a dinner together." Banikarim shared her idea on Nextdoor after seeing "a photo where people had done this in Cairo."
Said Banikarim of this year's iteration, "The Longest Table is a reminder of what makes this city so amazing—the people, the diversity, the energy, and the possibilities. It's pure joy to see 700+ neighbors and friends sit down together to share a meal. We keep hearing about the loneliness epidemic, and events like this are an antidote. Being connected not only is good for our well-being, it also helps us come together to solve some of the issues we are facing in our cities today."
Chelsea Community News asked several participants in the second (and certainly not the last) "Table" to send along an account of the event as they experienced it, along with a photo or two. Here's what they had to say—and what they saw.
JIM SAYLOR | I met Maryam and Andy (co-founders of NYCNext) during the pandemic when West 21st Street [btw. 9th & 10th Aves.] was selected by the city to be part of the Open Streets program. Conversation and morning coffee with neighbors began. We had been neighbors for 20+ years and never met. Maryam had this idea of one long table where the community would share a meal together—and here we are.
This past year, momentum gathered from last year's event. People would ask throughout the year, "Will there be another Longest Table?" There was, of course—and in the end, seating sold out. It took a village of dedicated volunteers to get to that point, with the NYCNext team organizing weekly online meetings to address details such as No Parking signs, permits, Police Precinct coordination, sanitation pick-up, distribution of printed material, and digital invites.
I mingled throughout the day—had perfect bite-sized brownies from a neighbor who said the hors d'oeuvre-sized sweets were a great way for him to share with others and meet new people.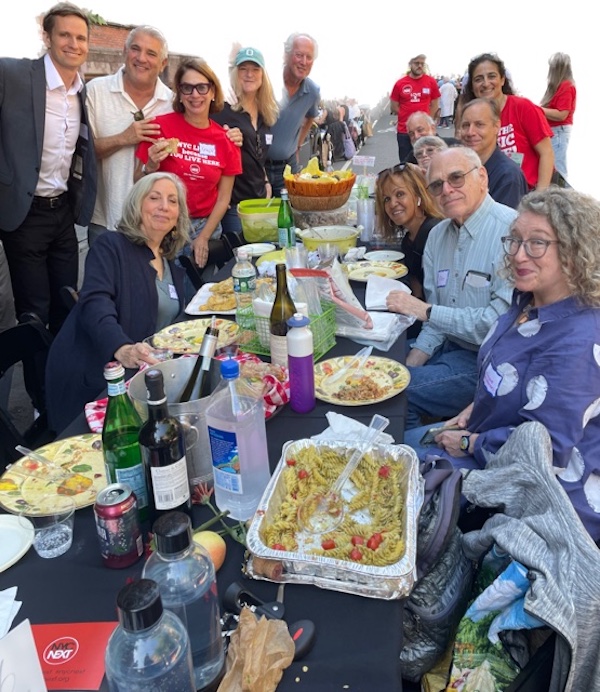 KAREN JACOB | I did not participate in the Longest Table last year, the first year it was held. But I did go by while walking my dog. My reaction was, I want to do this! Everyone seemed to be having the best time, and the food looked amazing.
So when I received the email announcing that The Longest Table was happening again, I immediately signed up to be part of it. I also volunteered to Captain a table. I cast a wide net to friends and acquaintances. Happily, most sent an enthusiastic
"Yes." I probably invited about 20 people. A few dropped out, and a few asked to bring some others.
As far as food, I asked everyone to bring one dish and a beverage. I vetted all choices, as we I didn't want 15 pasta salads. We had a Sultan Salad, an Asian cabbage and pasta salad, a warm pasta/mozzarella/tomato/basil dish, a huge homemade BLT, bagels, a roasted cauliflower dish, a 3-bean salad, chicken tenders, desserts, wine, and more. No one left hungry. I did walk the length of the event to check out what everyone else was eating, and it looked fantastic.
The one thing I told everyone when they arrived was that they had to sit next to at least one person they didn't know. That was very successful. Can't wait until next year!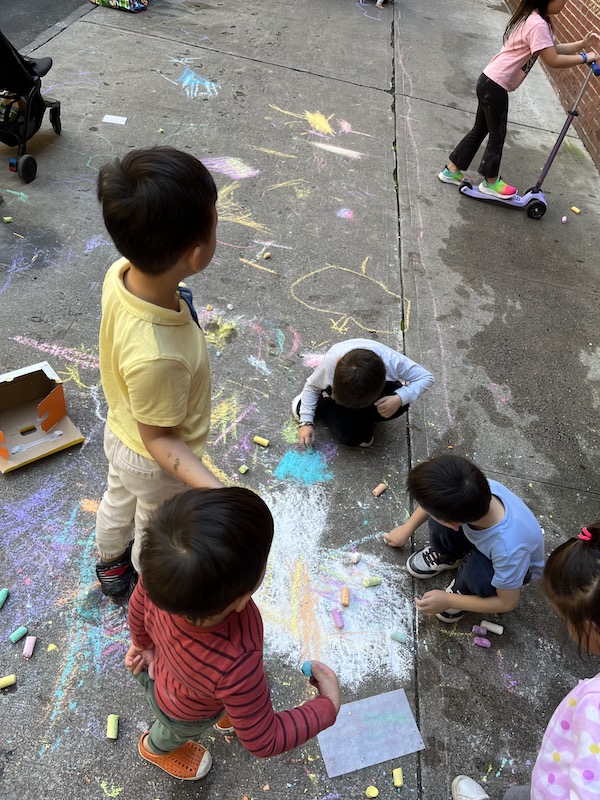 MISSY ADAMS  | I regularly park on West 21st Street and have gotten to know Jim Saylor, one of the organizers of The Longest Table who lives on the block. Last year he mentioned the first event and I thought it sounded like a terrific idea and would be a great opportunity for the members of my neighborhood volunteer gardening group, the Chelsea Garden Club, to get together and to meet other neighbors. We only had about 10 members attend last year, but we had a great time.
This year we waited excitedly for the announcement. We had almost double the number of gardeners join in. It was quite a banquet. We made baked fish and gumbo and salads and mac & cheese and a pignoli cake and cookies, to name just a few of the offerings. The gardeners work mostly in solitude, so it was so nice to see everyone and catch up. Sharing a meal makes it so much nicer.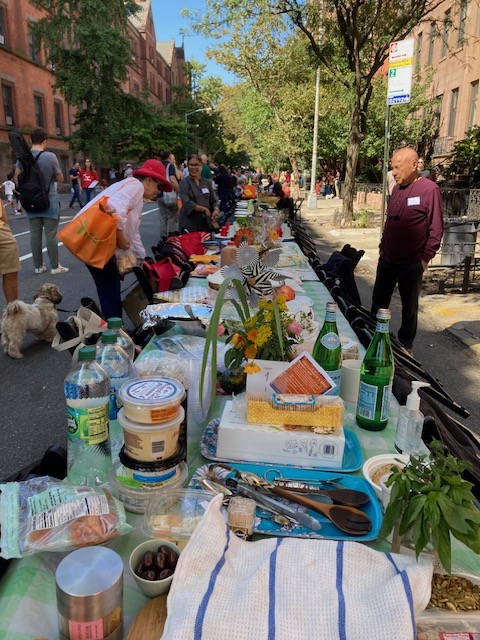 People stopped by to say hello and have a bite—including the local electeds, which was a treat. Some of the gardeners chatted with the next table (who had Indian food that looked tasty). Some sauntered down the block to see the other offerings and who was there. It was such a happy event and such a lovely counterbalance to all the awfulness that has inundated life in our neighborhood and elsewhere—really refreshing. One person suggested we have this every month!
ADRIENNE KENT | I did not know about it [last year]. This year, I noticed a flyer posted in the corridor of my building. I initially thought to attend, but when I logged on to sign up, it indicated it was full. So I immediately thought, "Why don't I volunteer?" I wouldn't be sitting still anyway, I would be mingling with my neighbors. So I did, and The Longest Table team responded immediately. I offered to assist with whatever they needed. As the date grew closer, I grew more and more excited. I moved to New York some years ago, and hadn't done something like this [large and social] for a while.I had been working long hours and even weekends.
The volunteer work ended up being pretty straightforward. We [the volunteers] met early in the day to make sure everyone was on the same page. After setting up the tables, chairs, and tablecloths, I was asked to welcome our neighbors and community, checking them in as they arrived; I was stationed at the Ninth Ave. end [of West 21st Street] for the better part of the day. As it turns out, my neighbors somehow managed to secure a table exactly in front of our building, so I was also able to spend some time with them toward the end of the day, then stayed to assist the team with the breakdown and cleanup.
The whole thing was incredibly well-organized by Maryam Banikarim, who is a neighbor—in all the years, I had not formally met her. She's done so much for us. And the others; the entire team was just so welcoming. Maryam hosted breakfast for all of the volunteers. So I got ready and sauntered up the block, rolled up my sleeves, and went to work with the volunteers. It was an incredibly joyful day of coming together. I thoroughly enjoyed the fellowship, and we need that in such times as we're living in. That day just could not have been better!
SABRINA CARTAN | NYCNext founder Maryam Banikarim is more than just a pillar of her community. She builds networks in New York with all the force of a hurricane. It's quite impressive. When Maryam told me about The Longest Table, I knew it would be worth the time and effort to become a Table Captain. I put out an open invitation on social media for the event and heard back from many of my closest friends in the city, who loved the concept.
I'm an expert in fandom communities and how people engage in civic life through pop culture, so I drew a parallel between this event and my favorite TV show, Gilmore Girls, which is particularly known for its small-town autumn vibes. We live in a city of 8 million people, but The Longest Table made those at my table feel like we were living in Gilmore Girls' fictional small town of Stars Hollow, where everyone knows one another and people frequently get together for town meetings and parties. The air was crisp, the sun was shining, and everyone seemed to be as dedicated to decorating their tables as Lorelai Gilmore would for any Stars Hollow event. It may seem far-fetched to compare a community event to a television show, but I mentioned my observation to many attendees, and it totally clicked for them. It was like an off-screen "Netflix moment," except you weren't paying $50+ to experience Stranger Things or Bridgerton in a warehouse or convention center.
The most memorable thing about the event was how much everyone cared, whether they were an organizer or an attendee. My husband, Brian, and I took a walk around the entire table and spoke with everyone—each with their own stories of how they arrived at this shared moment. I was surprised at how generous people were—when I asked if I could take a picture of a gigantic Italian sub, the hosts of that section offered me a slice to take away! I cook frequently, but to simplify the experience, I opted to bring an assortment of mezze dishes and dips from Sahadi's (hummus, baba ganoush, harissa carrots, labneh, etc.). My guests brought tea sandwiches, spanakopita, and one brought a gorgeous lemon strawberry cake. At the end of the afternoon, my stomach was full, but my heart was fuller. My table spawned a group chat on Facebook, which has inspired us to plan our own versions of The Longest Table across town (with the help of NYCNext, of course).
For More Information About The Longest Table, Click Here.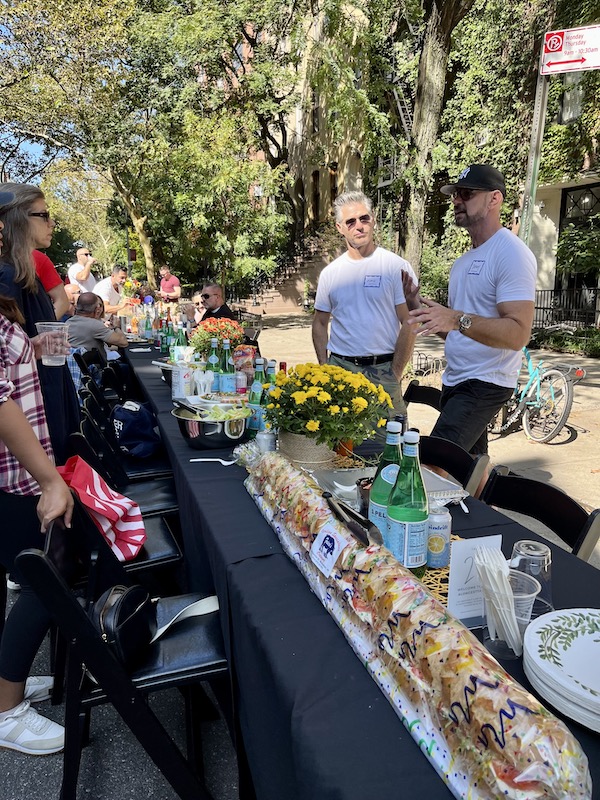 —END—
Chelsea Community News is an independent, hyperlocal news, arts, events, info, and opinion website made possible with the help of our awesome advertisers and the support of our readers. Our Promise: Never a paywall, no pop-up ads, all content is FREE. With that in mind, if circumstances allow, please consider taking part in our GoFundMe campaign (click here). To make a direct donation, give feedback, send a Letter to the Editor, or contact our founder/editor, email Scott Stiffler via scott@chelseacommunitynews.com.
To join our subscriber list, click here. It's a free service providing regular (weekly, at least) Enewsletters containing links to recently published content. Subscribers also will be sent email with "Sponsored Content" in the subject line.  That means it's an exclusive message from one of our advertisers, whose support, like yours, allows us to offer all content free of charge.