BY PUMA PERL | Several days after the opening of Self Power | Self Play: 50 Years of Erotic Portraiture by Linda Troeller, I received an email message from the photographer. She and her husband, artist Lothar Troeller, had been riding down Fifth Avenue and passed by the Museum of Sex; he'd been able to photograph with the poster of her exhibition prominently displayed.
"What a treat to go by on a bus and see it!" she wrote, her excitement palpable in the brief note.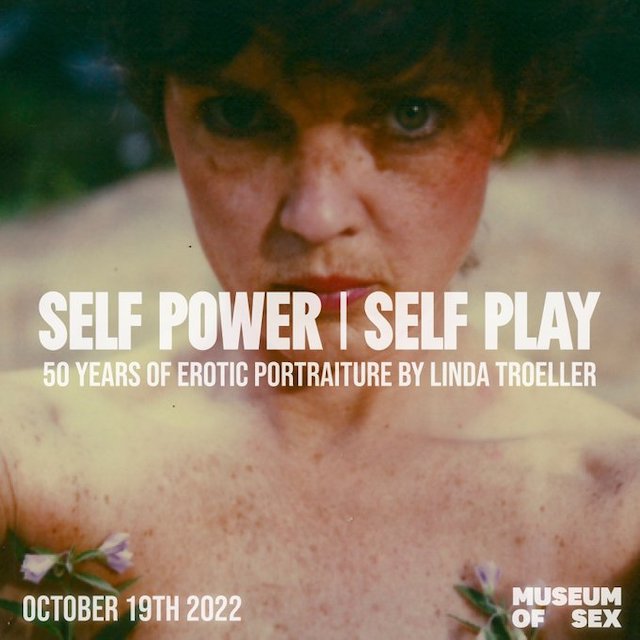 Entering the gallery exhibit 45 years later, the visitor's eye is immediately drawn to Self-Portrait, Silver, a 2022 self-portrait. In both photographs, Troeller gazes fearlessly into the camera. Revisiting the two photos, I sense a searching quality in the younger Troeller's eyes. Now in her 70s, Troeller appears simultaneously grounded and transported, an artist who has fully come into her own.
Self-Portrait, Silver is surrounded by photos of women, including Troeller, inviting the viewer to share in their desires, yearning, and fulfillment. Passion, laughter, eyes/mouths wide open or shut, even a playful silliness exemplify the places sexual empowerment can take us, all of us, regardless of looks, age, physicality. I feel it's a fallacy to refer to the participants as "subjects"—they are collaborators in Troeller's decades-long exploration of the evolution of pleasure and intimacy.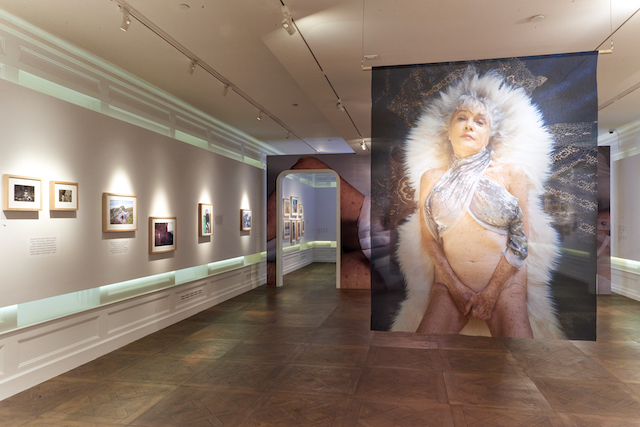 Although she's exhibited all over the world, this is her first New York City museum retrospective. It is comprised of some 70 works, spanning from 1974 to 2022. Most of the photos are by Linda Troeller, although there are other artists represented, including her husband, Lothar Troeller (Linda Smoking, 2002.) "Lothar has been there for me, every step of the way," Troeller said. "We lived the art life, and he has been a creative partner and photographer in his own projects. He's been instrumental in outputs and sizing to make this show." His joy and pride provided an infectious presence at the opening.
The show also provides an opportunity to revisit Troeller's body of published work, including Orgasm: Photographs and Interviews (with Marion Schneider), The Erotic Lives of Women, (also with Schneider), and Healing Waters, an exploration of the powers of immersion seen from the artist's eyes, and a recurring theme in the show. Her 2015 collection, Living in the Chelsea Hotel, is a photographic memoir of her life as a resident there from 1994-2012. She describes life at the Chelsea as "a bastion of creativity and sexual openness."
"The entire building had the feel of a giant art studio," she recalled, noting, "Empty spacious rooms were filled with light. Whenever I came back from healing water sites or from creating my portraits for my books on women, I'd feel like I had returned to my shooting ground." The travel and home base are integrated through her vision. As Troeller put it, "My life and the Chelsea blended very well." Several of the photographs exhibited were published in other volumes, but were shot at the Chelsea, including two of her friend Dragonfly, which are displayed on banners behind Self-Portrait, Silver.
Recently, Troeller learned that photos from Living in the Chelsea will be included in the Museum of the City of New York's 2023 triennial. It is especially significant to her that the Chelsea Hotel photographs will be in the section designated "HOME AS HAVEN."
"This show has been a long time coming," Troeller reflected, looking as radiant as her Silver image as she elaborates on some of the photos. Two of the same woman, one during sex with a man, the other with a woman, both unseen. ("Can you tell which is which?" she asks.) Former Club Kid and American model Amanda Lepore, fully attired. Glittering in gold, she radiates sexuality and enjoyment of life. Painterly images, bodies floating. Women dressed, undressed, half-dressed. We laugh about the concept of "selfies," as if it is a newly invented obsession.
"The brave women on the walls share ways they have found what works for them. And I have captured them in my photographs," Troeller explained. "It takes courage to come forward on stigmatic themes. My two women curators [Emily Shoyer and Emily Alesandrini] took on this journey to put it on walls. Women who are in my books and in the show flew in to participate… sending messages of self-power and doing it with pride. They were there to say, 'Yes, I am here,' and this exhibition has the chance to leave fear behind and embrace pleasure and joy and do the work to encounter this trance that is healing women."
Although the photographs speak for themselves, some are enhanced by quotations obtained in interviews by Troeller's longtime associate and friend, Marion Schneider. Some self-portraits include Troeller's own stories. One of my favorites is Linda, First Orgasm with Pine Needles, a 2014 collaboration between Troeller and Schneider, in which a mischievous Troeller raises her short skirt, looking upward, both aroused and amused. "I hoped this sensation would never end," reads the caption.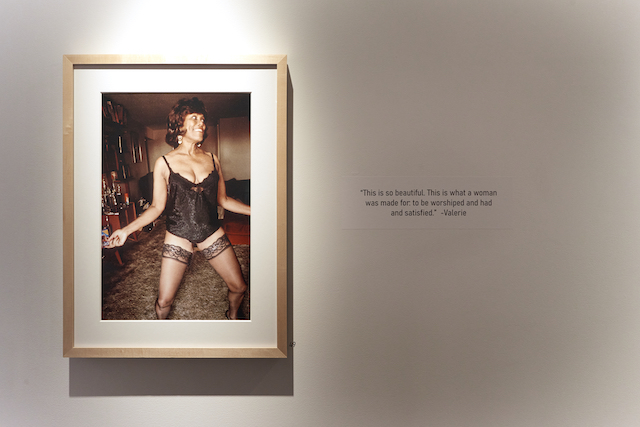 Beneath a trio of 1982 images (Self-Portrait, Me and Bogart #1, #2, #3, Los Angeles), we read, and understand: "Having my picture taken reminded me that my identity is neither uniform nor fixed." Beside a photo of the flirtatious, laughing Valerie (Valerie, 55, United States, 1998) is the quotation: "This is so beautiful. This is what a woman was made for: to be worshipped and had and satisfied."
"In my photographs now over these decades, and especially in my self-portraiture, I see my skin is drying and yes, the collagen is being less produced," Troeller wrote to me, following the show. "At first, I had to stare long and hard to see if I wished to reveal this to me. And to others. And it was yes, I will exhibit these photographs. I will represent some of the work we need for the culture to honor aging."
"I am breaking the silence."
"Self Power | Self Play: 50 Years of Erotic Portraiture by Linda Troeller" is on view through January 9, 2023 at the Museum of Sex (233 Fifth Ave. at 27th St.). Museum Hours: Mon./Tues./Wed./Thurs.: 1pm to 10pm (last ticket, 8:40pm) / Fri., 1pm to 12am (last ticket, 10pm) / Sat., 12pm to 12am (last ticket, 10pm / Sun., 12pm-10pm (last ticket, 8:40pm). For tickets ($36), click here or call 212-689-6337.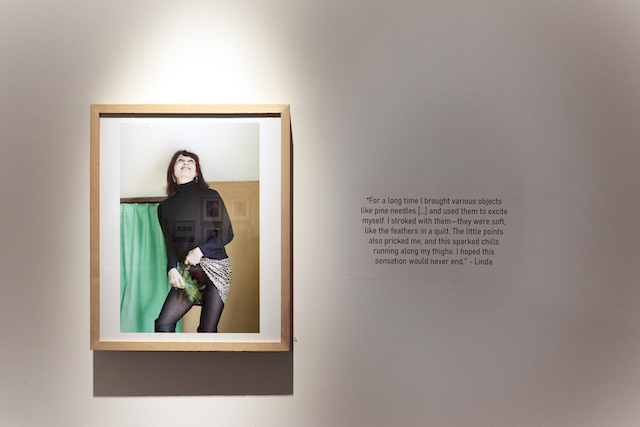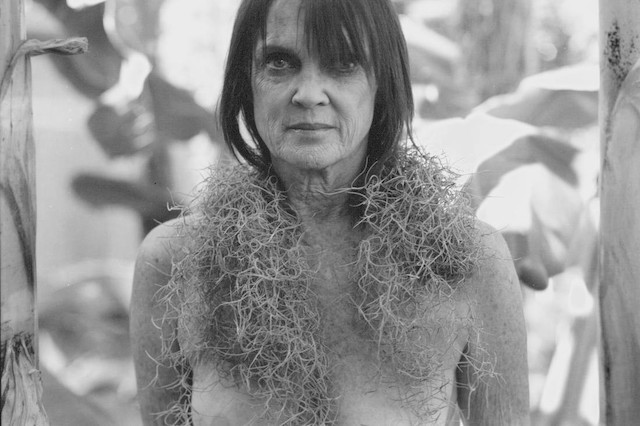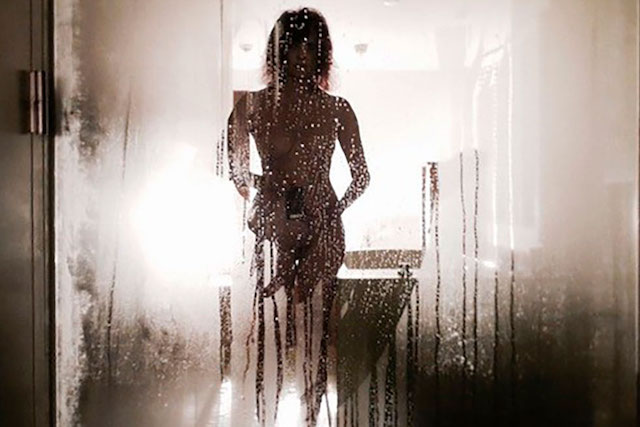 Chelsea Community News is made possible with the help of our awesome advertisers, and the support of our readers. Please consider taking part in our GoFundMe campaign (click here). To make a direct donation, give feedback, send a Letter to the Editor, or contact our founder/editor, email scott@chelseacommunitynews.com.