BY EUGENE SINIGALLIANO | My neighbors and I have lived at 251 West 30th Street, in the heart of the Penn Station district, since 1979. We raised our kids there and many of us became lifelong friends. We are senior citizens now and consider ourselves incredibly fortunate to live in rent-stabilized apartments in New York City—but we are now facing eviction, as the State plans to demolish our building and neighborhood. Why?
Because Governor Hochul's plans for a new, high-end Penn Station district full of Class A commercial real estate would raze several city blocks to the ground—including our building, the Hotel Pennsylvania, the historic church of Saint John the Baptist, the Gimbels Skybridge, the Hotel Stewart, and a host of other landmarks.  Gone, our beloved home and neighborhood for the past 43 years. She calls it a "Skid Row." She should be embarrassed and ashamed of her disgraceful lie.
Her aim is to replace our neighborhood with 10 supertall office buildings whether anyone needs them or not—and indications are few, if any, do. Even Vornado, the developer and prime benefactor of this ill-thought-out scheme is hitting the pause button (a concession they must have hated making, but reality was taking them prisoner).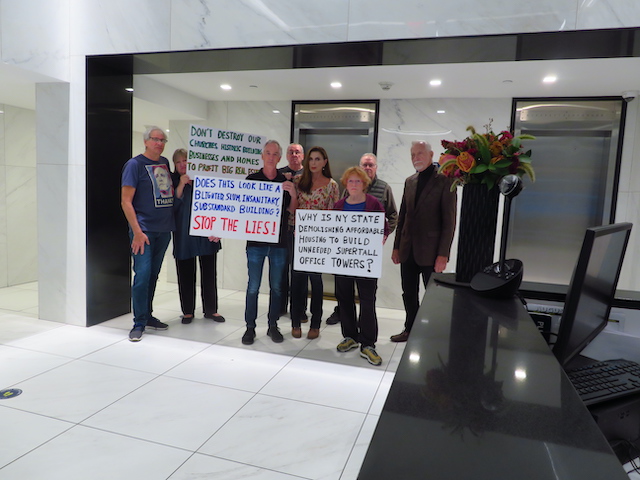 Even worse is the way the Empire State Development Corporation plans to use a federal agency to condemn our building, which allows them to strip senior residents of their right to rent stabilization under New York law and replace it with a paltry federal package. So we will not only lose our lifelong home, we will also lose our ability to afford living in the city we love.
New York State and its governor have declared our district "blighted," a legal term they invoke to justify their bulldozing of whole neighborhoods. The idea is nonsense. The Penn Station District may not be as affluent as the Grand Central District but it is not remotely blighted, and is a lot more vibrant in its own way.
The Empire State Development Corporation has submitted misleading, dated, and inaccurate documents on the condition of the neighborhood. Our building just underwent extensive modernization, as did other nearby buildings. Even when presented with accurate details about the building, they refuse to back off from their false, myopic, self-serving characterization of reality.
We are not opposed to change. That comes with the turf in New York. But the governor's drive to build glitzy supertall office towers  on the ruins of our neighborhood is deeply disturbing. Midtown Manhattan lost vast numbers of commercial tenants because of the pandemic. They left millions of square feet of empty office space behind—the highest office vacancy rate since 1994.
Meanwhile, New York continues to suffer from an affordable housing crisis. Well, the best way to make sure New Yorkers have affordable housing is not to tear it down in the first place.
Our lifelong homes are on the chopping block because the authorities plan to expand Penn Station underground from 31st to 30th Streets by constructing eight new terminal tracks—to the tune of several billion dollars!
And yet experts tell us what's needed at Penn Station is not more terminal capacity, but its conversion to through running, which is the modern standard in commuter railroading. Through running proponents say those billions would be far better spent reconfiguring tracks and platforms at Penn to permit trains to and from New Jersey, Long Island, and Westchester to run through Penn Station—thus enhancing connectivity between Midtown and the other parts of Greater New York—and obviating the need to pull down the heart of Midtown West, including 251 W. 30th St.
We are perplexed that our rail administrators—local and federal—and the governor refuse to consider through running, which Chicago, Philadelphia, Los Angeles, and Toronto have implemented or soon will. So have London and Paris and countless other international cities to great effect. We insist, respectfully, that a truly independent study be commissioned to study through running. Such a study will very likely find that through running will provide much better transit and will protect our homes from demolition. Such a study will also protect New York and the metropolitan area from spending billions of dollars on antiquated, misguided, and potentially ruinous urban renewal and transit planning schemes now on the drawing board that really only favor one developer and campaign contributor.
Come on, Governor. With a four-year term in hand, you can do better than this. This is New York, not a corporate campus for Vornado.
Eugene Sinigalliano is a longtime resident of 251 W. 30th St. and leads the 251 West 30th Street Resident's Association—one of several petitioners in a lawsuit asking a New York State court to annul the Empire State Development Corporation's approval of the Penn Station General Project Plan that allows Vornado to demolish the Penn Station district. Sinigalliano is also a Residential Advisor, Empire State Development's Community Advisory Committee Working Group.
Chelsea Community News is made possible with the help of our awesome advertisers, and the support of our readers. Please consider taking part in our GoFundMe campaign (click here). To make a direct donation, give feedback, send a Letter to the Editor, or contact our founder/editor, email scott@chelseacommunitynews.com