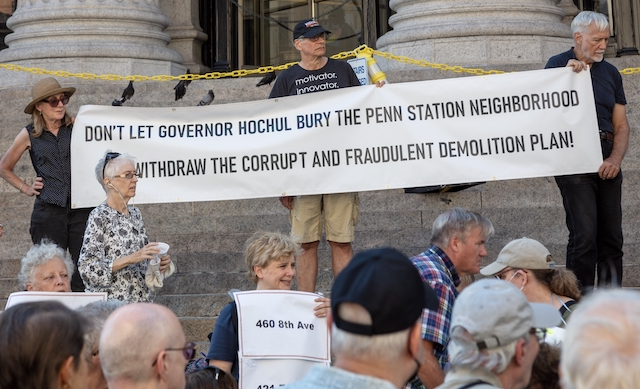 BY BILL BOROCK | Thank you for publishing the November 23, 2022 Eugene Sinigalliano/251 West 30th Street Resident's Association Guest Opinion piece, about New York State Governor Kathy Hochul's misguided attempt to change Penn Station and the surrounding area.
Backed by New York State in partnership with (and to the great benefit of) Vornado Realty Trust, the plan would displace hundreds of residents and businesses—some by eminent domain. Historic buildings would be razed by the wrecking ball as part of the wholesale destruction of an area our governor would have you believe is "blighted."
And for what? Just to grant Vornado permission to construct up to 10 unnecessarily tall towers for business/commercial tenant use for which no demand exists. What is needed is permanent affordable housing, and appropriate commercial/business space. Governor Hochul's plan does little to address these needs. What's worse, it fails to guarantee the funding necessary to improve Penn Station.
Today would be a wonderful day, if the politicians and other players who support this plan would give thought to what Sinigalliano, residents, groups, and organizations across the city are saying and instead back alternative plans that would create the world-class Penn Station that New Yorkers—and the rest of the world—deserve.
The need is certainly there: For those who may not know, New York Penn Station/Moynihan Train Hall is the second-busiest train station in the world, only behind Japan's Shinjuku Station in Tokyo. Approximately 650,000 passengers use Penn Station daily.
I and so many others would love (and use) a Penn Station that has been given a makeover—but not made according to our governor's plan.
Governor Hochul, wake up and do the right thing! It's there for the making.
Bill Borock
For Save Chelsea, The Union Square Community Coalition, and the Empire Station Coalition.
Note: The viewpoints expressed in our Guest Opinion pieces are not necessariy shared by Chelsea Community News, a website made possible with the help of our awesome advertisers, and the support of our readers. Please consider taking part in our GoFundMe campaign (click here). To make a direct donation, give feedback, send a Letter to the Editor, or contact our founder/editor, email scott@chelseacommunitynews.com.