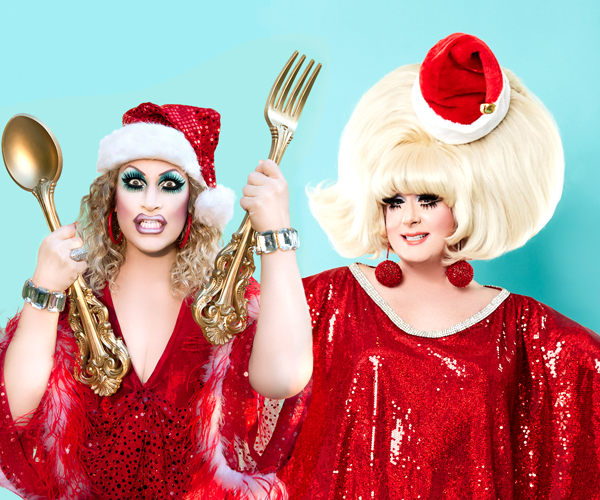 Theirs is a friendship decades in the making–or faking? Best not to dive too deeply into the psychological underpinnings of the dynamics involved in a project from drag legends Jackie Beat and Lady Bunny. That said, it's perfectly legit to wonder what caused the stars to align and create the upcoming December 16-18 performances of Silver & Gold, Bitter & Old! at NYC's Baruch Performing Arts Center. This will be the first time Beat and Bunny have united for a live stage show. So kudos to having booked that notable gig, and bragging rights to audiences who witness this history-making exercise in salacious audacity. But take out the "live stage" distinction, and it's hardly the first time Beat and Bunny have shared a bill. Viewers of the recent Huluween Dragstravaganza, for example, got a taste of their time-tested talent for self-deprecating, rival-hating, male-member-mentioning ditties, via the duo's Who's Your Mummy number. High marks for its rhyming of "hire us" with "papyrus" and a Chinatown plot twist spoiler cemented with the requisite face slap. There's more of that sassy satire in store, as you'll see in the below Q&A with our beloved Beat and Bunny. Be sure to follow things all the way through to the end, where you'll find info on purchasing tickets to the four Decemer 16-18 NYC performances of Silver & Gold, Bitter & Old!
Scott Stiffler, for Chelsea Community News (CCNews): This is the first time you've teamed up for a live stage show. Why did it take so long, and why now?
Jackie Beat (Jackie): We hate each other, silly!
Lady Bunny (Bunny): Don't tell anyone, but Jackie typically does double acts with Sherry Vine and she's sick of working with her. Actually, Jacksters and I just did a duet dressed as mummies in Huluween's Dragstravaganza in October. Then we worked together last week in LA shooting The Paul Lynde Making the Yuletide Gay Christmas Special, which will air on World of Wonder Presents Plus soon. It stars a Paul Lynde impersonator named Michael Airington, and was written by Bruce Vilanch, who penned the original Paul Lynde Halloween special in 1976! Liberace, Sal Mineo, and Tab Hunter also make appearances!
CCNews: Is there such a thing as "post-pandemic," in terms of performing to live audiencs again? Any difference with venue, management, audiences, and material?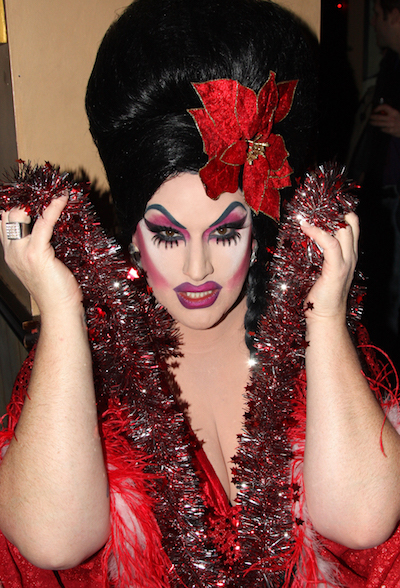 Jackie: The only thing I have noticed is that audiences are literally starving for live entertainment. They want to sit in a dark room with a bunch of people and laugh and clap and—in Bunny's case—loudly boo & demand their money back.
Bunny: Yes, I've cancelled all meet and greets. Between COVID, monkeypox and the flu, it's too risky for me.
CCNews: What material (specifically and/or aesthetically) can we expect from you as a solo performer?
Jackie: Well, we really are cut from the same cloth—and at this point that cloth is 4-way stretch polyester. All joking aside, you can expect filth from both of us… But smart, sophisticated filth!
Bunny: I love to use religious holidays to pour on the twisted humor! So my Xmas songs center on sex, drugs and uncircumcised penii.
CCNews: Without major spoilers, please preview the material you'll offer as a duo. What has it been like, collaborating with this other person, who has very specific humor and tastes? How have you complimented, contrasted, clashed?
Jackie: We have known and respected each other for a few decades now so we have gotten along just fine. I was a little worried because we are both egotistical alpha Leo drag queens, but it turns out we are also both very professional and polite! Let's put it this way, when Bunny screamed at me, "No! That's not funny you fat old bitch! Do it my way!" it was in that adorable Southern accent so I actually found it quite charming. And then I punched her in the throat—which, trust me, ain't easy to find these days! 
Bunny: Tonight [Nov. 29, 2022] we co-wrote a poem in a few hours, which I think will be hysterical. No clashes yet—except for Jackie's wardrobe! But ask us on the final night and see what we say!
CCNews: Anything for you as a solo performer, that we can look forward to in 2023?
Jackie: All sorts of fun stuff, yes! I just finished shooting the new season of The Sherry Vine Variety Show for OUTtv and I have my fingers crossed that they will greenlight a season 2 of my show Dr. Jackie: Unlicensed Psychotherapist. I have just signed on to be in a campy horror movie I am very excited about, but it's all top secret at the moment.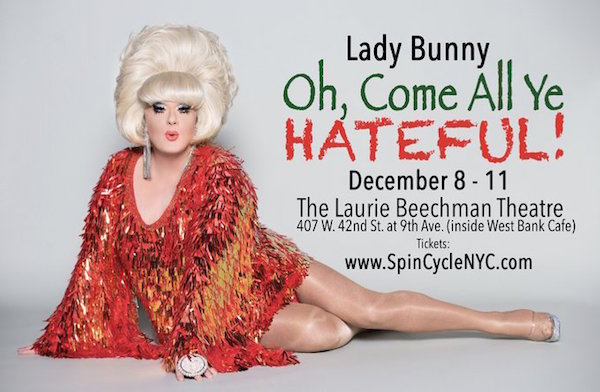 Bunny: I would love to spend more time this winter on original music.
CCNews: Growing up, what holiday traditions did you love, what ones did you hate? Same question for contemporary times, circa 2022.
Jackie: I love the shameless overeating and I hate hugging people and pretending that the present they just gave me doesn't suck. I don't need another coffee cup with Dorothy from The Golden Girls on it, okay? Just give me cash!
Bunny: I loved the Lifesaver books I always got from our parents. The coconut flavored ones! I have not enjoyed COVD-induced Zoom holiday dinners.
CCNews: The holidays are here, and you've drawn the other's name in the annual Office Secret Santa. Two questions: What do you get them, as a gift that might seem like an insult, but will be one you know they will use? Also, what possible scenario finds the two of you working at the same office?
Jackie: First, we would be working together in the office of an organization that's trying to better the world. Second, I would probably buy Bunny a full-length mirror because, let's be honest, it's pretty obvious by the looks she puts together that she doesn't have one!
Bunny: I'd get Jackie something she really needs—plastic surgery. Don't you dare make me look at her in fluorescent office light!
CCNews: Thanks for your time. Is there anything you'd like to add, not covered in the above questions?
Bunny: Here's a YouTube link to our mummy in muumuus duet from Hulu if you wanna embed it for a taste of us performing together. THANKS!
LADY BUNNY & JACKIE BEAT: SILVER & GOLD, BITTER & OLD! will run for 5 performances only: Friday, December 16 at 7pm; Saturday, December 17 at 7pm & 9pm; and Sunday, December 18 at 5pm & 7pm, at the Baruch Performing Arts Center (55 Lexington Ave.; 25th St. btw.  3rd & Lexington Aves.). Tickets are $25 – $60 (for VIP tix that includes a signed poster), available at www.SpinCycleNYC.com. All attendees must present proof of vaccination for COVID-19 or present a negative PCR test taken within 7 days of the event. And remember: this duo is often offensive and definitely not PC, so don't buy a ticket if you don't like twisted humor!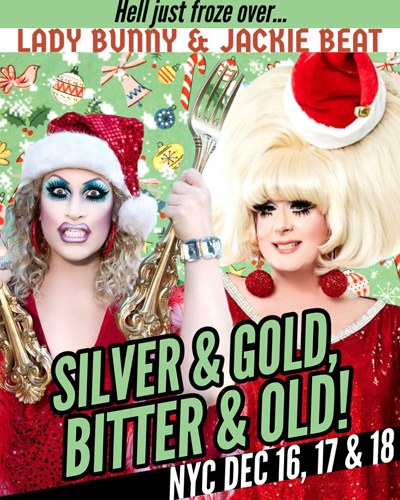 Chelsea Community News is made possible with the help of our awesome advertisers, and the support of our readers. Please consider taking part in our GoFundMe campaign (click here). To make a direct donation, give feedback, send a Letter to the Editor, or contact our founder/editor, email scott@chelseacommunitynews.com.