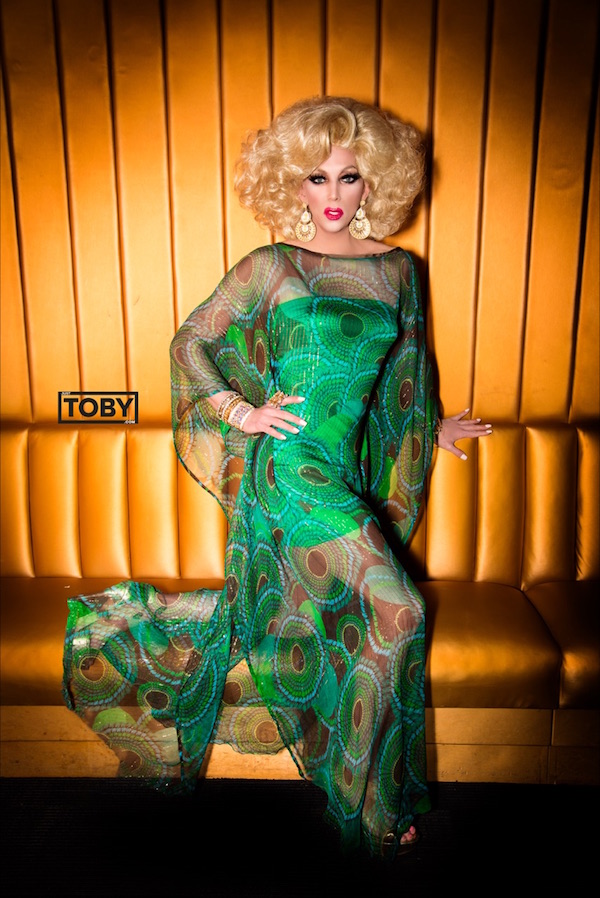 BY SCOTT STIFFLER | Iconic drag sensation Sherry Vine gathers no moss. While many of us spent the better part of the pandemic swilling alcohol and pigging out, Sherry spent her time doing… well, pretty much the same thing. But betting she'd soon see the days of brick and mortar showbiz again, she snapped out of it and got to work.
Exhibit A? The Sherry Vine Variety Show, a half-hour smorgasboared of sketch comedy, parody and original music videos, big name special guests from the world of drag, interviews, and a plentiful supply of tense, tasty treats in the form of candid interactions with her longtime stage and screen comedy partner, the great Jackie Beat. Fans of The Carol Burnette Show (Sherry is one of them) will appreciate Sherry's "talking to the audience" intros and segue bits, as well as the stable of ensemble performers (Jackie Beat, Mario Diaz, Bianca Del Rio) who are given ample room to steal the show, even when appearing alongside the show's namesake performer. Sherry is a pip and a pill in possession of great comedic timing and actorly control of her lean "instrument," aka body, which can go from Clown to Vamp and back again as the situation requires (her music videos, one every episode, are prime examples of that skill). So in that way, it's fun for the whole family–but wait, it's also completely filthy, written as if (head writer) Sherry's very life depended upon the raw number of times the show can reference or rhyme the words "co*k" or "d*ck." For anyone who thinks drag on TV is just about RuPaul's Drag Race, Sherry's show might come as a shock. For audiences hungry for the type of adult entertainment one sees at a late night drag show in that reemerging world of live performance, it's a must-see primer, just prior to going out again and supporting your own local drag queens and kings.
Later this month, longtime NYC nightlife staple Sherry will return to her Manhattan roots, to find one of her old haunts had a dye job that's to die for: On Wed., Aug. 18, Sherry sets foot once again inside Seventh Ave. dining and dish mecca Elmo, whose new downstairs space, Coby Club, will see Sherry as its inaugural drag performer. For tickets ($20 and two-drink minimum, proof of vaccination required), send an email to thesherryvine@gmail.com. For tickets to all other shows on the tour, click here to visit the applicable page on Sherry's website. Note: Regarding COVID-19 protocol for all other venues, Ms. Vine recommends that you call ahead, noting, "I'm not sure about each state, and it can change daily."
Audiences in NYC and the other four towns on the tour (including DC and Provincetown) will see one of two shows: Hollywood and Vine, a 2019 solo show whose tour was cut short the following year, when scene-stealer COVID-19 announced itself to the world. With the very recent return of live performance all across the country, venues with the good taste to welcome Sherry's special blend of bawdy, deep blue (aka downright filthy) humor have been welcoming the LA Lady back to their town, for make-up shows cancelled while we loyal nightlife denizens sheltered in place and told ourselves a Tea Dance For One was just as much fun as seeing a drag queen live. Thankfully, those days are gone. As such, Hollywood and Vine has been taken out of storage and unleashed upon the world once again. The show, explained Sherry, "features a Whitney Houston medley, an epic Getting Older medley, a Shirley Bassey 'impersonation,' video, and more."
Those who willingly assume then position of catcher are in for a treat, when Sherry winds up and pitches the tour's second show, I Love Bing A Whore. An inspiring example of truth in advertising, Sherry notes the audience will see a few songs culled from Hollywood and Vine as well as a few "brand new parodies." Both shows, Sherry assures, "are hilarious and filthy!"
Scott Stiffler, for Chelsea Community News (CCNews): When was the August East Coast tour booked, and what gave you the confidence to do so?
SHERRY VINE: Rehoboth was the first to book me for a show in August and that was in January. They actually had some shows last year, as the venue has a roof that opens, making it open-air. Then when DC asked me to come, we scheduled it the weekend before—and then when I booked New York City, Hudson called, and we added P'Town. I guess the confidence came from the excitement of performing live again and getting back to work.
CCNews: Were there booked gigs and planned projects that got cancelled, shelved, or altered because of the pandemic? If so, where are they now?
SHERRY: OMG SOOOOOO MANY!!! Literally an entire tour of Hollywood and Vine was canceled and sadly, many of those venues didn't survive. I just did Salt Lake City last week, which was a rescheduled date from April 2020. I had numerous shows in Europe booked in 2020 that are now happening in 2022! But at least I'm busy for the rest of this year.
CCNews: How did the pandemic impact your personal routine and outlook?
SHERRY: I had a few months of eating whatever I wanted, drinking plenty of wine and binge watching TV. But around June 2020 I decided to create a silver lining and really focus on health, exercise, and reading books instead of just watching TV. I actually am in better shape and sleeping better than I have been, ever. I also managed to read more books in a year than probably the last two decades. Instead of always texting, I would call people. Another silver lining, reconnecting with Coco Peru. We talk every other day and just laugh and laugh.
CCNews: What are your takeaways regarding the role digital entertainment played in the pandemic era, and what its best use role should be in "normal" times?
SHERRY: I am so grateful and thankful I was able to adapt quickly to the digital show world. I mean, so thankful! Moving forward, I think it will still play a bigger role. When we showed our stage version of The Golden Girlz Live! online, the response was so great that we will always film our theatrical endeavors and later share them online. That way people in Europe or wherever can enjoy them. I don't think we would have thought of that before COVID.
CCNews: Let's talk turkey about the upcoming East coast tour. For the Manhattan gig (Coby Club at Elmo, 156 Seventh Ave., 8pm on Wed., Aug. 18), what's your history with the venue, and how did you get the booking?
I have worked for Bob Pontarelli, the owner, since 1992, when I first moved to New York City and competed in Star Search at CrowBar. Coby Club is the new renovated venue in Elmo, and it's stunning! Bob sent me videos just to show me and I was like, "Can I do a show there?" Lol. Bob is family.
CCNews: You spent a long time living and performing in NYC. What fond remembrances do you have attached to Pontarelli or his venues? Note: If remembrance is of the sexy variety, don't spare the details: We're a website, so word count is not an issue.
SHERRY: My very first show upon retuning to New York City after living in Berlin for three years was in the basement of Elmo, so it kinda feels fitting to be the first drag show at Coby Club. I don't have any salacious stories about Elmo. (But don't get me started on Barracuda, the same owner!)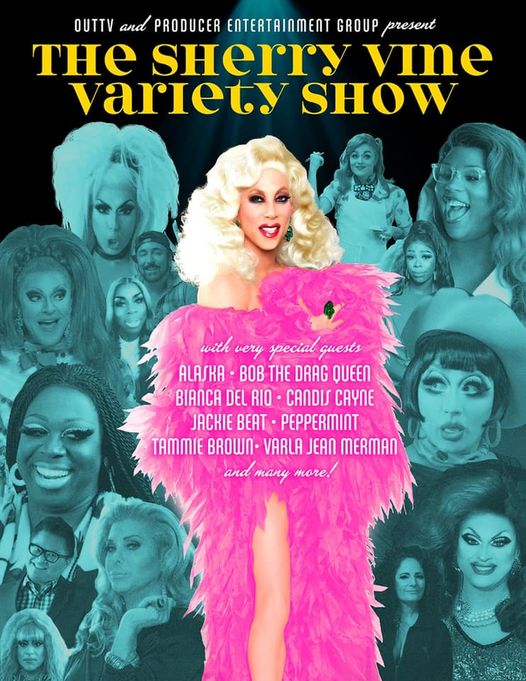 CCNews: It's our "The Sherry Vine Variety Show" section of the Q&A. See the below questions, all about Season I of your sketch comedy, music, and interview show, as seen on OUTtv and other platforms. How did you get the gig? Where/When did filming take place?
SHERRY: The Sherry Vine Variety Show really happened because Jacob Slane (PEG) believed in it and worked for two years to get it picked up. I talked about moving to LA for years, but it wasn't until he called me one day in 2018 and said, "This would be so much easier if you lived here," that I packed my shit! We got the green light in May 2020 and I spent that whole summer writing. I worked on the songs, budget, casting, etc. in Sept. and then we started filming at the end of October. Due to COVID restrictions, we could only have 10 cast/crew at a time and it was very strict. But I was able to get so many talented friends involved, which would have been harder if everyone was touring. That's why I didn't want to wait until 2021 to film. We shot the entire season in eight days—unbelievable!
CCNews: Will there be a Season II? How can fans let the powers that be know we'd like to see more?
SHERRY: Fingers and toes crossed!! I'm already writing just in case, lol.
CCNews: Were the scripts finished before shooting on Episode I began? How long did it take to write the entire season?
SHERRY: Yes. Since we had limited budget and time (compounded by COVID), I wanted to be as organized as possible. We had to micro-manage every detail. Of course, there was some improving—but the scripts were locked before shooting.
CCNews: You've referenced Carol Burnett, when describing the show's aesthetic. Do you know if she's seen it? Was there a moment during production when you knew you were living the Carol Burnett dream and felt the cast was synched up in a way similar to hers?
SHERRY: Yes, Carol is my #1 inspiration. Always! I don't know if she's seen it. But meeting her on Watch What Happens Live was a career highlight. We definitely felt the spirit of The Carol Burnett Show on set. I wish we had more time to cut up and make each other laugh more like they did. I mean, we had fun—It wasn't tense at all—but we didn't have time for multiple takes, so everyone stuck to the script. Lol. More bloopers for Season 2!
CCNews: After all cast members are noted in the opening credits, we see you are "introducing" Bianca Del Rio. What prompted you to give this scrappy newcomer her big break, and what was it like working with her in the "Fierce 'n Frugal" sketches?
SHERRY: LOL! Well, Bianca is a true friend and a trooper. A real show peep. She said "yes" immediately, came in from Palm Springs for one very long day, and even made our costumes. I didn't even tell her about The Shining scene (Episode 5) until we started shooting. "Can we cover you in sticky red syrup at the end of the day?" "Sure." And I thought it was silly to credit the most famous drag queen in the world with "introducing."
CCNews: From the song parodies we know you for, to the unrelenting parade of dick jokes, the show is far from squeaky clean. Thanks for that.
 SHERRY: Well, I will never have a show in NBC, lol. I'm not interested in being "family friendly" at all. OUTtv never once censored me or even asked what I was doing. I would ask Jacob, "Can we do this?" and he always replied, "Do whatever you want." When we decided, kinda last minute, to do original lyrics and not pop parodies I still stayed true to my demented mind. I called my friend, Joel Waggoner. "Can you compose a love ballad to the lyrics I Wanna Suck You Now?" Lol—she's sick.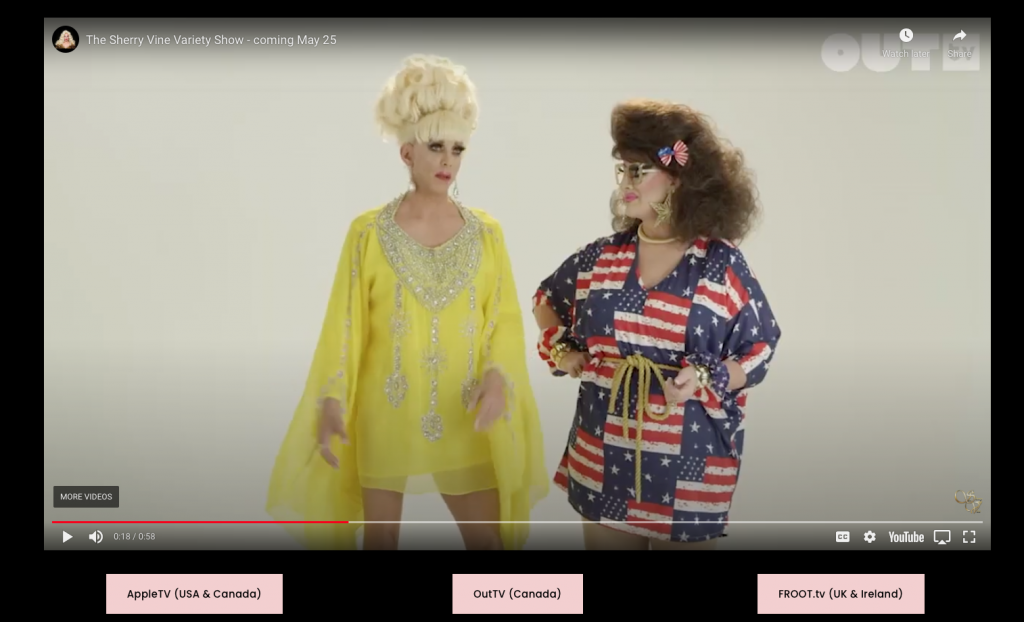 CCNews: You and longtime creative partner Jackie Beat have many scenes that milk laughs from your on screen love/hate dynamic. How do you maintain good relations after so many years of togetherness?
SHERRY: After 30 years we know each other so well. I know exactly where she's going onstage and we have always been on the same page performing together. We did most of our stuff in 1-2 takes! Jackie is very smart and very fast. Off stage, we see each other almost every day.
CCNews: The interview segment with an episode's special guest often put aside the jokes for a moment, to address serious subject matter (like when you discussed trans rights and the murder of trans people with Peppermint). What part of such moments touched, angered, inspired you?
SHERRY: Well, most of the show is a clown show. I wanted to have a few "real" moments. Not only is Peppermint an amazing showgirl, but she's also an activist and it was important to highlight that. We had to edit the interview down from 12 minutes to 4! But that was one part we wouldn't cut. Honestly and sincerely, I was touched by the fact that my dear friends made time during a pandemic to participate! I fucking love these people!
CCNews: Any word yet about the show getting picked up for a second season?
SHERRY: I won't hear about Season 2 until the end of the year… BUT fans can post about it and tag @outtv!
CCNews: Thank you for your time, Sherry. Any parting words?
SHERRY: Please visit www.SherryVine.com for tour info, merch, links to the Variety Show, and more.
NOTE: Following the below important message, finds BONUS CONTENT, in the form of Sherry's response to questions about the remaining gigs on her 5-city East Coast tour. Also note, fans of Sherry's parody and original songs can scoop up five tracks via The Sherry Vine Variety Show Season 1 LP, available in the MUSIC & MERCH section of her website. To visit, click here.
Chelsea Community News is made possible with the help of our awesome advertisers, and the support of our readers. If you like what you see, please consider taking part in our GoFundMe campaign (click here). To make a direct donation, give feedback, or send a Letter to the Editor, email scott@chelseacommunitynews.com.
CCNews: You talked about the NYC gig at Coby's earlier. For the other venues on the tour, what's your history with them, and how did the booking come to be?
Friday/Saturday, August 13/14—Washington, DC at Crazy Aunt Helen's | The owner of this brand-new establishment used to live in New York City, and come to Bar d'O back in the day. He reached out to me this past winter and we started talking. Hopefully, this will turn into a regular gig.
Monday, August 16—Rehoboth Beach, DE at Blue Moon | I have worked at Blue Moon for 15 years now. I've done many solo shows, as well as shows with Joey Arias and Jackie Beat. They treat me so well and it's always a good time there. I love the queens there, too!
Thursday, August 19 (sold out) and Friday, August 20 at 8pm —Hudson, NY at Poured Candle Bar | This will be my first time performing at Poured Candle Bar. They reached out to me on Instagram and I mentioned I would be in New York City in August. I'm so excited to return to beautiful Hudson.
Saturday/Sunday, August 21 & 22—Provincetown, MA at the Red Room | Also, a virgin space for me. It's my first time in P'Town in three years, and I am joining an incredible list of performers, all at Red Room this summer; Candis Cayne, Lady Bunny. Jackie Beat, Jimmy James, and more. Hopefully, this will also be a new home.
CCNews: Let's talk about the tour, from the first date to the last (not counting Coby's). What fond remembrance do you have of each venue and/or town? Note: If remembrance is of the sexy variety, don't spare the details (word count is not an issue)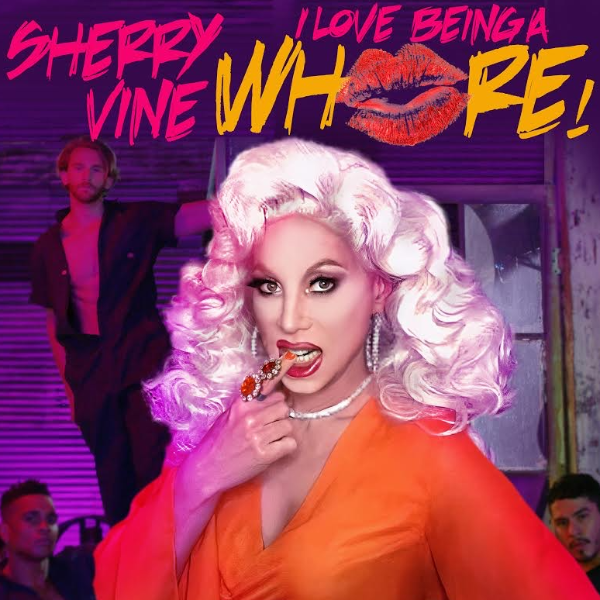 Crazy Aunt Helen's | It's my first time at Helen's but I have performed in DC a lot! Mark Rutstein, who used to manage Level One and Cobalt, was the first venue to book me after my Bad Romance parody exploded on YouTube—and that one booking became a monthly residency. I was so sad when they closed. So we are hoping Helen's picks up that tradition. Surprisingly, I don't have any scandalous stories associated with DC.
Blue Moon | I always, always have a gorgeous time in Rehoboth. They always book me for 2 nights so I can have one day on the beach and stuffing my face with Thrasher's Fries, Dolly's taffy, etc. The food at Blue Moon actually is amazing! Everyone is so nice and laid back. I have my favorite stores I always visit. I have had a few nights of staggering home but nothing shocking—it's a respectable community there, lol.
Poured Candle Bar | This will be my first show there, and my first show ever in a candle bar. They are designing a candle just for the occasion and asked what they should call it. I don't know if anyone would buy Shit My Pants, but maybe GloryHole??
Red Room | Also, my first time, but just talked to Candis who raved about the space and the staff. P'Town is always a good time. It's a show audience; they come for the show, they aren't on their phones, it's so fun performing for them. I went to the infamous dock one night decades ago and knew everyone there so nothing happened! Apparently, "Hey, girl!" isn't a turn-on in the gay cruising scene. Lol.
BONUS BONUS Content Below: Pix from Upcoming and Past Shows!