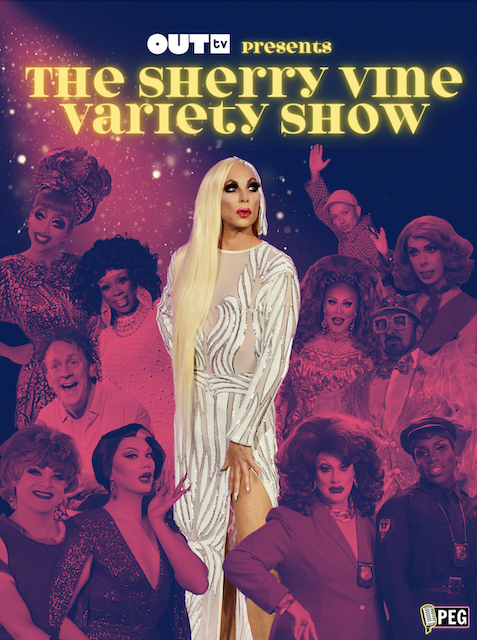 BY SCOTT STIFFLER | There's something satisfying about the fact that while self-aggrandizing lawmakers in Tennessee and other states were spending 2022/2023 trying to limit, license, discourage, and otherwise disavow drag, Sherry Vine and friends were creating six episodes of variety television that plays such pomposity for laughs, while putting the pursuit of cock where it belongs: Front and center, in your face.
That shame-be-damned, slut-positive attitude is as much a part of the Sherry Vine brand as the semen-strewn catalog of song parodies she's best known for. Over the course of a 30+-year career that included a long and productive period as a  NYC queen, audiences have eagerly gobbled up Sherry-penned-and-performed classics such as her take on Adele's Hello, recontextualized to tell the story of a retail worker hoping to down a little protein during her brief lunch break ("Hello from the bathroom stall / I'm on the third floor of the mall… Oh, why has no one heard my call?").
Elsewhere in the catalog, Gloria becomes Glory Hole, while Leonard Cohen's deeply spiritual and extremely repetitive Hallelujah becomes How I Blew Ya (the title phrase, sung over and over, becomes funnier and funnier), and the video for her collaboration with Peppermint (sending up Lady Gaga/Beyoncé's Telephone), Make Me Moan, embraces the penal colony aspect of incarceration, if you get our drift. That balls-to-the-wall style of comedy has taken the leggy, LA-based kitten-cum-vixen to theaters, clubs, TV studios, and back alleys around the world (most recntly as old friend and colleague Bianca Del Rio's opening act).
The journey comes full circle this month, as Sherry performs her solo show Everybody's Girl at the Hell's Kitchen venue Red Eye (355 W. 41st St.) at 8pm on Wednesday, June 14. For tickets ($20 general admission, $30 premium meet and greet), click here. Then, at 7pm and 9pm Thursday, June 22 through Saturday, June 24, Sherry and her fellow Golden Girlz LIVE castmates (Jackie Beat, Drew Droege, Sam Pancake) bring their smash hit tribute show to NYC for the first time ever (at Red Eye). For tickets ($30 general admission, $40 premium), click here.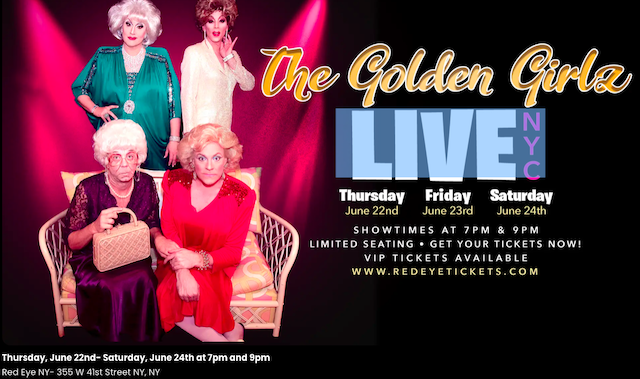 But as big as that news is, the buzz that drew Chelsea Community News to Sherry's sexy orbit was the premiere of Season 2 for The Sherry Vine Variety Show. We screened Episodes 1 and 2, before it premiered June 8 on OUTtv (new episodes drop weekly). No slumps here: The six-episode sophomore season is a worthy successor to 2021's series premiere, which saw Vine and company breathing horny, whorish life into Vine-penned sketches about sex, songs about sex, and—showing her trademark versatility—a hearty helping of poop jokes. Somehow, the ensemble of recurring cast members and drag royalty one-shots she assembled, while far from wholesome, managed to create an aesthetic akin to what pre-tween Vine saw while voraciously dining on The Carol Burnett Show. The comparison—if you take away all the penis stuff—is both valid and fitting.
For Season 2, Sherry's longtime creative partner Jackie Beat, a staple of the Season 1 shows, is back again. (Fun Fact: Beat's own show–Dr. Jackie: Unlicensed Psychotherapist—also airs on OUTtv, and the cast includes many familiar faces from Variety Show, including Sherry herself). Also back is the versatile and reliable  Mario Diaz as a plethora of biological males the scripts call for. And talk about value added: No less than Bianca Del Rio is present to kick off Episode 1. Her insult comedy and judgmental glare fits like a puzzle piece alongside Jackie's bad-to-the-bone mean girl ways. This pairing is especially effective when they're cast as retail salesgals and set upon Sherry's sweet, increasingly frustrated customer–a Season 1 trope worth checking out.
There's been a bit of fiddling with the format this time around: Reasoning that "everyone has a podcast," Sherry's deep dive interviews with drag legends—a fun and often genuinely revelatory feature during Season 1—have been scaled down in runtime and scope, allowing more screen time for running bits such as the show-within-a-show Lady Cops (Despite the show's seemingly contemporary setting, its females-in-the-workplace premise is played as if new ground were being broken.) As supervisor to  Lady Cops Jackie and Sherry, brutally honest Monét X Change (aka Lady Captain) is bucking for her own spinoff, while informing Sherry that what she wore to work will do just fine for her undercover assignment as a hooker.
What's more, each episode features an original song by and will be released as an EP. Season 2 guest stars include Tammie Brown, Kelly Mantle, Drew Drouge, Varla Jean Merman, Ongina, Pandora Boxx, Honey Davenport, and Manila Luzon. That having been said, we were hungry for more Season 2 backstory–and Sherry Vine kindly consented to a phone interview which yielded the below Q&A. To access our interview with Sherry just prior to Season 1's 2021 premiere, click here–and then by all means, read on…
Scott Stiffler, for Chelsea Community News (CCNews): Sherry, when last we spoke about the Variety Show, you were almost ready to launch Season One. How—and when—did the new season come about?
Sherry Vine (Sherry): Well, like anything in this business, the wheels can sometimes go incredibly slow. And then all of a sudden it's like, "Okay,  go as fast as you can." I had a hint, right after Season 1 ran—which was this exact time two years ago—that they were very likely going to say, "Yes." But it wasn't until maybe March or April of last year [2022] that they said, "Well, yes, it's the green go." And so I spent all summer writing. September was really dedicated to writing and recording five original songs. October was pre-production; locations and casting and scheduling—the whole business end of it.  And then we shot in late November, beginning of December, and started editing after the new year—and here we are.
CCNews: And you wrote all the shetch material. For folks who've never seen a drag show that starts at 2am and caters to the cock-centric crowd, they're in for an education. It really is a relentless cavalcade of dick and poop jokes—and in our present atmosphere, that in and of itself is its own form of activism.
Sherry: I agree, and that's where I give props to PEG [Producer Entertainment Group]. And what I love about OUTtv is, we were like, "Can we have dildos?" They were like, "Well, um, OK. Yes, be you." They have never, ever said, "No."
CCNews: It's such a pallet cleanser compared to the scrub, to,  you know,  the reality show and elimination/competition drag shows on TV.
Sherry: Yeah. I mean, look—there's something for everybody out there. I mean, I have to be honest: There are certainly gay men who hate what I do, and that's fine. It is not for everybody and if you don't like what I do, there's other drag queens who do what you like.
CCNews: Despite the intense blue material, there's again, as with Season 1, a "Let's put on a show" collaborative feeling where the cast is clearly having fun. And you're the ringleader, having hand-picked the cast. Do you feel you've achieved that Carol Burnett feeling, in the material and among the cast? What do you think she'd make of it, if she saw this new season?
Sherry: I figure if she saw the show, she would immediately get the connection. I mean, it might not be 100 percent her taste,  but I think that she has a sense of humor and I think she would be like, "This queen must have watched my show growing up."
CCNews: Was there anything new this time around, in terms of performing the comedy while wearing other hats (Interviewer, Lead Singer, etc.)?
Sherry: Well, it's funny. I'll tell you something that I have not ever said out loud to anybody else, ever. So this is an exclusive: All right, I'm almost 60 and sometimes I get very focused on how I look and forget that it's about being funny. Because I'm so like, "Oh my God, do I look old?  How's my face? How's my body? Are my legs still holding up?" I get very concerned with how I look and at the end of the day [during the process of taping the season], I would just have to remind myself, girl, just be funny… What would Carol [Burnett] do? And then it kind of works.
CCNews: They don't care, the audience, as long as you deliver those laughs. And you do deliver the looks, and you're also up for looking utterly destroyed. I'm thinking of Episode 1 when you wake up in bed from what looks to be a doozy of a bender…
Sherry: Right. I mean, Carol Burnett would come out with the opening [talking to the audience] segment every show, and look gorgeous–and then, in the musical numbers, she'd be in some beaded Bob Mackie gown and look stunning. Then put on her cleaning lady costume.
CCNews: Let's talk about the Season 2 music, which is not the type of structured parody songwriting you're known for. The two episodes I saw, the songs were more like explorations of genres and their ideas, rather than riffing off the plot of a well-known song. So there's one new song for every episode, right?
Sherry: Well, there are six episodes and five songs, because I always have one episode–Episode 5, that is the wild card, that shatters the variety show format… This is the very first time that we ever did originals. When I did She's Living for This, we were actually allowed to do parodies and here TV took care of the licensing. Season 1, we just didn't have the money or time so I purchased music that was already made off of Pond5 and wrote lyrics to it. So this time we really were like, "Let's have five original songs from scratch." John Mark [director of Season 2], who is a genius—I have worked with him so much—he created all five songs, celebrating five different genres of music. He'd send me demos and I'd be like, "I love this, I love that"… We spent a good month writing and recording.
CCNews: I especially liked the Episode 2 song, very Leader of the Pack, but also not… you know? Oh, of course you know!
Sherry: I  knew I wanted like a '60s girl group sound so I spent an entire day watching videos of The Shirelles and The Shangri-Las and The Supremes.  I had a folder with hundreds of little links of, "I like this hair, I like this choreography, I like this overhead shot. So putting the songs together, it was like I had a Rolodex of these inspirations and ideas–and still do, and I can go back to that when the time is right. and go back to when the time is right
CCNews: Will you be trotting out your metaphorical Rolodex anytime soon–as in, will there be a Season 3?
Sherry: Well,  I have to wait until this season is up and running before I start knocking on their door again. But I know OUTtv loves Lady Cops. Every episode that we sent them for notes, they were always like,  "Oh my god, we're obsessed with Lady Cops." So Jackie and I already like, "OK, we need to start planting seeds for a spinoff. Yeah. Oh, absolutely."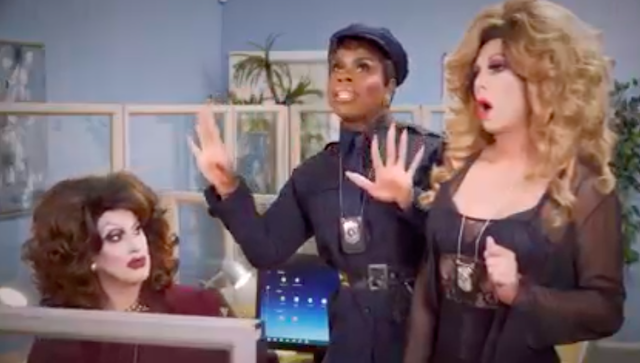 —END—
Chelsea Community News is an independent, hyperlocal news, arts, events, info, and opinion website made possible with the help of our awesome advertisers and the support of our readers. Our Promise: Never a paywall, no pop-up ads, all content is FREE. With that in mind, if circumstances allow, please consider taking part in our GoFundMe campaign (click here). To make a direct donation, give feedback, send a Letter to the Editor, or contact our founder/editor, email Scott Stiffler via scott@chelseacommunitynews.com.
To join our subscriber list, click here. It's a free service provding regular (weekly, at least) Enewsletters containing links to recently published content. Subscribers also will be sent email with "Sponsored Content" in the subject line. That means it's an exclusive message from one of our advertisers, whose support, like yours, allows us to offer all content free of charge.