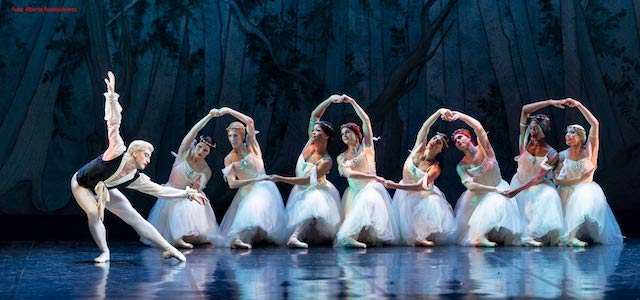 BY ELIZABETH ZIMMER | When the all-male Les Ballets Trockadero de Monte Carlo was founded in 1974, being gay could get you into lots of trouble. The Stonewall Riots were still fresh in New Yorkers' memories; the AIDS crisis, which decimated the original company, lay ahead. The male dancers' portrayals of ballerinas on pointe were groundbreaking at the time, and enormous fun.
Now, nearly 50 years on, it's clear that the culture at large is catching up with this revolutionary troupe. Issues of equity, diversity, and inclusion are on every corporate agenda; middle-schoolers are pushing against gender decisions made for them at birth. The Trocks, as they are fondly nicknamed, lead the way, giving every member a dual identity—one male, one female. Many of them even get a triple: When they play swans, they manifest nasty, hissing "birdiness" way more than ballerinas in more conventional troupes. And their fabulousness has bled itself onto the audience: On opening night at the Joyce, a guy sitting in front of me rocked a bright red cocktail dress.
The Trocks' three-week 2022 holiday season opened with Program A, featuring one of the troupe's chestnuts, Act II of Le Lac De Cygnes. As I say, the nine swans in this version distinguish themselves by imitating the bratty behavior of actual swans—they also flirt and fall down and sneak sidelong glances at the audience. Nadia Doumiafeyva (Philip Martin Nielson IRL, also a costume designer!) plays the Swan Queen with a nod, it seems to me, to Fran Drescher of The Nanny, which makes her eminently relatable: She's a brassy blonde doing her best to negotiate liberation from her captor, Rothbart, and hook up with the handsome but clueless Prince Siegfried—danced by Vladimir Legupski (Duane Gosa) who, in turn, is abetted by his sweetly feminine buddy Benno (Tino Xirau-Lopez, a/k/a Alejandro Gonzalez). The corps de ballet of eight spacy swans mime swimming and bitch-slap poor Benno. Keep your eyes peeled for other clever touches; the work is non-stop fun.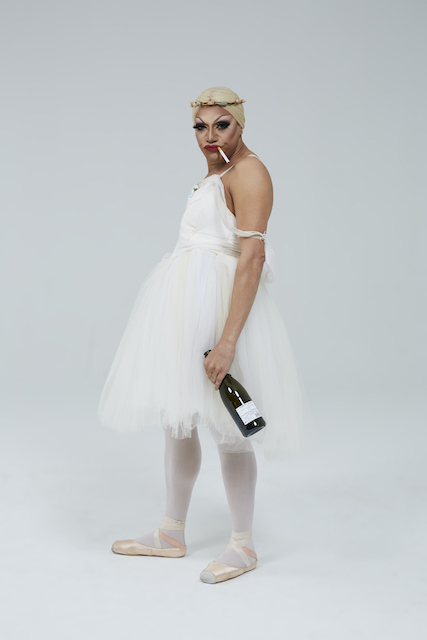 Tory Dobrin, artistic director, began dancing in the drag comedy company in 1980. He's the keeper of its history, from its origins in a Meatpacking District loft to its appearances in grand opera houses around the world. He's also responsible for the hilarious program notes, which provide each of the 15 current performers with both male and female pseudonyms and biographies, most of them referencing fictional Russian origins. You'll want to arrive early to read the several pages of these notes, so you'll be ready to follow the inevitable cast change announcements by a speaker with a thick Russian accent.
Senior member Robert Carter, who's been with the Trocks since 1995, plays Olga Supphozova, appearing in every performance as the Dying Swan, inhabiting a solo originally made for Anna Pavlova in 1905. The ailing bird moults, grimaces, clutches her gut and generally suffers, to music by Camille Saint-Saens, taking her sweet time about expiring, and milking the audience for applause as she does so.  It's a classic.
The Trocks do two things marvelously well: Parody the old warhorse ballets, and bring to life, with exquisite technical chops, relatively obscure sections of operas.  This program's closer, Majisimas,from Jules Massenet's 1885 opera Le Cid, deploys a dozen bravura performers against a glowing orange cyclorama, making clear that you watch this company because they are marvelous dancers, as well as being, often, very funny. They are also resilient, several of them (like Carter) appearing in at least three works.
Also on this bill are two smaller pieces, a sprightly, straight-ahead Tarantella, "after Balanchine," danced by Takaomi Yoshino and Gonzalez to a score by Louis Moreau Gottschalk; and a little more Swan Lake, this time a pas de trois, for Gosa  (way more fun as the lanky, leggy Helen Highwaters than as the slow-witted Prince) Joshua Thake (another long-boned debutante-type whose ballerina name is Eugenia Repelskii) and Jake Speakman, the sort of tiny, technically adroit male dancer whose best chance for a featured career is as a member of this particular ensemble. The two simpering "swans" hoist him aloft just for the fun of it.  You want both of these bijous to go on forever.
Every Trocks show offers a surprise treat at the end. I won't spoil the fun by identifying the current one, but stay in your seat after the first curtain call. And get to the Joyce soon, lest the 'Rona devastate the cast as it did last season and force cancellations. Program A, which I saw Tuesday, plays through the Saturday matinee on Christmas Eve. Program B, which includes their unique version of Paquita and the atmospheric, abstract ChopEniana as well as the evergreen Dying Swan and other selections from the repertoire, runs from December 26 through January 4 (there are matinee and 6pm shows on New Year's Eve), and Program A finishes out the run through January 8.
Les Ballets Trockadero de Monte Carlo perform two programs through January 8, 2023 at The Joyce Theater (175 Eighth Ave. at W. 19th St.). For tickets ($10-$75, subject to change), visit www.Joyce.org or call JoyceCharge: 212-242-0800. To read about the venue's health and safety protocols, visit www.Joyce.org.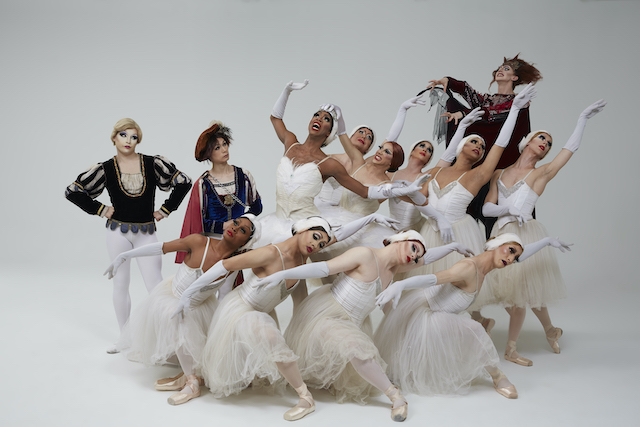 Chelsea Community News is an independent, hyperlocal news, arts, events, info, and opinion website made possible with the help of our awesome advertisers and the support of our readers. Our Promise: Never a paywall, no pop-up ads, all content is FREE. With that in mind, if circumstances allow, please consider taking part in our GoFundMe campaign (click here). To make a direct donation, give feedback, send a Letter to the Editor, or contact our founder/editor, send an email to Scott Stiffler, via scott@chelseacommunitynews.com.
To join our subscriber list, click here. It's a free service provding regular (weekly, at least) Enewsletters containing links to recently published content. Subscribers also will be sent email with "Sponsored Content" in the subject line. That means it's an exclusive message from one of our advertisers, whose support, like yours, allows us to offer all content free of charge.