TEXT, QUESTIONS & PHOTOS BY JOANNE ADLER SINOVOI
Last year I was on my way to Whole Foods market in Manhattan West when I noticed OPR Eyewear (click here to visit their website). The outside window caught my eye, so to speak, and I walked in to take a look, as I knew I needed new glasses and was about to make an appointment with my eye doctor. I sadly had to wait a month for my eye doctor appointment and in the meantime looked at various eyewear merchants in my area. I was worried the pair I saw at OPR would not be there anymore, as they are made in small batches and I knew it's hard to find petite-sized frames for my small face (last time, I had settled for children's frames).
I knew right away I really liked those purple frames, but what could I do? I finally had my appointment and could not wait to go back to OPR to see if they still had the frames I had—and still—wanted. I walked into the store to see the two friendly faces of OPR's husband-and-wife team. Sure enough they had one pair left, so I put a deposit on them. I was able to pick up my new eyeglasses all done with my prescription, non-glare finish, transition lenses in a matter of days, paying the rest of the amount due. It has been a few months now since I made my purchase, and I could not be happier.
I want to start by saying Federica Scala sat down with me to do the interview and that her husband and co-owner, Idriss Nestor, was present at the time.
Joanne Adler Sinovoi, for Chelsea Community News (Joanne):   What are your names?
Federica Scala (Federica): My name is Federica Scala and my husband is Idriss Nestor
Joanne: How long have you been married?
Federica: We have been married for almost 20 years.
Joanne: When did your store open?
Federica: We launched our flagship store on November 11, 2021.
Joanne: Why did you pick Manhattan West to open your store?
Federica: When we started looking for a place. we wanted a new neighborhood with new fresh vibe. Manhattan West really changed landscape of the neighborhood, and we felt it was the perfect place to welcome a new brand.
Joanne: Did your online store open at the same time and if not when did that open?
Federica: The flagship store and the website launched the same day.
Joanne: What is your experience in the eyewear business?
Federica: I am the creative director behind the brand, and I have been in love with fashion since I was a kid.
Joanne: I understand all your frames are 100 percent made in Italy in small batches, and you do not use designer frames. So why is that?
Federica: We wanted to bring to the market a true authentic artisenal Italian product made only using Italian acetate in a sustainable way and priced right.
Joanne: Your acetate frames are plant-based. Can you explain how they are environmentally friendly? And also, your eyeglass cases are not typical, so I would like to know the process for that as well.
Federica: We only use acetate, which is a plant-based material made out of cotton and wooden fibers. We also carry Japanese titanium, made in Italy. Our cases are made of recycled fishing nets or recycled PET or recycled cotton—and the cases are placed in a 100 percent cotton pouch, hem-stitched, which avoids additional waste because it can be reused for many things.
Joanne: I know you have a lab on your premises so why is that?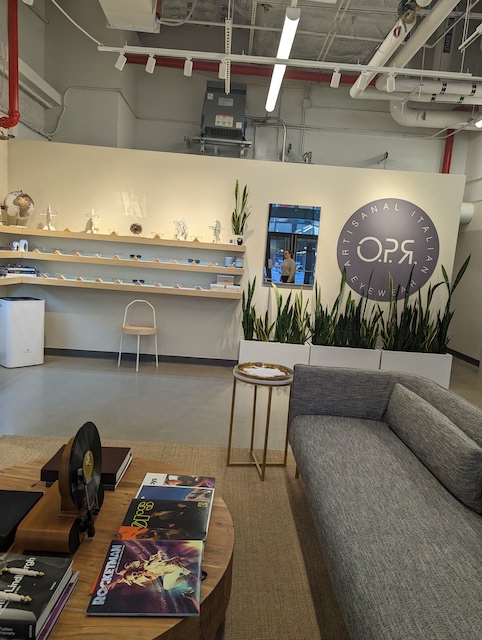 Federica: We want to deliver to our customer the best product possible, and this is only achievable through full control of the lens-edging process.
Joanne: Who are your customers?
Federica: Most of our customers work and live in the neighborhood.
Joanne: I love the living room design inside. Your store is not like any other I have seen. Who designed the beautiful interior, and how long did it take?
Federica: I was the designer behind the store, and it took three months to get the space they way we envisioned it.
Joanne: Do you think you will open a second store?
Federica: Yes, that is part of the plan and we are evaluating which is the best state to open our second flagship store in.
Joanne Concludes: I ended my report with a quick "thanks" for my beautiful glasses. I made the right decision and will, as usual when passing by your store, wave through your window or stop in for a quick "hello."
OPR Eyewear is located at 385 Ninth Ave. (btw. 31st & 33rd Sts.) / Hours: Monday through Saturday, 11am to 7pm / Phone: 917-826-7475 / To visit their website, click here / Email: support@opreyewear.com
The Owners Explain What's in a Name
OPR is short for the Latin phrase "Omnia Praeclara Rara" which translates to "All Excellent Things Are Rare" coined by illustrated Roman philosopher Marco Tullio Cicerone. Cicerone's sage ideology reflects OPR's devotion to crafting the finest quality artisanal products that people truly cherish.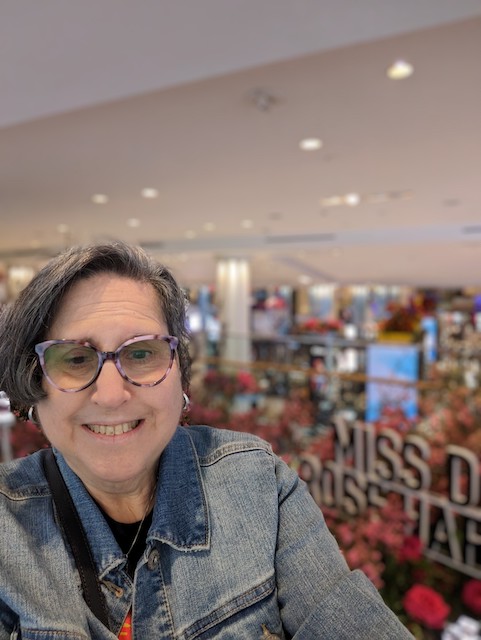 About reporter Joanne Adler Sinovoi | Chelsea Community News welcomes Joanne to our expanding pool of freelance writers. She's currently a member of the first class to establish our Community Reporter Training Program, which recruits Chelsea residents with an interest in journalism. They study under our editor and a seasoned freelance contributor, and then embark upon their own assignments—and are paid for their time, every step of the way. The Training Program is made possible by a $10,000 grant from the West Side Community Fund. To read about the Fund and the work it is furthering throughout Chelsea, Hudson Yards, and Hell's Kitchen, click here.
Chelsea Community News is an independent, hyperlocal news, arts, events, info, and opinion website made possible with the help of our awesome advertisers and the support of our readers. Our Promise: Never a paywall, no pop-up ads, all content is FREE. With that in mind, if circumstances allow, please consider taking part in our GoFundMe campaign (click here).  To make a direct donation, give feedback, send a Letter to the Editor, or contact our founder/editor, send an email to Scott Stiffler, via scott@chelseacommunitynews.com.
To join our subscriber list, click here. It's a free service providing regular (weekly, at least) Enewsletters containing links to recently published content. Subscribers also will be sent email with "Sponsored Content" in the subject line. That means it's an exclusive message from one of our advertisers—whose support, like yours, allows us to offer our content free of charge.