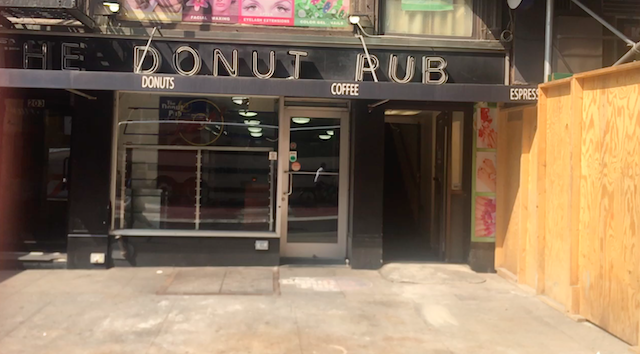 BY SCOTT STIFFLER | Finally, the sprinkling of good news we've been waiting for: After closing in October of 2022 due to danger posed by the partial collapse of a basement wall, the sugar sanctuary that stood near the corner of 14th and Seventh for almost six decades is about to come full circle. Granted, it's a circle with a rather large hole in the middle—but if past behavior is any indication, nobody will mind.
The store's nearly nine-month shuttering was the first time The Donut Pub ceased operations since opening for business on a blustery December morning in 1964. The weather outside may have chilled the bones, but locals soon warmed to the wall stacked with variations of the reasonably priced, generously portioned namesake product. Meatpacking District shift workers accounted for a robust grab-and-go crowd, while the dozen-plus stools facing a marbletop counter running the length of the shop's left side encouraged lingering. Add to that a staff whose swift delivery of comfort food sent their likability factor skyward, and the narrow, no-frills place soon took on a cozy, communal vibe not unlike that of an English pub–albeit one where the drink of choice was a tall cup of piping hot, dipping-friendly coffee.
Occasional customers soon became loyal regulars, and the menu expanded to fit the rhythms of a 24-7 cycle, adding breakfast items, cookies, sandwiches, bagels and, over time, paninis, croissant donuts, and high-concept versions of their signature hand-cut, made-on-site donuts. All products are peanut and tree nut-free, according to The Donut Pub's website, which notes the place "has come to represent New York City at its very best, brightest, and most delicious."
Said with much pride and little hubris, that statement—appearing on the website's "About" page—only serves to amp up the great expectations for The Donut Pub's impending return to 203 West 14th Street. Past deeds bode well for the delicious factor—although we've a quibble with the website's reference to its flagship store as the "West Village" location: The small but mighty storefront is on the north side of West 14th, clearly distinguishing itself as property of Chelsea. (Village residents can take solace knowing The Donut Pub's only other Manhattan location happens to be on Astor Place, at 740 Broadway.)
We'll soon take up the "pride of ownership" matter with The Donut Pub's owner, Brooklyn-born Buzzy Geduld. Reached by phone on Thursday, July 20, Geduld promised Chelsea Community News a dishy interview when the West 14th Street location has a rock solid opening date. Eagerly awaiting ConEd's restoration of services to the shop, Geduld went into cautionary "underpromise and overdeliver" mode, in his naming of late August as an open-for-business time frame.
Meantime, Geduld says a few improvements to the space have already been made: new flooring, and an upgrade for the front window display case. Same as it ever was, he assures, will be the recipes, ingredients, and whatever mojo they use to make every item on the menu so very good. (Not a donut person? Try their transcendently delicious take on the classic bacon, egg, and cheese sandwich). Best of all, the owner says, The Donut Pub will once again be a 24-hour operation. That's especially good news for the night shift workers, after hours bar crawlers, and other assorted night owls still feeling the loss of the late, great, Good Stuff Diner on the next block to the east. All the more reason to anticipate the day when The Donut Pub returns to reclaim its role as a shining beacon of sweets—and an all-hours source of bacon, be it on a donut, in a sandwich, or simply on the side.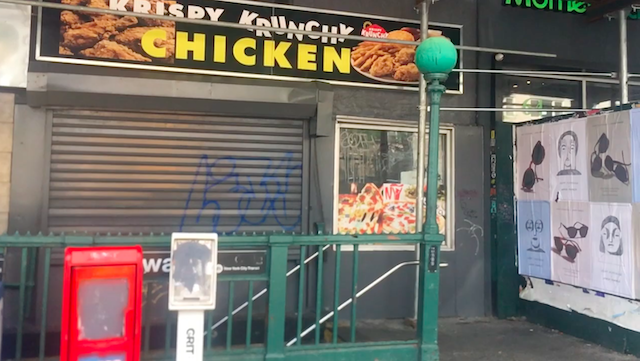 Chelsea Community News is an independent, hyperlocal news, arts, events, info, and opinion website made possible with the help of our awesome advertisers and the support of our readers. Our Promise: Never a paywall, no pop-up ads, all content is FREE. With that in mind, if circumstances allow, please consider taking part in our GoFundMe campaign (click here). To make a direct donation, give feedback, send a Letter to the Editor, or contact our founder/editor, email Scott Stiffler via scott@chelseacommunitynews.com.
To join our subscriber list, click here. It's a free service providing regular (weekly, at least) Enewsletters containing links to recently published content. Subscribers also will be sent email with "Sponsored Content" in the subject line.  That means it's an exclusive message from one of our advertisers, whose support, like yours, allows us to offer all content free of charge.