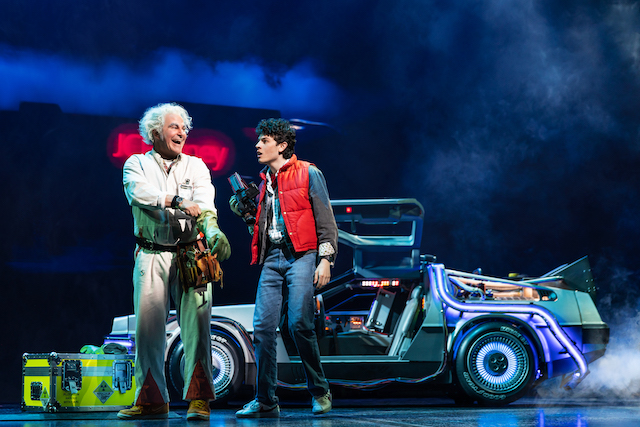 BY MICHAEL MUSTO | Spoiler alert! Yes, the car flies! And it does so much more dexterously than in the lame 2005 Broadway adaptation of Chitty Chitty Bang Bang.
In fact, the car is a DeLorean that lights up, turns, zooms, spins, and eventually levitates over the orchestra seats, then turns upside down. With people in it. It's all perfectly fitting for a show that is aggressively eager to please and is willing to employ high-tech multimedia visuals to do so.
Based on the hit 1985 movie starring Michael J. Fox, Back to the Future: The Musical has teen Marty McFly joining forces with manic scientist Doc Brown to vroom back to 1955. There, he finds a sort of simpler time than the 1980s, but things complicate when he realizes that his arrival may have gotten in the way of his mother and father falling in love, and if he doesn't rectify that quickly, they won't get married, and Marty will never exist.
Giving things a welcome weird edge, his mother falls madly for Marty (whom she thinks is named Calvin Klein, because that name is on his underwear), not realizing he's her future son. Marty's mission is to instead get her to love George McFly (his future dad), who has to learn to stand up to bullies and assert himself. By the end, Marty is playing guitar with the band at the school dance as his parents basically start the process of becoming his parents.
The show's book is by Bob Gale (who wrote the movie with director Bob Zemeckis) and the score is by film composer Alan Silvestri and Glen Ballard (Jagged Little Pill). Some of the songs are 50s pastiche numbers (like mama Lorraine's bouncy Something About That Boy, as she falls for Marty) and there's also the Broadway-style Gotta Start Somewhere, a showstopper for Jelani Remy as a custodian who goes to night school and dreams of becoming (and eventually becomes) Mayor.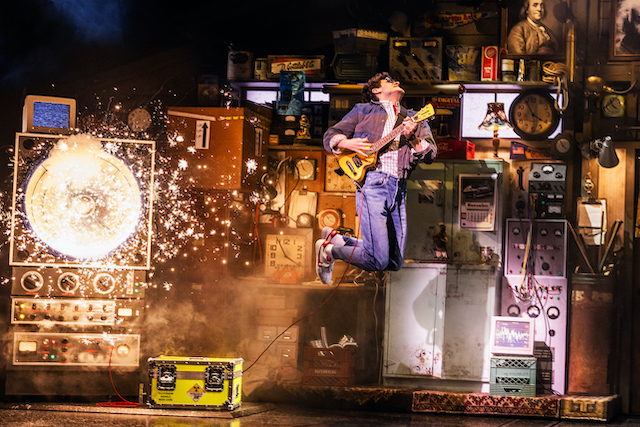 At the school dance, Johnny B. Goode by Chuck Berry—from the movie—is included, as are Earth Angel and The Power of Love, the Huey Lewis hit, both also in the film.
The show is lavish and, as directed by John Rando (Urinetown, Mr. Saturday Night), never slows down, at times coming off like something that might belong at Madison Square Garden. The whole thing is basically a big, flashy, speeding car, but it's apt for today's Broadway, since it combines a familiar title, a sampling of hit songs, and some slick special effects, while vaguely touching on the fantasy of changing eras in order to work things out and patch things up.
Casey Likes (Almost Famous) is a sort of boy-bandy type who works hard in the Michael J. Fox role, and it's great to see a show utilize Roger Bart's charm and skills as Doc. The nutty Act Two opener "21st Century"—which imagines a future time—works because of him (and the clever choreography by Chris Bailey) and by the end, when Bart is nervously standing atop a clock tower (long story), then spinning around inside the DeLorean, you have to admire the Tony winner's derring-do.
As the geeky dad who sings "My myopia is my utopia," Hugh Coles is basically doing a riff on Crispin Glover from the movie, but he's having fun with it, and Liana Hunt scores as the yearning Lorraine/mom. Marty's insipid girlfriend is best not noticed or mentioned, lol, and neither is Marty's one-note strident sister.
But deserving nods are Tim Hatley (Scenic and Costume Design), Tim Lutkin and Hugh Vanstone (Lighting Design), Finn Ross (Video Design), Chris Fisher (Illusion Designer) and Gareth Owen (Sound Design). They are pretty much the stars of the show—and of course the car should be above the title.
At the Winter Garden Theatre, 1634 Broadway (btw. W. 50th & 51st Sts.). Tickets from $79. To order online, click here; by phone, call 212-239-6200. To visit the show's website, click here.
—END—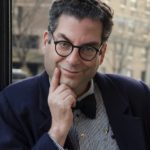 Michael Musto is a columnist, pop cultural and political pundit, NYC nightlife chronicler, author, and the go-to gossip responsible for the long-running (1984-2013) Village Voice column, "La Dolce Musto." His work appears on this website as well as Queerty.com and thedailybeast.com, and he is writing for the new Village Voice, which made its debut in April of 2021. Follow Musto on Instagram, via @michaelmusto.
Chelsea Community News is an independent, hyperlocal news, arts, events, info, and opinion website made possible with the help of our awesome advertisers and the support of our readers. Our Promise: Never a paywall, no pop-up ads, all content is FREE. With that in mind, if circumstances allow, please consider taking part in our GoFundMe campaign (click here). To make a direct donation, give feedback, send a Letter to the Editor, or contact our founder/editor, email Scott Stiffler via scott@chelseacommunitynews.com.
To join our subscriber list, click here. It's a free service providing regular (weekly, at least) Enewsletters containing links to recently published content. Subscribers also will be sent email with "Sponsored Content" in the subject line.  That means it's an exclusive message from one of our advertisers, whose support, like yours, allows us to offer all content free of charge.