Here's What's Happening "This Week In & Around Chelsea"
Movie Night Under the Stars / Movies in the Park / Retrospection/Continuance at Hudson Guild Gallery / Fresh Food for Seniors / Fitness Boot Camp /  
Movie Night Under the Stars: A FREE Event on Wednesday, August 30, 6:45pm at Gansevoort Plaza (9th Ave. & Gansevoort St. | Enjoy the waning days of summer in one of the city's best open-air areas, with this free music and film screening event. It's brought to you by the combined efforts of Rooftop Films, MDMA (the Meatpacking BID), and NYC Council Member Erik Bottcher, whose District 3 coverage area includes, appropriately enough, the very gathering place of this event. Seating opens at 6:45pm followed by live music at 7:15pm and the film screenings begin at 8pm. A 9:30pm Q&A concludes the evening. As for the main event: On the slate is a selection of New York short films, including the series finale of HBO's How To with John Wilson, the docu-comedy series that finds filmmaker John Wilson covertly and obsessively filming the lives of fellow New Yorkers while attempting to give everyday advice on relatable topics. The featured episode, How to Track Your Package, concerns John's plunge into the world of package security, after having a delivery stolen. To register for this event, click here (seating is on a first come, first serve basis; registration does not guarantee entry). For more info (or at least the above info presented in a visually appealing manner), see the belw flyer.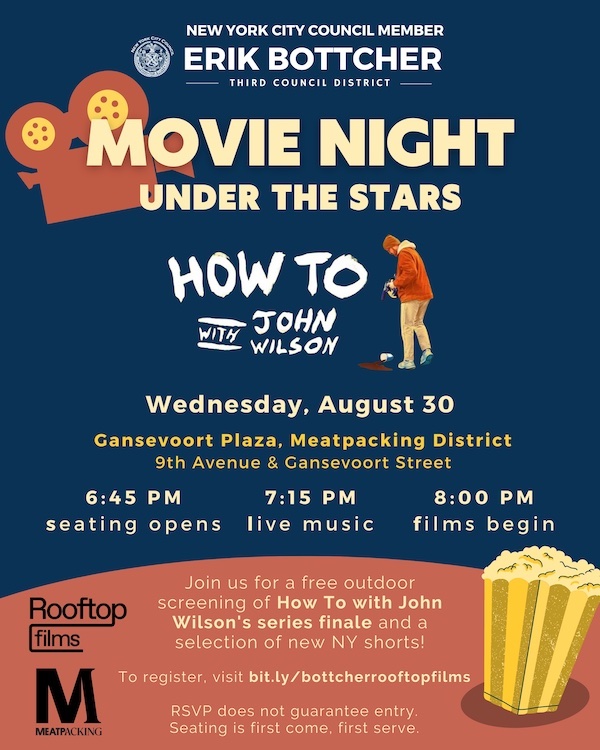 Movies in the Park: A Free Film Screening Series Thursdays in August, 8pm, at Bella Abzug Park (W. 34th St. at Hudson Boulevard East) | This free summertime series (presented by the Hudson Yards Hell's Kitchen Alliance BID) concludes on August 31–and don't dismiss this last entry as an afterthought: Beyond the flyboy bravado, ample afterburners, and constant action, there's actual dramatic meat on the bone to be had by the mix of contemporary characters and throwback icons gunning for glory in 2022's crowd-pleasing Top Gun: Maverick.
Retrospection/Continuance at Hudson Guild Gallery (441 W. 26th St.), Through September 27 | Artworks from the American Indian Community House collection will be on view. Hudson Guild Gallery hours are Tues. to Fri., 10am-6pm and Sat., 12-3pm. For more info, see the below flyer and/or click here.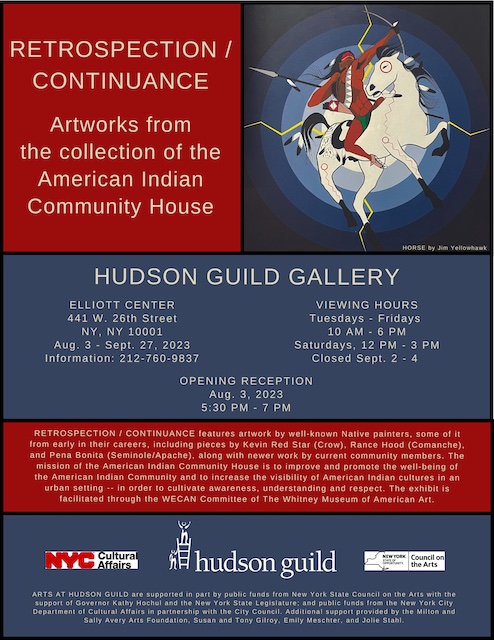 Fresh Food for Seniors | The second annual version of this program from NYC Council Member Erik Bottcher and Manhattan Borough President Mark Levine sees to it that you receive a bag of fresh, locally harvested fruits and vegetables every other week through November 14. The cost is $10 per bag. Sign up for Fresh Food Bag participation on certain Mondays and Tuesdays at local senior centers, with pick-up the following Tuesday.
Local participating senior centers include Visions at 135 W. 23rd St., where sign-up is 10am-3pm; Hudson Guild NORC at 441 W. 26th St., where sign-up is 8:30am-5:30pm; Penn South Program for Seniors at 290A Ninth Ave., where sign-up is 9am-5pm; and Encore Senior Center at 239 W. 49th St., where sign-up is 8:30am-4:30pm. For more info, call 212-554-7757 or email district3@council.nyc.gov.
For the schedule of dates, see the below flyer.
Free Fitness Boot Camp in Bella Abzug Park (Hudson Boulevard West btw. West 36th & 37th Sts.), Tuesdays & Thursdays, 7-8am, Weekly Through September 28 | Early risers reap the reward of feeling great and having accomplished something substantial, before some of us have found the strength to roll out of bed. That sense of well-being is to be found at the twice-weekly Morning Boot Camp brought to you by the Hudson Yards Hell's Kitchen Alliance. Ave and Olivia, Manhattan Plaza Health Club instructors, have designed an invigorating, high-intensity interval training workout (HIIT) combining strength and cardio in creative ways that challenge participants to use body weight as resistance. Start your day the MPHC Boot Camp way at these classes that are open to the public (please bring your own mat). For more info, and to register, click here.
—Listings Compiled by Scott Stiffler
Chelsea Community News is an independent, hyperlocal news, arts, events, info, and opinion website made possible with the help of our awesome advertisers and the support of our readers. Our Promise: Never a paywall, no pop-up ads, all content is FREE. With that in mind, if circumstances allow, please consider taking part in our GoFundMe campaign (click here). To make a direct donation, give feedback, send a Letter to the Editor, or contact our founder/editor, send an email to Scott Stiffler, via scott@chelseacommunitynews.com.
To join our subscriber list, click here. It's a free service provding regular (weekly, at least) Enewsletters containing links to recently published content. Subscribers also will be sent email with "Sponsored Content" in the subject line. That means it's an exclusive message from one of our advertisers, whose support, like yours, allows us to offer all content free of charge.